Media Center
Press Releases
Equilar: CFOs on Boards Earned More, Performed Less
---
REDWOOD CITY, CA (August 23, 2017) —According to a new report from Equilar, CFOs on Boards: Higher Pay, Lower Performance, financial chiefs who were on outside boards of directors earned more but oversaw companies with lower performance than their counterparts who did not serve on boards.
The study found that CFOs who served on two or more boards of directors at other companies earned a median $5.4 million in their most recent fiscal year vs. $3.9 million for those who did not serve on a board. However, companies with CFOs serving on two or more boards saw a median three-year TSR of 3.3%, vs. 10.4% for the companies with CFOs who did not serve on a board.
"There are many mitigating factors that go into compensation design and company performance outcomes, and at any individual company, pay was not necessarily higher and performance lower specifically because the CFO served on outside boards," said Dan Marcec, Director of Content at Equilar and author of the report.
"However, the findings raise important questions for investors and companies when evaluating executive board commitments, and especially given the results for CFOs on multiple boards, the report does raise an eyebrow," he added.
Key takeaways from the report include:
289 large-cap companies had CFOs (or principal financial officers) serving three consecutive fiscal years, which comprised the sample size. The list of companies from which the sample set for the study was derived can be found here.

32.5% of the CFOs in the study served on at least one outside board as of the most recent fiscal year end, of which 78 served on one board, 14 on two boards, and two on three boards

Pay in the most recent fiscal year was $3.9 million for CFOs who did not serve a board, $4.0 million for those that served one outside board, and $5.4 million for those that served two or more boards

Three-year TSR was a median 10.4% for non-boarded CFO companies, 10.0% for companies with boarded CFOs—however, for the companies with CFOs that served two or more boards, median three-year TSR was 3.3%

Revenue and net income in the most recent fiscal year showed a digressive pattern as CFOs served on more boards (see chart below)
"Though these figures are correlations, not causation, they beg the question whether a company's CFO joining an outside board—particularly multiple outside boards—has the same quantitative benefits as the new perspectives and additional insights he or she may qualitatively bring to a company's C-suite by serving as a director," said Marcec. "While any individual CFO may have unique circumstances and capabilities that allow the time and effort to serve multiple boards and his or her company as a top executive, shareholder and proxy advisor scrutiny on the number of outside boards sitting executives should serve will continue to be a point of contention."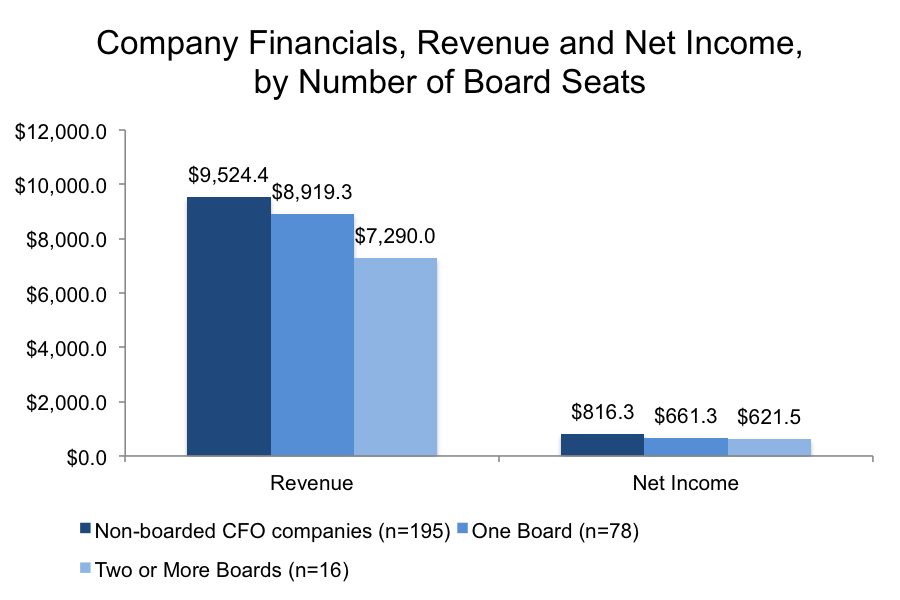 About Equilar
Equilar is the leading provider of board intelligence solutions. Its data-driven platforms, BoardEdge and Insight, provide tools for board recruiting, business development, executive compensation and shareholder engagement. Companies of all sizes, including 70% of the Fortune 500 and institutional investors representing over $15 trillion in assets, rely on Equilar for their most important boardroom decisions. Equilar also hosts industry-leading board education symposiums, conducts comprehensive custom research services and publishes award-winning thought leadership. Founded in 2000, Equilar is cited regularly by Associated Press, Bloomberg, CNBC, The New York Times, The Wall Street Journal and other leading media outlets. Visit www.equilar.com to learn more.
For more information, contact:
Dan Marcec
Director, Content & Communications
Equilar, Inc.
dmarcec@equilar.com
706-461-8333