Media Center
---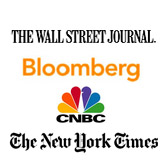 ---
Equilar research is cited frequently by Bloomberg, BusinessWeek, Reuters, The New York Times, The Wall Street Journal and other leading media outlets. Equilar has been recognized as one of the fastest-growing private companies in America by Deloitte, Inc. magazine and the Silicon Valley Business Journal.
The Equilar award-winning product suite is the gold standard for benchmarking and tracking executive compensation, board compensation, equity grants and award policies and compensation practices.
The Equilar product and custom research services enable corporations, human capital consulting firms, law firms, investors, individual executives and the media to accurately compare pay packages across thousands of public companies using SEC and proprietary survey data.
---
---

Companies Face the Music on Exec Comp Changes
September 8, 2020
---

California Lawmakers Back Mandate for Racial Diversity on Corporate Boards
August 31, 2020
---

Gender pay gap for general counsel continues, although smaller
August 28, 2020
---

Gender Pay Gap Persists for Public Company General Counsel (1)
August 27, 2020
---

Removing the CEO: The Exposure and the Litigation
August 25, 2020
---

Jeff Wilke, Amazon's Chief of Consumer Business, Will Retire Next Year
August 21, 2020
---

McDonald's Board Faces New Scrutiny of Investigation Into Former CEO
August 11, 2020
---

This Company Boasted to Trump About Its Covid-19 Vaccine.
August 11, 2020
---

McDonald's sues former CEO Easterbrook, alleges he lied about relationships he had with workers
August 10, 2020
---

McDonald's Sues Former C.E.O., Accusing Him of Lying and Fraud
August 10, 2020
---

Amid racism protests, companies take to social media to disclose diversity
June 16, 2020
---
> View all of Equilar in the News
---
October 13, 2020
Equilar Announces Strategic Partnership with Plative to Expand Release of ExecAtlas for Salesforce
---
September 17, 2020
Equilar Launches ExecAtlas on Salesforce AppExchange, the World's Leading Enterprise Cloud Marketplace, and Announces Strategic Partnership with Silverline
---
September 2, 2020
Study Finds 17% of Companies Adjusted CEO/Director Pay Amid COVID-19
---
July 30, 2020
The Equilar Diversity Network Announces Groundbreaking Executive and Board Ethnicity Data Campaignc
---
July 9, 2020
CEO Pay Did Not Increase in 2019—What Will be the Effects of COVID-19?
---
May 28, 2020
Equilar GDI: Board Diversity Remains a Priority During Pandemic
---
May 12, 2020
Carl Guardino Joins Equilar Board of Directors
---
April 23, 2020
The 100 Highest-Paid CEOs: Pay Trends Before the COVID-19 Pandemic
---
April 16, 2020
Report: Trends in LTIP Design Pre-COVID-19 and What to Expect Ahead
---
March 11, 2020
Russell 3000 Boards on Pace to Achieve Gender Parity by 2030
---
September 11, 2019
Russell 3000 Surpasses Milestone Marker of 20% Female Representation on Boards
---
April 10, 2019
Highest-Paid CEOs: A New Top 10 Emerges
---
March 07, 2019
Equilar GDI: Russell 3000 Boards Will Achieve Gender Parity by 2034
---
February 21, 2019
Equilar Report: Companies Communicate Shareholder Value Through Proxy Design
---
December 19, 2018
Equilar Report: Shareholder Engagement Policy Disclosures Become the Norm
---
December 18, 2018
Equilar GDI: Russell 3000 Female Board Representation Inches Closer to 20%
---
December 11, 2018
Board Pay Reaches a Quarter Million Dollars
---
> View all Press Releases