Much of Equilar's culture stems from our foundation as a research and information services company. Our employees are focused and driven with everyone working toward one common goal: to make our products and research the best in the industry. Attention to detail is a quality you'll find in every employee here. We expect high quality work, high productivity, and high levels of professionalism. At the same time you will find friendly, down-to-earth employees and an open, collaborative environment.
How do employees balance their time? Equilarians can often be found playing Foosball, video games, or arcade games at lunch or going out in groups to the local Redwood City eateries (Chipotle anyone?). In the EquiLair, our lunch room, you may find yourself chatting with an executive as you fill up your Equilar water bottle. In the afternoon you might see employees coming back from Starbucks with trays of iced coffee for their team. After work some employees play in Equilar softball or basketball leagues or you may just grab drinks on your way to the Caltrain station.
We do have a busy season (spring) but in general you're not going to find employees working late nights because we know that we've hired intelligent, driven people who know how to manage their time. We cultivate high achievers and top quartile performers so if you're driven and looking for a challenge we'll provide you with the opportunities to do so.
Our open-office environment encourages collaboration and feedback and despite a roster of over 100 employees, you'll very quickly come to know almost every Equilarian across every department.
We value integrity and ambition over experience and pedigree. We make significant investments to train and develop our talent. We truly care about the growth and success of our employees and would love for you to meet some of our team. Click on the links below to learn more about life at Equilar.
Equilarian - Ann Yih
I joined Equilar after graduating from UCLA with a degree in chemical engineering. Knowing only that I did not want to be a chemical engineer, I accepted a position as a Research Analyst thinking that it would be a way to leverage my analytical skills in an environment that did not involve an oil field or refinery. Looking back, I can't imagine any other place that would have afforded me the opportunities I've had in my three years (and counting) here.
I developed an interest in product management early on during my first year on the Research team and did not hesitate to express that interest to my manager even though I was short on both experience and skills. With the support of management, I subsequently moved through several roles to learn about the business. I gained various perspectives as opportunities arose in the Research, Engineering, and Client Services departments. All the while, I maintained the goal of eventually joining our Products team to help bring exciting new ideas to life.
Today, I'm tasked with collaborating with a brilliant group of engineers to internationalize our flagship product as a Product Manager on the Equilar Insight team, and I can't be more excited for the challenge.
Ann's Career Path
Research Analyst. Conducted research and analysis on executive compensation through detailed data mining of hundreds of SEC filings. Contributed to industry reports including Equilar's annual Executive Compensation Outlook, Severance & Change-in-Control, and Benefits & Perquisites reports. Worked on ad-hoc analyses spanning topics such as transactional awards, equity plan design, and severance arrangements.
Software QA Engineer. Tested web-based products to establish network connections, calculate pay-for-performance metrics, perform equity valuations involving currency conversions, and establish a data feed to partner organizations.
Client Services Associate. Worked directly with users at consulting firms and law firms, a client base that accounts for over 30% of the Company's recurring revenue. Also pursued opportunities for new client relationships.
Product Manager. Working with an awesome team of engineers every day to bring the newest and best products to our clients!
---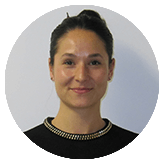 Equilarian - Megan Lum
I joined Equilar after graduating from UC Berkeley with a degree in applied mathematics (Go Bears!). In searching for a job post-college, I wanted to utilize the analytical skills I had developed over the past four years and find a position that would provide a solid foundation for a career in business. Equilar's Research Analyst position is just that - the role is highly analytical and detail oriented. I analyzed SEC filings for hundreds of companies across numerous industries and developed a well-rounded perspective. This knowledge of SEC filings - how to breakdown company information and understand the data - is something I will carry with me throughout my professional career.
When I moved into the Account Manager position on Equilar's Client Services team, I was confident in my ability to serve the Directors, VPs, SVPs, and Chief HR Officers who are our clients. Working with HR professionals, boardroom directors, and compensation analysts was incredibly rewarding and that interaction directly led to my decision to move into human resources.
During my time as a Research Analyst and then as an Account Manager, the human resource function at Equilar was primarily done through an outside contractor. When I expressed an interest in moving into HR, I never expected the opportunity to come from Equilar, but was honest with my manager in our weekly one-on-ones about wanting to pursue this field. When our CEO, Dave, approached me with the opportunity to head up recruiting, performance management, and training and development at Equilar, it was a challenge I was thrilled to take on. I've now been in the HR function at Equilar for a few years and can honestly say I love what I do.
Megan's Career Path
Research Analyst. Analyzed and reviewed SEC filings for hundreds of public companies. Became responsible for reviewing research data and publishing it directly to the Equilar database that clients use on a daily basis. Also began to specialize in specific areas of compensation such as Change in Control, Severance, and Equity plans.
Account Manager. Became the direct point of contact for about 200 Equilar clients, helping them navigate Equilar's compensation tools, prepare reports for board and management meetings, and apply the data to make informed compensation decisions.
Human Resources Associate. Took on responsibility for several HR functions at Equilar - recruiting, onboarding, performance management, training and development, HRIS administration, volunteer program, company events, and more.
Human Resources Coordinator. Took on additional levels of responsibility in human resources while continuing to move the ball forward in all other functional areas. Working everyday to make Equilar a great place to work!
HR Manager. Grew out the HR team and now leading a department and providing strategic input to the management team.
---
Equilarian - Morris Thai
During my last year at UC San Diego, I took the GMAT with my sights set on heading straight to business school after graduation. My GMAT score came in. I was happy with the result. Then I realized I had a problem: did I really want to go back to school so soon? After hours of discussion with my family, friends, and professors, I was resolute in my decision to move back north and get some work experience in the Silicon Valley.
Fast forward a few months, and I'm at Equilar. When I started at Equilar close to three years ago, I never would've imagined becoming a Product Manager in the short time that I did. As far as I know, that's not a common occurrence in a company that's been around for over a decade and consistently growing year after year. Needless to say, Equilar values the career development of every one of its employees. The growth opportunities are endless and the people you work with are amazing. Equilar is all about quality and growth. Equilar prides itself on the quality of its data, its products, its services, and its employees.
Morris' Career Path
Research Analyst. The title of "analyst" can mean a lot things, ranging from data entry to data modeling to academic research. It's no different at Equilar, which is great. While working on numerous projects (executive and board compensation data and pay practices), I strengthened my Excel skills and discovered my passion for writing SQL queries. As my first job out of college, the Research Analyst position at Equilar fit my needs nicely.
Software Quality Engineer. I cannot overstate how much I learned and accomplished as a Software Quality Engineer on the Insight team at Equilar. Some of the skills I developed on the job included SQL, UNIX, and testing/debugging techniques based on best coding practices. My responsibilities included team Scrum Master, Lead QA, and being part of the last line of quality before our products were rolled out to users. That last aspect of my role, in particular, gave me great job satisfaction.
Product Manager. I now have one simple, overarching goal as a Product Manager: provide users with a powerful, useful, user-friendly product.
---
Equilarian - Ryan Mah
After graduating from UC Berkeley with a chemical engineering degree, I found myself in the Research Analyst position at Equilar. Knowing nothing about executive compensation, I quickly set out to learn everything. By analyzing compensation information, working on custom client projects, and utilizing the amazing amount of industry knowledge within the company, I absorbed as much as I could. I soon reached a level of understanding where I became a source of knowledge for others.
During my time as a Research Analyst, I found that I could combine technology with industry knowledge to improve the analyst experience at Equilar. After that initial spark, I haven't stopped learning new technologies to build a better experience. Through languages such as VBA, SQL, JavaScript, and Python, I've made tools that automate tasks, generate reports, improve quality, and improve efficiency for the people in Research.
Equilar has given me the opportunity to explore programming in a way that benefits both the Company and me. I now manage and develop other analysts who are technically inclined in addition to continuing my coding endeavors. Working at Equilar helped me find my passion and the Company has encouraged me to run with it.
Ryan's Career Path
Research Analyst. Analyzed pay data in SEC filings, trained others on executive compensation, learned SQL, became an Excel whiz, and started coding research tools in VBA.
Quality Engineer. Took on additional responsibilities for data quality. Greatly improved my SQL skills and coordinated data quality projects.
Associate Product Manager. Scoped out technical specifications for product development and learned a great deal about product management in the executive compensation environment.
Research Engineer. Continued to develop and improve research tools, trained and developed other analysts in Excel and VBA, and brought a technological mindset to the research team.
Software Engineer. After three years developing technical skills, made the leap to the Engineering team as a full-fledged Software Engineer. Developing Equilar's products from the ground up.
---
Equilarian - Sheila Mokhtari
After graduating from college in 2000 with a degree in business, I accepted a position in the management training program for a large national car rental company. I stayed with that company for almost five years and progressed through the training program all the way to becoming a branch manager but always felt there was something missing from my career. I didn't like being a small cog in a very large wheel. I wanted to have more of a direct impact and I wanted to be in a more entrepreneurial environment.
When I decided to explore other career opportunities in early 2005, Equilar was the first company I interviewed with. I was so impressed with the company and with the energy and enthusiasm of the hiring manager I interviewed with that I kept following up with her until she offered me the job of Client Services Associate. I was promoted to Client Services Manager in about four months. Since then, I have worn a number of different hats and have moved from Client Services to Sales. I eventually decided that rather than managing other people, I wanted to be an individual contributor. The company then allowed me to move into a Senior Account Executive role where I am now responsible for bringing in new business.
I have now been with Equilar for over eight years because I love being part of a smart, talented team that is committed to doing the best work possible for our clients everyday. I also appreciate working for a company that rewards hard work and truly values the contributions its employees make. I have grown both personally and professionally - getting the most out of my business degree but in a much more entrepreneurial environment than I previously had in my career. I find it incredibly rewarding to know that everyday my work has a direct impact on the success of my clients and on the success of Equilar as well.
Sheila's Career Path
Client Services Associate. Implemented a client services process that is still used on the team, kept in consistent contact with existing clients, and provided training for new clients.
Client Services Manager. Built out a team of Client Services Associates. This included interviewing, hiring, and training.
Senior Corporate Account Executive. Manage the sales process for a territory of prospects from start to finish - cold calling, sourcing new business, conducting online demos, and meeting to close business. I have become a significant contributor to Equilar's new business sales and am very proud of this.
Survey Manger In addition to the above, I now manage the sales side of Equilar's Executive Compensation Survey, ensuring that our survey is the biggest and best executive compensation survey out there.
---
Equilarian – Alice Avery
I joined Equilar's 2012 summer class of research analysts after graduating from Stanford with a degree in History and knowing only two things about my career: that I didn't want to become a lifelong historian, and that I really liked using data and analysis to explore problems (hard sell for a "fuzzy" major). I had applied to a position where many people come from majors in Economics or Statistics, but I knew I wanted a role that was analytical and data-driven. They gave me a chance, and working at Equilar has given me opportunities I couldn't have received anywhere else. I am lucky to have had the freedom to explore my interests and take on projects I am passionate about.
Through the LearnGrowLead program, I was able to develop extremely valuable technical skills in Excel and SQL. I was also able to participate in the rotation program, which is truly unique to Equilar and allowed me to spend a few months giving the marketing team a trial run. A year after joining the company, I was thrilled to have the opportunity to transition to full-time Marketing Associate.
My career path has taken turns I had never anticipated when I graduated, but I am truly grateful that I hung on for the ride. I'm confident that the experiences I have gained far outpace what I would have been able to do at another company.
Alice's Career Path
Research Analyst. Combed through SEC filings to extract data on executive compensation practices. Vastly grew my skills in Excel and SQL through analyzing compensation data, and translated that data into content by writing and editing numerous research reports and articles.
Marketing Rotation Program. Learned the wonders of Salesforce's customer relationship management system and took point on measuring and reporting content metrics. Developed strategies for content creation and distribution and went deep into the trenches of Salesforce reports.
Marketing Associate. Moved full-time to the marketing team as the admin for our marketing automation system, managing online and email campaigns. Ran lead generation processes and worked with the Sales and Client Services teams to improve marketing programs and drive revenue.
---
Equity Ownership and Profit Sharing. Our pay-for-performance culture gives top-performing employees the opportunity to take part in a unique profit sharing program. We are the only company in Silicon Valley that offers a broad based S-corp equity ownership structure that pays out annual cash distributions to its employee shareholders. Providing equity ownership opportunities and profit distributions is our way of sharing Equilar's success with you.
401(k) Match Program. We generously match up to four percent of salary in our 401(k) plans, and have never reduced, eliminated or capped our matching contribution. All matching contributions are immediately vested for you to keep.
Health Benefits. Employees and their dependents receive medical, vision, and dental benefits. We have several flexible benefit plans to choose from, including HSA and PPO plans. We also provide life, AD&D, and long term disability coverage for all employees.
Training and Development. Equilar promotes a culture of continuous learning and strives to offer top training and development opportunities. Under the LearnGrowLead (LGL) Program we offer professional development training, a reimbursement program, mentor program, MBA program, rotation program, management training, and more.
Onsite Company Gym. We are committed to keeping employees happy, healthy, and productive. Our fully-equipped onsite gym is open to all employees so you can come to work refreshed and energized.
Free Caltrain Passes. Our office is within walking distance of the Redwood City Caltrain station. All employees who choose to take public transit are provided with a free Caltrain pass and mobile hotspot reimbursement.
Time Away. Time to recharge is an important part of life at Equilar. Employees receive up to 26 paid days off in their first year. This includes vacation days, sick days, holidays, and a company-wide "Holiday Week" which gives all employees who have been with us for a full year paid time off for the week between Christmas and New Year's.