2016 Board Leadership Forum - Agenda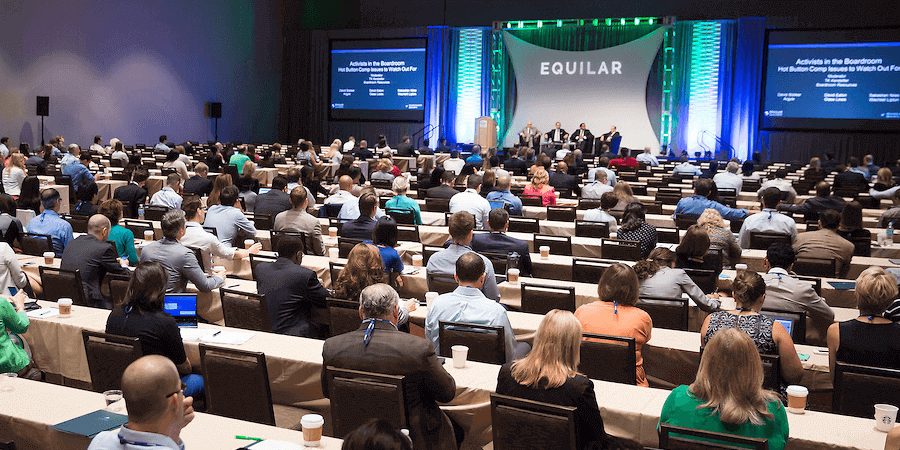 Breakfast and Registration
---
---
Catalyst for Change – How Investors are Voting on Directors
This session will shed light on key factors investors consider in voting decisions, including perceived director independence, level of expertise, compensation considerations, shareholder responsiveness, and over-boarding concerns. Panelists will also weigh in on diversity in the boardroom and why boards must address deficits in board composition to eliminate vulnerabilities and enhance the board's value to shareholders.
Donna Anderson, Vice President & Corporate Governance Specialist, T. Rowe Price

Ken Bertsch, Executive Director, Council of Institutional Investors

Gary Retelny, President & CEO, Institutional Shareholder Services

Moderator: Cindy Fornelli, Executive Director, The Center for Audit Quality
---
How Culture and Structure Produce High-Performing Boards
Creating a well-functioning board starts with establishing the appropriate culture that drives engagement, collaboration and effective decision-making. This panel will offer advice on balancing personalities and backgrounds to ensure robust and productive discussion. In addition, panelists will provide tips for onboarding new directors, structuring board and committee meetings, creation of special committees, and interacting with management and outside advisers.
William Murdy, Board Member, LSB Industries Inc. and Vectrus Inc.; Former Chairman & CEO, Comfort Systems USA Inc.

Jane Sadowsky, Board Member, Yamana Gold

Lauri Shanahan, Board Member, Cedar Fair LP, Charlotte Russe Holding Inc. and Deckers Outdoor Corp. and Treasury Wine Estates

Moderator: Darla Stuckey, President & CEO, Society for Corporate Governance
---
---
Driving Board Refreshment – The Role of Board Evaluations & Strategic Succession Planning
As investors continue to emphasize the need for board refreshment, boards must take a hard look at their board composition and develop a more strategic approach to board succession planning. This panel will look at current topics of debate, including director tenure and retirement policies, and share perspectives on how boards can best use the evaluation process to identify gaps, strengthen individual directors' contributions to the board, and address any shareholder concerns around board composition.
Robert Bostrom, Senior Vice President, General Counsel & Corporate Secretary, Abercrombie & Fitch

Christine Rivers, Senior Client Partner, Board & CEO Services, Korn Ferry Hay Group

Christy Wood, Board Member, H&R Block

Moderator: Paul DeNicola, Managing Director, Governance Insights Center, PwC
---
Lunch and Keynote
Steve Odland, President & CEO, Committee for Economic Development; Former Chairman & CEO, Office Depot Inc.; Board Member, General Mills Inc. and Analogic Inc.
Interviewed by TK Kerstetter, Host, Inside America's Boardrooms
---
Responding to the Rising Tide of Shareholder Activism – A Collaborative Case Study
Shareholder activism has become more pervasive in recent years, and it is not likely to go away any time soon. This collaborative case study—including exercises involving attendees—will address how companies can respond and mitigate potential risks when activists come knocking on their doors.
Barbara Berlin, Director, Governance Insights Center, PwC

Paul DeNicola, Managing Director, Governance Insights Center, PwC
---
---
Building the Right Board at the Right Time
This panel will evaluate director recruitment in different scenarios, such as M&A, taking a company private, expanding globally, or other times of significant change. The discussion will cover processes and resources for improving director recruitment efforts, including the use of search firms, leveraging peer networks, and other tactics.
Hope Taitz, Board Member, Diamond Resorts International and Apollo Residential Mortgage

Tiger Tyagarajan, President & CEO, Genpact

Nels Olson, Vice Chairman & CO-Leader, Board & CEO Services, Korn Ferry

Moderator: David Chun, Chief Executive Officer, Equilar, Inc.
---
From the Boardroom to the Courtroom – How the Conversation on Director Compensation Is Changing
Director compensation has gained more attention from investors, the courts, and the media with several lawsuits in 2015. This panel will look at evolving trends in director compensation, including retainer, cash and equity components, evaluate the potential implications of recent court cases, and address key elements directors should consider when setting their own pay packages.
Ray Milchovich, Board Member, Nucor Corp., NTS and The Dow Chemical Co.

Bob Romanchek, Partner, Meridian Compensation Partners

Martha Steinman, Partner, Hogan Lovells LLP

Moderator: Dan Marcec, Director of Content, Equilar Inc.
---
The Keys to Effective Shareholder Engagement
The spotlight on pay for performance, board refreshment, and proxy access isn't going away. As you engage shareholders ahead of the 2017 proxy season, this panel will share valuable tips on how to most effectively engage investors on these and other key issues, as well as how to make the most out of proactive shareholder outreach efforts throughout the year.
John Beckman, Partner, Hogan Lovells LLP

Bess Joffe, Managing Director & Head of Corporate Governance, TIAA-Cref

Bob McCormick, Chief Policy Officer, Glass Lewis & Co.

Moderator: Ron Schneider, Director, Governance Services, RR Donnelley
---
---