Equilar Institute
Blog Home
Ford Names New CEO: Who Is Jim Hackett?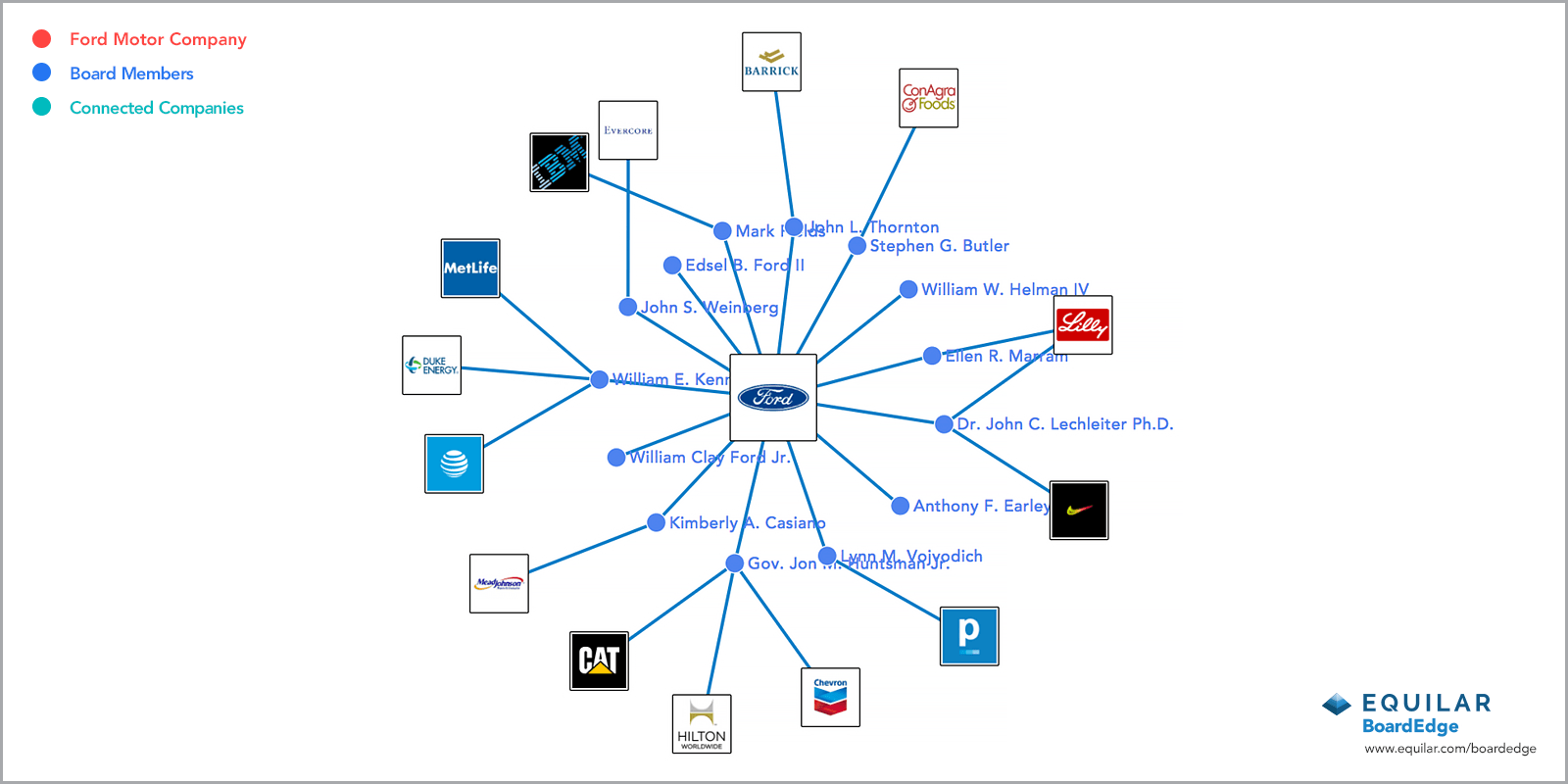 ---
---
May 25, 2017
As the news broke about the replacement of now former Ford Motor Company CEO Mark Fields, questions arose about his successor—who is this executive who was relatively new to the company and the industry? Jim Hackett, former CEO of Steelcase and Chairman of Fifth Third Bancorp, was named CEO, ostensibly the automaker's answer in the race toward autonomous car technology.
Hackett, who previously served on Ford's board of directors, stepped down in 2016 to take the role as Chairman of Ford's "Smart Mobility" innovation unit. Considered an "industry outsider," Hackett is seen as the answer to reversing a substantial drop in Ford's in stock price, even though the company saw solid sales in Fields' tenure. Fields hired Hackett in 2016 in an effort to compete with Silicon Valley tech giants entering the automotive industry to launch a road-ready self-driving car.
Hackett has an relatively extensive public company rolodex. Upon research in the Equilar BoardEdge database, Hackett is identified as being "connected" to 92 board members and executives at various public companies since 2000. For reference, the average S&P 500 director has 94 connections, according to an earlier Equilar BoardEdge study. Hackett served as CEO and on the board at Steelcase from 1994 to 2015, and also was a board member at Fifth Third Bancorp from 2001 to 2016, where he served as both Chairman and Lead Director during his time there. To learn more about Hackett's connections or the BoardEdge connections download, sampled in the screenshot below, click here.

The Equilar BoardMap for Ford Motor Company (also shown in a screenshot above) identifies how the company's current board members are connected to other public companies. Fields has served on the board of directors at IBM as well, and his status there remains, though could change depending on his future professional endeavors.
Click here to view all 92 board members and executives connected to Jim Hackett.
---
For more information or commentary on Equilar research and data analysis, please contact Dan Marcec, Director of Content & Communications—who also authored this post—at dmarcec@equilar.com. Cydney Myers, associate editor, and Courtney Yu, research director, also contributed to this post.
---