Q1 2021 Equilar Gender Diversity Index
Boards Are Nearly Halfway Down the Path to Gender Parity
May 20, 2021
Dan Marcec
The path toward equal representation of men and women in public company boardrooms seemed to go nowhere for decades, but there has been a significant clearing in recent years. The Equilar Gender Diversity Index (GDI) now shows that Russell 3000 boards are nearly halfway to gender parity.
At the end of Q1 2021, 24.3% of all board seats in the Russell 3000 were occupied by women, representing an increase in the GDI to 0.49, up from 0.47 in Q4 2020, where 1.0 represents gender parity on Russell 3000 boards. The percentage of women in board seats rose 3.4% from Q4 2020 and 10.5% from one year ago.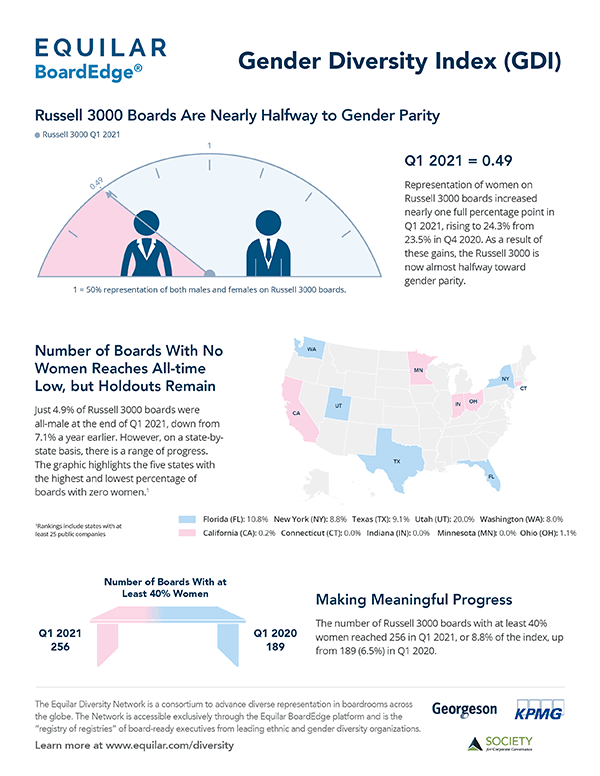 When the GDI was first published, reflecting data as of the end of 2016, just 15.1% of board seats in the Russell 3000 belonged to women. At the time, there were a number of organizations rallying to get to 20% women by 2020, which seemed like a challenging goal given the growth trajectory. Yet the percentage of women in board seats was well above that last year and continues to increase.
A confluence of factors has brought more female directors to the table at a rapid pace. Due to continued commitments from influential institutional investors to vote in favor of companies that are making efforts to promote board diversity, the introduction of legislation in many states, along with continued pressure from public opinion at large, the push to bring women on equal footing with men at the highest levels of Corporate America appears to have gained a stronghold.
"Diversity is powerful because it shakes up the group dynamic, causing people to work harder to communicate and collaborate," said Susan Angele, Senior Advisor, Board Governance at The KPMG Board Leadership Center. "Transformation from homogenous to diverse tends to require a strong catalyst — an internal champion, a changing competitive landscape, stakeholder pressure — and stakeholder pressure can run the gamut from public discussion of the benefits of diversity, to shareholder engagement and requests for disclosure, all the way up to a binding legal mandate."
New Milestones
For the first time, the percentage of boards with zero women has dropped below 5%. At the end of Q1 2021, only 144 companies, or 4.9% of the Russell 3000, had all-male boards. Notably, 34 companies that were previously all-male added a woman in the past quarter, or 19.1% of the companies in that camp. Just one year ago, 205 companies had all-male boards.
Seventy boards had gender parity in Q1 2021, which was one fewer than the previous quarter but 10 more than in Q1 2020. In addition, the number of boards with at least 40% women continues to increase. There were 256 Russell 3000 boards with at least 40% women in Q1 2021, or 8.8% of the index, in comparison to just 6.5% of boards (189) with at least 40% women a year earlier in Q1 2020. This is nearly four times the number of boards with at least 40% women compared to four years ago.
"Looking only at the average percentage of women on boards by its nature obscures the progress of leading companies," said Hannah Orowitz, Senior Managing Director, Corporate Governance at Georgeson. "As those companies progress toward parity, they set an example against which others will increasingly be compared, accordingly moving the goalposts forward for everyone."

Potential Roadblocks
One remaining barrier on the path to parity is the fact that a majority of open positions are still not going to women. In Q1 2021, 41.3% of new board seats — those that turned over or were newly added — went to women (333 out of 806), which was a drop from Q4 2020, when 44.2% of new board members were women (245 out of 554). One year ago, this figure was 37.4% (237 out of 633).
Regardless of ups and downs, the accelerated pace at which women have been added over the past few years will level off if the current trends persist. Ultimately, to reach parity, women will eventually have to fill more vacancies than men, which hasn't yet happened on a quarterly basis.
With turnover on boards occurring relatively infrequently, there will need to be a meaningful growth on this front, and at some point, a majority of women being chosen for vacant or newly added seats will have to be the standard going forward as well.
"Within the U.S., term limits are not common practice, but many companies struggle to proactively refresh their boards absent retirement, and in recent years many companies have increased age limit policies as their directors age," said Orowitz. "An active refreshment process that takes into account the evolving needs of the company is key to ultimately achieving parity."
State of Play, State by State
The GDI tracks the percentage of women on Russell 3000 boards in each U.S. state in the first quarter of every year, finding in this most recent study that representation varied widely. Three states had more than 30% women — Montana (34.3%), Hawaii (31.3%) and Maine (30.9%). Meanwhile, five states had fewer than 20% women — Louisiana (16.5%), Alaska (16.7%), West Virginia (18.4%), Kansas (19.4%) and Oklahoma (19.5%). Each of the other 42 states (plus Washington, D.C.) fell between 20% and 30%.
Looking at states with at least 25 public companies (inclusive of exactly half of the United States), Utah had by far the highest percentage of boards with no women. There, 20%, or 5 out of 25 boards, were all-male. Following Utah were Florida (10.8%; 12 all-male boards out of 111 companies); Texas (9.1%; 23 out of 253), New York (8.8%, 23 out of 262), and Washington state (8.0%, 4 out of 50).
Notably, in California, which has the highest number of boards of any state by a long stretch (489), just one lacked a woman (0.2%). While the debate about enacting laws and quotas to legislate diversity continues, there is also a simple fact that California was home to 86 boards in the Russell 3000 with no women at the time its law to add women directors was introduced in 2018. In less than three years, that figure has dwindled to almost zero.
Overall, the state of California has seen a gradual uptick in the percentage of women directors since the law went into effect. In Q3 2018, 17.4% of directors in the state were women, ranking California 29th among all states. Fast forward to Q1 2021, that figure is now 27.6% and the state ranks 12th in the nation.
Table 1: Women on Boards: Ranking California Among U.S. States
| | |
| --- | --- |
| Date | Ranking |
| Q3 2018 | 29 |
| Q4 2019 | 16 |
| Q1 2020 | 17 |
| Q2 2020 | 17 |
| Q3 2020 | 13 |
| Q4 2020 | 13 |
| Q1 2021 | 12 |
Connecticut had the largest number of Russell 3000 boards (59) that had at least one woman director. Minnesota had the second largest number of boards that all had at least one woman (48), followed by Indiana (43).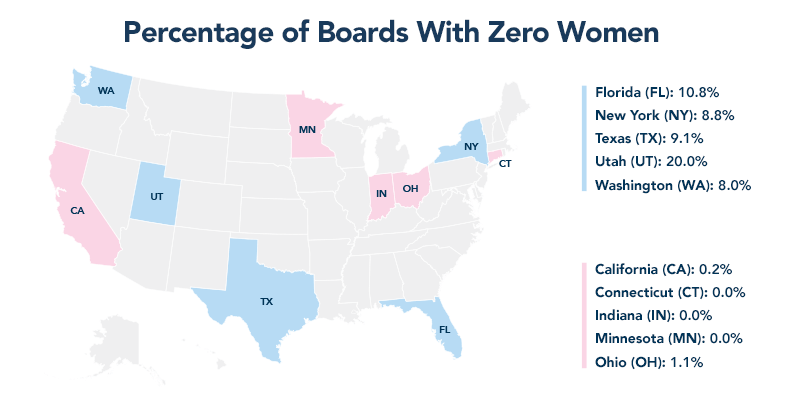 Nuances within the state data underscore the importance of thoughtful and deliberate diversity initiatives. For example, the state of Washington also passed a law requiring gender diversity in early 2020. Though four of the state's 50 companies in the Russell 3000 still have all-male boards, 27.7% of the directors at those 50 companies overall are women, the 11th-highest representation of any state. Meanwhile, despite having zero all-male boards, Connecticut (23.6%) and Indiana (22.6%) underperformed the average when it came to overall representation.
"Some have argued diversity mandates can hinder progress toward parity, as boards may feel they have 'solved' their diversity 'problem' once their board meets minimum required thresholds," said Orowitz. "Additionally, cohesion among board members may be challenged to the extent female board members are perceived as having a seat at the table solely to meet a regulatory requirement. Ultimately, while mandates have been shown to be an effective tool to promote progress at the outset, they do not act as a solution on their own."
Illinois has taken a different approach to legislation, paring down proposals for a more prescriptive quota to require a report on what companies do to recruit diverse directors. Gender diversity in Illinois is slightly above average, with 24.6% women overall and 3.2% of boards (four out of 124) with no women, in comparison to California, which has much more restrictive measures (27.6% overall representation and 0.2% all-male boards). Despite concerns that bills with higher restrictions might end up fraught with legal challenges, would be hard to enforce, and perhaps ultimately undermine their intentions, so far that hasn't happened, and the states with clear diversity mandates have driven results.
"Whether mandates are desirable or even constitutional are deeply polarizing issues, and views are often shaped by broader political and philosophical leanings," said Angele. "What is clear, however, is that external pressure does drive change, and the California mandate served as an accelerator."
Angele noted that many women joining California boards recently have been first-time directors, as the law led to recruiters and board nominating and governance committee chairs expanding searches beyond their usual networks. One unintended consequence was a default of predominantly white women joining boards, she said, which was then addressed in California's follow-up legislation regarding underrepresented groups.
"The time will come when every board candidate pool is highly diverse as a matter of routine, and the informal networks that boards tap into are as likely to be all women as all men," she said. "Until then, there is work to do and a long way to go."
---
About Equilar Gender Diversity Index
The Equilar GDI reflects changes on Russell 3000 boards on a quarterly basis as cited in 8-K filings to the SEC. Most indices that track information about board diversity do so annually or even less frequently, and typically with a smaller sample size, sometimes looking back more than a full year by the time the information is published. While this data is reliable and accurate, the Equilar GDI aims to capture the influence of the increasing calls for diversity from investors and other stakeholders in real time.
The Equilar GDI is powered by Equilar BoardEdge, a database of more than one million public company board members and executives. BoardEdge includes exclusive features that show how board members and companies are connected to each other, as well as the Equilar Diversity Network (EDN), a "registry of registries" of board-ready executives from leading ethnic and gender diversity partnerships, organizations, and publications.
---
Contact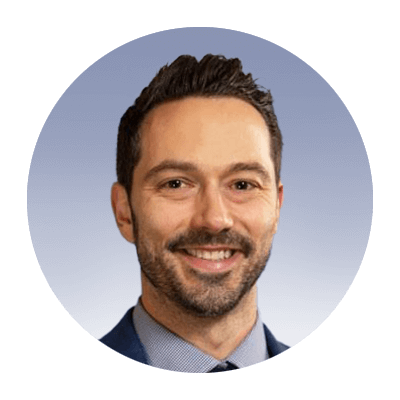 Dan Marcec
Senior Editor at Equilar
Dan Marcec, Senior Editor at Equilar, authored this post. Brendan Cullen, Samar Feghi, Kristen Tang, Reina Zhang contributed data and analysis. Please contact Amit Batish, Director of Content and Communications, at abatish@equilar.com for more information about this article.
---
---