Q1 2020 Gender Diversity Index
May 28, 2020
Daniella Gama-Diaz
---
For the tenth consecutive quarter, the Equilar Gender Diversity Index (GDI) has increased. With the percentage of women on the boards of Russell 3000 companies increasing from 21.5% in Q4 2019 to 22% in Q1 2020, the GDI is now 0.44, where 1.0 represents parity amongst men and women. This trend has accelerated the GDI to a new all-time high.
While the corporate world has been impacted tremendously by the COVID-19 outbreak, succession planning must still remain a priority among boards. "In the past few months, the primary focus of most boards has been on guidance and oversight with respect to issues such as cash flow, working conditions, supply chains and customer relationships, as well as the company's risks and opportunities in connection with the reopening of the economy and beyond," said Susan Angele, Senior Advisor Advisor, Board Governance at The KPMG Board Leadership Center. "Board recruiting has not stopped in this environment, and from what we are seeing, the interest in gender diversity continues to be high."

The past decade saw a great amount of progress, particularly since January 2017. When Equilar began tracking the GDI in Q1 2017, only 15% of board seats in the Russell 3000 were held by women. At the start of this decade, 22% of board seats in the Russell 3000 now belong to women. Furthermore, 129 companies have boards with between 40% and 50% women, up from 114 companies last quarter. If trends continue, this decade could see the biggest push for gender equality in the boardroom.
"The increase women in directorships positions is wonderful to see," said Brigid Rosati, Director of Business Development at Georgeson. "It is also interesting to note that in Q1 2020, 129 female directors were taking a board seat for this first time. This number has remained consistent over the past year, which indicates that more women are being considered for board seats."
Over the last quarter, the percentage of companies that previously had zero women on their board dropped from 7.7% to 7.1%. However, this change is not linear. Although the percentage of new female directors this quarter fell from 45% to 37.4%, the percentage of women serving on multiple boards rose slightly from 24.3% to 24.5%. While companies are seeking more female representation on their boards, appointments need to go to the most qualified candidate. Of companies that previously had zero women on their boards, over 7% added a woman in Q1 2020.
Reaching gender parity across the Russell 3000 may still be a feat for the next decade, despite slow but steady increases. The GDI has been rising each quarter, but growth may become stagnant. Only 60 companies out of the Russell 3000 have at least 50% women on their boards, which saw no change from last quarter. This was a decline from the 63 in Q3 2019. While some obstacles remain, several efforts have pushed this movement to greater heights. For one, a number of U.S. states have made larger strides than others in the push for gender equality, as they have seen a notable rise in female directors on boards. California ranked 17th among all U.S. states in terms of female representation on boards in Q1 2020, with 24% of Russell 3000 directorships held by women. Similarly, 23% of directorships in both New York and Massachusetts are held by women, and 22% of board seats are occupied by women in both Illinois and Texas.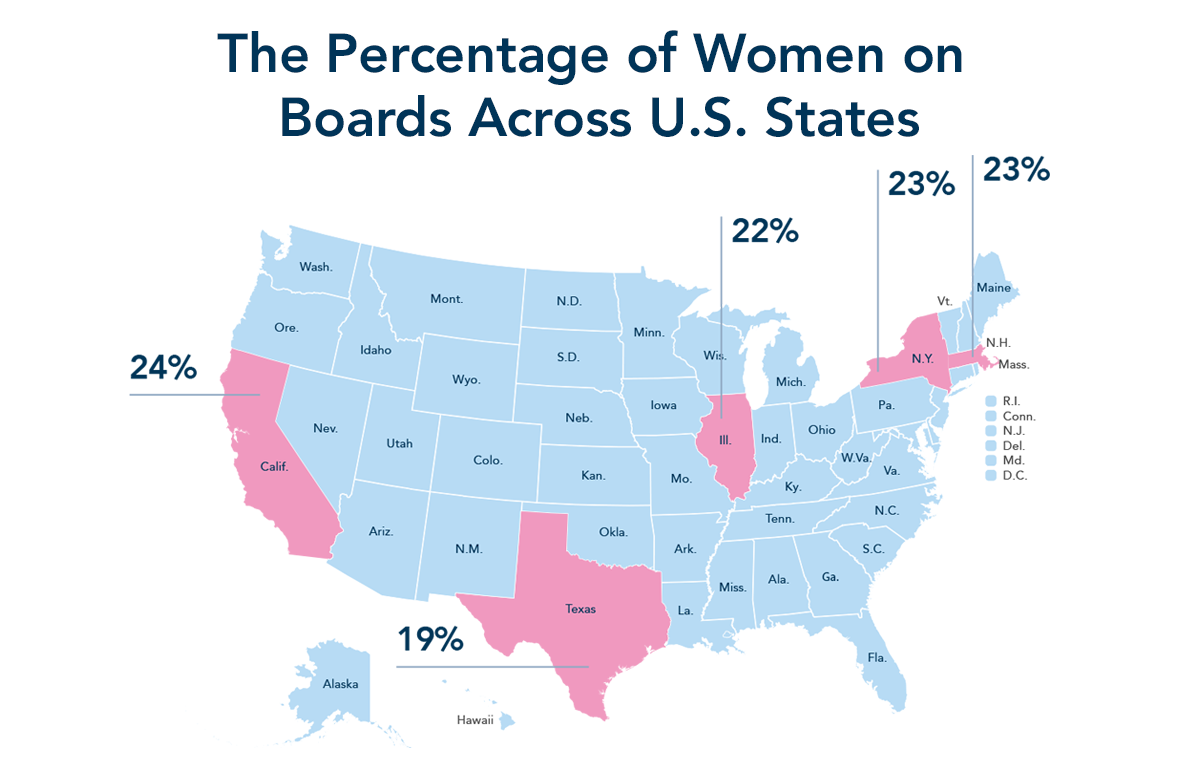 Apart from a societal push for gender equality across the board, legislation may have played a major part in these states showing significant progress. In 2018, California passed a law mandating the placement of women on boards. Despite several negative reactions from major stakeholders, including shareholders and even other legislators, the law has showed positive results into the new decade. When legislation was passed in California in 2018, the state ranked 32nd among all U.S. states in terms of women on boards.
Illinois passed a law last fall that requires public companies to disclose gender and ethnicity data for boards. Although the original bill mandated at least one woman on board, the legislation was pared down to only disclosure. However, this is still a stride that not only will make stronger legislation possible in the future, but it has also made Illinois one of the most board-diverse states. Similarly, Massachusetts may pass a similar law soon as several bills have been proposed to mandate more women on public boards for companies headquartered in the state. New York may also follow suit, laying the groundwork to properly assess how to best get more women on boards.
Last year, Goldman Sachs made a progressive announcement by stating that companies must have at least one diverse board member in order to go public. The company will begin by focusing on women in the boardroom, and will expand into ethnicity diversity. Major firms in the private sector can create a big push towards equality in the workplace, especially a large and influential financial and investment management firms such as Goldman Sachs.
"While it is too early to tell the impact of this policy, it is indicative of current thinking that diversity is more than a 'nice to have' in light of the value it brings to boardroom decision-making," said Angele.
This decade, strides in legislation, public opinion and private enterprise will continue to shift the GDI closer to gender parity. A unique situation that companies are facing today, unprecedentedly, is the new normal brought on by the COVID-19 outbreak. There is no question that the current crisis will leave its mark in the boardroom, and boards will have to navigate through the various challenges that it poses, including those pertaining to gender diversity.
"Looking ahead, this could impact gender diversity as more boards seek candidates with ESG, HCM, and/or risk management experience," said Rosati. "Anytime a company is considering adding a board member with one of these necessary skill sets, they have an opportunity to bring in a diverse candidate."
---
About Equilar Gender Diversity Index
The Equilar GDI reflects changes on Russell 3000 boards on a quarterly basis as cited in 8-K filings to the SEC. Most indices that track information about board diversity do so annually or even less frequently, and typically with a smaller sample size, sometimes looking back more than a full year by the time the information is published. While this data is reliable and accurate, the Equilar GDI aims to capture the influence of the increasing calls for diversity from investors and other stakeholders in real time.
The Equilar GDI is powered by Equilar BoardEdge, a database of more than 300,000 public company board members and executives. BoardEdge includes exclusive features that show how board members and companies are connected to each other, as well as the Equilar Diversity Network (EDN), a "registry of registries" of board-ready executives from leading ethnic and gender diversity partnerships, organizations, and publications.
Contact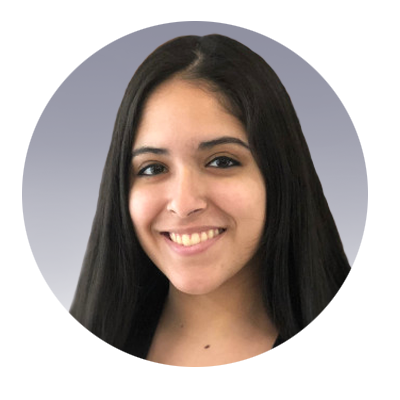 Daniella Gama-Diaz
Associate Editor at Equilar
Daniella Gama-Diaz, Associate Editor at Equilar, authored this post. Zeynep Akca, Jacob Doty, Paul Richardson and Rachel Wang contributed data and analysis. Please contact Amit Batish, Content Manager, at abatish@equilar.com for more information on Equilar research and data analysis.
---