Equilar Institute
Blog Home
Who Will Be Google's Next Chairman?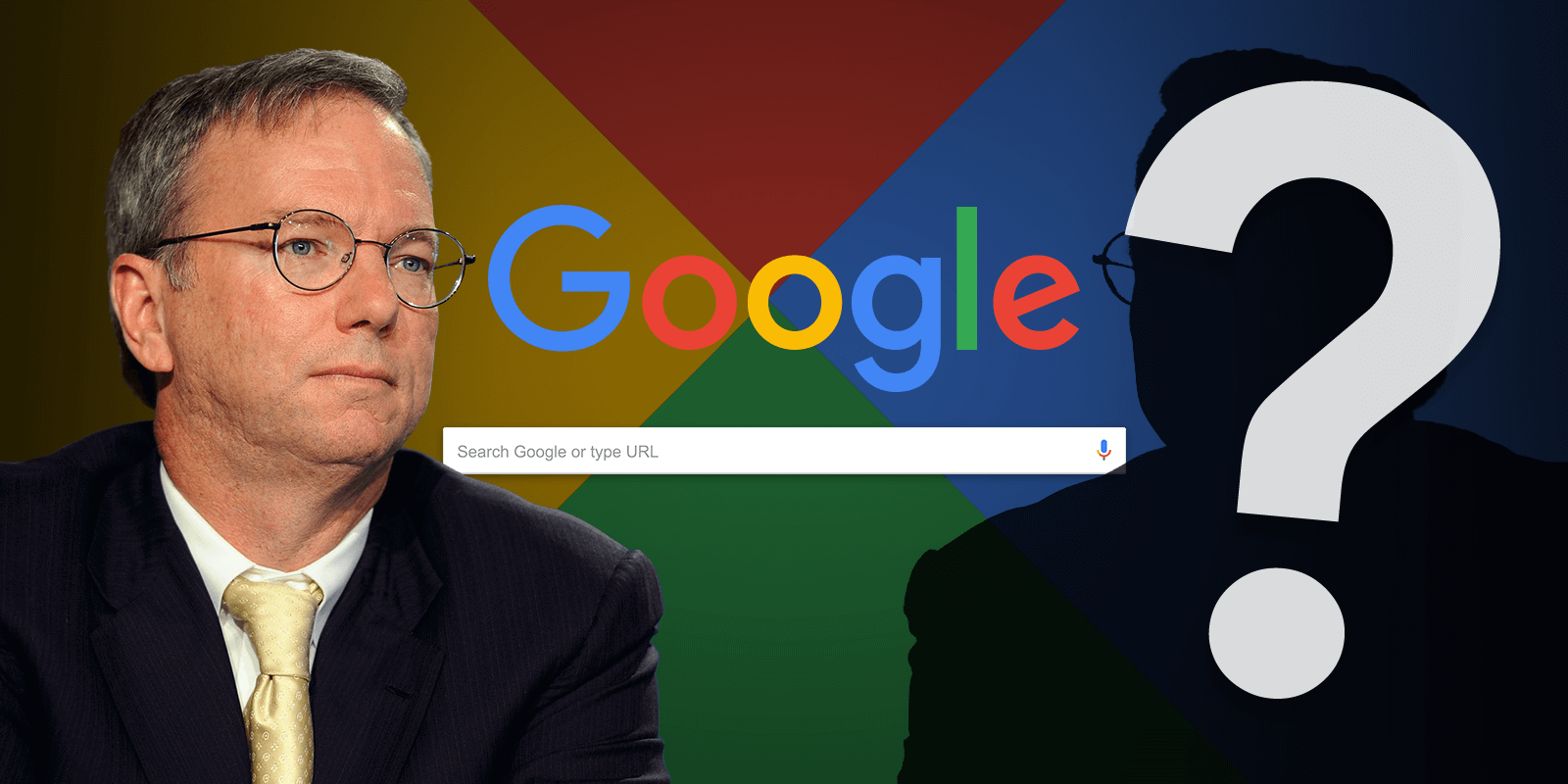 ---
---
December 22, 2017
Alphabet, the parent company of Google, announced that long-time executive chairman Eric Schmidt will be stepping down effective as of the company's next board meeting in January 2018. Serving the company since 2001, Schmidt was Google's first outsider CEO, taking it public in 2004 and continuing on as chief until transitioning to his current position in 2011. According to The New York Times, the company plans to appoint another chairman, and Schmidt will remain on the board and become a "technical advisor."
The question that will linger like a San Francisco fog above Silicon Valley—and indeed corporate America—until then will undoubtedly be: "Who will be the company's next chairman?"
To expect Alphabet to adjust its board composition to look more like its peer group* would be presumptive. However, looking at Alphabet's 13 proxy-disclosed peer companies using Equilar BoardEdge data, some trends are apparent that could shift its board one way or another.
The first and most logical question is whether the company will add a new director or simply promote one of its current board members to the chairman position. Given that Alphabet currently has 12 directors—above the average for a large-cap board—adding another seems unlikely. However, Alphabet's board also comprises 63.6% independent directors, far below the median 83.3% among its peers. Among Alphabet's 13 disclosed peer companies, just 38.5% have an independent chairman, so it would not be unusual to see the company promote an insider. While investors are growing more wary of executive management running the entire show, John Hennessey currently serves as Alphabet's lead independent director.
Furthermore, currently, Alphabet's board is 25.0% women, which is the median of its peer group, and well above the percentage of women on boards for Silicon Valley companies as a whole. Just two of its peers have women in leadership roles, however—Ginny Rometty, the CEO and chairman of the board at IBM, and Patricia Russo, the non-executive chairman of HPE.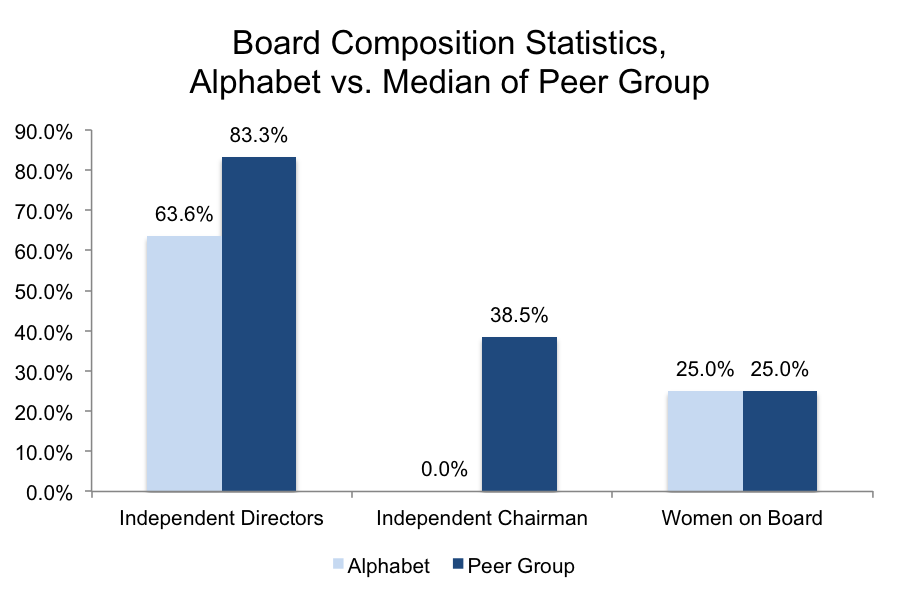 Now to the question of who the next chairman might be, particularly if Alphabet brings in an outsider. Technology has allowed boards to cast a wider net in searching for new directors, but at the same time, the "who we know" factor remains critical when adding a new member. The network effect is undeniable, as a board needs to be assured not only of a director's quality reputation, but also that chemistry will not be toxic from the beginning.
By analyzing their networks and who they've worked with in the past as executives and directors, boards are able to combine "who they know" with a wider pool of candidates. For example, Schmidt himself has a sizable executive network of 79 executive and board connections through direct working relationships, including in Silicon Valley from his time as a board member at Apple from 2006 to 2009. In addition, Diane Greene, who is the senior vice president of Google Cloud, also has 70 connections to other directors and executives, including a current board seat at Intuit. Meanwhile, co-founders Larry Page and Sergey Brin have 22 connections each, and Google CEO Sundar Pichai has 28. In each of their cases, most of their connections comprise the Alphabet board, current and former members alike.
Could Alphabet go outside the box with their new chairman appointment, not only in terms of an outside director, but perhaps an industry outsider as well? Given that the company had the second-largest market cap of any U.S. corporation at the end of Q3 2017, someone with broader perspective may fit the bill. Of course, of the largest 10 companies in market cap, four others are Alphabet peers (Apple, Microsoft, Amazon and Facebook). So it also behooves the company to have someone who knows a little something about the tech industry at the helm.
Seasoned board members such as Ann Mather, who serves on four other boards and has 159 executive and board connections, is a great example of the type of leader who could bring in a high-profile person (or take on the role themselves). Roger Ferguson, the President and CEO of TIAA-CREF Financial Services, who also serves on the board of General Mills and has 99 executive and board connections, could also be a key player in helping identify an outside leader.
Click on the image or the button below to download Mather's connections and analyze her executive network.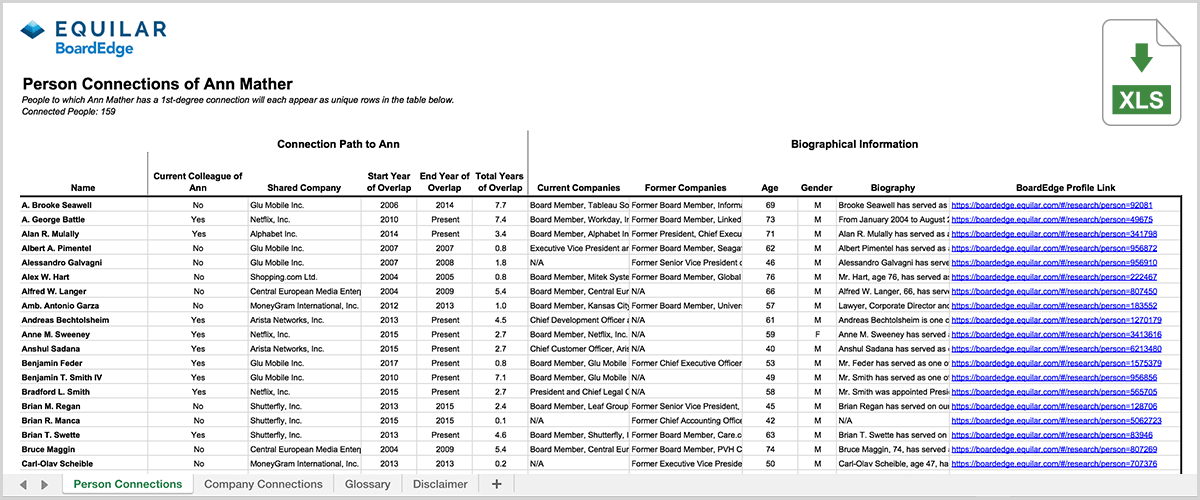 Download Executive and Board Connections
Google co-founder Sergey Brin is famous for saying the company hired Schmidt to come in as CEO in 2001 to provide "parental supervision." Of course, as Bloomberg aptly noted, Google (now Alphabet) has seen its market cap increase $541 billion since Schmidt transitioned to executive chairman. With this new era on the cusp of beginning, the question is whether one of the original disruptors of the current technology revolution will opt for a leader that will help them see the Alphabet parent company's "moonshots" or go with a new chairman that will serve as caretaker for its still-booming advertising business.
In Silicon Valley, one never knows what to expect, but analysis of the networks of these individuals and board structures of their peers may provide a peek. See Oracle, for example, whose founder and long-time CEO Larry Ellison transitioned to CTO and chairman in 2014. While not predictive, executive network data will play a role in Alphabet's next move, and analysis of this information will help decision-makers choose the best leader for one of the world's top companies.
*Alphabet's proxy-disclosed peer group includes Apple, Amazon, Cisco, Disney, eBay, Facebook, HPE, Intel, IBM, Microsoft, Oracle, Qualcomm and Yahoo. Though Yahoo is no longer a company, it was included as a peer in Alphabet's most recent proxy statement.
---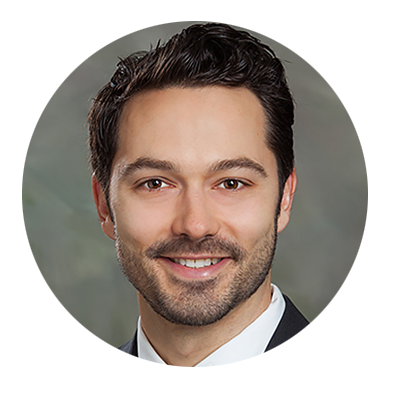 Dan Marcec, Director of Content & Communications at Equilar, authored this post. Please contact him at dmarcec@equilar.com for more information on Equilar research and data analysis.
---