Equilar Institute
Blog Home
How Data Connects Executives Across the Globe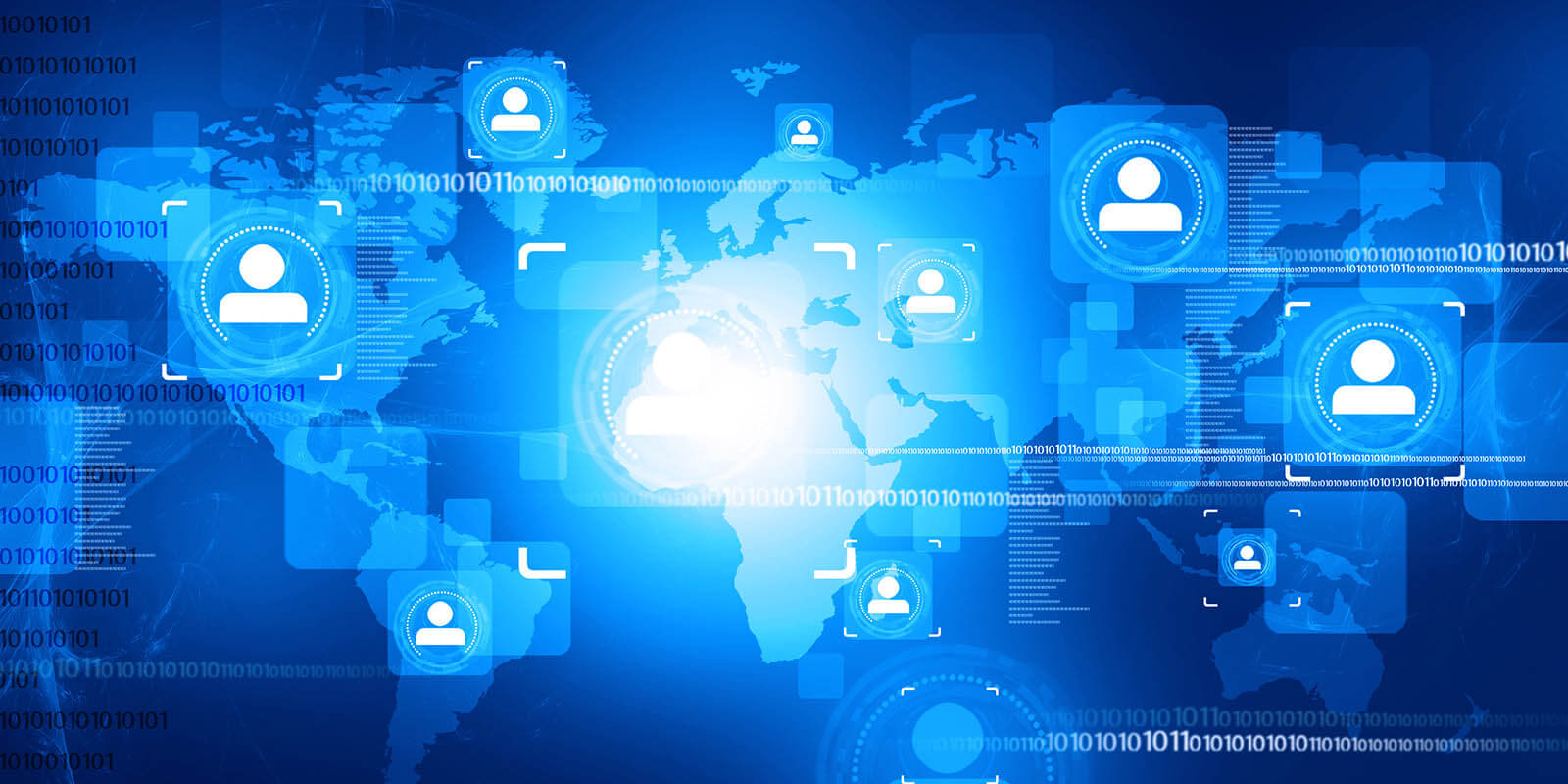 ---
---
December 18, 2017
In today's always-on, globalized corporate environment, executives are constantly moving from meeting to meeting across the world, interacting with fellow C-level executives and board members in person and virtually.
These executives recognize that they are establishing a vast network of corporate connections to individuals who may provide valuable business opportunities in the future. But what they may fail to realize is that building this network along the way is also opening paths to second- and third-degree connections who have the potential power to influence their business beyond what's happening in day-to-day meetings.
A recent Equilar study examined the networks of C-suite executives and board members for insight into how well connected these individuals actually are. The study found that current or former C-suite executives without board experience are connected to an average of 14.4 other board members or executives, while those who lack C-suite titles but who have served as a director have an average of 22.3 connections. Individuals who have C-suite and director experience have the widest networks, with an average of 30.5 connections.
There is no question that top-ranked officers are very well-connected, and the average executive's second- and third-degree connections are even more expansive. Every day, companies are utilizing these networks for various purposes, whether that is for business development, a possible strategic partnership, or even a potential candidate to bring onto a board or executive team. However, the question is how to best leverage connections outside of an immediate network.
The answer is simple: through data and technology that leverages executive networks. Sophisticated search models have been the key foundation for technological disruption across corporate America, but oftentimes, search results generate hundreds of results that can become difficult to manage. As a result, an application of these searches must be optimized across channels in order to be useful.
For example, one fundamental feature of Equilar BoardEdge allows users to see their connections to any of the nearly 200,000 board members or executives in the database, as well as the unique companies that he or she is also connected to. As users search BoardEdge, they are able to follow particular individuals and add them to lists for use in prospecting or general business development, receiving updates for the individuals on their lists in real time.
When BoardEdge users search for a particular executive or board member based on a specified criteria (such as the example below), they may save all of the results of that search—up to 500 names—to a list. Users can then cultivate this much more manageable list for prospecting purposes—and easily return to it.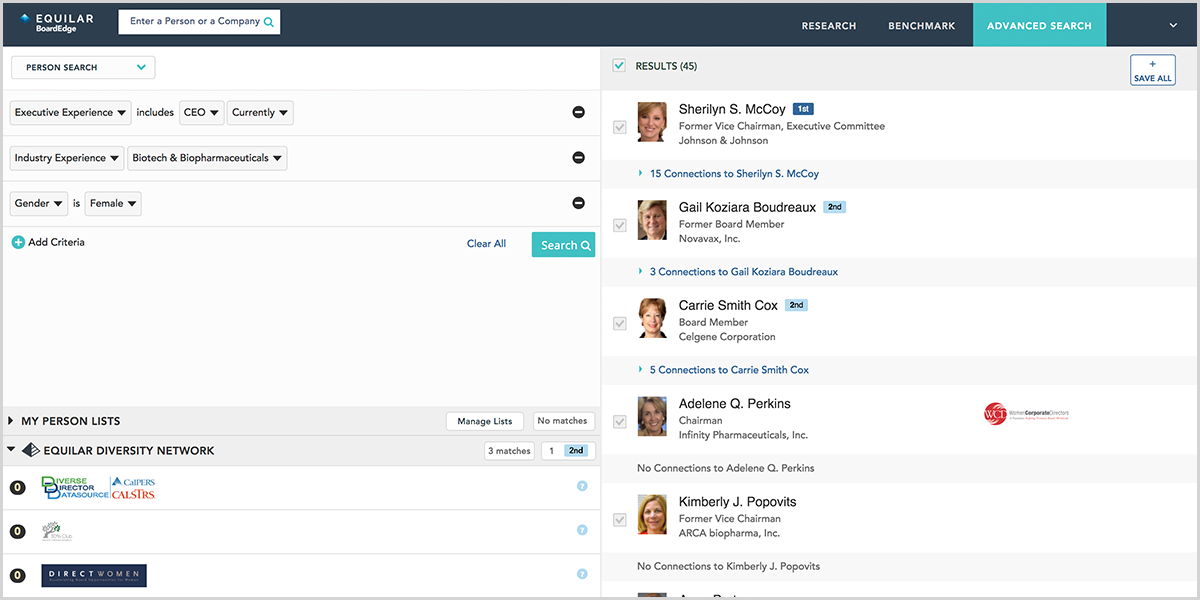 Furthermore, the latest addition to BoardEdge allows users to further leverage these lists. Users may search for any executive or board member—inside or outside of their network—and not only find the degree to which they are connected with that individual, but also the connection paths they can take to reach the searched executive. Results are seen based on the contacts and the lists they have saved.
In the example below, the BoardEdge user searched for John D. Baker II, an executive at FRP Holdings, who happens to be a second-degree connection to the user. The results show that the user has seven connection paths to Baker that he or she could utilize. These paths include those from the user's created list, "My Prospects," as well as through the user's personal network of Apple, where he or she currently works. This is a prime example of how BoardEdge allows individuals to see who their second- and third-degree connections are connected to, expanding their potential networking capabilities and creating a web of professional opportunities.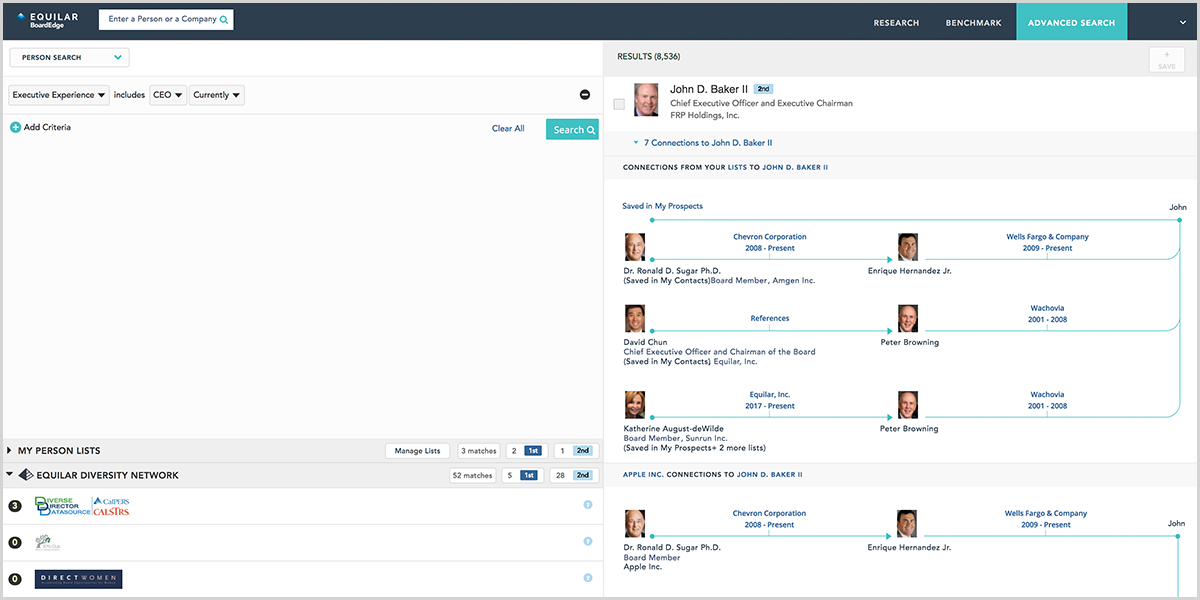 This technology—paired with extensive person data on the top executives in the U.S.—allows companies to discover whether they have a pathway to any executive or board member through their firm's contacts with one click. As executive networks become more and more intertwined, the data is out there to discover the paths between them, and technology is leading the wave of change in how companies conduct business. With 2018 fast approaching, there is no question that as executives look to grow their businesses, using data to search, curate and expand their professional networks will play a pivotal role in successfully landing new opportunities.
---
Reach out to Equilar to request a demo of BoardEdge or to request a connections download of one of the nearly 200,000 executives and board members in the database. Include specific requests for individual downloads in the comment field.
---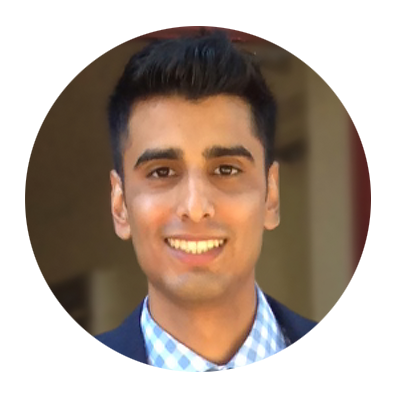 Amit Batish, Content Manager, authored this post. Please contact Dan Marcec, Director of Content & Communications, at dmarcec@equilar.com for more information on Equilar research and data analysis.
---