Equilar Institute
Blog Home
Milestones on the Long Road to Gender Parity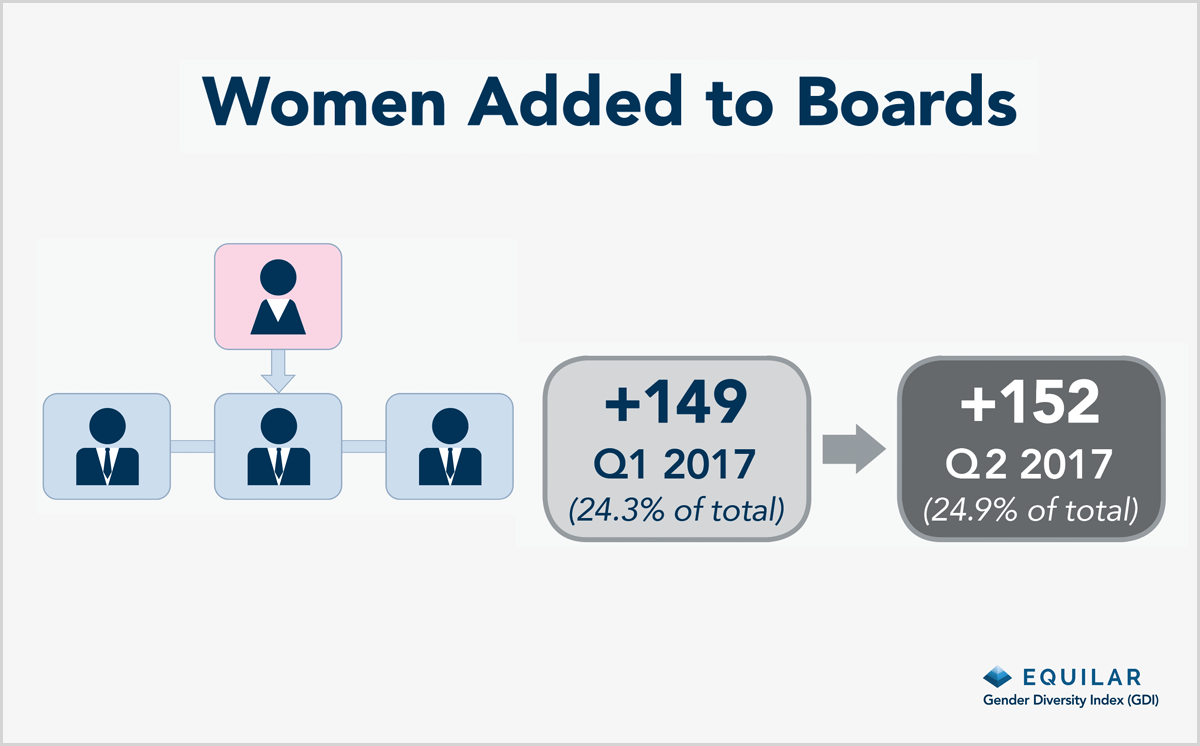 ---
---
July 31, 2017
The latest Equilar Gender Diversity Index (GDI) shows little movement in the number of women on boards, as the percentage of Russell 3000 board seats represented by women increased from 15.9% in Q1 2017 to 16.2% in Q2.
Despite slow movement, clear action from investors like BlackRock and State Street could signal 2017 as an important milestone. In late July, State Street said it voted against the re-election of directors at more than 400 companies, and BlackRock announced that it supported eight proposals requesting policies on board diversity. At five of those companies, BlackRock voted against nominating and governance committee members.
Overall, the number and share of new board seats being filled by women continues to climb. A total of 152 female directors took board seats at Russell 3000 companies in Q2, or 24.9% of board seats that changed hands. That figure increased from 24.3% in Q1 2017.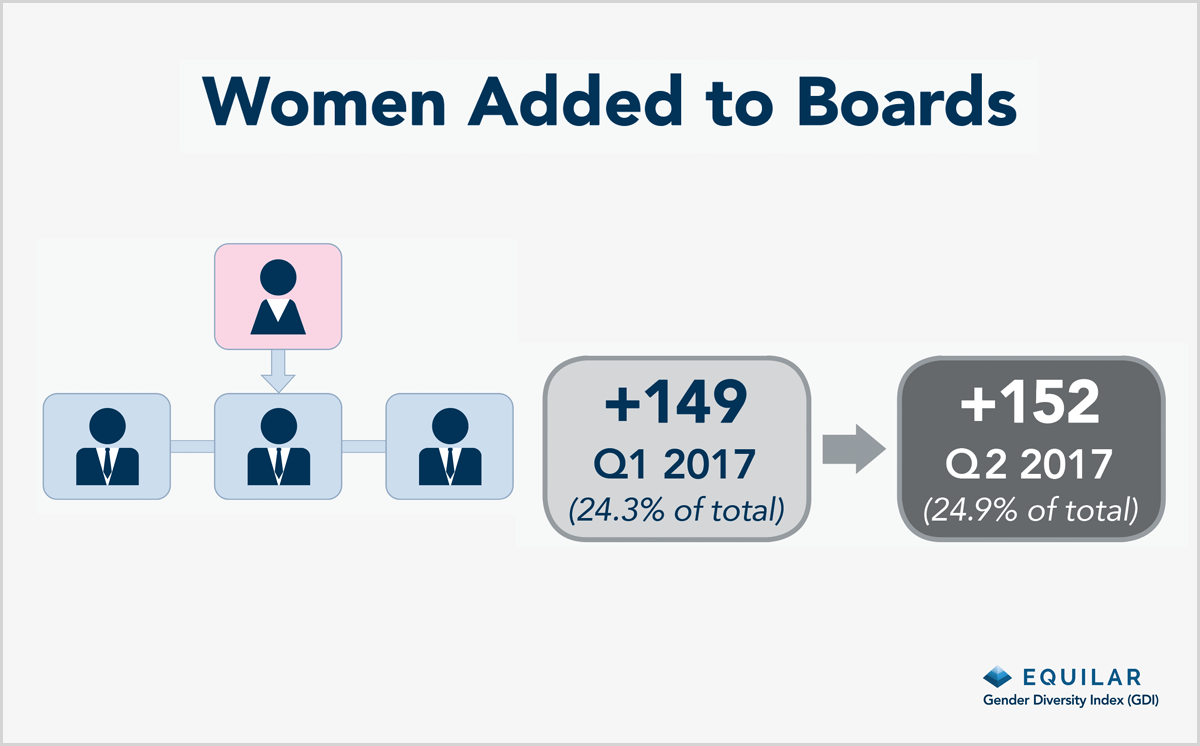 The number of boards with zero women also continues to decline. At the end of Q2 2017, there were 610 Russell 3000 boards without any females—or 21.7% of companies in the study. That figure was down from 738 companies who had zero women in 2016.
For the third quarter in a row, there has been an increase in the number of boards at parity, which now stands at 24, up from 22 in Q1. In addition, there are 48 companies that are between 40% and 50% women—also an increase of two companies from Q1 2017.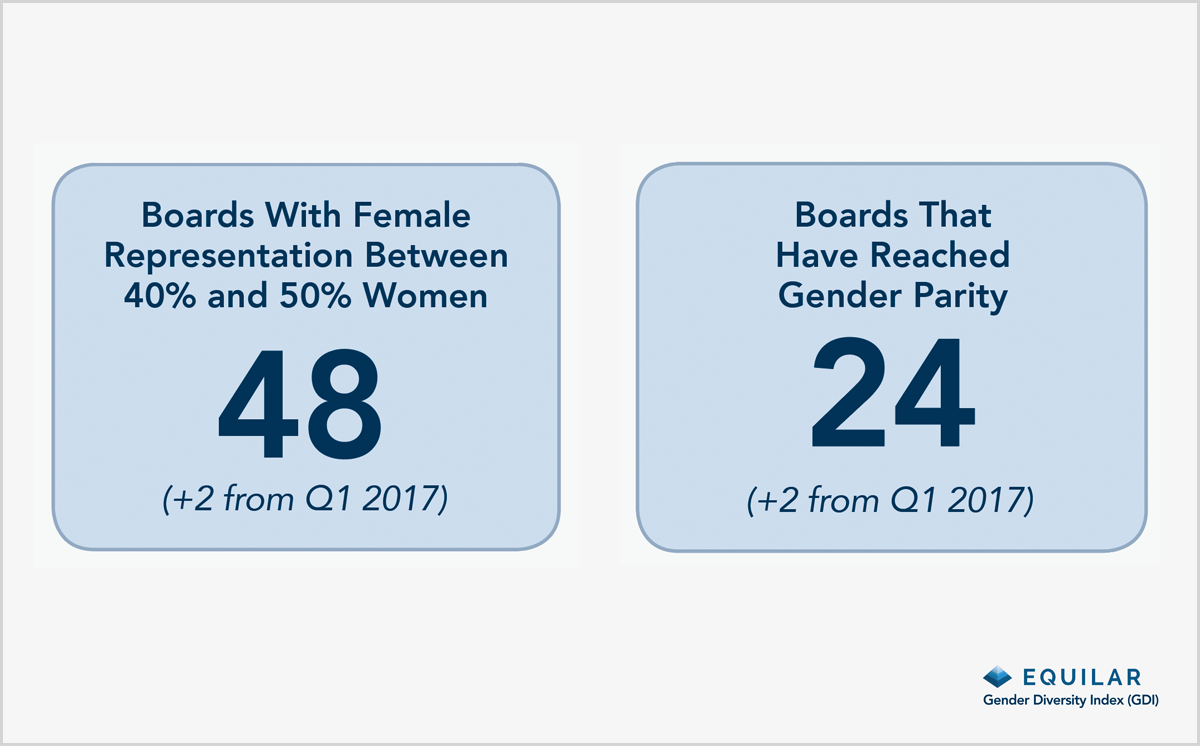 ---
Dan Marcec, Director of Content & Communications at Equilar, authored this post. Please contact him at dmarcec@equilar.com for more information on Equilar research and data analysis. Matthew Goforth, Belen Gomez and Greg Leyrer also contributed to this article.
---
About Equilar Gender Diversity Index
The Equilar GDI reflects changes on Russell 3000 boards on a quarterly basis as cited in 8-K filings to the SEC. Most indices that track information about board diversity do so annually or even less frequently, and typically with a smaller sample size, sometimes looking back more than a full year by the time the information is published. While this data is reliable and accurate, the Equilar GDI aims to capture the influence of the increasing calls for diversity from investors and other stakeholders in real time.
The Equilar GDI is powered by Equilar BoardEdge, a database of more than public company board members and executives. BoardEdge includes exclusive features that show how board members and companies are connected to each other, as well as the Equilar Diversity Network (EDN), a "registry of registries" of board-ready executives from leading ethnic and gender diversity partnerships, organizations, and publications.
Visit www.equilar.com/diversity to learn more.
---