Knowledge Center
Reports
Equilar Gender Diversity Index: Q2 2017
Small Increase in Women on Boards Fails to Move the Needle
August 02, 2017
The quarterly Equilar Gender Diversity Index (GDI) is now in its third installment, launching in February 2017 to track the progress of female representation on public company boards of directors. While there has been progress since the launch of this study, the needle is moving very slowly, and we are yet to see meaningful acceleration in the addition of women directors at U.S. public companies.
The initial GDI set a baseline by looking at female representation on boards as disclosed in 2016 company proxy statements and looked at changes over the previous four years. At the time, 15.1% of Russell 3000 board seats were occupied by women, and if the rate of growth at the time held constant, the GDI projected that gender parity would not be reached until 2055.
Not much has changed since then. In Q1 2017, 15.9% of Russell 3000 boards were represented by females, and as of June 30, 2017, that figure had grown slightly to 16.2%.
Because the GDI measures gender parity at 1—or 50% representation of both men and women—the small increase in female representation was not enough to move the index needle, and it remained at 0.32 from the previous quarter.
Please click on the image below to view highlights from this quarter's GDI.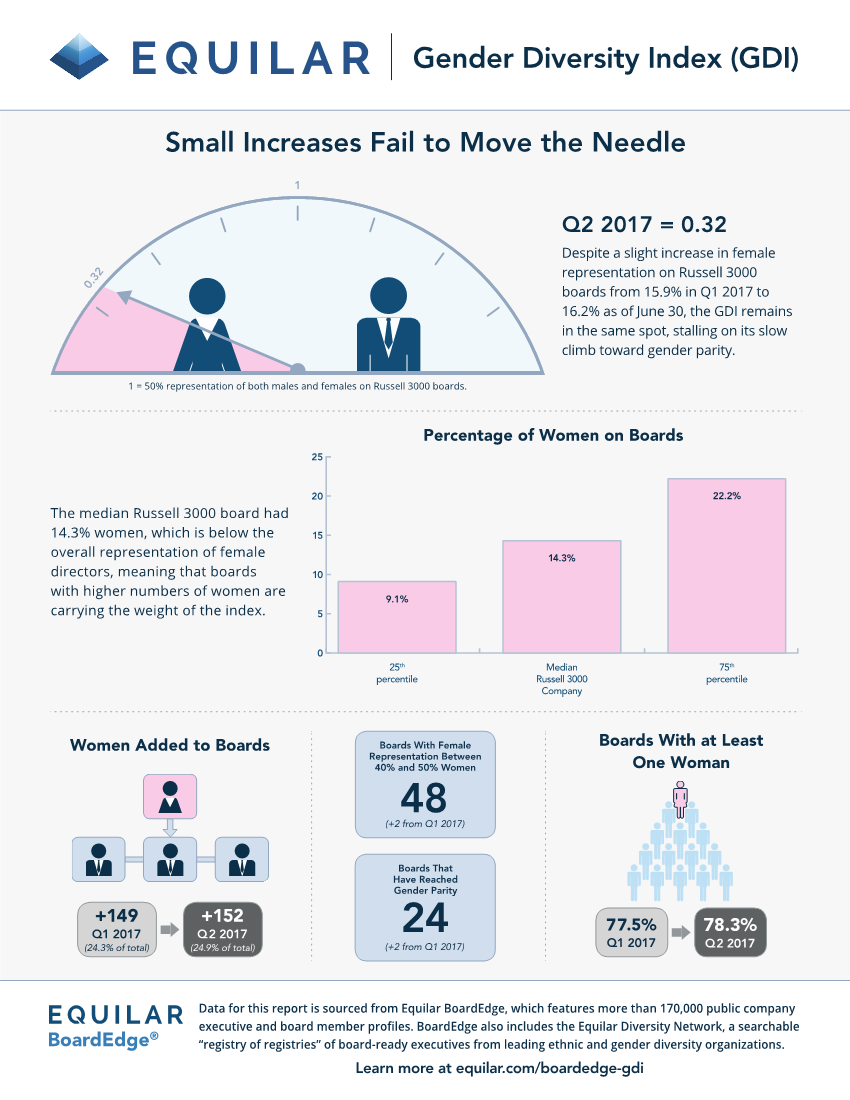 "The limited progress made in this quarter's Gender Diversity Index highlights the importance of remaining vigilant relative to adding women to boards," said Blair Jones, a Managing Partner with Semler Brossy Consulting Group and a member of the Equilar Diversity Network Advisory Council. "What gets measured and talked about gets done, so boards need to keep the conversation alive."
Among companies in the study, the median percentage of women on boards was 14.3%, almost two percentage points below the overall representation. In other words, the number of women on boards is not evenly distributed across the Russell 3000, and companies that are achieving higher proportions of gender diversity are carrying the weight for the rest of the index. The board at the 20th percentile, for example, has zero women.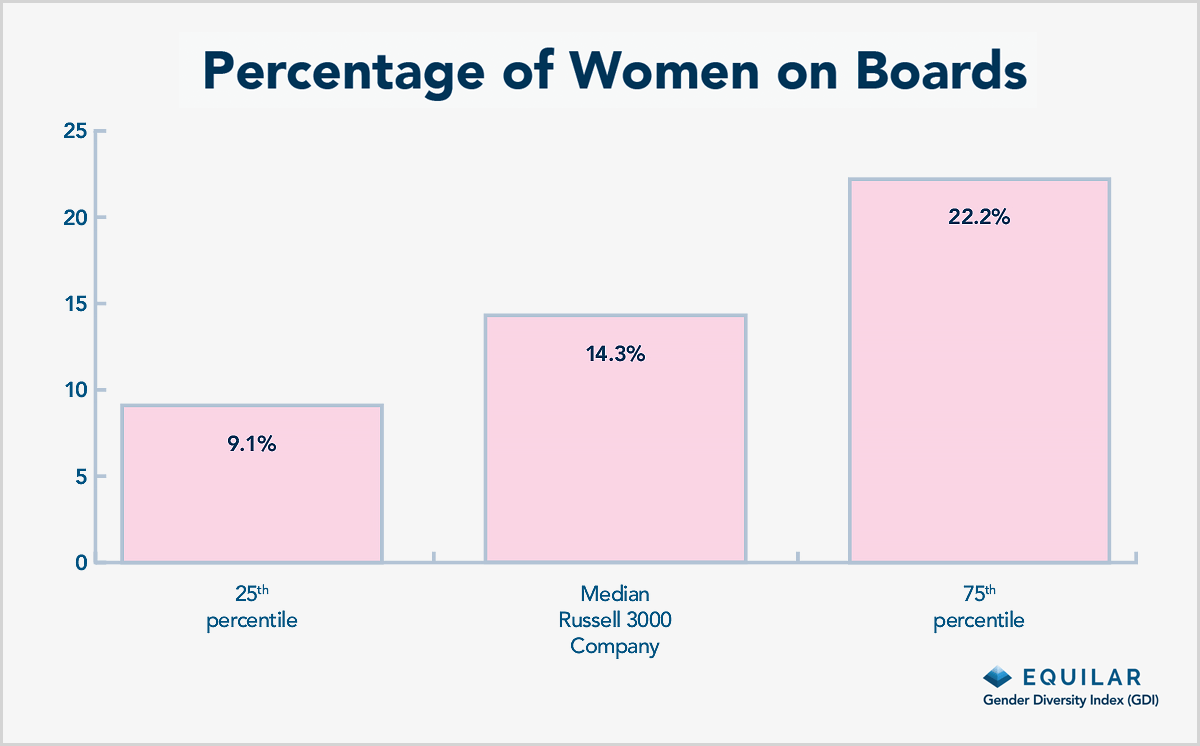 Milestones on the Long Road to Gender Parity
It's neither a secret nor a surprise that increasing the number of women on boards has seen slow progress. However, consistent conversation around board diversity in the past two or three years, coupled with clear action from investors like BlackRock and State Street—which both announced explicit guidelines that would have them vote against boards without female directors—could signal 2017 as an important milestone.
Both firms have lived up to their promises. In late July, State Street revealed that the firm had voted against the re-election of nominating and governance committee chairs at more than 400 companies this past annual meeting season. In BlackRock's second-quarter Investment Stewardship Report, the firm said that it supported eight proposals requesting policies on board diversity or increased disclosure on plans to increase diversity. At five of those companies, the report noted, BlackRock voted against the nominating and governance committee members.
As the overall number of women on boards ticks up slightly from quarter to quarter, signs of growth are there, and the number and share of new board seats being filled by women continues to climb. A total of 152 female directors took board seats at Russell 3000 companies in Q2, or 24.9% of all directors added during the quarter. That figure increased from 149 and 24.3% in Q1 2017, respectively.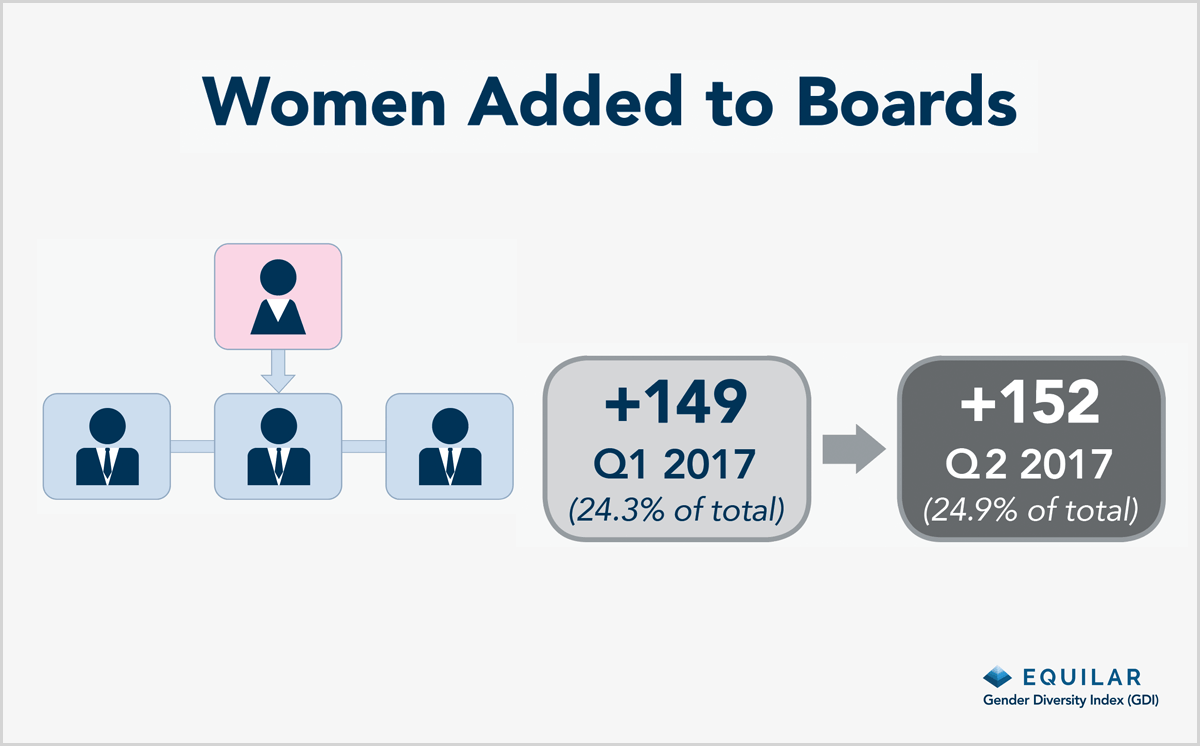 Furthermore, the percentage of boards with at least one woman continues to increase quickly. At the end of Q2 2017, there were 610 Russell 3000 boards without any females, meaning that 78.5% of companies had at least one women on their board. That figure was up from 77.5% in Q1 2017, amounting to a net increase of 32 boards that went from zero to one woman in just three months time.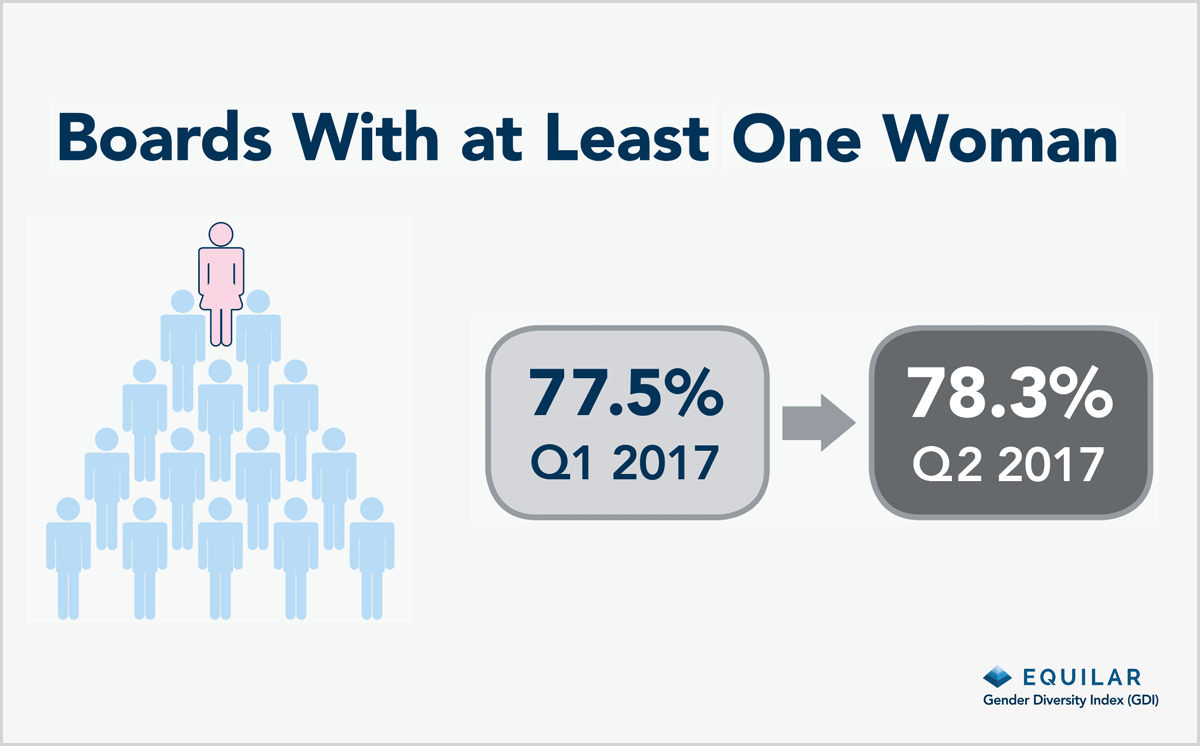 The Closed Network Effect
One other figure to watch as time goes on relates to the number of boards each director serves. Even if overall numbers increase, actual diversity will not be achieved if the same directors are being added over and over to multiple boards. While this improves optics, it does not bring more qualified candidates into the fold.
"Diversity is not a numbers game, and it's about recognizing the value of new perspectives and unique experiences," said Belen Gomez, Senior Director of Research and Board Services at Equilar. "The point of board refreshment is not just to increase the percentage of women or other diverse directors by adding more people from the same network, it's to expand a board's range by bringing in experienced leaders with fresh and innovative ideas."
Indeed, the GDI found in Q2 2017 that 24.8% of all female directors served on more than one board as of June 30, vs. 18.0% of male directors. This was down slightly from the previous quarter when an even 25% of individual women directors served on more than one board, while the proportion of multi-boarded males remained flat.
Boards that are reluctant to address diversity among their ranks often suggest that there are not enough qualified diverse candidates available in the pool of potential directors, and therefore will continue to go back to the same individuals to join their boards. This practice inevitably will lead to a self-fulfilling prophecy. If boards are only looking at former CEOs and CFOs or directors who have served on a board in the past, there is a finite number of individuals in those positions. Reaching a logical conclusion, once each of those individuals interested in serving on boards has maxed out their reasonable time commitments as an executive and board member, there will literally be no one left.
As a result, the conversation around board refreshment has turned to identifying skill sets that go beyond the top positions. The changing corporate landscape requires the board to have a broader range of expertise from finance to technology to marketing to social media, and understanding how all of those fields interact. When it comes to the number of diverse candidates in those fields, the data prove otherwise: There are thousands of female executives at public companies that have never served on boards before—not to mention those leading start-ups and other private companies or partners at consulting or advisory firms who do not show up as top executives or currently serving board members in proxy statements.
"Lack of prior experience as a board member can be addressed through learning and mentoring, and may be far outweighed by the benefit of a new perspective that challenges and changes the boardroom conversation," said Susan Angele, Senior Advisor at KPMG's Board Leadership Center and member of the Equilar Diversity Network Advisory Council. "The breadth of talent and expertise I've seen in first-time board members is just extraordinary, and many new board members have no issue hitting the ground running in their first board meeting."
An Increasing Number of Boards Have Reached Parity
For the third quarter in a row, there has been an increase in the number of boards at parity, which now stands at 24, up from 22 in Q1. The list of those boards is below. Indeed, less than 1% of all Russell 3000 boards have reached gender parity, but the number continues to rise. In addition, there are 48 companies that are between 40% and 50% women—also an increase of two companies from the previous GDI report.
Russell 3000 Boards That Have Reached Gender Parity
| | | | |
| --- | --- | --- | --- |
| Company | Number of Directors | Number of Women | % Women |
| Tootsie Roll Industries, Inc. | 4 | 3 | 75.0% |
| American Water Works Company, Inc. | 8 | 5 | 62.5% |
| Connecticut Water Service, Inc. | 8 | 5 | 62.5% |
| Navios Maritime Acquisition Corporation | 7 | 4 | 57.1% |
| Chico's FAS, Inc. | 9 | 5 | 55.6% |
| Williams-Sonoma, Inc. | 9 | 5 | 55.6% |
| Caleres, Inc. | 11 | 6 | 54.5% |
| Navient Corporation | 11 | 6 | 54.5% |
| Alliant Energy | 10 | 5 | 50.0% |
| Ascena Retail Group, Inc. | 10 | 5 | 50.0% |
| CompX International Inc. | 8 | 4 | 50.0% |
| Etsy, Inc. | 6 | 3 | 50.0% |
| Exponent, Inc. | 6 | 3 | 50.0% |
| Hologic, Inc. | 8 | 4 | 50.0% |
| Libbey Inc. | 8 | 4 | 50.0% |
| Macy's, Inc. | 12 | 6 | 50.0% |
| Red Robin Gourmet Burgers, Inc. | 8 | 4 | 50.0% |
| Select Comfort Corporation | 10 | 5 | 50.0% |
| Simpson Manufacturing Co., Inc. | 8 | 4 | 50.0% |
| Spire Inc. | 8 | 4 | 50.0% |
| Trevena, Inc. | 8 | 4 | 50.0% |
| Valhi, Inc. | 6 | 3 | 50.0% |
| Viacom, Inc. | 10 | 5 | 50.0% |
| Zynga Inc. | 8 | 4 | 50.0% |
---
Amit Batish, the Content Manager at Equilar, authored this report. Please contact him at abatish@equilar.com for more information on Equilar research and data analysis. Matthew Goforth, Belen Gomez and Greg Leyrer also contributed to this report.
---
About Equilar Gender Diversity Index
The Equilar GDI reflects changes on Russell 3000 boards on a quarterly basis as cited in 8-K filings to the SEC. Most indices that track information about board diversity do so annually or even less frequently, and typically with a smaller sample size, sometimes looking back more than a full year by the time the information is published. While this data is reliable and accurate, the Equilar GDI aims to capture the influence of the increasing calls for diversity from investors and other stakeholders in real time.
The Equilar GDI is powered by Equilar BoardEdge, a database of more than public company board members and executives. BoardEdge includes exclusive features that show how board members and companies are connected to each other, as well as the Equilar Diversity Network (EDN), a "registry of registries" of board-ready executives from leading ethnic and gender diversity partnerships, organizations, and publications.
Visit www.equilar.com/diversity to learn more.