Equilar Institute
Blog Home
Procter & Gamble Becomes Largest Company Ever to Face a Proxy Fight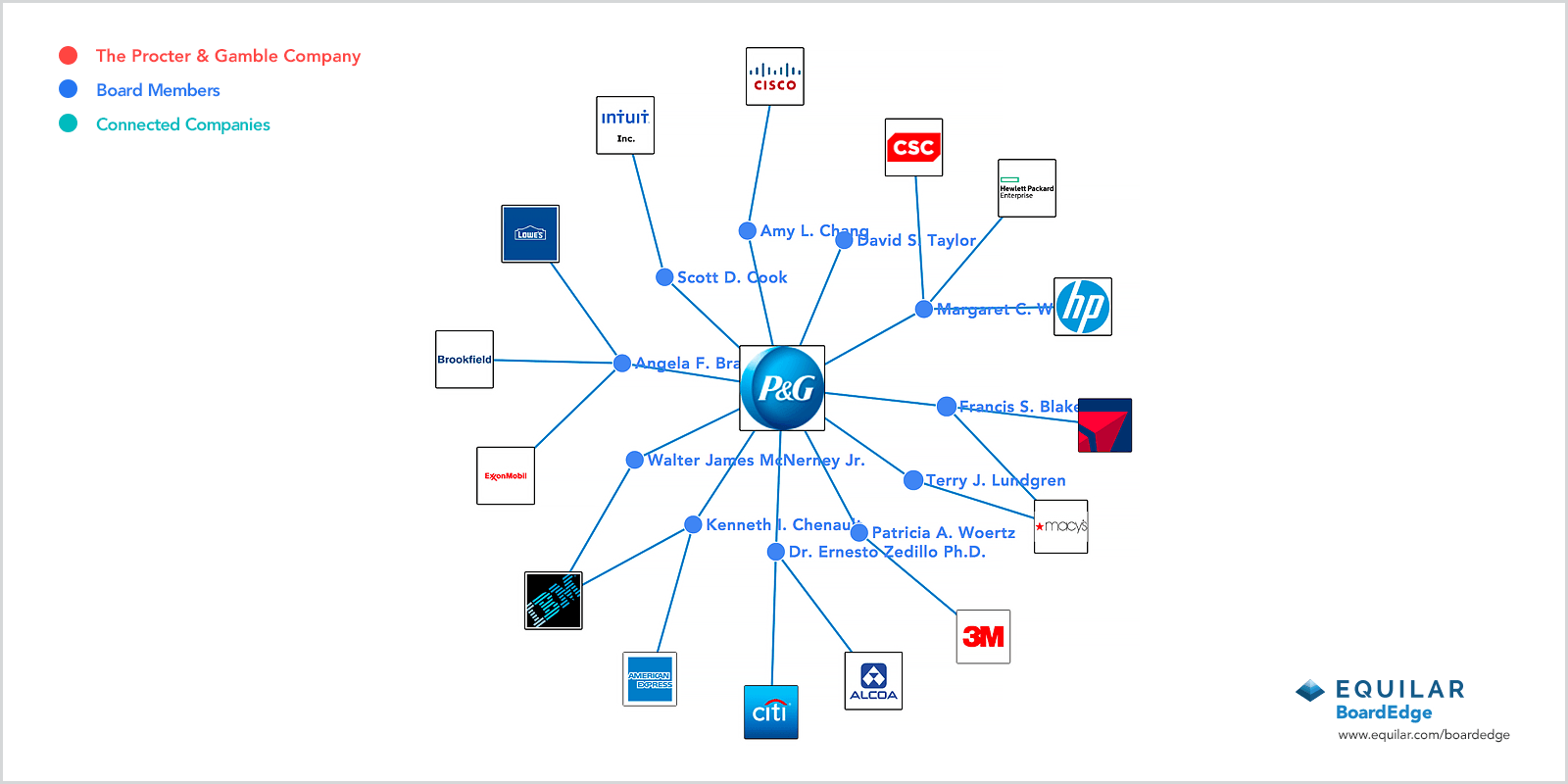 ---
---
July 17, 2017
Activist investor Nelson Peltz, who leads investment firm Trian Fund Management, has announced that he will seek a seat on Procter & Gamble's board of directors, reported The Wall Street Journal. P&G rejected Peltz's original demand for a board seat following five months of discussion regarding the company's underperformance. Trian, which owns approximately $3.3 billion in company stock, has now launched a proxy fight that will be decided by a shareholder vote at the company's annual meeting in October.
Procter & Gamble currently holds a market valuation of almost $224 billion, reported The New York Times, which makes it the largest company to ever face a proxy fight.
The Equilar BoardMap for Procter & Gamble shows how the company's directors are connected to other public company boards through current directorships. Almost every director currently serving on the Procter & Gamble board is multi-boarded, according to Equilar BoardEdge data. The only director on P&G's board without multiple seats is current CEO and chair, David Taylor, and 72.7% overall have CEO experience, with several currently serving as CEO of other companies, or having recently stepped down as chief executive.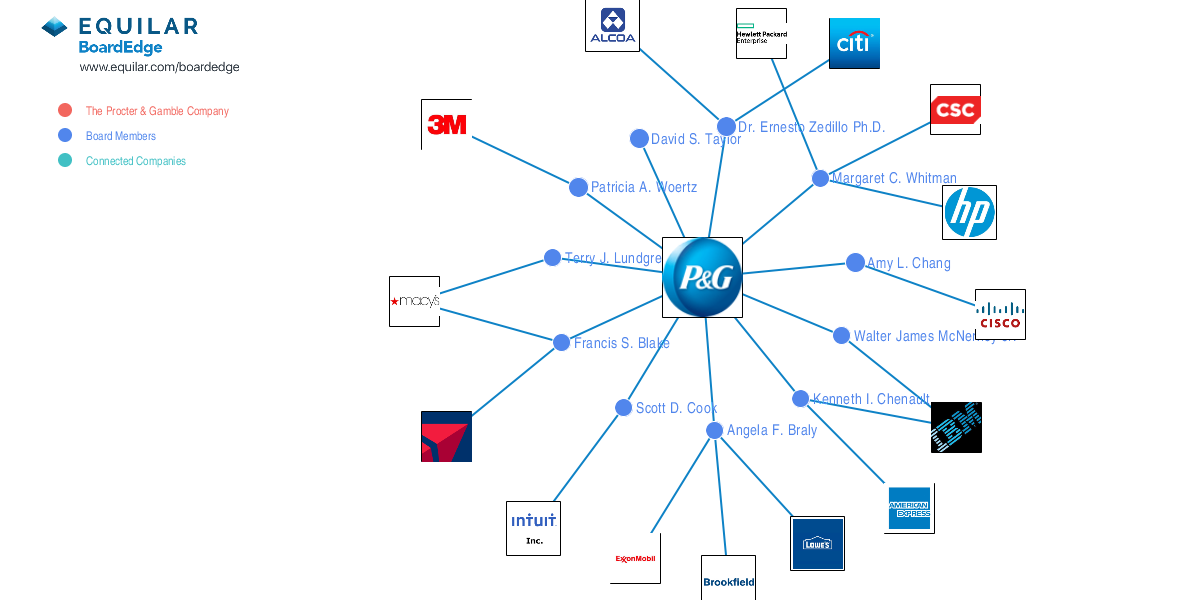 W. James McNerney, who is Lead Independent Director at P&G, currently serves on two boards and has made connections with 124 executives and directors at 99 public companies during his executive and board career. McNerney first joined the P&G board in 2003, and was named lead independent director in October 2016.
Download Executive and Board Connections
Equilar BoardEdge data found that Nelson Peltz is currently seated on four public company boards and has made 169 connections at 104 companies during his 19-year board career.
Procter & Gamble added its newest director, Amy Chang, in June 2017. According to Equilar BoardEdge data, Chang's addition brings P&G's current percentage of female directors to 36.4%, above the average 25% for the company's peers and more than double the 15.9% representation of females on Russell 3000 boards overall. The average tenure for the board is almost double that of its peer companies at 9.2 years, though the average age of the company's 11 board members is just slightly above average overall. Almost half of P&G's board members were elected within the last five years, while four directors have served on the board for more than 14 years. In other words, Procter & Gamble's board does not exhibit any of the typical "red flags" for board refreshment that investors and proxy advisors often raise.
Reach out to Equilar to learn more about BoardEdge connections or request a download of any of the -plus executives and board members in the database. Include specific requests for individual downloads in the comment field.
---
Please contact Dan Marcec, Director of Content & Communications at dmarcec@equilar.com for more information on Equilar research and data analysis. Cydney Myers, associate editor, authored this post.
---