Equilar Institute
Blog Home
Nearly 30% of Executives Under 40 Have Served on a Board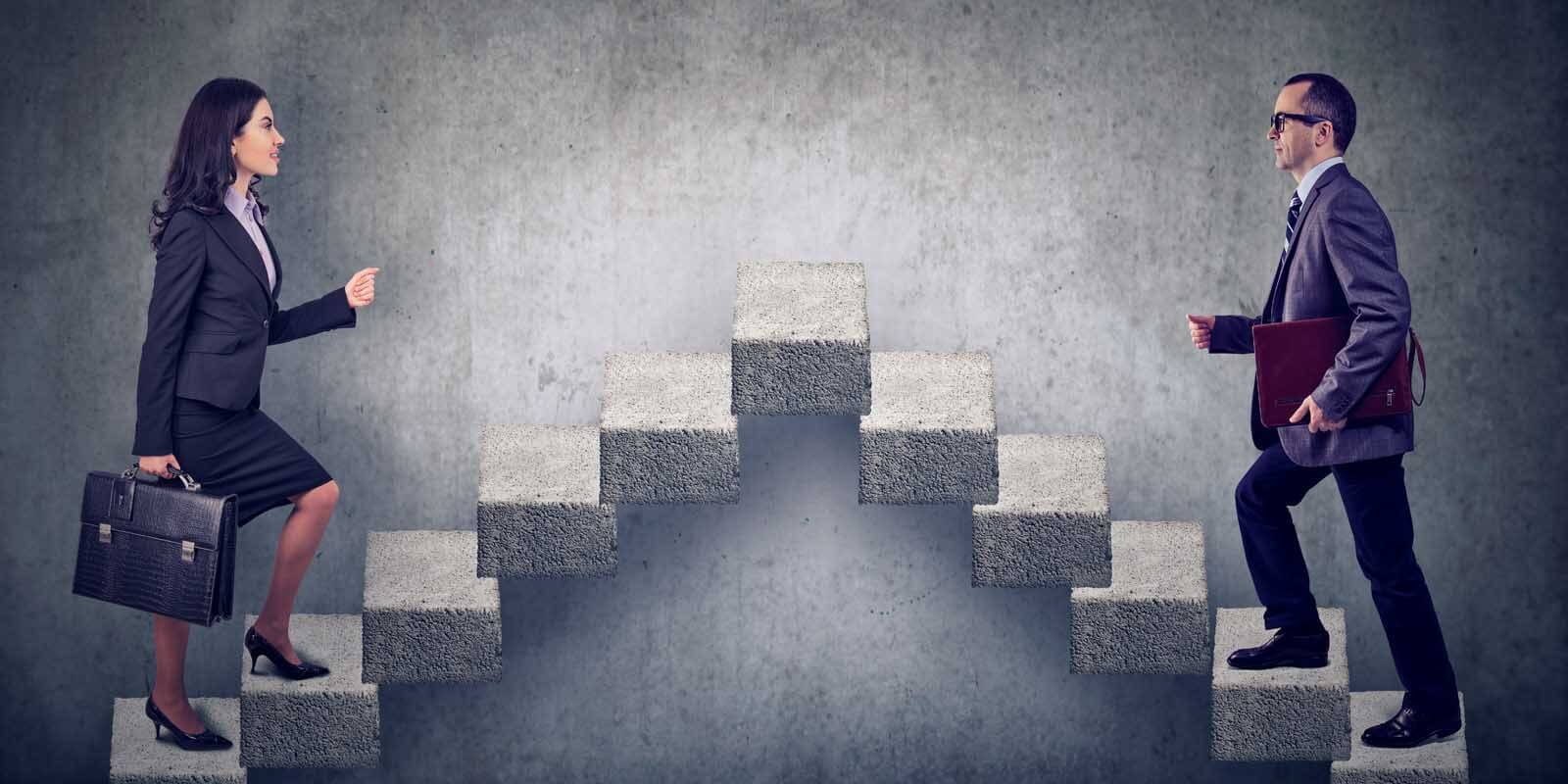 ---
---
July 11, 2017
Boardroom diversity means many things to different boards, depending on their current composition, strategy and vision. As boards evolve along with the changing corporate landscape, their needs for different director perspectives go along with it. Diverse backgrounds may include gender, ethnicity, nationality, industry background, skill set and age—and the latter is coming into focus as many young executives are starting their own companies to meet the changing demands of today's consumers.
According to Equilar BoardEdge data, there are more than 3,500 executives at public companies under the age of 40. Of those, 1,048—or 29.7%—have served on a public company board of directors at some point, and 615 are currently sitting directors—about one-sixth of the total.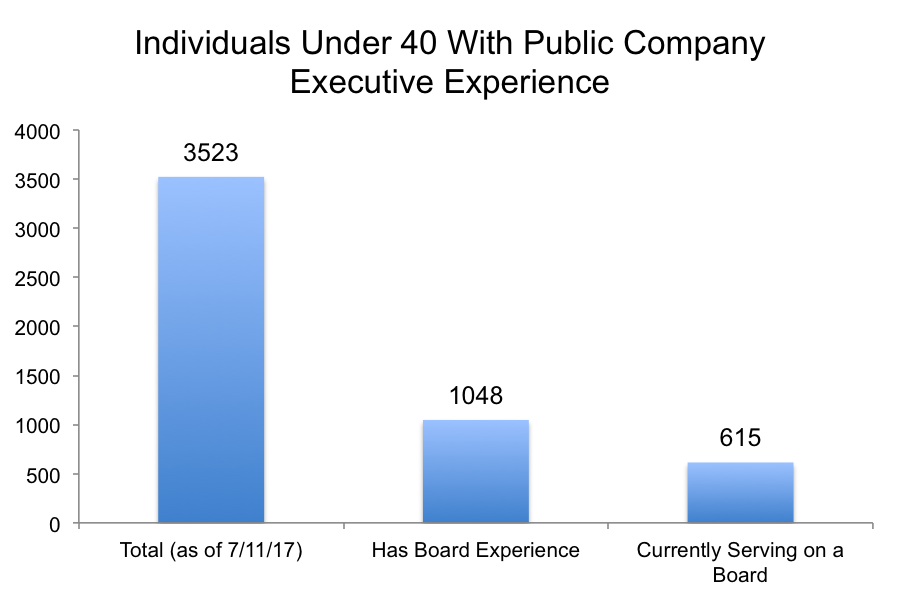 Changing Board Skills May Point to More Opportunity
While the overall number of individuals under 40 represents a fraction of the public company executives and board members in the BoardEdge database, the percentage that have served as directors suggests that those who are already at the highest levels of their organizations are sought after for board positions.
Of those 3,500-plus individuals under 40 in BoardEdge, just 148 have served as a CEO at any point, and 124 have both CEO and board experience. The fact that most of the CEOs under 40 have been under boards likely points to the fact that they are both Chair and CEO of their own company.
While it's certainly not exclusive to the under-40 set, these figures suggest that the increasing need for alternative skill sets in the boardroom is expanding the pool of qualified board candidates.
For example, technology, ecommerce and social media skills as a base-level board skill may be one reason there is a relatively high percentage of young executives also serving on boards. According to an Equilar study from late 2016, marketing and technology experience were among the most sought-after board skills disclosed by large-cap companies. Despite the fact that a prerequisite for board service is often prior CEO experience, these other skills were more common than being a public company chief.
| | |
| --- | --- |
| Disclosed Skill | Percentage of Companies |
| Finance | 93.7% |
| International Experience | 66.7% |
| Industry Experience | 61.9% |
| Leadership Experience | 60.3% |
| Marketing or Public Relations | 55.6% |
| Government/Public Policy/Regulation | 54.0% |
| Technology | 47.6% |
| Risk Management | 44.4% |
| Senior Management Experience | 41.3% |
| Public Company CEO | 41.3% |
| Corporate Governance | 36.5% |
| Operations | 31.7% |
| Board of Directors Experience | 27.0% |
| Legal | 27.0% |
| Investment | 23.8% |
| Strategy | 23.8% |
| HR/Compensation/Talent Development | 22.2% |
| Diversity | 20.6% |
| Sales | 15.9% |
| Educational Background | 15.9% |
It is worth noting that directors under 40 are still uncommon at large-cap companies. Within the Equilar 500—a subset of the 500 largest U.S. public companies by revenue, weighted by industry—there were just 43 directors under the age of 40 in 2016. Of the companies that have reported data for 2017, there were 29 directors under 40, but the data is collected as of company's annual meetings during the calendar year so it is not comparable year-over-year to the other figures in the data analysis.
Over the past few years, the number of 40-and-under board members at these large-cap companies has fluctuated, but generally remained in the 30s to 40s, far less than 1% of directors in this overall pool.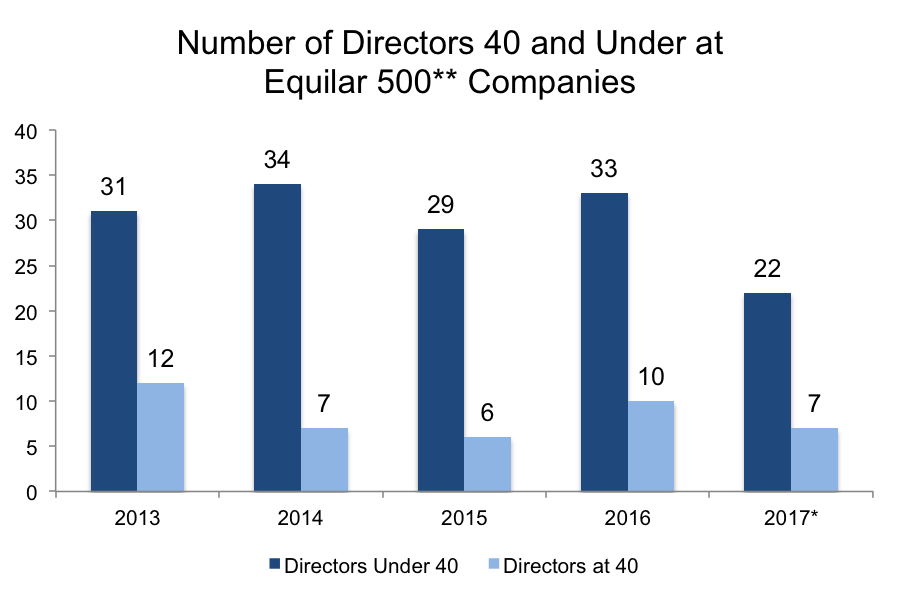 *Includes annual meetings through June 30, 2017.
**The 500 largest U.S.-listed companies by revenue
Perhaps not surprisingly, many of these younger directors are founders, CEOs or part of a founding family. Over the years, some of the board members that have been included in this sample set (but are now aged out) include Google founders Larry Page and Sergey Brin, WhatsApp founder Jan Koum, who is on Facebook's board after selling his company to the social network conglomerate in 2014, Kimbal Musk, the brother of CEO Elon at Tesla, and turning 40 in 2017, Jack Dorsey, who in addition to serving as Twitter and Square CEO, is also on the board at Walt Disney. Some other directors that will be in the under-40 club for a while include Mark Zuckerberg, 32, who isn't likely to go anywhere from Facebook's board, and William Pulte, who at 28 is at his namesake company's board.
However, some of these large companies are bringing in younger directors from the outside as well. Wal-Mart, for example, had three directors under 40 in recent years—Kevin Systrom, the founder of Instagram, and Marissa Mayer, former Yahoo CEO, who turned 41 in 2017. Steuart Walton, who is 35, is also on the board. Wal-Mart's average age is 54, compared to about 62 for other large-cap boards.
Resources for Young Directors
As young executives join the board pipeline, resources to help them identify their first board seats are popping up. For example, Boardroom Resources recently launched Next Gen Board Leaders, developed in partnership with Spencer Stuart and Nasdaq, which will highlight the value that younger (often first-time) directors can bring to emerging areas of board oversight including e-commerce, digital marketing, and cybersecurity. At the core of this new community is the Advisory Council, a group of 10 directors in their 30s and 40s, all currently serving on public company boards.
Furthermore, the Equilar Diversity Network "Governance 101" webinar series—which is not exclusive to directors of any particular age, but focuses on what aspiring directors need to know—will hold its second event in early August that will focus on the role of the compensation committee not only in setting executive pay, but also in talent management oversight and building a pipeline. Learn more about the first webinar in this series, developed in partnership with KPMG and Semler Brossy, and or go to www.equilar.com/webinars to keep up-to-date on registration for the upcoming presentation.
---
Please contact Dan Marcec, Director of Content & Communications—who also authored this post—at dmarcec@equilar.com for more information on Equilar research and data analysis. Andrew Ludwig, research analyst, contributed to this post.
---