Equilar Institute
Blog Home
Age and Tenure: Large-Cap vs. Small-Cap Board Comparisons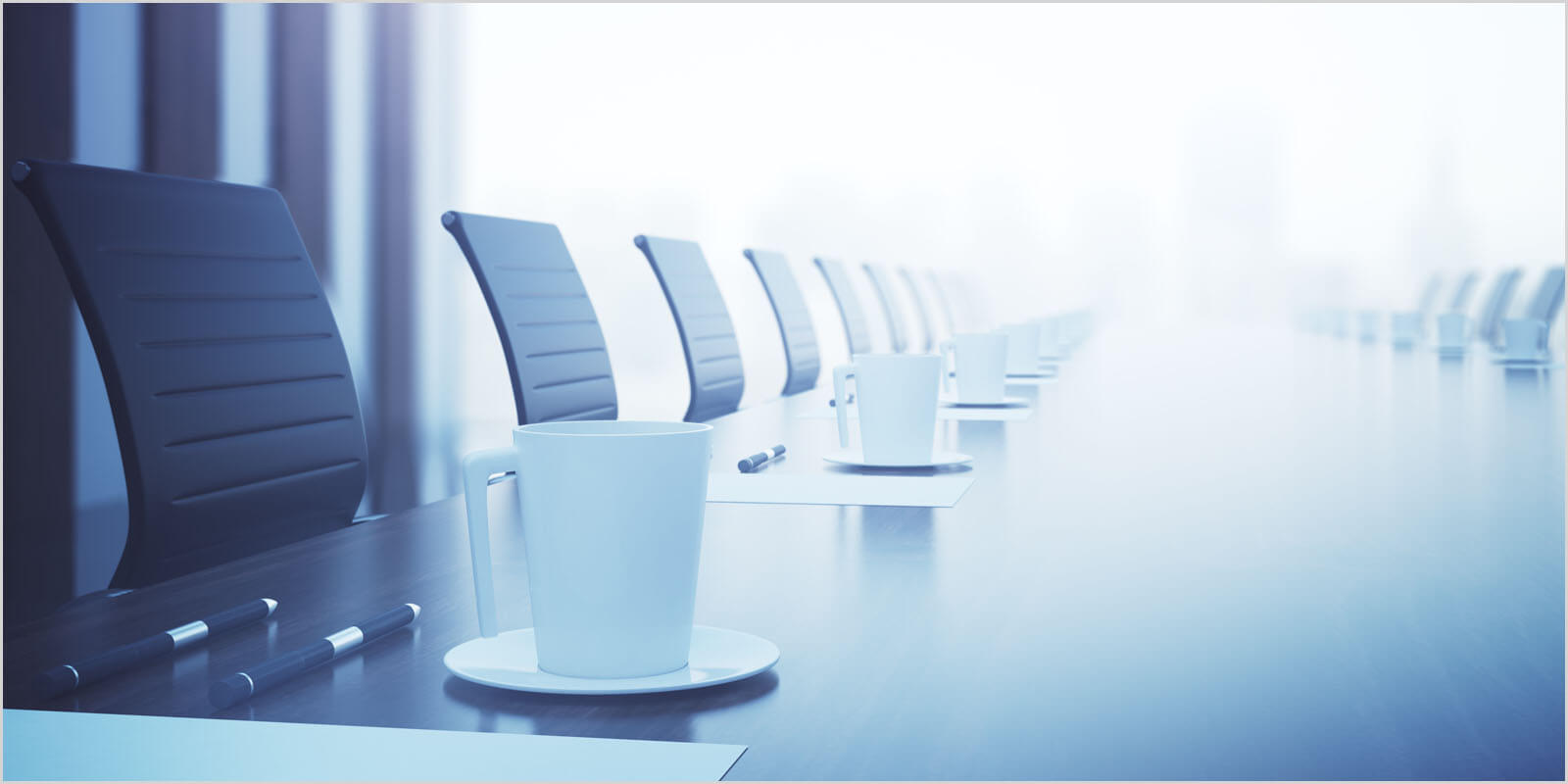 ---
---
May 15, 2017
As annual meeting season heats up to full steam, this blog analyzed board disclosures from the previous five fiscal years in order to set a benchmark for new data that will emerge as a result of incoming proxy filings and annual shareholder meetings. Later this summer, Equilar will release its annual Board Composition and Recruiting Trends report that will provide a comprehensive view on these boardroom issues.
Boards are facing scrutiny from shareholders and proxy advisory firms regarding board composition more so now than in years past. The response, in part, has led to better attendance and an increase in disclosure of policies such as mandatory retirement ages and term limits. In addition, when companies disclose directors who fail to attend at least 75% of meetings, there is more accountability for directors.
According to the Equilar Director Pay Trends 2016 report, the prevalence of companies that grant meeting fees has decreased as companies favor annual retainers over pay for attendance, with the expectation that board members will attend most, if not all, meetings. While a majority of directors attended at least 75% of their boards' meetings, 3.4% of large-cap companies* disclosed that at least one director attended less than 75% of meetings and 5.6% of small-cap companies** had at least one director with poor attendance in 2016.
As board governance policies continue to evolve, structural changes in boards show that they are becoming younger and less tenured on average.
Director Age and Mandatory Retirement
In 2012, 29.3% of large-cap companies disclosed a mandatory retirement age, vs. 13.1% of small-cap companies. These numbers increased to 39.4% and 14.1% in 2016, respectively. The two most frequent mandatory retirement ages were 72 and 75, and while disclosure of a mandatory retirement age at 72 remained relatively stable over the past five years, a mandatory retirement age at 75 increased from 5.8% to 14.0% for large-cap companies and from 3.3% to 5.0% for small-cap companies.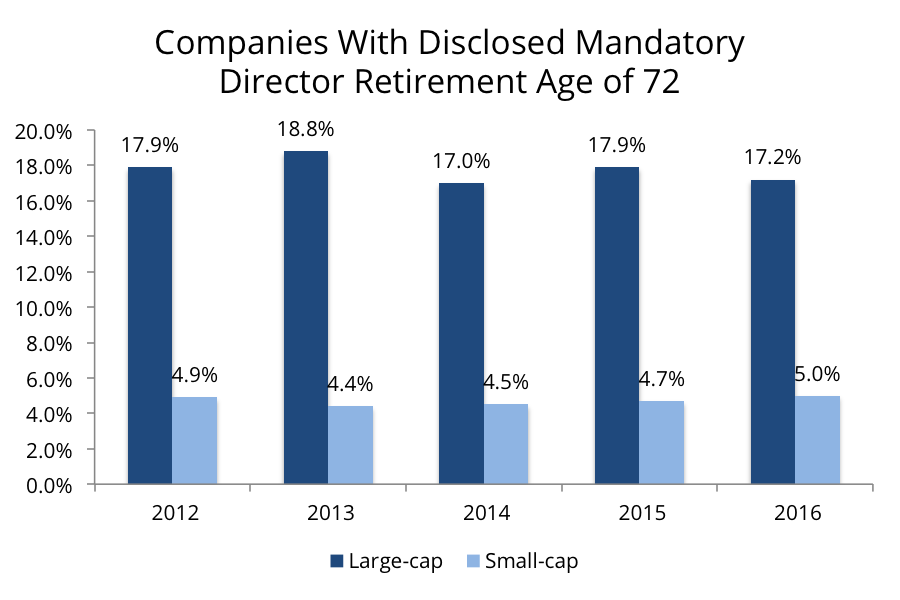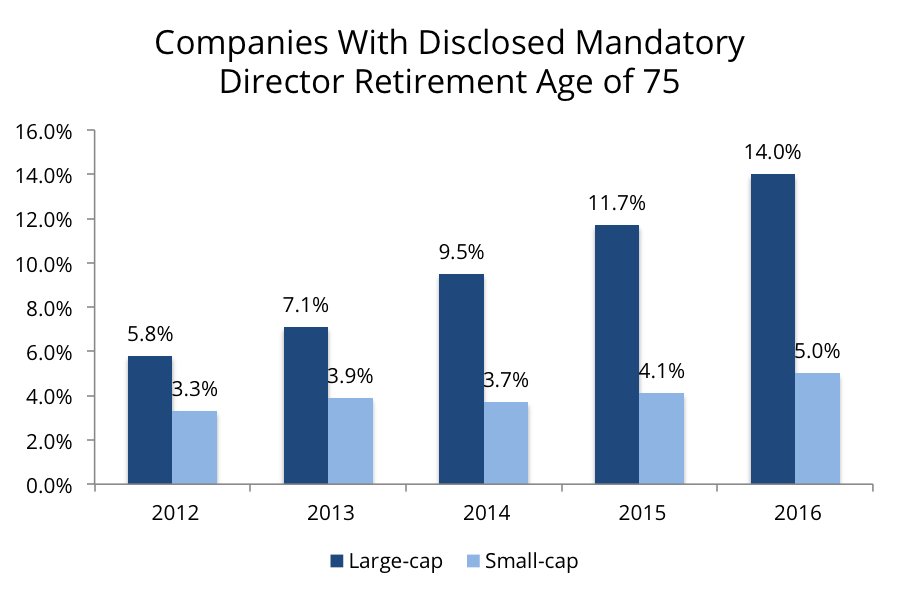 Though 75-year-old mandatory retirement ages are increasing in prevalence, the average age of directors has been declining for both the large-cap companies and small-cap companies in the study. Directors at large-cap companies are older on average than those at small-cap companies, though both indices saw a decline in average director age of about two years during the study period.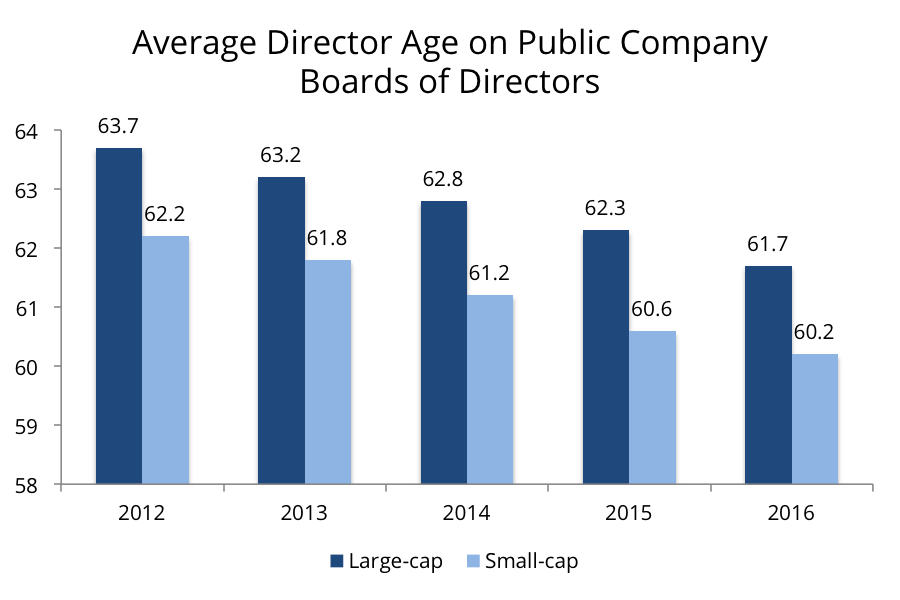 Director Tenure and Term Length
Median tenure for directors was 7.5 years for large-cap companies and 6.1 years at small-cap companies in 2016, while the average was much higher. In addition, average tenure has decreased for both large- and small-cap companies, but was did so at a higher clip for small-cap companies, falling from an average tenure of 9.6 years to 8.4 years over the last five years. In 2012, the average tenure of large-cap companies' directors was similar to small-cap companies at 9.6 years, yet fell to 9.1 years in 2016.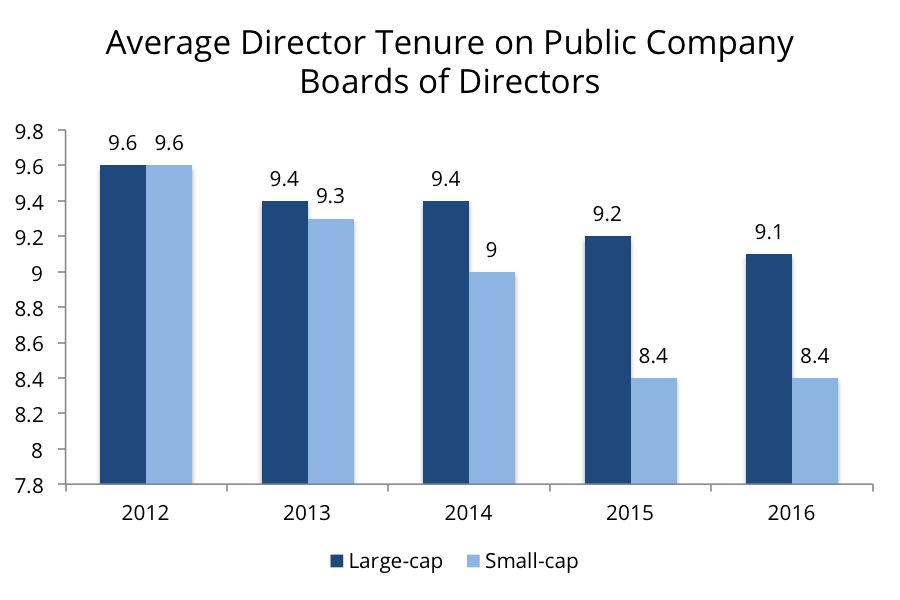 In 2016, 3.2% of large-cap companies and 1.2% of small cap companies disclosed a director term limit, representing a cap on the number of years that a director may serve on the board. These are still relatively rare, and many are unsure whether or not this is the right mechanism to encourage board refreshment. The graphs below show the term limit breakdowns for companies that disclosed them. Large-cap companies disclosed term limits ranging between 10 and 20 years, while small-cap companies disclosed term limits between 9 and 15 years. Although term limits are longer for large-cap companies directors, on average, directors in the large-cap companies still have longer tenure than directors in small cap companies.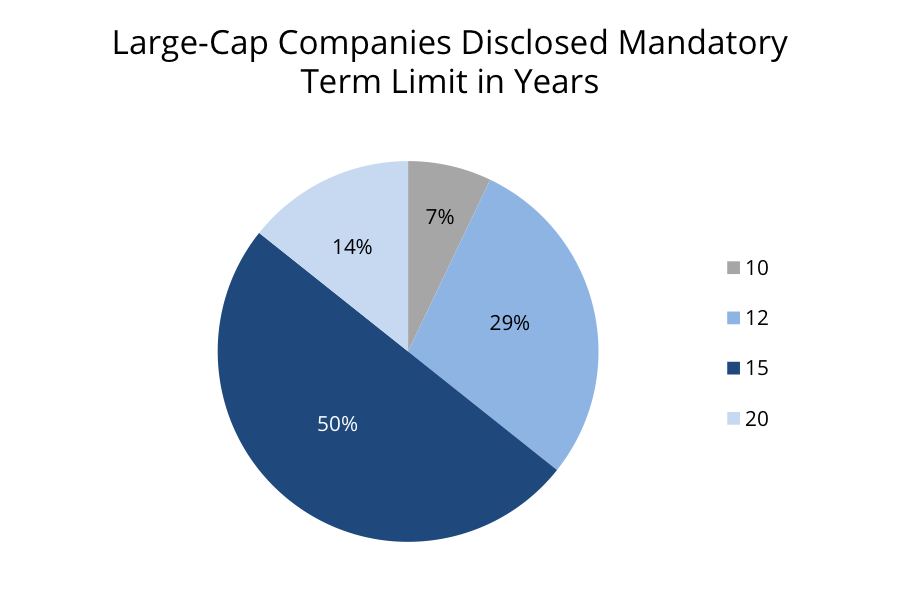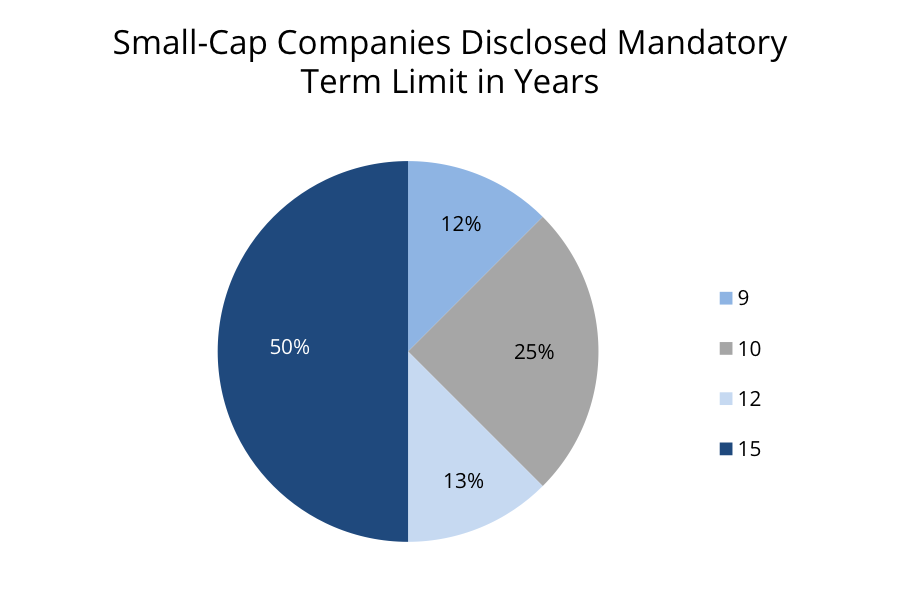 *"Large-cap companies" are defined as the companies listed on Wikipedia as being part of the S&P 500 index. See here for more details.
**"Small-cap companies" are defined as the bottom two-thirds of the Russell 3000 index, as measured by revenue.
---
For information regarding the studies referenced in this post and to purchase the underlying datasets, or to learn more about Equilar Research Services, please contact the Equilar research team at researchservices@equilar.com.
For more information on Equilar's research and data analysis, please contact Dan Marcec, Director of Content & Marketing Communications at dmarcec@equilar.com. Kyle Benelli, research analyst, contributed to this post.
---