Media Center
Press Releases
Four in Five Female Executives Have Never Served on a Board
---
NEW YORK AND REDWOOD CITY, CA (March 1, 2016) — Of the women serving in the highest executive roles, 78.5% have yet to serve on a board of directors, according to a new study from Equilar and The U.S. 30% Club. According to the Equilar BoardEdge database, there are more than 8,500 female Section 16 officers at U.S. public companies, and 6,687 of those have never been on a public company board of directors. Currently, just 1,191 are serving as board members, or 14.0% of the total.
A common reason boards cite slow movement toward gender diversity is a limited pool of candidates, but these figures expose flaws in the assertion that there are not enough qualified women available for board service.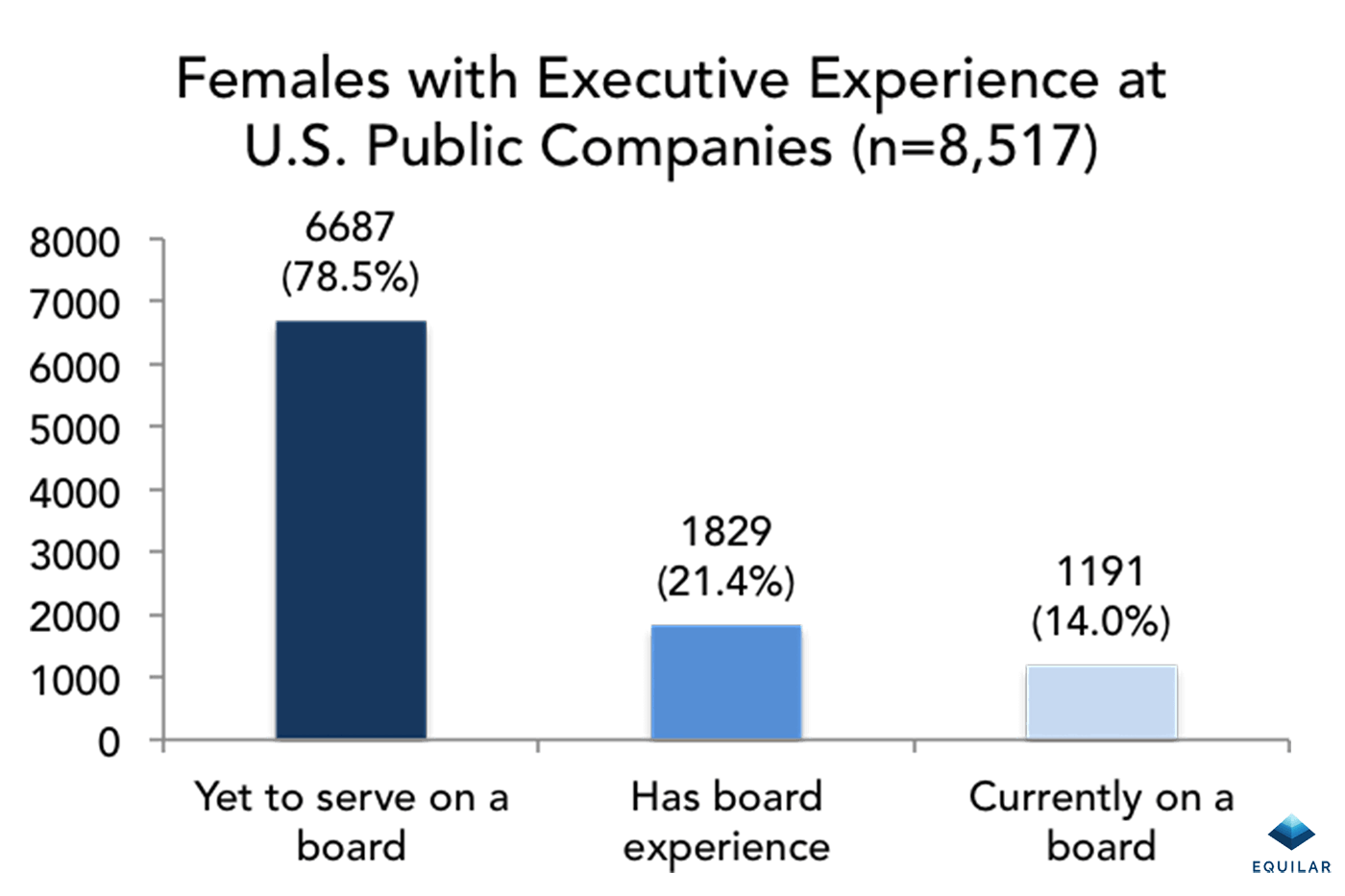 "Businesses that want to become and remain successful must consider the widest possible range of talent," said Peter Grauer, Chairman of Bloomberg L.P. and Founding Chairman of the U.S. 30% Club. "Equilar's study indicates too many organizations are still failing to consider thousands of qualified, board-ready women, missing a valuable opportunity to gain from the greater discourse, stronger decision-making process and better outcomes associated with diverse boards."
Equilar's study also broke down various types of executive experience, ranging from the highest leadership roles—CEO, finance and operations—to emerging skillsets that are more often being tapped for today's boardrooms, such as technology and marketing.
Not surprisingly, females with CEO experience were highly likely to have had board experience. According to Equilar BoardEdge data, nearly 80% of the 788 females with U.S. public company CEO experience had served on a board—meaning that most of these high-level women have taken the next step into the boardroom.
At the other positions, however, there are thousands of board-ready women who have yet to make their first directorship. Of the 1,815 females that have CFO/financial executive experience, 1,406—or 77.4%—have not yet been a board member. Similar proportions of females with operations, technology and marketing experience are yet to serve as directors.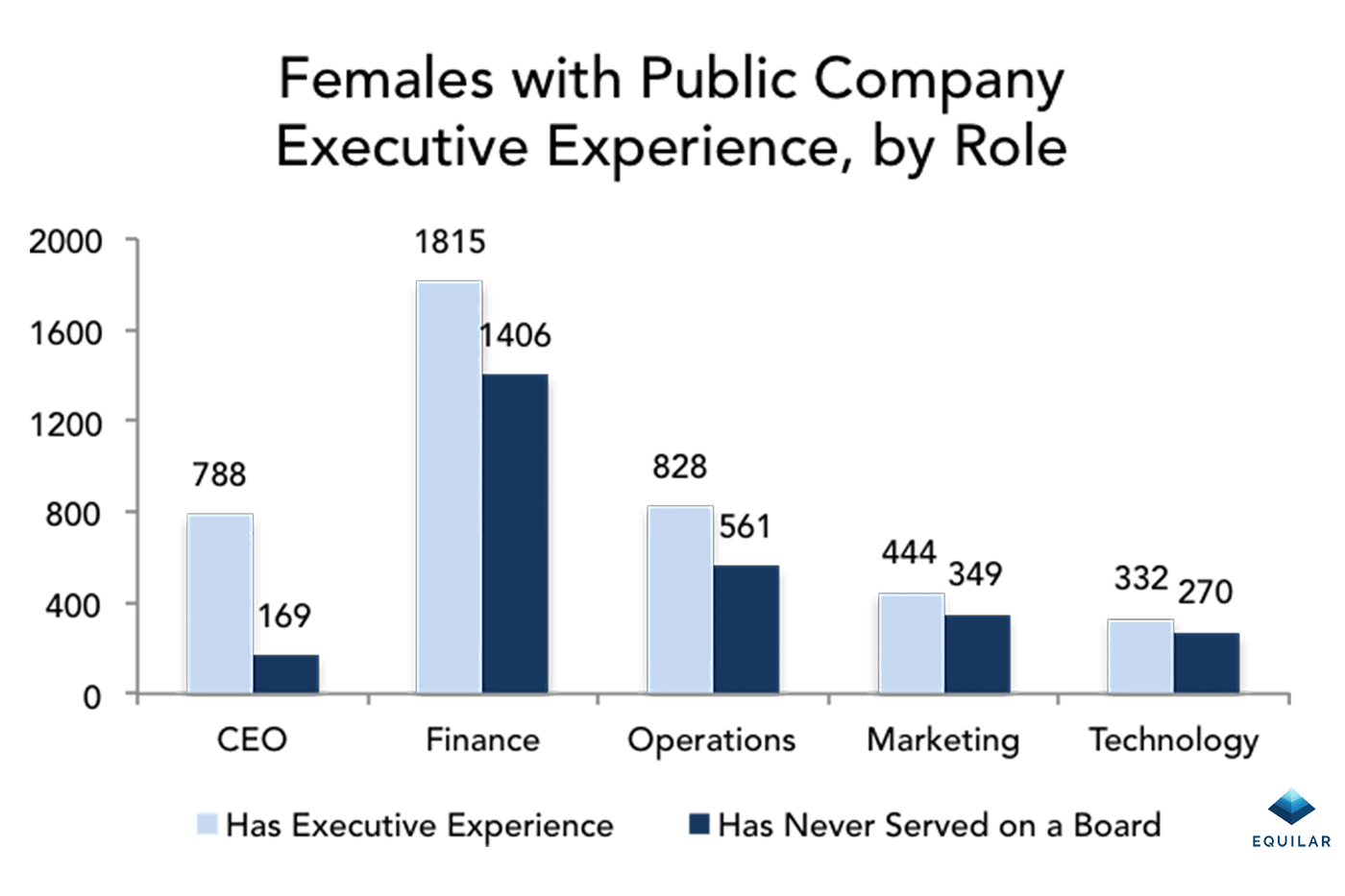 "In today's changing corporate environment, boards require a range of skills from technology and risk management to marketing and policy—not just CEO level," said Linda Chen, executive vice president at Equilar. "Our study shows that if companies expand their criteria, they'll find thousands of female professionals that fit those qualifications ready to bring their expertise to the boardroom."
Boards Above the Benchmark
Even though women comprise just 20% of S&P 500 boards, progress is in process. The number of women on S&P 500 boards has increased by 31.3% in the last five years, and to reach 30% by 2020, three out of every 11 new directors would need to be a woman, according to Equilar estimates. That's exactly the rate of growth—27%—seen in 2014.
In the S&P 500, 52 companies, or 10.5%, had boards comprising 30% females or more at the end of the most recently reported fiscal year. Of those, one-quarter were more than 40% female, and one company—Navient Corporation, which added 12 new directors to its board in 2014—broke the 50% barrier.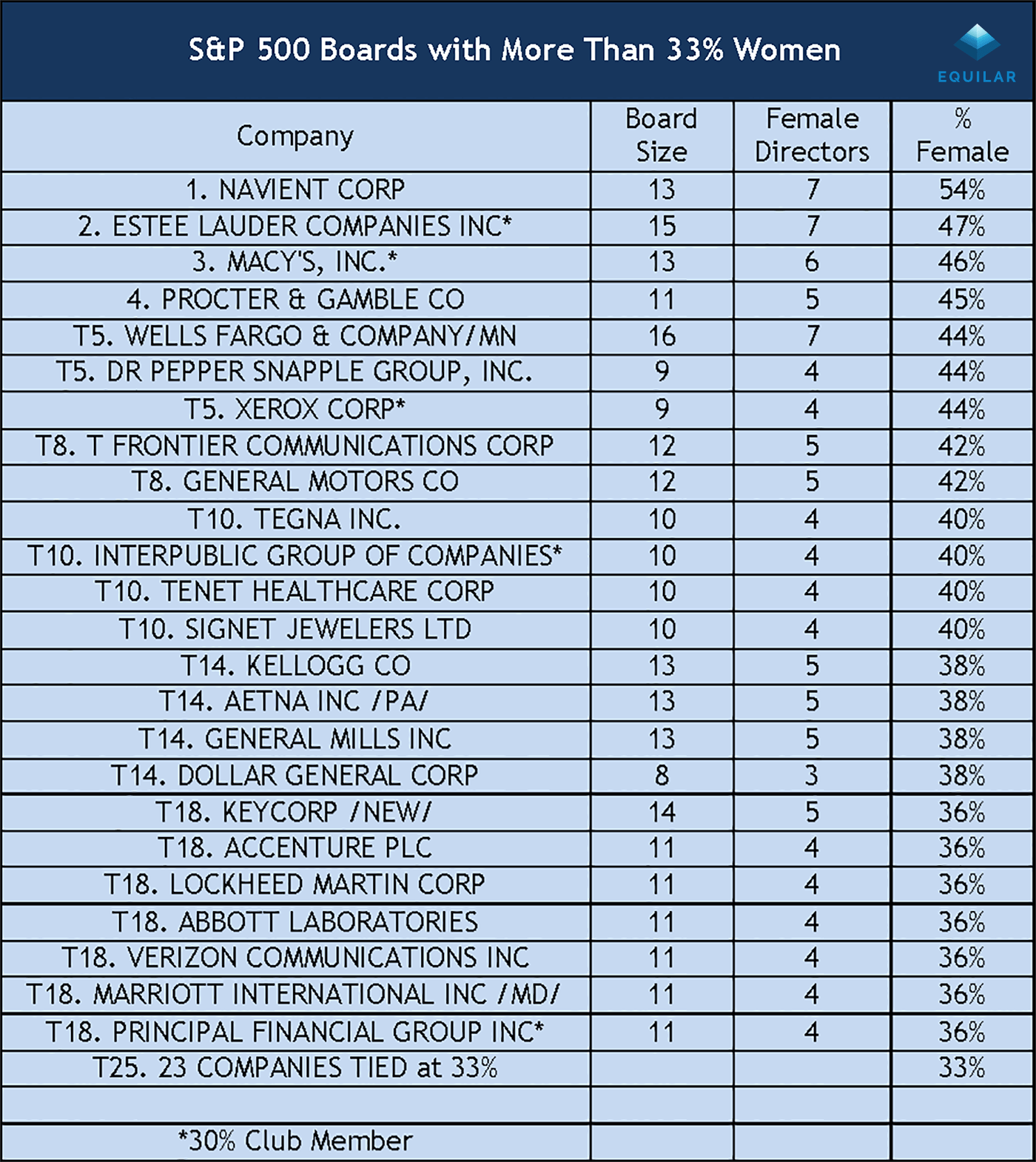 As more than one in 10 boards eclipsed the 30% mark, the percentage of S&P 500 boards with more than one woman also increased from 55.2% in 2010 to 72.3% in 2014, Equilar found. At the same time, the number of boards with one or fewer females has fallen considerably over the past few years as well. In 2010, 54 boards were all-male, and by 2014, that figure dropped to 14, or just 2.8% of the boards in the index.
---
The US 30% Club is a group of business leaders committed to better gender balance at all levels of their organizations through voluntary actions. The club launched in 2014 with an aspirational goal of achieving 30% women on S&P 500 boards by the end of 2020. Today, there are 58 U.S. chairman and CEO members committed to using a range of levers to achieve meaningful, sustainable change.
Founded in 2000, Equilar is the #1 executive data provider, compiling compensation and professional information on more than 140,000 executives and board members from 5,000 public companies. Our cloud-based platforms bring this executive data together into easily digestible formats. Equilar is the trusted data provider for 70% of the Fortune 500, and is cited regularly by The New York Times, Bloomberg, Forbes, Associated Press, CNN Money, CNBC, The Wall Street Journal and other leading media outlets.
Contact:
Amit Batish
Director of Content & Marketing Communications
press@equilar.com
650-241-6697