Equilar Institute
Blog Home
The Highest-Paid Chief Marketing Officers (CMOs)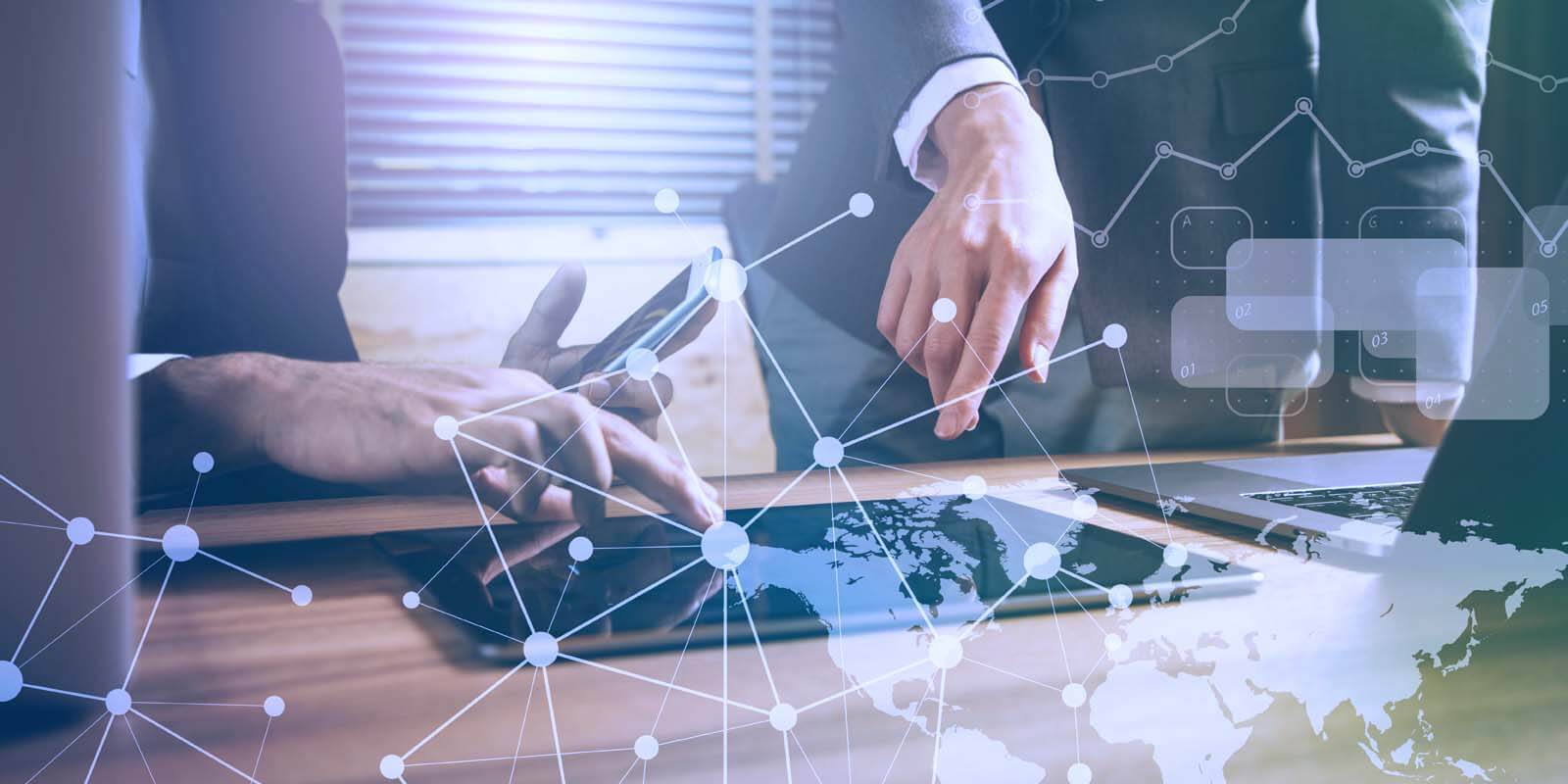 ---
---
October 30, 2017
The numbers are in: Chief Marketing Officers (CMOs) are becoming more prominent in senior executive ranks at public companies, and their pay is rising in kind. A new study from Equilar found that there were nearly 200 top marketing executives disclosed in annual proxy statements as one of the top 5 highest-paid employees at their respective companies, more than two-and-a-half times the same number five years ago. Meanwhile, total compensation for top CMOs increased nearly 25% in that period.
Below is a list of the 10 highest-paid marketing executives disclosed in public filings for 2016. For the study, Equilar looked at all U.S.-based or listed public companies with more than $500 million in revenue from fiscal years 2012 to 2016.
To download a list of the top 50 highest-paid CMOs, please fill out the form below.
| | | | |
| --- | --- | --- | --- |
| Company Name | Executive | Title | 2016 Total Compensation |
| Charter Communication | Jonathan Hargis | Executive Vice President and Chief Marketing Officer | $15,027,148 |
| Dell Technologies | Jeremy Burton | Executive Vice President, Marketing and Corporate Development | $13,355,747 |
| Palo Alto Networks | Rene Bonvanie | Chief Marketing Officer | $13,114,413 |
| Coca Cola Co. | Marcos De Quinto | Executive Vice President and Chief Marketing Officer | $7,635,055 |
| Time Warner Inc. | Gary Ginsberg | Executive Vice President, Corporate Marketing and Communications | $6,862,983 |
| Electronic Arts | Christopher Bruzzo | Chief Marketing Officer | $5,728,077 |
| Marriott International | Stephanie Linnartz | Executive Vice President and Global Chief Marketing and Commercial Officer | $5,183,745 |
| Autodesk | Andrew Anagnost | Senior Vice President, Industry Strategy and Marketing | $5,034,940 |
| Chipotle Mexican Grill | Mark Crumpacker | Chief Marketing Officer and Chief Development Officer | $4,900,736 |
| CSX Corp. | Frank Eliasson | Executive Vice President and Chief Sales and Marketing Officer | $4,696,311 |
Oftentimes, compensation for senior executives is put into context in comparison to CEO pay. Among the top marketing executives in the Equilar study, the ratio of compensation packages in comparison to their CEOs varied widely. The list of the CEO-to-CMO pay ratios for the 10 highest-paid marketing executives is below.
| | | |
| --- | --- | --- |
| Company Name | Total CEO Compensation | CEO to CMO Ratio (X:1) |
| Charter Communication | $98,515,727 | 6.6 |
| Time Warner Inc. | $32,614,304 | 4.8 |
| Electronic Arts | $19,972,718 | 3.5 |
| Chipotle Mexican Grill | $15,663,096 | 3.2 |
| Marriott International | $12,298,378 | 2.4 |
| Coca Cola Co. | $17,551,944 | 2.3 |
| Autodesk | $10,723,779 | 2.1 |
| Ralph Lauren | $16,196,875 | 2.1 |
| Palo Alto Networks | $6,679,009 | 0.5 |
| Dell Technologies | $3,347,275 | 0.3 |
While more often than not, CEOs were awarded at least two to three times as much as their CMOs, a couple of these cases reflect common nuances in executive pay. There is quite often more than meets the eye when it comes to pay packages reported in public filings. For example, Palo Alto Networks' CEO Mark McLaughlin was awarded $66.6 million in total compensation in 2015, which was tied to a long-term incentive stock award, and in fiscal year 2016, McLaughlin's total compensation was $6.7 million, approximately half the amount awarded to CMO Rene Bonvanie (number 3 on the Equilar list).
On the flip side, Charter Communications CEO Tom Rutledge topped the annual Equilar | New York Times 200 highest-paid CEOs list this year, with total compensation reaching $98.0 million. Despite being atop the CMO list, Jonathan Hargis at Charter was awarded total compensation that accounted for only about 15% the value of his CEO's pay package.
Notably, the Charter proxy statement states that these awards for both executives are meant to pay out over five years "to ensure that the focus of the NEOs was well aligned with the successful integration of Legacy Charter, Time Warner Cable and Bright House Networks. The result is a highly leveraged five-year long-term incentive program which is designed to deliver value to NEOs only when strong, industry leading levels of performance (as defined by stock price) have been achieved."
In other words, it wouldn't be surprising to see either Rutledge or Hargis on the lower ends of their respective lists next year.
Historical Trends: More Marketing Officers, Higher Pay Packages
In 2016, there were 190 CMOs or other top marketing executives that were named in proxy statements as one of the top five, highest-paid employees. That number has grown in each of the past five years—the count of 190 in 2016 was up from from 144 the previous year, and up from 74 just five years ago. Overall, there was a 157% increase in the number of marketing executives named as top 5 highest-paid officers across the study period. This clearly shows that companies are putting greater emphasis on marketing expertise as a critical role within the C-suite.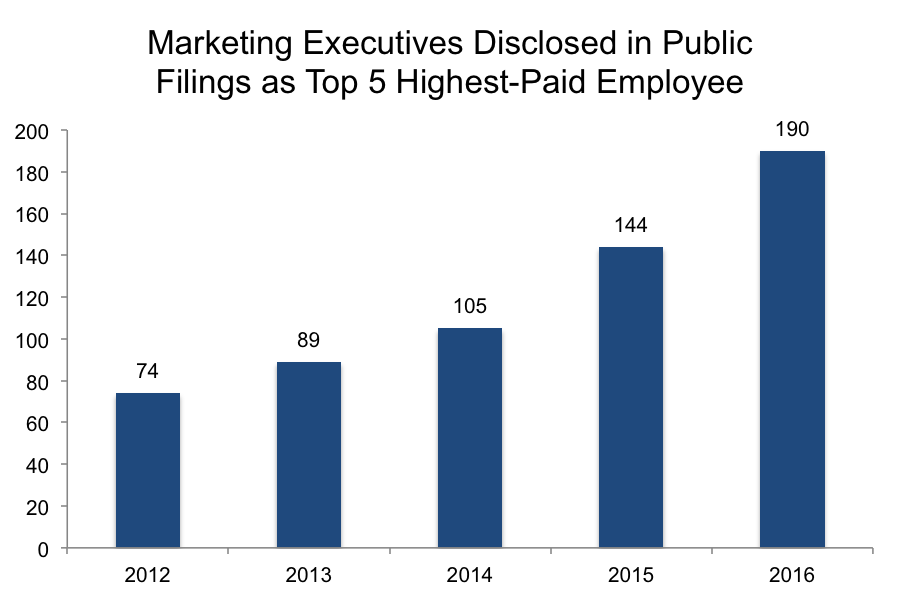 Median pay for the individuals who were included as "named executive officers" (NEOs) in proxy statements increased significantly as well during the years Equilar studied. Overall, median total compensation for marketing executives grew 24.0% over the five-year period, reaching $1,261,755 in 2016, up from $1,017,729 in 2012. By comparison, CEO pay was up 22.2% in that time frame for the largest U.S. companies, and actually fell slightly in 2016 for all public companies with revenues above $1 billion.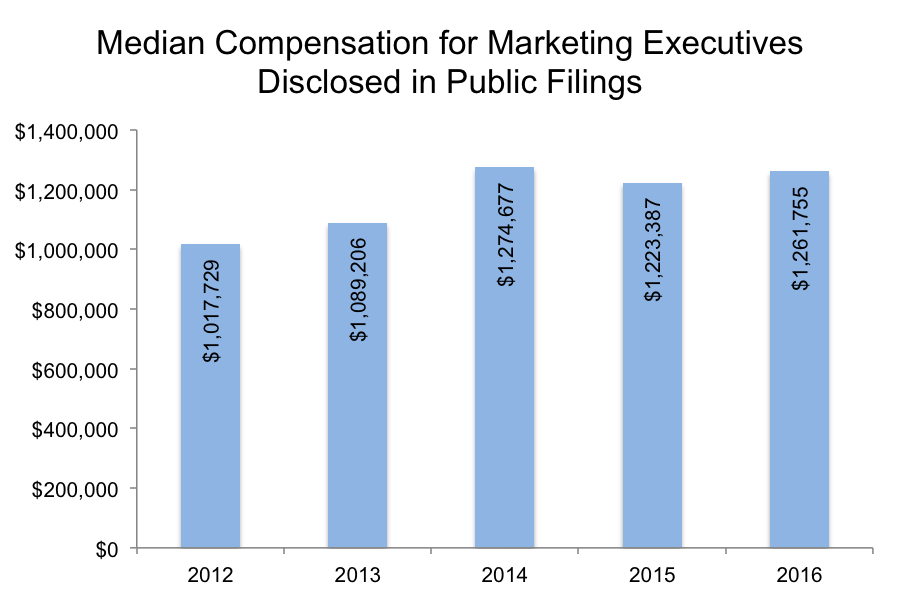 Men Still Dominate the Marketing Executive Position, but Women Are Paid More
The study also revealed data that is consistent among other executive positions: Women are underrepresented in top marketing roles. While the number of women marketing leaders named in public filings has more than quadrupled in the past five years, they still account for less than 20% of the total. Representation has increased, however, up from 10.8% of all marketing executives named in 2012 to 18.4% in 2016. While still a small overall number, the growth is considerable. By comparison, only about 16% of board directors are women, and only about 5% of CEOs are women, as has been reported in various studies.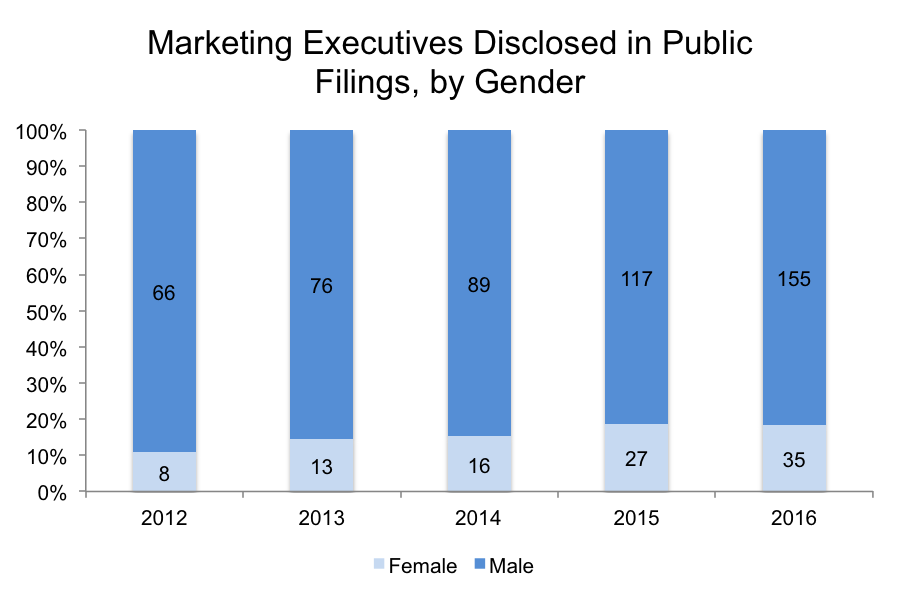 One notable data point comparing men and women in top marketing roles is that since 2013, women have consistently made more at the median than men. In 2013, median total compensation for female CMOs was $831,631, 33% lower than the men in the study. By 2017, compensation for the women in the study nearly doubled to $1,640,174, while total pay for men in chief marketing roles increased just 9.4% in that time frame, reaching just over $1.2 million.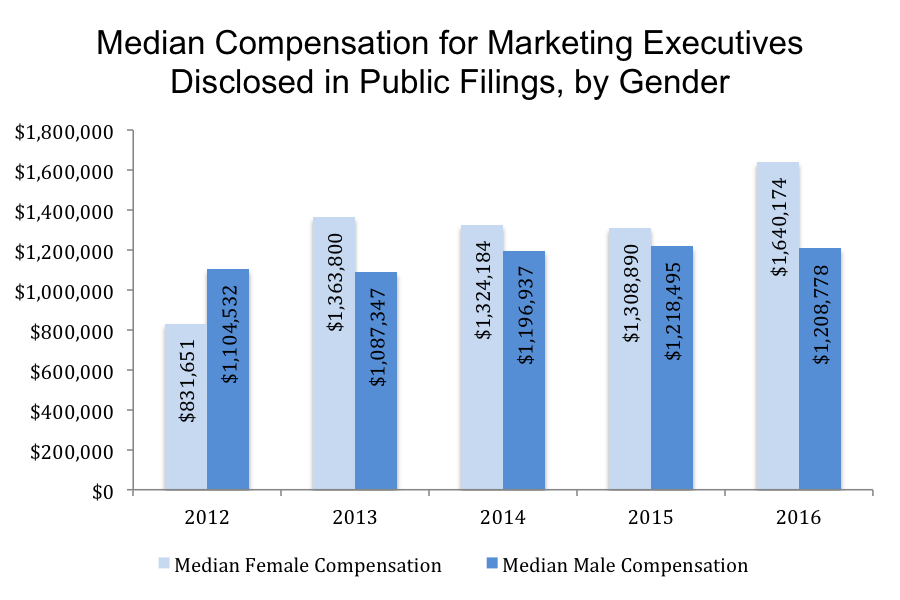 There could be a variety of potential explanations, though none is 100% clear from this high-level overview, since each company's situation is unique. One possibility, for example, is that women could potentially be top marketing leaders at larger companies, which tend to pay higher. In addition, larger, more publicly visible companies tend to be more progressive when it comes to diversity in top executive roles as well. Once again turning to gender diversity on boards of directors as a reference, 21% of director seats at the 500 largest public companies by revenue were occupied by women, compared to 16% for the Russell 3000 index at large, according to a recent Equilar report.
Learn more about how Equilar data can help identify executives and board members for business development, recruiting and benchmarking at https://www.equilar.com/boardedge-business-development.html.
---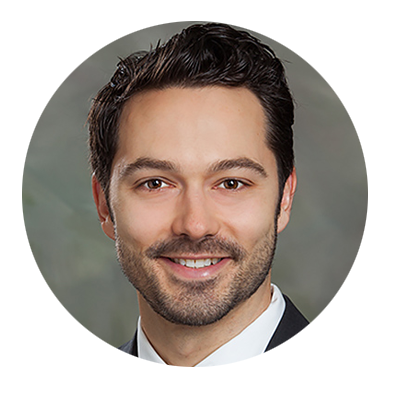 Dan Marcec, Director of Content & Communications, authored this post. Please contact him at dmarcec@equilar.com for more information on Equilar research and data analysis. Alex Knowlton, research analyst, also contributed to this publication.
---