Q3 2021 Equilar Gender Diversity Index
Boards Pass Notable Milestones on the Path to Parity
October 28, 2021
Dan Marcec
As the push for board diversity advances across Corporate America, the number of women in director positions at the largest U.S. companies has continued to increase, according to the most recent edition of the Equilar Gender Diversity Index (GDI). As of Q3 2021, 26.1% of Russell 3000 directorships were held by women, up from 25.2% in Q2 2021. As a result, the needle on the GDI inched forward from 0.50 to 0.52 in the past quarter, where 1.0 represents gender parity on boards of directors.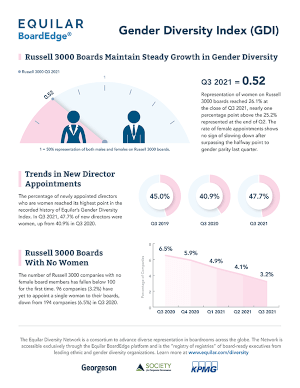 Not only has the percentage of women on boards continued to increase, but so has the rate at which they are being appointed. Since Q3 2020, female representation on Russell 3000 boards is up three full percentage points, increasing from 23.1% one year ago. In the four years prior to that, starting from when Equilar began tracking this data on a quarterly basis, women's share of directorships increased by about two percentage points annually on average.
"The progress continues to be encouraging, but moving from a homogenous board to a diverse board requires intentionality," said Susan Angele, Senior Advisor of Board Governance at KPMG's Board Leadership Center. "Whether driven by the nom/gov chair, lead director or another board member, a leader with a strong commitment is often the key to board diversity."
Milestones Surpassed in Q3 2021
As the index moves closer to gender parity overall, the number of boards that have individually achieved this mark continues to increase. In Q3 2021, there were 92 Russell 3000 boards with at least 50% women, up from 84 in Q2 and from 73 one year earlier. Meanwhile, boards with female representation between 40% and 50% jumped from 208 to 232 in Q3 2021.
Q3 2021 saw another milestone as well. There were 96 boards with no women at the end of the quarter, down from 118 in Q2 2021, marking the first time that there have been fewer than 100 Russell 3000 boards with zero women. As a result, the number of all-male boards is nearly equal to the number of boards with gender parity.
"Over the past few years, investor voting policies on board diversity have driven rapid momentum towards gender parity," said Brigid Rosati, Managing Director, Business Development and Corporate Strategy at Georgeson. "Companies recognize the weight of these investors' support, and many have made effective strides to diversify their board—87.3% of Russell 3000 boards have added a women director since 2017."
With all-male boards now representing just 3% of the Russell 3000, falling at a significant clip over the past several years, institutional investors may turn their focus to broader diversity topics, Rosati added. This already includes diversity of race and ethnicity, and may further expand to diversity of experience and age and workplace diversity across the organization.
Boards Continue Consistent March Toward Gender Parity
The percentage of open board seats filled by women remained just below parity in Q3 2021, as 47.7% of new board members in the last quarter were female. While this figure has been steady in the past few editions of the GDI, continuing to creep slowly toward the 50% mark, it was a notable increase from just 40.9% in Q3 2020. In order not only to reach but also to maintain gender parity, the number of women being added to open board seats will have to hold a 1:1 ratio with men.
The top-level focus on gender parity in corporate boardrooms is centered on a simple concept: Women make up more than half of the U.S. corporate workforce, and research shows that they control 83% of buying power. Public companies typically represent employees, customers and shareholders from a vast array of racial, ethnic and geographic backgrounds, and these stakeholder bases are becoming more diverse in a globalized economy. Therefore, many companies realize the importance of voices at the boardroom table to represent these stakeholders to ensure they make fully informed decisions that lead to better business outcomes.
However, when observing the market overall, it's clear that other companies have needed a stronger push to make these moves. Therefore, representation requirements have become much more common in recent years—which range from legislation, such as bills that have been passed in California, Washington, Illinois and several other states, to the new listing rules enacted by Nasdaq—helping to drive the accelerated pace of electing women directors.
While some in the corporate world bristle at the notion of any type of legislative or regulatory mandate, the market is in fact driving these diversity initiatives at a broader level. Nasdaq's requirements ultimately do not require boards to meet the diversity minimums to remain listed, but they do require companies that fail to reach stated minimums to explain why they cannot (or will not) comply. The purpose is to provide transparency that stakeholders are demanding rather than to force board composition in one direction or another. Clear disclosure rules around diversity provide stakeholders with the information they need while also giving companies space to make the decisions that are right for them.
"The Nasdaq proposal has fundamentally shifted the conversation around board diversity," said Rosati. "This non-compliance disclosure will undoubtedly open the floodgates to further scrutiny around broader workforce diversity, which was a key issue in the 2021 proxy season."
Indeed, more than 90 proposals related to workforce diversity were submitted for S&P 1500 companies in 2021, with 13 going to a vote. Average support for these proposals went from 35% in 2020 to 55% in 2021.
"Investors are paying close attention to these issues, and companies that are required to disclose their non-compliance with Nasdaq's rules in 2022 will likely make themselves vulnerable to workforce diversity proposals in the 2023 season and beyond," Rosati added.
The Road Ahead
One remaining flag that continually shows up in the GDI data is the overindexing of multi-boarded women. In Q3, 25.8% of female directors served on multiple boards, in comparison to 17.2% of male directors who were on more than one board. This gap has continued to grow consistently, and 58.8% of the male directors added to boards in Q3 2021 are now serving in their first directorship, compared to 54.8% of women.
"One statistic to keep an eye on is the higher percentage of women than men on multiple boards," said Angele. "The pipeline of qualified female executives seeking their first public company board seat is robust, and ideally first-time directors will continue to find their places in corporate boardrooms."
On one hand, these figures indicate the success of highly qualified women who have earned these important roles by the merit of their professional credentials. However, it does potentially highlight a consistent issue raised when considering the long-term stability of diversity initiatives. If board seats are routinely filled with a small pool of candidates, regardless of how qualified they are, that may have the effect of closing off opportunities for others. The "pipeline problem" in this instance isn't a lack of qualified candidates available, it's that they may not be looked at until the well-known candidates are maxed out on their commitments.
"The demand for diverse board members is increasing, and there is no shortage of highly qualified candidates," added Angele. "As aspiring board members consider their journeys, it helps to focus on the '3Rs' of board candidacy: Demonstrate relevance, exercise resolve and nurture relationships. Boards are increasingly nuanced in their searches — seeking board members with very specific skill sets in addition to high-level business acumen — making it critical for aspiring board members to define their skill sets in a manner that demonstrates a high degree of relevance to the company's future needs."
---
About Equilar Gender Diversity Index
The Equilar GDI reflects changes on Russell 3000 boards on a quarterly basis as cited in 8-K filings to the SEC. Most indices that track information about board diversity do so annually or even less frequently, and typically with a smaller sample size, sometimes looking back more than a full year by the time the information is published. While this data is reliable and accurate, the Equilar GDI aims to capture the influence of the increasing calls for diversity from investors and other stakeholders in real time.
The Equilar GDI is powered by Equilar BoardEdge, a database of more than one million public company board members and executives. BoardEdge includes exclusive features that show how board members and companies are connected to each other, as well as the Equilar Diversity Network (EDN), a "registry of registries" of board-ready executives from leading ethnic and gender diversity partnerships, organizations, and publications.
---
Contact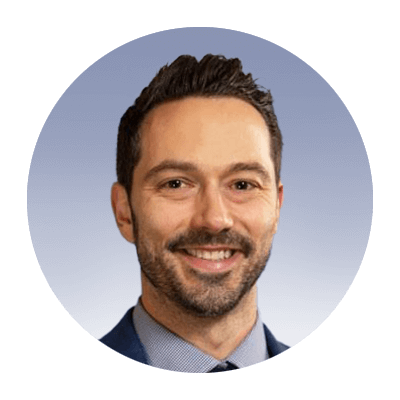 Dan Marcec
Senior Editor at Equilar
Dan Marcec, Senior Editor at Equilar, authored this post. Brendan Cullen, Samar Feghhi, Forrest Rouleau, Kelly Stangl, Kristen Tang, Ziyi Ye and Reina Zhang contributed data and analysis. Please contact Amit Batish, Director of Content and Communications, at abatish@equilar.com for more information about this article.
---
---