Q3 2020 Gender Diversity Index
November 20, 2020
Erin Lehr
By the end of third quarter 2020, gender diversity across Russell 3000 boardrooms reached an all-time high. The Equilar Gender Diversity Index (GDI) hit 0.46, where 1.0 means gender parity. 23.1% of all board seats were occupied by women. This change represents a 1.2% increase in female board seats from the previous quarter. While women continue to hold fewer board seats than men, this recent increase reflects a consistent trend towards gender parity that has persisted almost every quarter since Equilar began tracking the GDI in 2016.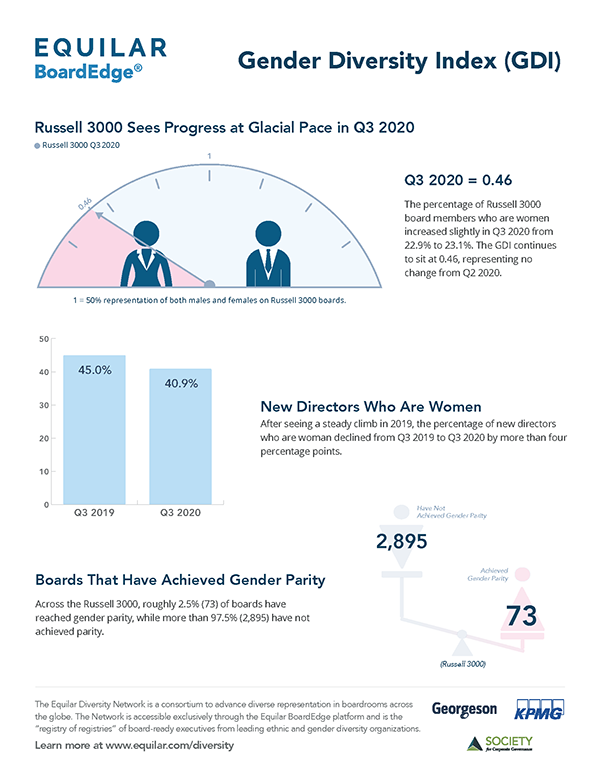 While a given boardroom may contain more women than in the past, the pool of female directors is not as large as those numbers alone may indicate. Women make up 21.3% of unique directors, trailing slightly behind women as a percentage of board seats. Although companies are adding more women to their boards, the raw number of women who actually hold board memberships is lower. The data suggests that companies may be seeking out candidates who already serve on public boards, at least when it comes to women. Female directors more frequently serve on multiple public boards than do men, at 24.94% and 16.54%, respectively. However, this statistic should not be entirely discouraging, as women accounted for over 55% of first-time directors in Q3.

"As noted in the 2020 Q3 GDI, there are several directors that serve on an excessive number of boards," said Brigid Rosati, Director of Business Development at Georgeson. "These directors should consider how the number of boards they serve on may impact their 2021 annual meeting election. Further, companies that have 'overboarded' directors may consider adding a diverse range of directors. In the event the 'overboarded' director steps down, a balanced and varied range of people still serve on the board."
The latest GDI findings further the notion that companies are realizing they must search beyond the existing pool of female director candidates.
"Board diversity continues to be important for the simple reason that diverse groups make better decisions," said Susan Angele, Senior Advisor, Board Governance at The KPMG Board Leadership Center. "The value of quality decision-making could not be more critical, as 2020 has brought challenge after challenge to the business environment and a challenging environment continues to be projected for 2021. Stakeholders, including investors, employees, media, and a number of states, increasingly view board diversity as a top issue, and plan to monitor and work to accelerate progress going forward."
While progress on the gender diversity front has been steady, legislative change has sped up the process at various points in time. In 2018, most famously, California passed SB 826, which mandated that the boards of California-based companies contain at least one female director, and that larger boards contain more depending on their size. California is currently in the second phase of the ruling, which mandates that boards with five members have at least two female members and that those with six or more contain at least three females. The deadline for the second phase is December 2021. Washington similarly passed a law that went into effect in June, requiring public companies to have boards comprised on at least 25% women by January 1, 2022. Companies based in other states may reasonably expect to be affected by gender quotas in the upcoming years, as Illinois, Hawaii, Pennsylvania and New Jersey already have proposed legislation.
In spite of the growing presence of female directors and increased push for legislation, the percentage of Russell 3000 boards without a woman experienced virtually no change from Q2 2020, at 6.6%. This percentage is still far lower than it was before the California mandate went into effect, however. While only part of the story, this may be an indicator that legislation is necessary to create change in boardrooms.
Not surprisingly, these mandates are not without controversy. For companies that do not already meet the gender diversity requirements, adding female directors may mean removing a sitting male director, since creating a new board seat can be expensive. However, not complying with the mandate also has its costs, as companies that fail to comply face fines.
Failing to diversify boards may be costly to corporations in other ways, as pressure on this initiative also comes from institutional investors. "In recent years, many major investors have implemented voting policies targeting companies with perceived gender diversity issues," said Rosati. "However, many investors have recently enhanced those policies to now also include the need for more robust disclosure around board recruitment practices as well as the consideration of ethnic diversity on the board. The combination of all three focus areas -- progressing gender diversity, enhancing disclosure, spotlighting racial and ethnic diversity – may drive a more pronounced uptick in growing overall board diversity."
There is no denying that diversity is beneficial for company performance, especially when it comes to decision-makers. Investors are increasingly showing support for proposals and disclosures promoting diversity, and showing disapproval when companies do not showcase efforts towards diversifying their boards. BlackRock, for instance, has been vocal on its stance on board gender diversity among its portfolio companies. More recently, State Street Global advisors sent letters to public board chairs of its portfolio companies, asking them to disclose information on a series of diversity issues, including gender. Given that board diversity is valued by a number of powerful forces in the corporate world, female representation on Russell 3000 boards will no doubt increase further by the end of 2020.
"Quite simply, diverse boards tend to be boards that listen to their stakeholders, engage in robust board refreshment practices, and cast a wide net to search for the best available talent," said Angele. "Whatever the characteristics or traits that cause a board to be more diverse, study after study has shown correlations between diversity and top performance."
---
About Equilar Gender Diversity Index
The Equilar GDI reflects changes on Russell 3000 boards on a quarterly basis as cited in 8-K filings to the SEC. Most indices that track information about board diversity do so annually or even less frequently, and typically with a smaller sample size, sometimes looking back more than a full year by the time the information is published. While this data is reliable and accurate, the Equilar GDI aims to capture the influence of the increasing calls for diversity from investors and other stakeholders in real time.
The Equilar GDI is powered by Equilar BoardEdge, a database of more than 750,000 public company board members and executives. BoardEdge includes exclusive features that show how board members and companies are connected to each other, as well as the Equilar Diversity Network (EDN), a "registry of registries" of board-ready executives from leading ethnic and gender diversity partnerships, organizations, and publications.
---
Contact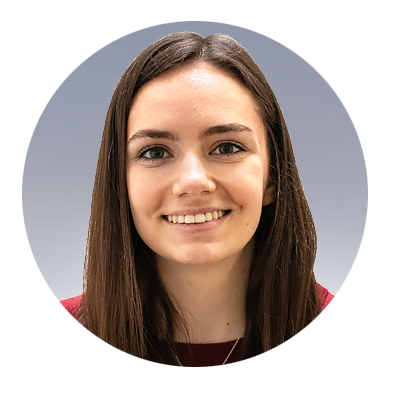 Erin Lehr
Senior Research Analyst
Erin Lehr, Senior Research Analyst at Equilar, authored this post. Zeynep Akca, Brielle Ferdinand, Paul Richardson and Rachel Wang contributed data and analysis for this study. Please contact Amit Batish at abatish@equilar.com for more information about this article.
---
---