Q2 2021 Equilar Gender Diversity Index
Boards Reach Important Milestone, Surpassing Halfway to Gender Parity
August 19, 2021
Dan Marcec
Calls for greater social equity in Corporate America have increased in recent years, and public company boards of directors have responded. Many have committed to strategically composing board demographics to better reflect employees, shareholders and customers. Considering that women make up approximately half of the population and the corporate workforce, the push for gender parity has been on the leading edge of board diversity initiatives. 
These efforts have paid dividends. As of Q2 2021, more than one-quarter (25.2%) of board seats in the Russell 3000 belonged to women, an increase from just 15.1% five years ago. Accordingly, the Equilar Gender Diversity Index (GDI) crossed the halfway mark for the first time, reaching 0.50 as of June 30, 2021, where 1.0 represents gender parity on Russell 3000 boards.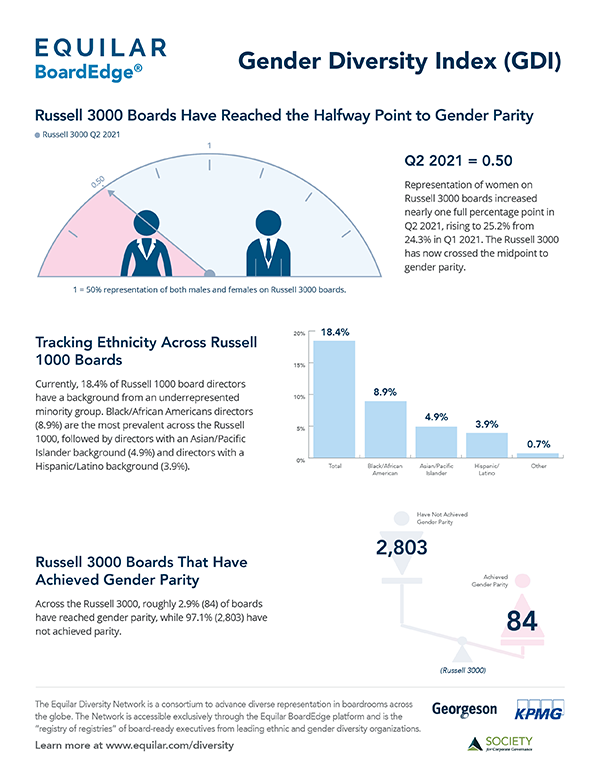 Politically, the issue of board diversity requirements remains divided. While mandates and quotas passed by the states of California, Washington and others have been effective to increase the prevalence of directors from underrepresented groups, they haven't gone mainstream and will not likely be seen at a federal level any time soon. 
That's why Nasdaq's recent proposal to the SEC, approved on August 6, 2021, is likely to have an outsized impact on the corporate governance world in a way that previous legislative mandates have not achieved completely. The new Nasdaq listing rules seek to ensure that every board listed on the stock exchange—regardless of location, industry or company size—would have at least one woman in addition to at least one member of any gender from underrepresented groups defined by race, ethnic or sexual orientation. In lieu of compliance, Nasdaq-listed companies have the opportunity to explain in public disclosure why they cannot or will not meet these requirements. 
According to the SEC's order, "the Board Diversity Proposal would establish a disclosure-based framework that would make consistent and comparable statistics widely available to investors… [which] are currently not widely available… even though the Exchange and many commenters argue that this type of information is important to investors." 
"Companies will have to articulate a compelling rationale for a homogenous board, and they must carefully assess their recruiting strategies and talent pipelines," said Hannah Orowitz, Senior Managing Director, Corporate Governance at Georgeson. "We will likely see meaningful movement in the appointment of directors from underrepresented backgrounds in anticipation of the rule's 2023/2025 effective dates." 
It's noteworthy that Nasdaq's rule is not a firm mandate, Horowitz said, and the Company has indicated that it will not assess the merits of a company's explanation if they do not comply. However, investors and other interested parties will carefully scrutinize that disclosure. If the SEC also ends up requiring board diversity disclosures from all public companies, not just those listed on Nasdaq, this conversation will become an entrenched part of corporate governance for years to come. Combined with the increasing prevalence of women and other minority groups on boards of directors, the movement to promote board diversity is poised to gain even more momentum.
Women's Share of Board Seats Continues to Accelerate
The Equilar GDI reported an important milestone this quarter, with women now having earned just over 25% of board seats. While there is still a long way to go to reach parity, growth rates are accelerating as opposed to leveling off as the raw numbers increase. In Q2 2021, women saw a 0.9 percentage point increase in their share of Russell 3000 director positions from the previous quarter, which was higher than the 0.8 point gain during Q1 2021. 
Furthermore, the share of women on boards over the past year has increased 2.3 percentage points, or about a 10% increase. Since Equilar started tracking the GDI in 2016, there has been a 66.9% increase in the percentage share of board seats held by women.
Progress Continues for Key Indicators  
Beyond overall directorships, indicators showing that the entire index is moving in the direction of gender parity continue to accelerate as well. Boards at gender parity jumped 20% in Q2, up from 70 to 84, and the number of boards represented by 40% to 50% women increased 11.8% from 186 to 208. Put another way, approximately 10% of the boards across the entire index now have at least 40% women. In addition, the number of boards with zero women fell to 118, or 4.1% of the Russell 3000, which was down from 4.9% in Q1.
Furthermore, nearly 47% of directors added to boards in Q2 were women. This statistic is critical, because the goal of board diversity initiatives is not only to reach gender parity, but also to maintain it. As a result, consistency in adding women to at least half of the available board seats on an ongoing basis will prove that the efforts are effective. This figure rose from 41% in Q1 2021. 
"Importantly, the number of new male and female directors added in Q2 is almost at parity," said Susan Angele, Senior Advisor, Board Governance at The KPMG Board Leadership Center.
"The key to continuing progress is for boards to avoid a 'one and done' approach and insist on a diverse slate including a mix of qualified candidates across gender, race, ethnicity and sexual orientation for every board search, not just those categorized as 'diversity searches'." 
Narrow Views of Board-Readiness May Continue to Limit Access for Women 
One major issue holding back the increased prevalence of women on boards is their ability to access the pipeline leading to director positions. While there are thousands of qualified women in the current workforce, a narrow perception of what it means to be "board-ready" often limits the recruitment process. 
For example, the number of women in C-suite positions continues to rise, but they are often in roles that are not as commonly sought after for board experience. Historically, independent board member recruitment has started with CEO experience and has rarely extended beyond the chief financial officer (CFO), usually the second-in-command corporate role. Just 5.6% of CEO positions and 13.7% of CFO positions in the Russell 3000 belonged to women in 2021. Though these figures have risen over the past 10 years—from 2.7% of CEOs and 10.3% of CFOs in 2012—that pool of candidates remains quite limited. 
The C-suite roles women most commonly hold at Russell 3000 companies are human resources, administration, GC/chief legal officer, marketing and accounting. The chief human resources officer (CHRO) has not only been the most common role for women NEOs over the past 10 years, but also it has seen the largest increase since 2012. In 2021, more than 60% of CHRO roles in the Russell 3000 belong to women, up from 38.3% in 2012. This by far outpaces the role with the next largest share—women hold 39.2% of the chief administrative officer roles in the Russell 3000, more than doubling from 19% in 2012.
However, the move to a CEO position from CHRO or GC isn't as common as from the CFO or COO. If women continue to be limited to certain roles within the C-suite, that will impact their ability to ascend to the top corporate position as well as their ability to contend for sought-after board roles in mid-career as well as after retirement. Increasing numbers are important to acknowledge in and of themselves, but they shine a light even more starkly on the same issue that the GDI figures show: Women make up more than half the corporate workforce, yet only one C-level position at U.S. public companies has achieved gender parity. 
"Progressive and ultimately sustained board gender diversity requires that workforce diversity also improves," said Orowitz. "The focus on workforce diversity as a key issue over the last year has led companies to develop strategies and initiatives to increase diverse representation in senior positions, which will further expand the pipeline of board-ready women."
"Taking a long-term view, many companies strive to be more inclusive in their early career internship and hiring practices and subsequent development practices, which will likely positively impact board candidate pools," Orowitz added. 
The tide is starting to turn as boards look to diversify not exclusively by demographics, but also by skill type. As the business climate has become more complex due to cybersecurity, social media, social justice and human capital management issues, the need for executives in the boardroom with extensive experience in IT, marketing, legal and human resources have become more imperative. 
"Leaders with business acumen from nontraditional backgrounds—below the C-suite or from the worlds of the military, academia, government or nonprofits—may bridge gaps in the board's skill sets and may approach strategic discussions through a different and valuable lens," said Angele. "This may take more work, but boards who broaden their searches frequently find board members with nontraditional backgrounds who add immense richness to the boardroom conversation."
---
About Equilar Gender Diversity Index
The Equilar GDI reflects changes on Russell 3000 boards on a quarterly basis as cited in 8-K filings to the SEC. Most indices that track information about board diversity do so annually or even less frequently, and typically with a smaller sample size, sometimes looking back more than a full year by the time the information is published. While this data is reliable and accurate, the Equilar GDI aims to capture the influence of the increasing calls for diversity from investors and other stakeholders in real time.
The Equilar GDI is powered by Equilar BoardEdge, a database of more than one million public company board members and executives. BoardEdge includes exclusive features that show how board members and companies are connected to each other, as well as the Equilar Diversity Network (EDN), a "registry of registries" of board-ready executives from leading ethnic and gender diversity partnerships, organizations, and publications.
---
Contact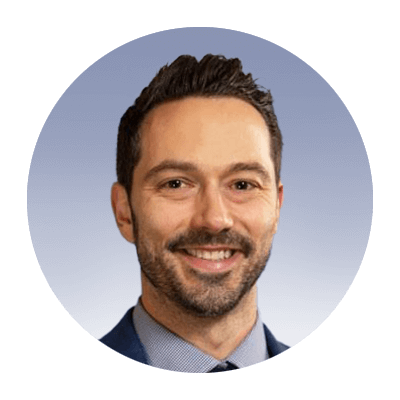 Dan Marcec
Senior Editor at Equilar
Dan Marcec, Senior Editor at Equilar, authored this post. Brendan Cullen, Samar Feghhi, Kristen Tang and Reina Zhang contributed data and analysis. Please contact Amit Batish, Director, Content & Communications, at abatish@equilar.com for more information about this article.
---
---