Equilar Institute
Reports
Human Resources Executive Pay Trends
November 13, 2018
The Human Resources (HR) executive position has traditionally been tasked with equating short-term goals, such as talent management and its corresponding objectives, to the long-term strategy and vision of a company. This "traditional" role has seen an evolution into a more corporate operations sphere in recent years, and the position is vital to companies in the current business climate. Due to the nature of the top HR role—generally the Chief Human Resources Officer (CHRO)—the compensation given to these executives reflects the complex and diverse responsibilities they will come across during the course of the job.
This report examines the compensation data HR executives at 953 companies in 2017 and 820 companies in 2018. Proxy data was used when available, and it was prioritized over Equilar Top 25 survey data when both were available for the same company. Top 25 survey data is collected according to SEC guidelines and is blended together with the Top 5 data from proxies to create the Equilar TrueView methodology, which is featured throughout the report as the primary data sampling. Total direct compensation (TDC) is calculated by summing base salary, target value incentive awards and the grant date fair value of equity awards. Pension, deferred compensation and perquisites were excluded from the totals. "Stock" is defined as both stock and units, while "options" includes the combination of stock options and stock-appreciation rights. *The appendix graph illustrates the disparity between the median TDC of Top 5 HR executives and Top 25 Survey executives at companies with revenue under $1 billion.*
As Companies Grow, So Do HR Pay Totals
It's perhaps not farfetched to assume that as companies get larger and have more influence, they require more employees, and thus, more responsibility falls on the head of HR at the company. As Figure 1 below illustrates, the median TDC for HR executives at companies with revenues greater than $15 billion was a slightly more than four times that of an HR executive at a company with less than $1 billion in revenue. That being said, the median HR pay at those large companies actually decreased by 2.9% from 2017 to 2018, the only revenue bucket that experienced a decrease between those two years.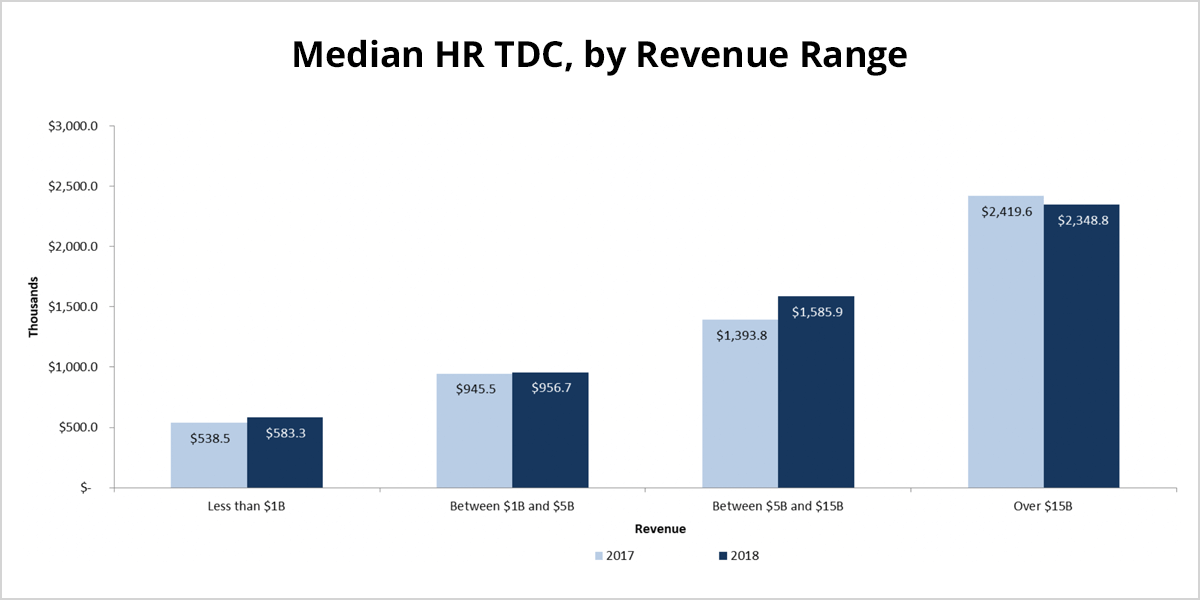 Analysis of the median total direct compensation of HR executives by sector, regardless of revenue range, provides a more in-depth picture. The entire Equilar 500, an index consisting of the largest U.S. based companies by revenue, saw a 6.5% increase in median HR compensation from 2017 to 2018. Only two sectors—industrial goods and utilities—saw a decrease in the median TDC over that same time frame. At just over $2.7 million, companies operating in the healthcare sector exhibited the highest median HR TDC of 2018, while the technology sector experienced the largest year-over-year increase of 29.4%.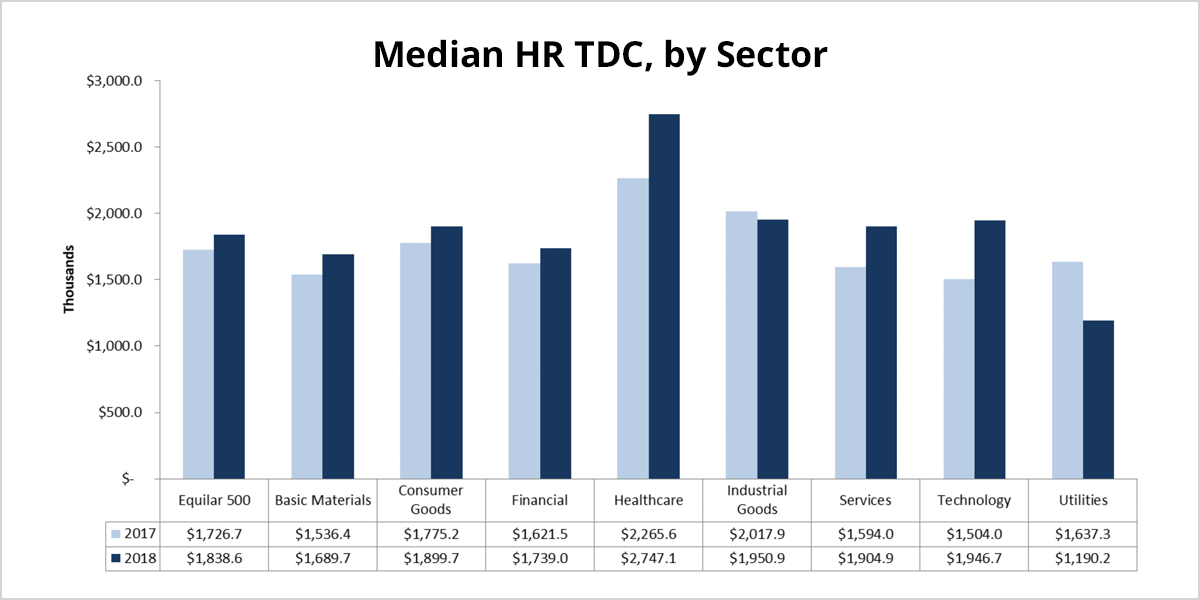 Pay Components Move Towards Performance
Though not as intertwined as other executive officers in the day to day operations and performance of the company, the top HR executives still have a similar construction of compensation, especially at larger companies. Those at the smallest companies had base salary make up almost 47% of total direct compensation, on average. In comparison, the HR executives at the largest of companies had salary only consist of roughly one-fifth of TDC. Instead, performance incentives and annual cash awards made up more than 50% of the average pay mix at companies with more than $15 billion in revenue, similar to other executives. As evidenced in Figure 3, as companies get smaller in terms of revenue, average pay mix includes less performance incentives and awards, and more in the form of base salary.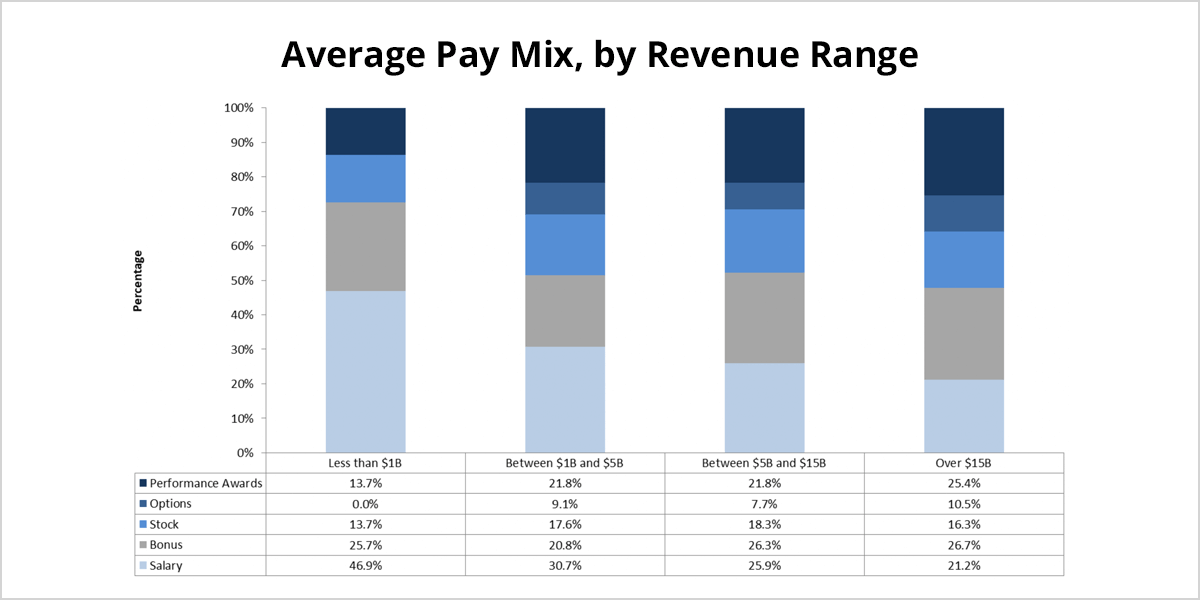 In similar fashion, the median values of HR executive pay components are proportionate to the revenue the company brings in. As a company gets larger, the median value of each pay component increases, particularly in terms of performance awards, where the largest companies have a median value of 70.3% more than those at companies with revenue between $5 and $15 billion. Interestingly enough, and not unlike trends in compensation at other executive positions, options were not used by a majority of companies in the study. The majority of companies with revenue less than $15 billion did not grant options to their HR executive, resulting in the median pay component value equating zero.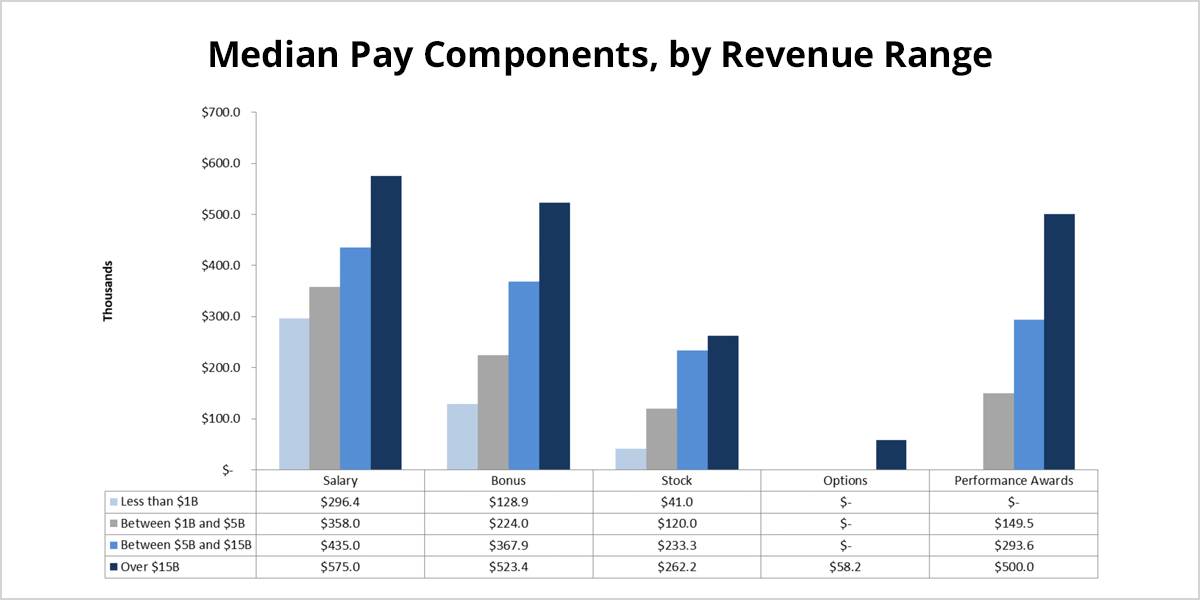 The total direct compensation of HR executives falls within the realm of the compensation of other executives, despite not being a "traditional" executive role. Equilar 500 HR executives saw a 6.5% increase in TDC from 2017 to 2018, however those at companies that achieved a revenue greater than $15 billion actually saw a decrease in the median in 2018 compared to 2017. Performance incentives play a larger role in the compensation of HR executives at large companies, while salary becomes more prevalent as companies have less revenue. Regardless of company size, the HR role is vital to manage and direct a company's most important assets, and the compensation of those executives must continue to reflect that.
Appendix*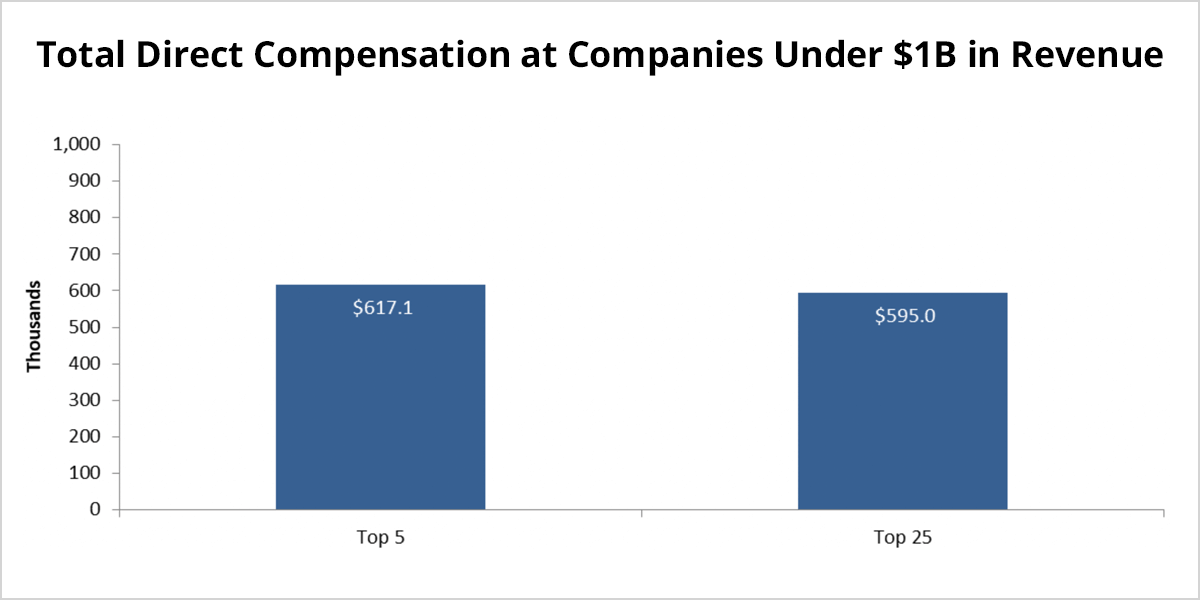 * The appendix graph illustrates the disparity between the median TDC of Top 5 HR executives and Top 25 Survey executives at companies with revenue under $1 billion.
Please contact info@equilar.com to request a sample TrueView report or to learn more about Equilar data and research.
---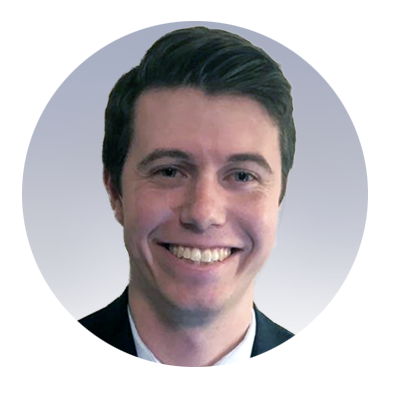 Alex Knowlton, Senior Research Analyst at Equilar, authored this post. Bergen Smith, Senior Research Analyst, contributed data analysis. Please contact Amit Batish, Content Manager, at abatish@equilar.com for more information on Equilar research and data analysis.
---