Equilar Institute
Reports
Equilar Gender Diversity Index: Q1 2018
Russell 3000 passes major milestone as four in five boards have at least one woman
May 9, 2018
For the second consecutive quarter, the Equilar Gender Diversity Index (GDI) moved closer to parity, as the percentage of women on Russell 3000 boards increased in Q1 2018 from 16.5% to 16.9%. This acceleration moved the needle on the GDI from 0.33 to 0.34, where 1.0 represents parity among men and women on corporate boards.
The chart below illustrates one of the key drivers of the increase of women on boards over the past few years. Nearly one-third of new directorships at Russell 3000 companies went to women in Q1 2018, a pace that has nearly doubled since 2014.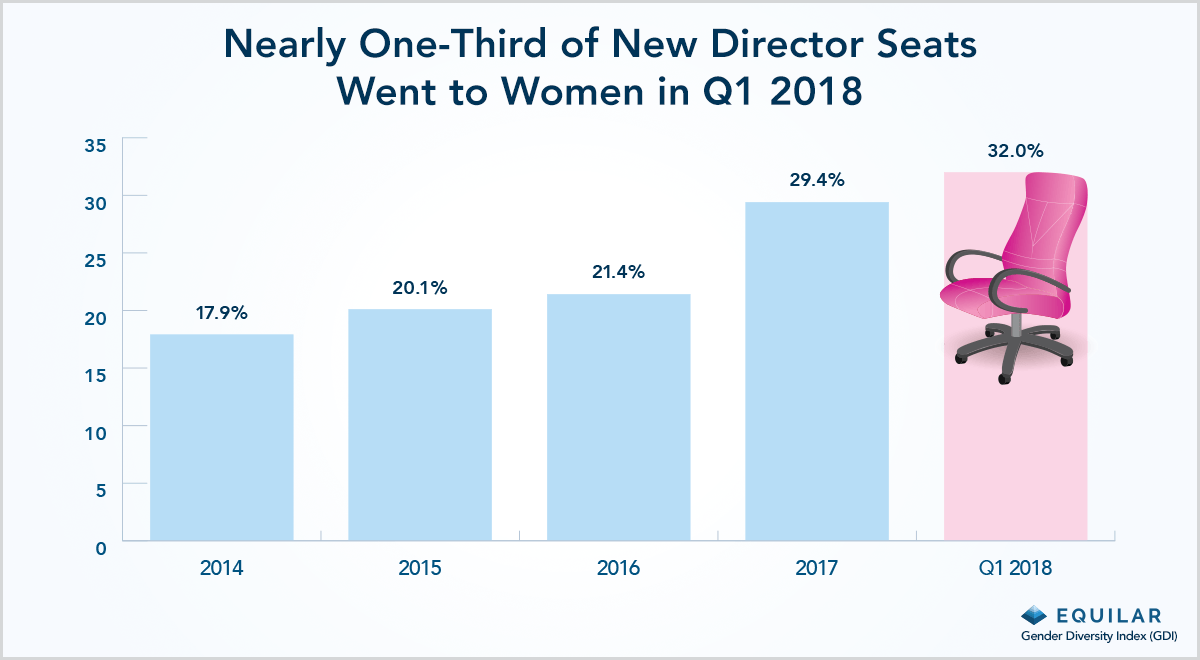 In addition, the percentage of Russell 3000 companies with all-male boards dipped below 20% for the first time ever in Q1 2018. This figure saw its largest absolute quarterly drop—1.3 percentage points—since Equilar initiated the Gender Diversity Index in early 2017.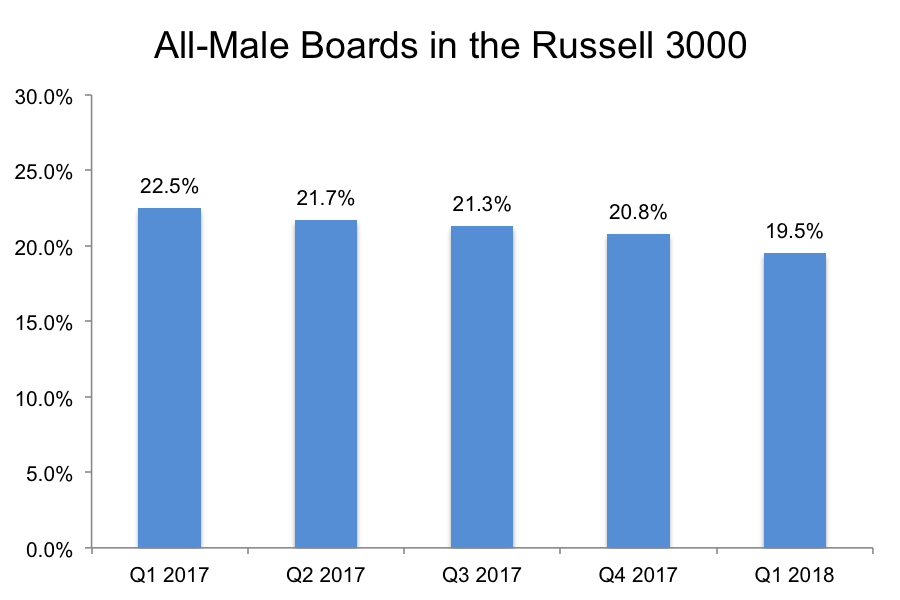 "The progress we see in the index for Q1 2018 is encouraging and represents real commitments by boards to increase their diversity," said Blair Jones, Managing Director at Semler Brossy Consulting Group. "They are finding that there are good female director candidates available and acting on it."
The Path to Progress
In the past year, gender diversity has been a focal point in corporate governance, due in part to at least one major cause: direct pressure applied from major institutional investors. 2017 became a banner year for shareholder engagement around gender diversity on boards, beginning with State Street's "Fearless Girl" statue of a young woman facing off with the Wall Street Bull to bring awareness to gender diversity.
The gesture was well-regarded, even winning a major advertising award, but State Street also put its pen to paper and voted against hundreds of directors on boards that did not have women. Subsequently, BlackRock voted in favor of several shareholder proposals that requested more disclosure around diversity in 2017. The investor doubled down in 2018, sending letters to all Russell 1000 companies that had fewer than two women on their boards.
"We believe that a lack of diversity on the board undermines its ability to make effective strategic decisions," the BlackRock letter said, which was signed by Michelle Edkins, Global Head of Investment Stewardship.
Perhaps the most notable initiative came from the New York City Comptroller's Boardroom Accountability Project 2.0. Though State Street and BlackRock may have more assets allocated to more companies, the project explicitly called for the boards of 151 U.S. companies "to disclose the race and gender of their directors, along with board members' skills, in a standardized 'matrix' format—and to enter into a dialogue regarding their board's 'refreshment' process." The Comptroller's initial Boardroom Accountability Project was credited as the tipping point for implementing proxy access and increasing shareholders' rights to nominate directors, which is another reason why this project has been seen as potentially transformative.
"I think investors are looking at board diversity from both a qualitative and quantitative perspective—qualitative in the sense that boards should represent the diverse makeup of the company's consumer and employee base," said Brigid Cremin Rosati, Director of Business Development at Georgeson. "From a quantitative perspective, investors are looking at the recent studies that demonstrate how having greater diversity on the board is good for business, can improve the bottom line, and is key for sustained long-term growth."
Hurdles Remain
The fact remains that women still hold just over one in six board seats, and one in five boards is still all-male—nearly 600 total. So it would be remiss to dismiss concerns that many have with the current state of board composition and recruiting.
For example, the push to add women to boards quickly could lead to creating an insular network of female directors. Though the high-level data is not completely transparent on this matter, over 60% of women who took board seats in Q1 already had board experience, compared to 53.6% of men.
The data could indicate that companies are less willing to give a first-time director a chance if she is a woman and that they are turning back to the same individuals to serve multiple boards. Indeed, nearly one-quarter (24.2%) of women directors in the Russell 3000 serve on multiple public company boards, compared to 17.3% of men.
These numbers also could reflect the simple matter there are still far more men than women being added to and serving on boards. As a result, the pool of men being selected for board service and currently serving on boards is wider and therefore more likely to include directors with different levels of experience.
Some observers have also suggested the focus on gender diversity has marginalized racial and ethnic groups who are also far underrepresented on boards. At the recent Equilar Board Leadership Forum, co-hosted with Nasdaq, one panelist commented that African American and Hispanic professionals often feel like they are being left out of the conversation.
Until companies better disclose this information, tracking the representation of racial and ethnic diversity is not transparent. While many of the most prominent U.S. companies—about 40%—disclosed specific details in proxy statements about their board diversity representation in 2017, the information is inconsistent and often lacks detail. Until there are more formal standards around disclosure—whether implemented through legislation or shareholder pressure—this scenario may persist.
As the NYC Pension Funds' Boardroom Accountability Project stated, "At present, directors' race and gender is rarely—if ever—released publicly. If disclosed, it would increase transparency and accountability across the market—and push more boards to be diverse and independent."
"In the last 12-18 months, we've seen more boards placing the topic of 'board diversity' higher up on meeting agendas," added Georgeson's Rosati. "Under this topic, boards and management have been discussing how changing institutional investor voting policies may affect their board elections, thinking of ways to effectively diversify their boards, and reflecting on how their board represents their customer and employee bases."
The signs of progress are there, but the significant acceleration to nearly one in three board seats going to women has not been consistent enough to be called a trend… yet. Shareholder voting results from 2018 annual meetings and subsequent engagement regarding those results will be a strong indicator of what the future holds.
Please click here for a downloadable PDF featuring highlights from this quarter's Gender Diversity Index.
---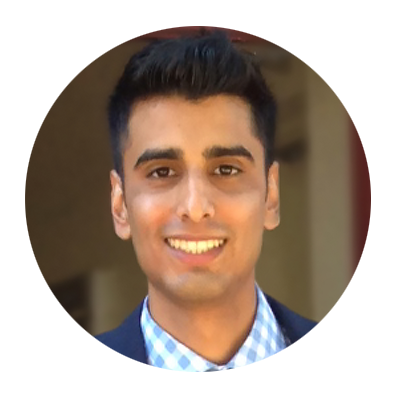 Amit Batish, Content Manager at Equilar, authored this article. Courtney Yu, Lyla Qureshi and Hailey Robbers contributed data analysis. Please contact abatish@equilar.com for more information.
---