Media Center
Press Releases
Equilar Gender Diversity Index: 15% Decrease in Boards With Zero Women
---
REDWOOD CITY, CA (November 8, 2017) — For the third quarter in a row, the Equilar Gender Diversity Index (GDI) remained at 0.32, as the percentage of women on Russell 3000 boards was steady at 16.2% between June 30 and September 30, 2017. (The index measures "1" as gender parity, or 50% male and female representation on boards.)
Despite the representation of women on boards staying the same over the latest three-month period, there are signs of progress. For example, the number of boards with zero women continues to decline rapidly. In 2016, Equilar found that 738 companies in the Russell 3000 had no women on their boards—nearly one-quarter of the index. Since that initial study took place, 114 companies have added a woman to their boards where one had previously not been represented. That amounts to about a 15% decrease in the span of a year. Now, nearly 80% of public company boards have at least one woman.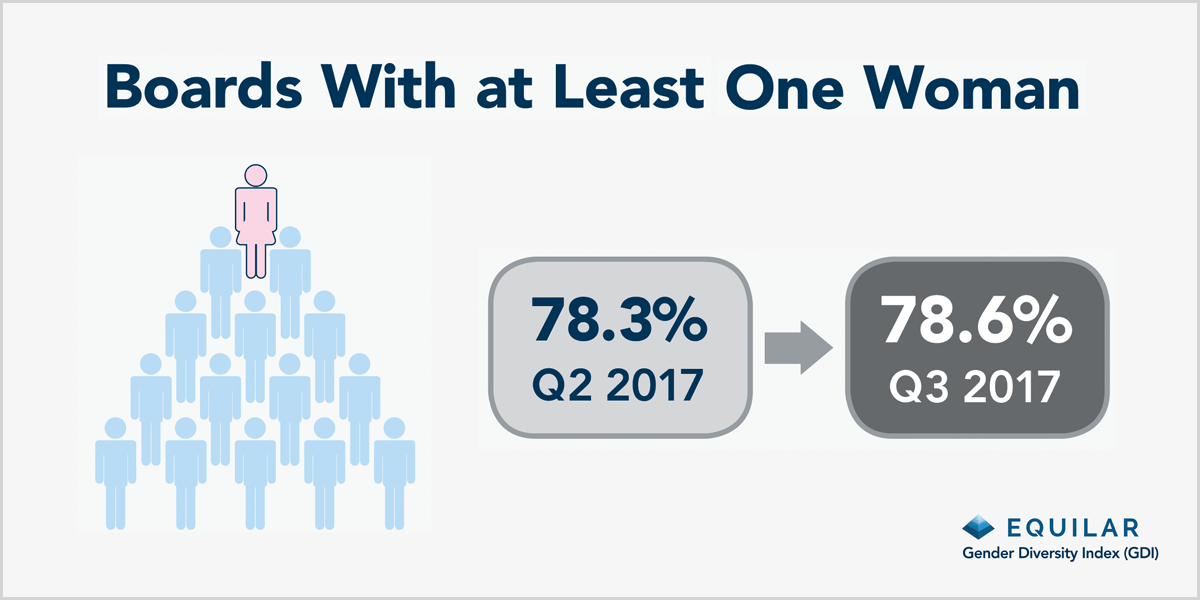 "As to the 600-plus boards that remain 100% male, we do know that there are many, many qualified female board candidates that they would be able to choose from when recruiting a new board member," said Susan Angele, Senior Advisor at KPMG's Board Leadership Center.
"With so much activity related to placing women on boards in recent years, it's an enigma as to why progress seems momentarily stalled," said Blair Jones, a Managing Partner with Semler Brossy Consulting Group. "As companies prepare for the primary board nomination season in early 2018, there should be opportunities to once again make positive strides: There is an abundant supply of women director candidates prepared by such organizations as the US 30% Club and DirectWomen."
"In addition, investors are increasingly expecting more diverse candidate slates and boards," Jones added.
Another sign of progress is that the number of boards that have reached parity ticked up steadily once again in Q3 2017, the Equilar GDI found. Each quarter since the initiation of this study, the number of boards with at least 50% women has increased. In 2016, 21 boards had achieved parity, and by September 30, 2017, that number had increased to 27—half of which joined these ranks in the past quarter.
Similarly, the number of boards that have between 40% and 50% is rising regularly as well. Collectively, 76 boards now have at least 40% women, up from 63 in 2016.
---
About Equilar Gender Diversity Index (GDI)
The Equilar GDI reflects changes on Russell 3000 boards on a quarterly basis as cited in 8-K filings to the SEC. Most indices that track information about board diversity do so annually or even less frequently, and typically with a smaller sample size, sometimes looking back more than a full year by the time the information is published. While this data is reliable and accurate, the Equilar GDI aims to capture the influence of the increasing calls for diversity from investors and other stakeholders in real time.
The Equilar GDI is powered by Equilar BoardEdge, a database of more than public company board members and executives. BoardEdge includes exclusive features that show how board members and companies are connected to each other, as well as the Equilar Diversity Network (EDN), a "registry of registries" of board-ready executives from leading ethnic and gender diversity partnerships, organizations, and publications.
Visit www.equilar.com/diversity to learn more.
About Equilar
Equilar is the leading provider of board intelligence solutions. Its data-driven platforms, BoardEdge and Insight, provide tools for board recruiting, business development, executive compensation and shareholder engagement. Companies of all sizes, including 70% of the Fortune 500 and institutional investors representing over $15 trillion in assets, rely on Equilar for their most important boardroom decisions. Equilar also hosts industry-leading board education symposiums, conducts comprehensive custom research services and publishes award-winning thought leadership. Founded in 2000, Equilar is cited regularly by Associated Press, Bloomberg, CNBC, The New York Times, The Wall Street Journal and other leading media outlets. Visit www.equilar.com to learn more.
---
For more information, contact:
Dan Marcec
Director, Content & Communications
Equilar, Inc.
dmarcec@equilar.com
706-461-8333