Media Center
Press Releases
Board Diversity Disclosures Are Few and Far Between—Especially in Tech and Energy
---
REDWOOD CITY, CA (September 20, 2016) — Lacking any regulatory requirement to disclose diversity on their boards of directors, few companies explicitly detail this information in public filings. Just 12.8% of S&P 500 companies included information on board diversity in terms of race or ethnicity in their most recent proxy statements, according to a new study from Equilar.
In particular, the technology sector—which is often under scrutiny for its diversity initiatives—lags almost every other industry. Just 5.7% of S&P 500 tech companies, or four total, disclosed the composition of their board in terms of racial or ethnic diversity. Among S&P 500 companies in the basic materials sector (consisting mostly of oil and gas companies), only Kinder Morgan included this type of information in its 2016 proxy statement.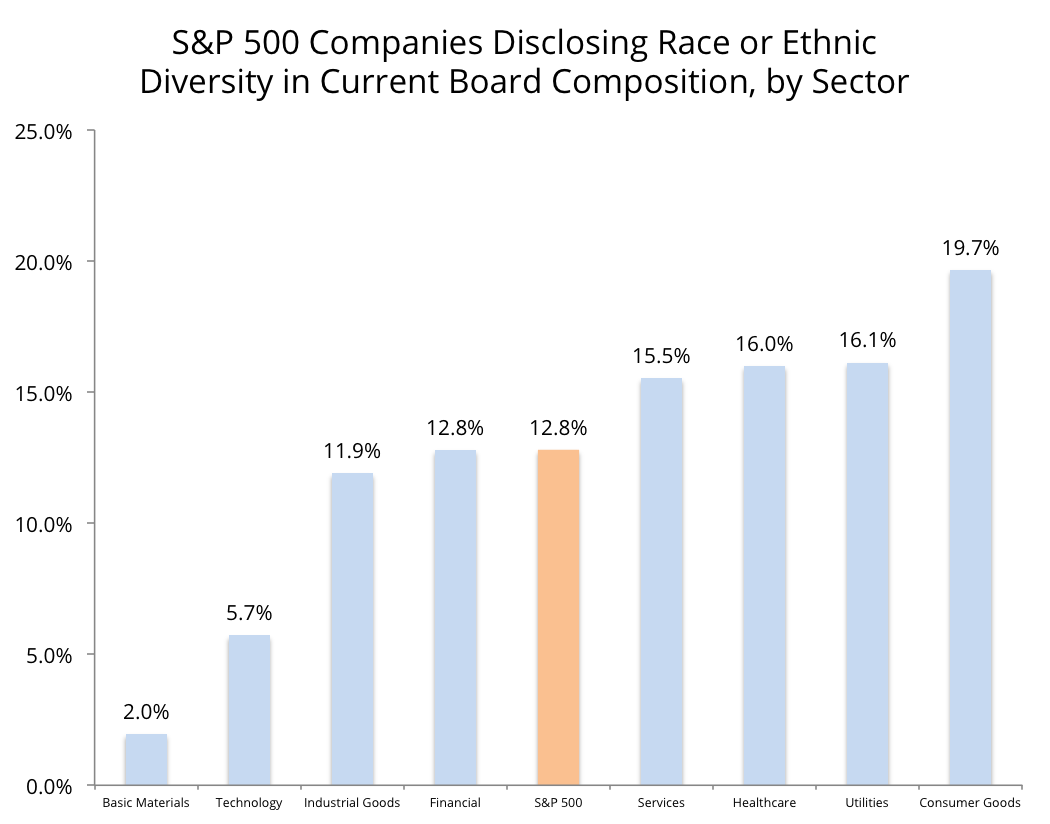 Underpinning these findings is the fact that shareholders, employees, customers and clients are calling for more diversity in corporate boardrooms, and in response, companies are expressing commitment to diversity on their boards. For example, though not directly related to racial and ethnic diversity, several tech companies received shareholder proposals to disclose gender pay equity earlier this year. Kinder Morgan's disclosure about board diversity came in direct response to a shareholder proposal to share this information. (detailed on p. 58 of the company's proxy statement)
"About three in five S&P 500 companies disclosed that they 'consider' diversity when assessing board of director candidates," said Matthew Goforth, research and content specialist at Equilar. "However, we found that this information is often limited to boilerplate language inclusive of little more than an acknowledgement, and very few companies have more explicit disclosure about diversity in their board composition."
While still lagging the overall S&P 500, the technology sector did see the largest percentage growth of women on boards during the last five years, according to the Equilar study. In 2012, women held 14.4% of tech board seats, and that percentage increased to 21.0% in 2016. However, that growth still was not enough to reach the overall S&P 500 average—21.3%—nor up its ranking in comparison to other sectors.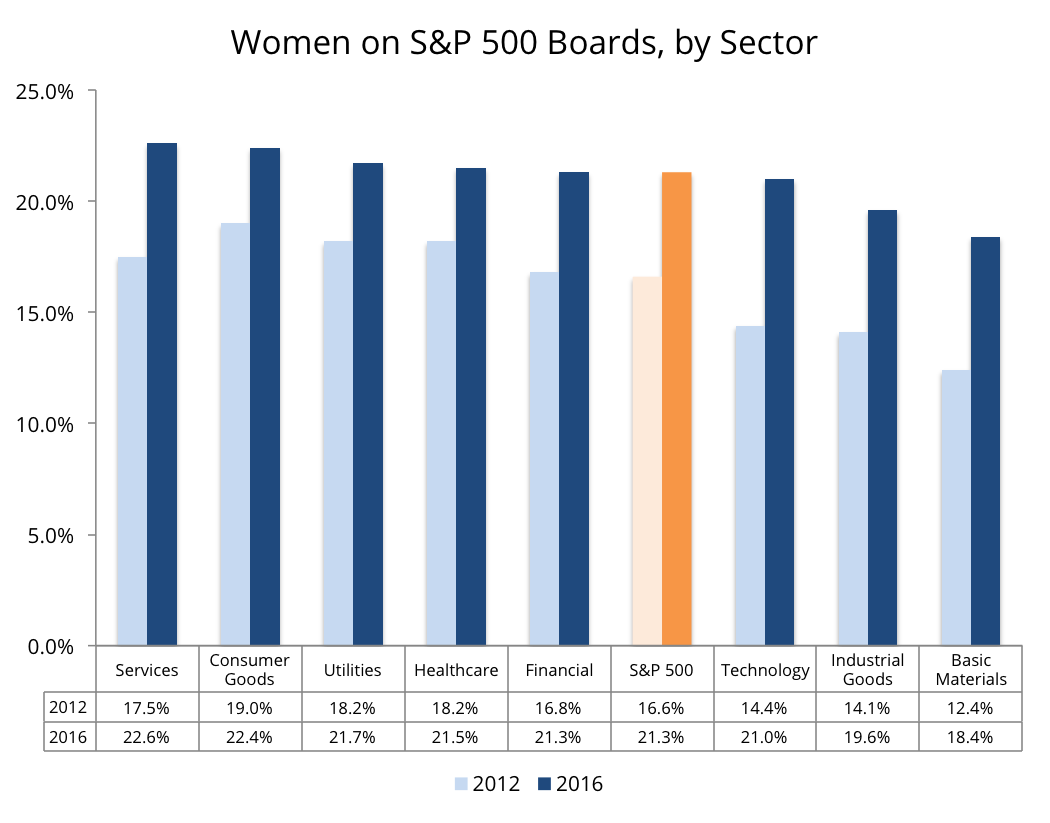 "Investors' call for board refreshment and interest in board diversity have placed this issue front and center for most companies, and boards now see diversity not just as a governance expectation, but also as good business," said Blair Jones, Managing Director at Semler Brossy, who provided independent commentary for the Equilar report. "By populating a board that is more reflective of the diverse customer and supplier base and sensitive to the different needs, boards have more relevant input and more constructive dialogue."
Part of the reason boards have been slow to increase diversity is a common belief that there are not enough qualified candidates available. In response, Equilar recently announced the Equilar Diversity Network, a "registry of registries" that connects candidates from various diversity organizations with boards, accessible exclusively through Equilar BoardEdge, a data platform that includes more than 150,000 public company executive and board member profiles in total.
The Equilar Diversity Network allows boards to compare pre-vetted candidates with a variety of diverse backgrounds alongside the larger pool of qualified directors. Because nominating and governance committees discuss board assessment, evaluation and refreshment on an ongoing basis, the ability to maintain a list of potential candidates outside of when they are actively looking for new board members or engaging an executive search firm is critical, according to board members speaking at the recent Equilar Board Leadership Forum in New York.
A new report, Board Composition and Recruiting Trends 2016 includes more than 30 unique data sets analyzing board composition and leadership as well as director age, tenure and skills. Semler Brossy Consulting Group offered independent commentary to provide color and context to how companies structure boards and recruit directors within the current governance landscape."
---
Equilar is the leading provider of board intelligence solutions. Companies of all sizes rely on Equilar for their most important boardroom decisions, including 70% of the Fortune 500 and institutional investors representing over trillion in assets. Equilar offers data-driven solutions for board recruiting, executive compensation and shareholder engagement that bring together business leaders, institutional investors and advisors to drive exceptional results while ensuring sound corporate governance. The Equilar suite of solutions includes industry-leading board education symposiums, comprehensive custom research services and award-winning thought leadership. Founded in 2000, Equilar is cited regularly by Associated Press, Bloomberg, CNBC, The New York Times, The Wall Street Journal and other leading media outlets. Learn more at www.equilar.com
For more information, contact:
Amit Batish
Director of Content & Marketing Communications
press@equilar.com
650-241-6697