Equilar Institute
Blog Home
Board Committees: With Great Responsibility Comes Great Compensation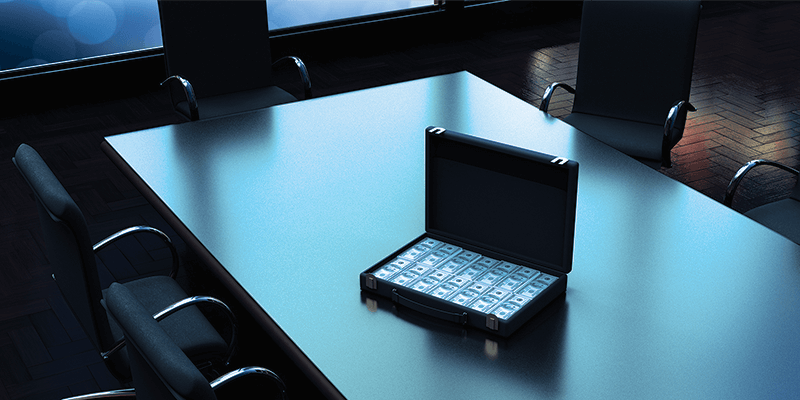 ---
---
April 2, 2020
The height of shareholder activism campaigns grew to a record high in 2015 when the number grew to approximately 400 during the year. This rise led to more activists landing board seats at larger firms, with 15 activist campaigns resulting in board seats in 2015 compared to just eight in 2014. The rise of shareholder activism forced companies to address more corporate governance issues that were previously not in the spotlight. Among these hot-button issues were board composition, succession planning and proxy access, all of which are handled by the nominating/governance committee within a board.
The issue of board composition stood out the most as more and more advisors began to speak out on the low representation of women in the boardroom. However, the process to closing the gender diversity gap was extremely slow. A study by Equilar in 2017 showed that at the pace boards were adding women, it would take 40 years before representation on boards reached 50% women and 50% men. The study estimated that this gender parity would be achieved by Q4 2055.
However, the Equilar Gender Diversity Index (GDI), which tracks quarterly gender representation on boards in the Russell 3000 index, shows that the percentage of women board members surpassed 20% as of July 2019. As of the second quarter of 2019, the GDI showed that female representation was at 15%. The jump from this percentage to over 20% by the end of the third quarter only shows that corporations are making a greater effort to drive diversity and inclusion in corporate boardrooms across all company sizes. In addition, this effort has been accelerated by the State of California's Bill 826, which was approved in 2018. The bill provides for more gender diverse representation and mandated that there be at least one woman on every publicly-held corporate board in California by the end of 2019.
The push for more diversity in the boardroom was not solely born out of pressure from shareholders. A 2016 study by Equilar citing Morgan Stanley showed that gender diversity at all levels of an organization is a competitive advantage as the top fifth of selected companies that consistently rank gender diversity among their priorities outperformed their peers based on volatility and risk factors. Therefore, it is vital to the success of a corporation.
With these factors taken into account, companies have had to take a more strategic approach to board recruitment. This responsibility falls on the nominating/governance committees to ensure that qualified and diverse individuals are hired on boards. Therefore, it is interesting to see how companies have incentivized the chairs of these committees.
Historically, among the three committees—audit, compensation and governance (nominating/governance)—the governance committee is the least frequently compensated. The 2019 Equilar Director Pay Trends publication revealed that of Equilar 500 companies since 2014, the governance committee has consistently had the lowest member retainer prevalence, while the audit committee consistently had the highest (Figure 1).
Figure 1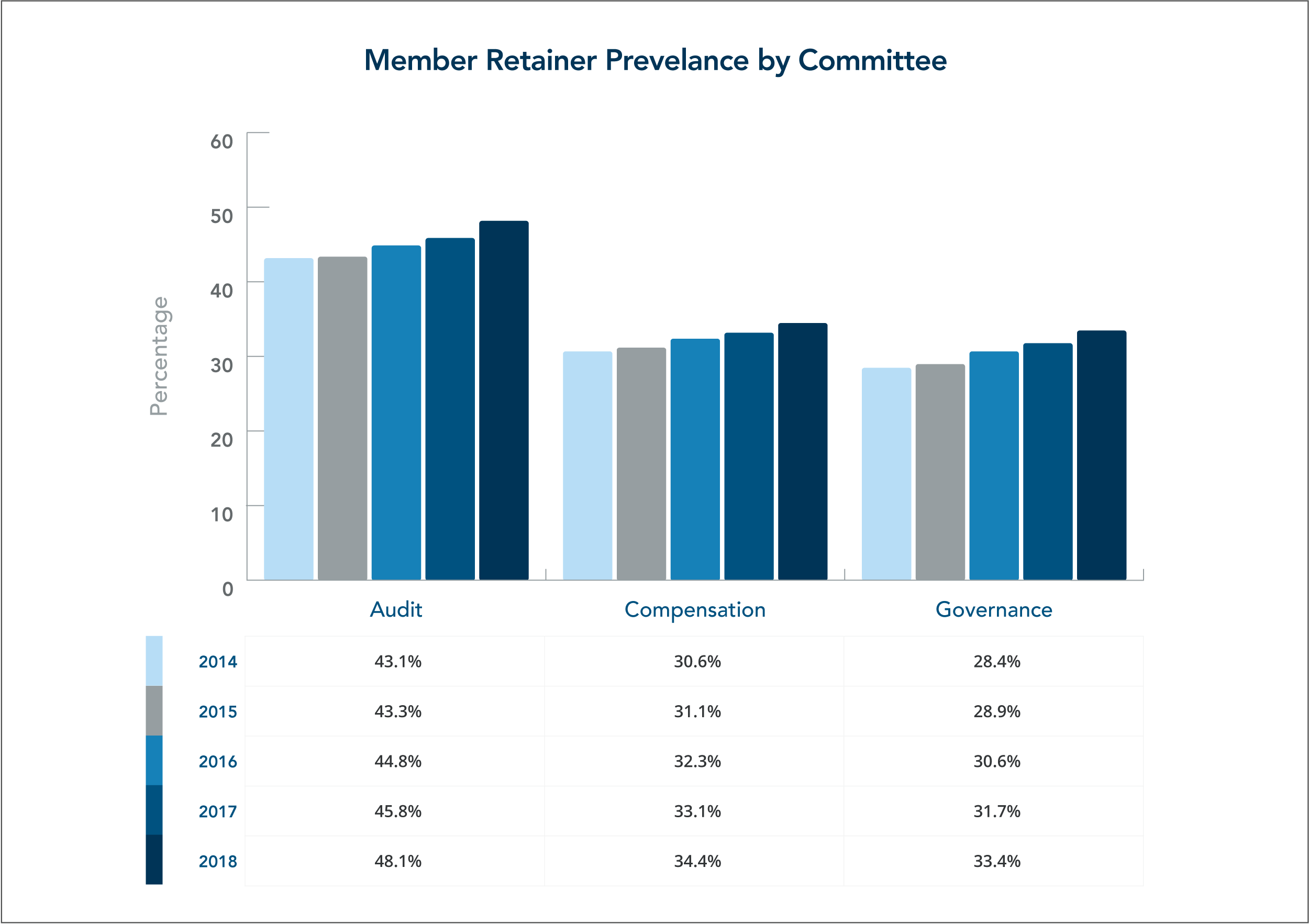 The increase in company regulations, especially following the Sarbanes-Oxley Act of 2002 could have contributed to the high prevalence of member retainer fees in Audit committees. The Sarbanes-Oxley Act called for better auditing and financial regulations for public companies, placing more responsibility on audit committees, which has corresponded with greater compensation for committee members.
However, although audit committees have the highest member retainer prevalence, the Director Pay Trends report shows that from 2014 to 2018 there has been greater growth in compensation prevalence for the governance committee compared to the other committees. The prevalence of governance retainers grew at a rate of 17.6%, compared to 11.6% and 12.4% for audit and compensation, respectively. The increasing growth in retainers from 2014 to 2018 for members of the governance committee correlates with the greater demand from shareholders for more diverse boards. With great responsibility, comes great compensation, as it were.
Similarly, for committee chair fees, Table 1 highlights five companies that are closing the gap between the value of compensation and governance chair retainers. These companies show in their most recent years an increase in governance chair fees while keeping audit and compensation fees steady.
Table 1 Median Chair Fees
Company Name

Year

Audit

Compensation

Governance

American Express Company



2016
2017
2018
$40,000
$40,000
$40,000
$30,000
$30,000
$30,000
$25,000
$25,000
$30,000

Danaher Corporation



2016
2017
2018
$25,000
$25,000
$25,000
$20,000
$20,000
$20,000
$15,000
$15,000
$20,000

Northrop Grumman Corporation



2016
2017
2018
$30,000
$30,000
$30,000
$20,000
$20,000
$20,000
$15,000
$15,000
$20,000

Regions Financial Corporation



2016
2017
2018
$20,000
$30,000
$30,000
$20,000
$25,000
$25,000
$15,000
$15,000
$25,000

WEC Energy Group, Inc.



2016
2017
2018
$20,000
$20,000
$20,000
$15,000
$15,000
$15,000
$10,000
$10,000
$15,000
The data shows that companies are increasing their nominating/governance chair fees. Interestingly enough, this increase coincides with the level of scrutiny that is now being placed on governance committees.
As more and more shareholders demand that corporations prioritize social governance issues such as gender equality in the boardroom, the pressure on nominating/governance committees is expected to spread across all public corporations. Such as the rise in audit retainers following the Sarbanes-Oxley act, the passing mandate of SB-826 in California and similar bills being passed in other states could lead to further increases in member retainers and chair fees for nominating/governance committees.
---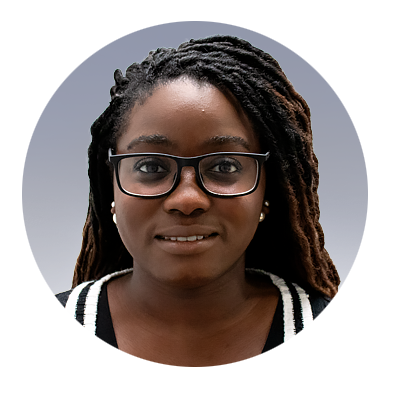 Tosin Babatunde, Research Analyst at Equilar, authored this post. Please contact Amit Batish, Content Manager at Equilar, at abatish@equilar.com for more information about this article.
---