Equilar Institute
Blog Home
CEO Pay Tops $3.5 Million in Canada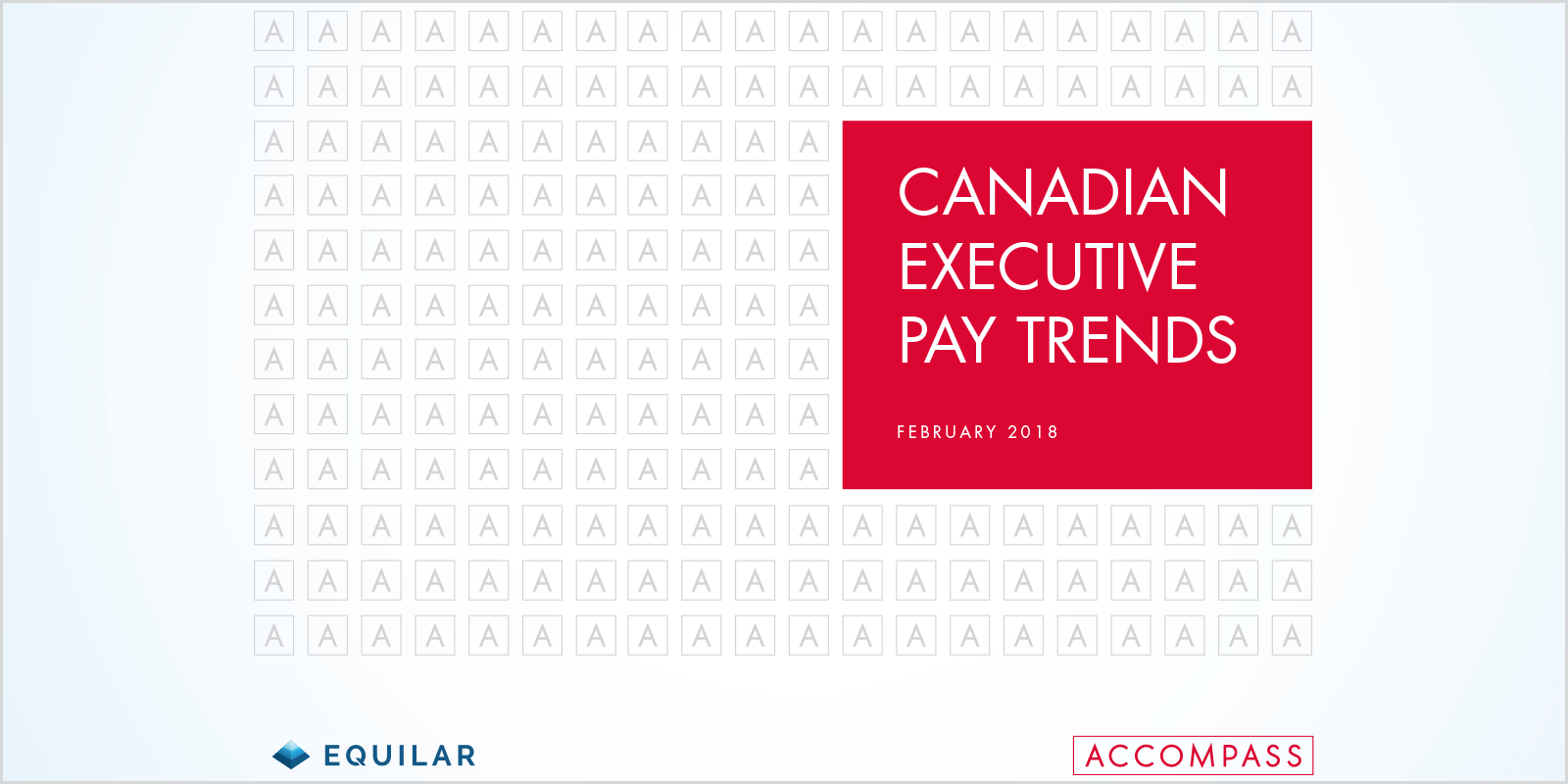 ---
---
March 9, 2018
In the most recent year, CEOs at companies in the Toronto Stock Exchange (TSX) Composite were awarded a median $3.5 million, according to a new report authored by Accompass, an advisory firm focusing on compensation and benefits. The report, developed through an analysis of data collected by Equilar, provides an overview of the executive compensation landscape in Canada with analysis and insights into specific pay practices.
The comprehensive report identified pay levels for all executive positions named in publicly disclosed documents (e.g. annual report, management-information circulars, corporate websites) as of August 2017, and included the Chief Executive Officer (CEO), Chief Financial Officer (CFO), and the next three highest paid executives with compensation greater than $150,000 at each organization.
The report noted that although the focus tends to be on CEO pay levels, median compensation appears to have a $1 million floor across all executive positions. Because executive pay is a significant investment, "organizations must continuously monitor the compensation programs in place for their executive teams, ensuring dollars are being spent efficiently and effectively," the Accompass authors noted. "This includes protecting intellectual property through retentive measures, linking pay to 'positive' performance, and investing in succession."
The chart below from the report identifies both median and average compensation for top positions, as well as the highest-paid individual in each category.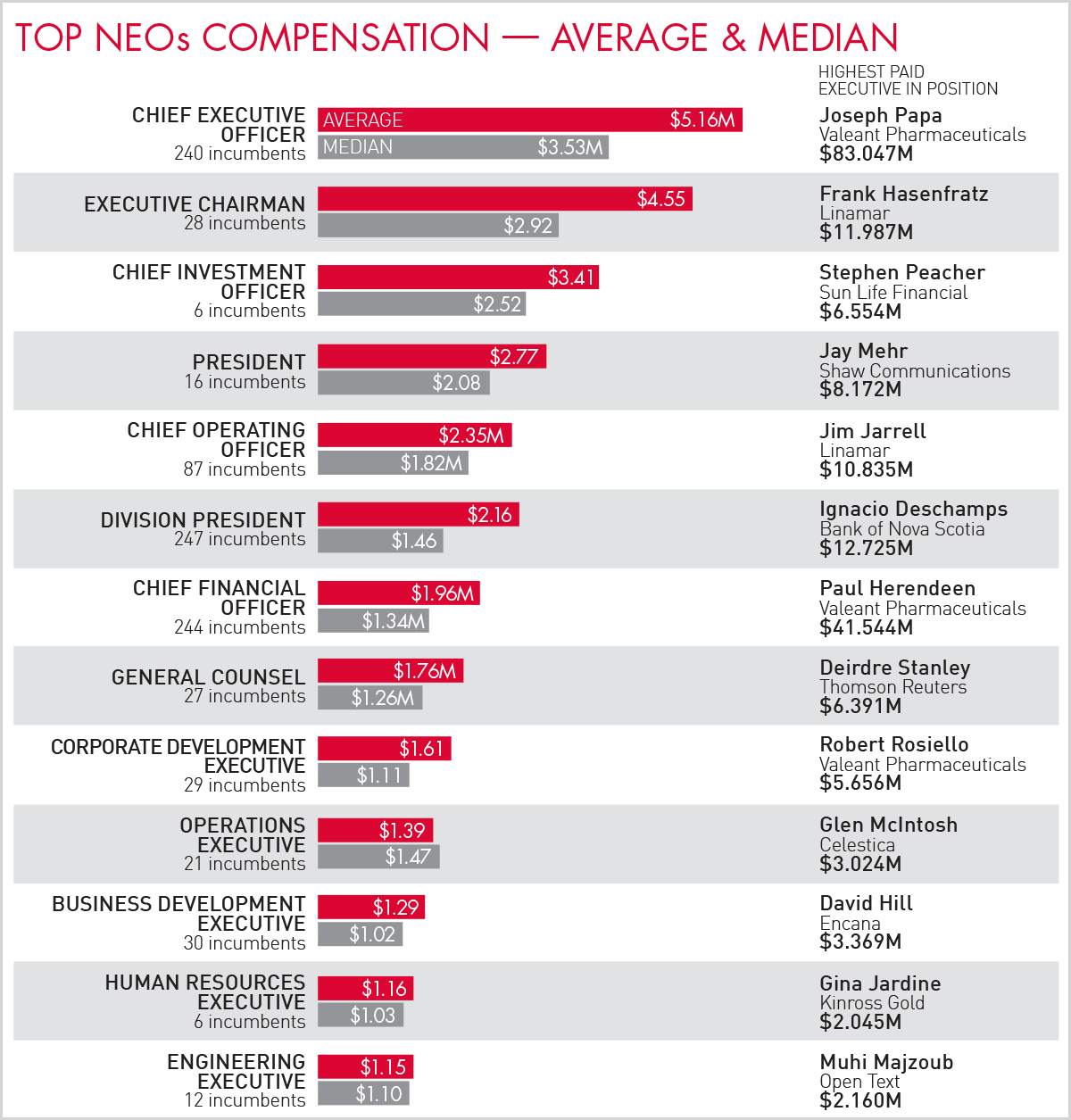 (Note: Reported data for executive positions outside the CEO and CFO positions is less robust due to the position and title variations between companies and industries.)
Gender diversity is also sparse at Canadian public companies, not unlike their U.S. counterparts. The report noted that just six organizations included in the study (2.4%) have a female CEO, and Nancy Southern represented two of these organizations—ATCO and its subsidiary, Canadian Utilities. At Equilar 500 companies, 28 CEOs are women, representing just 5.6% of the group. Another parallel to the U.S. market: Women who are in the top position tend to be at larger organizations, the report said.
"As organizations across Canada continue to face dynamic and evolving issues around how to compensate their leadership teams, understanding the current pay trends within their respective industry is paramount," the report's authors wrote. "Organizations must acknowledge the impact of other issues such as increased scrutiny, compensation disclosure requirements, compensation risk, a defensible benchmarking process, say on pay, and so on. The numbers don't tell the whole story, [and] the process followed is much more important."
To read more about trends in equity compensation, CEO age and tenure, breakdowns by industry and geography, and more, please request the full report here: https://info.accompass.com/canadian-executive-pay-trends
---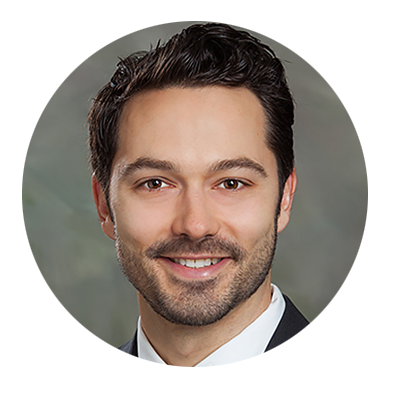 Dan Marcec, Director of Content & Communications at Equilar, authored this article. Please contact him at dmarcec@equilar.com for more information on Equilar research and data analysis.
---