Equilar Institute
Blog Home
CEO Hires Favor Insiders, and Women Gain Traction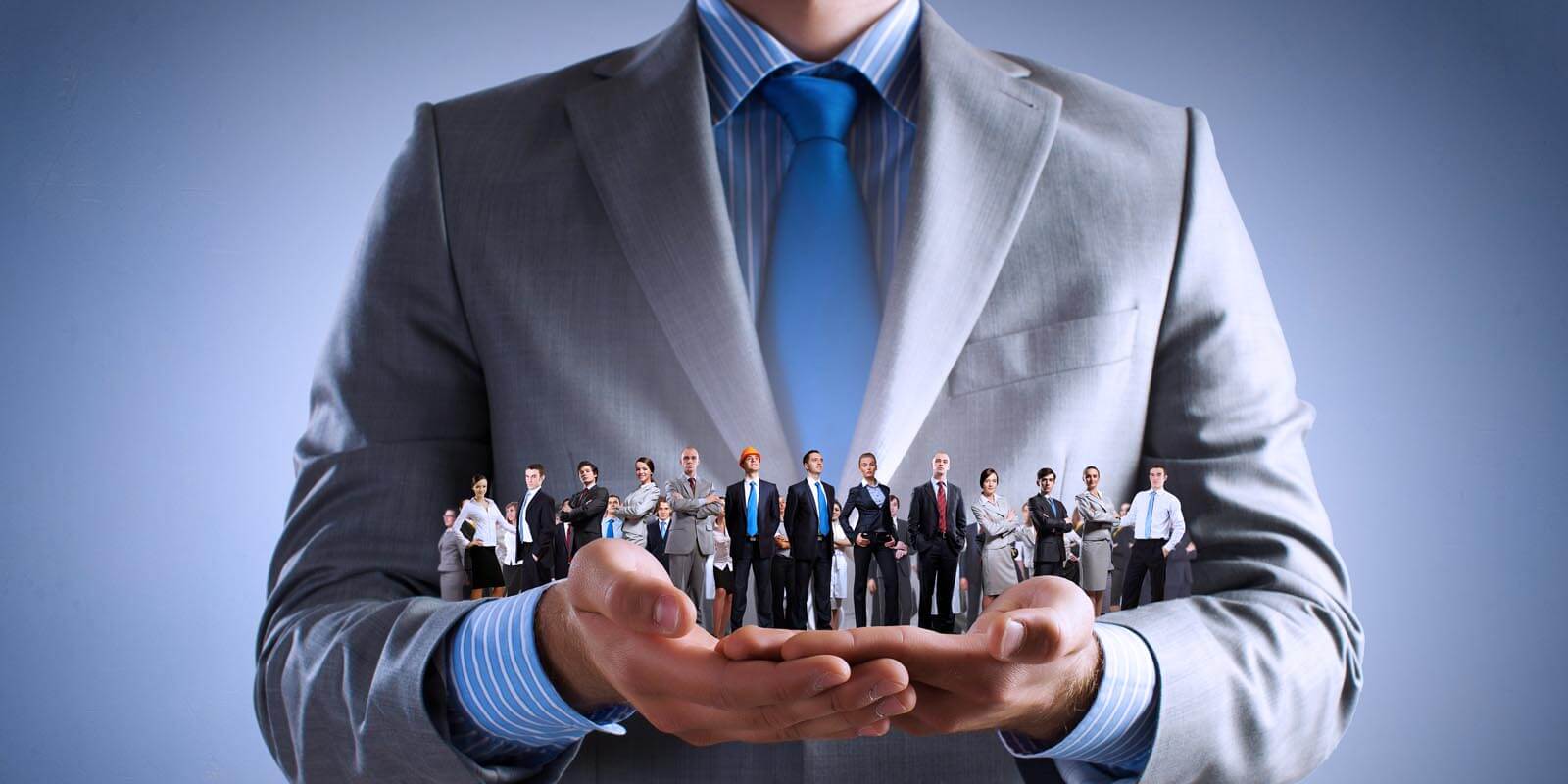 ---
---
December 19, 2017
More than 10% of CEO positions at the largest U.S. companies by revenue saw turnover in the one-year period analyzed for the new Equilar report, Corporate Governance Outlook 2018, which featured commentary from Donnelley Financial Solutions and Hogan Lovells.
Among Equilar 500 companies, 67 CEOs took the reins between July 1, 2016 and June 30, 2017, and nearly 80% (53) were hired from the inside. This reflects conventional wisdom that internal hires are often better fits for the position because they know the business and potentially have been groomed for the job.
"While studies can be found that support both sides of this issue, there is compelling evidence that, on average, internal CEO succession appointments, when compared to external 'star search' appointments, cost less in terms of search and new CEO pay, and result in better new CEO performance and a positive impact on the company," said Ron Schneider, Director of Corporate Governance Services at Donnelley Financial Solutions, in his commentary for the Equilar report.
Compensation Comparison
Median compensation for the 53 internal hires was $4.7 million in their previous role before transitioning to CEO. While this is not reflective of their compensation in their new roles, it's common for internally promoted CEOs to start on lower pay grade and earn their way toward the median of their peers over a period of several years. Indeed, it's not surprising that any employee new to a position—as opposed to making a lateral move—would start on the lower end of a pay scale.
Notably, just two new CEOs—Darren Woods at Exxon Mobil ($16.8 million) and Tim Sloan at Wells Fargo ($11.0 million)—were paid at or above the median for Equilar 500 CEOs, which was $11.0 million in fiscal year 2016, according to the most recent Equilar CEO Pay Trends report. Their predecessors, Rex Tillerson and John Stumpf, were perennially on the Equilar 200 Highest-Paid CEOs list. (As a note, Tom Dooley served briefly as interim CEO at Viacom during the study period. He was awarded over $29 million in his previous role as COO; however, he spent less than a month on the job and did not remain CEO.)
Of the 14 external transitions, pay data for their previous positions was only available in public filings for four individuals, so a direct comparison to overall pay between internal and external hires is not meaningful for this study. However, one reason new hire pay packages often are outsized (or at least appear so) is that companies want to ensure that their CEO is vested in the company immediately. As a result, they will provide an initial grant of equity in the first year. For insiders, this is typically not necessary as they already would be likely to have stake in the company having served as a top executive officer with a substantial equity plan.
Where Do New CEOs Come From?
Nearly 70% of the internal hires that ascended to the CEO position in the study period either had President or COO in their previous title. As the chart below shows, there were variations on each—COO and President independently or together, as well as various division or group president positions—and 37 of the 53 internal promotions fell into one of those role categories. Meanwhile, five executives were previously CFOs, four had been other C-level executives or a non- C-level EVP, and three had been an SVP.
Of the 14 external hires, six were CEOs immediately preceding their new role. There were two division presidents as well, but each of the other six had different titles, ranging from CFO to Chairman of the Board to—perhaps not surprisingly—COO.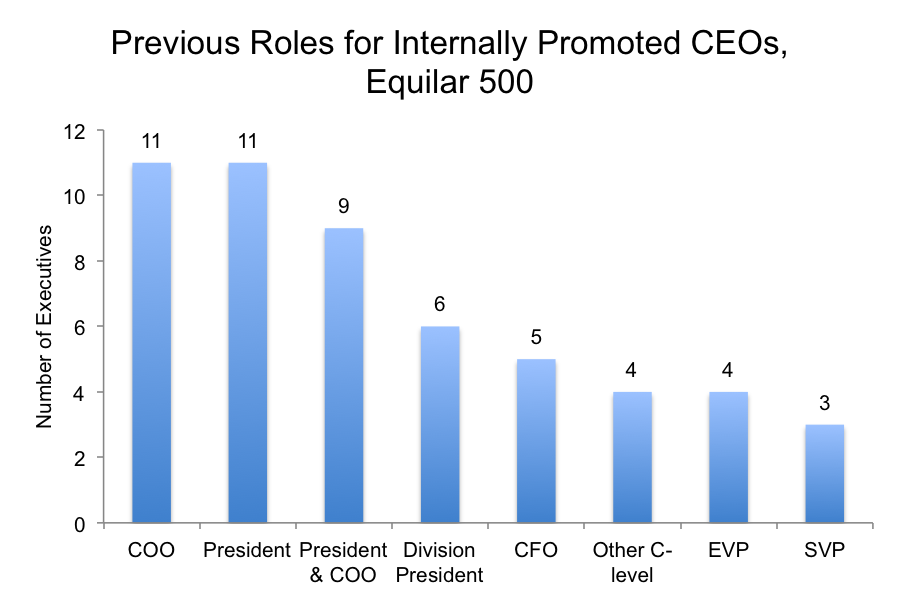 With good reason, the implementation of a thoughtful CEO succession plan is critical, and shareholders want to be assured that boards have such a plan in place. According to Corporate Governance Outlook 2018, 85% of Equilar 100 companies included at least a mention of their CEO succession strategy in their most recent proxy statement, and of those, about one-third (28% of the total) disclosed more specific details of the processes and policies around CEO succession.
"CEO succession planning is one of the most important responsibilities of a board of directors, and investors want to know that the board is focused on this important job," said John Beckman, a partner at Hogan Lovells, in commentary for the Equilar report. "For that reason, it is important to disclose something about the board's process for overseeing succession planning. It may be difficult to disclose much more than the process undertaken by the board or board committee as the facts are often confidential or in flux. It can be a difficult for a company to balance investors' desire for more disclosure on this topic with the company's legitimate need for confidentiality."
Are Women on the Rise for CEO Positions?
Of the new CEO hires during the study period, seven out of 67 were women, or 10.4%. Notably, all seven of those hires were internal promotions, and all 14 of the external CEO hires were men, according to the study. Therefore, looking at internal hires, 13.2%, or seven out of 53, were women. Either way, the transitions in the year analyzed for the report introduced a net gain for women CEOs at large-cap companies. At the beginning of the study period for the report, 4.6% of CEOs in the Equilar 500 were women, and that increased by four individuals on a net basis, reaching 5.4% by the end.
This appears to be an encouraging sign that the number of women in top roles are increasing. However, there have been a few transitions announced or completed for female CEOs since this study was conducted—including Meg Whitman at HPE and Irene Rosenfeld at Mondelez, among others. Neither Whitman nor Rosenfeld was replaced by another woman.
---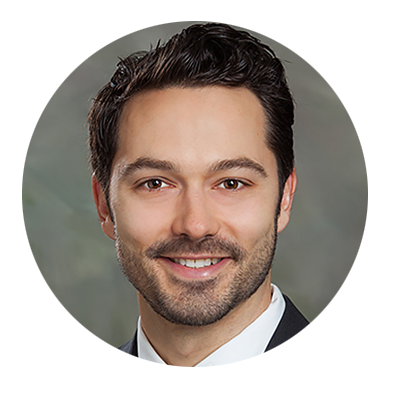 Dan Marcec, Director of Content & Communications at Equilar, authored this post. Please contact him at dmarcec@equilar.com for more information on Equilar research and data analysis.
---