Equilar Institute
Blog Home
Does Prior Board Experience Determine a Qualified Director?
---
---
November 17, 2017
Discussion in corporate governance surrounding board recruitment and refreshment has become more common, but in actuality, turnover is low and available board positions are scarce. A hopeful candidate must stand out in a pool against highly qualified competition, since companies want no less than the best candidates to ensure the company's prosperity.
Experience on a board of directors brings perspective that is invaluable to strategic oversight of a company. However, if the pool of director candidates is limited only to those directors who either have served or are serving on other boards, companies will be challenged to find the right individual, as the available candidates will be limited as well.
For example, there are approximately 27,000 board seats in the Russell 3000 (around nine per board), and nearly 200,000 individuals in the Equilar BoardEdge database, which includes executives and directors disclosed in public filings. In other words, there are tens of thousands individuals out there who may also be qualified for board service than there are currently serving directors, and the positions are not a dime a dozen.
Equilar conducted a study on directors' prior experience by examining the board positions of Russell 3000 and Equilar 500 directors in 2016 (the most recent full fiscal year) to see how these trends play out in actuality. The total sample size included nearly 18,000 individual directors. "Past experiences" were considered as any prior position on a 2016-defined Russell 3000 or Equilar 500 board, with a resignation date as late as December 31, 2016. The Equilar 500 tracks the 500 largest U.S. companies by reported revenue, adjusted to approximate the industry sector mix of similar large-cap indices.
The study found that 78.9% of currently active directors sat on only one board of directors in 2016, and also that 80.0% of the directors in the study had no prior experience before their current board position. Just over 14% of sitting directors had one prior board experience, with the balance—5.8%—serving on two or more boards before they gained their most recent position.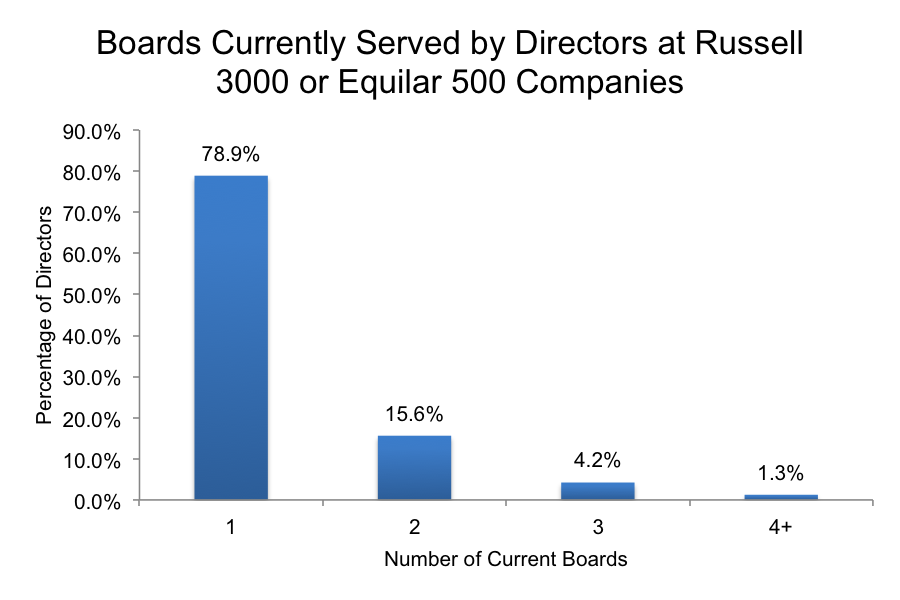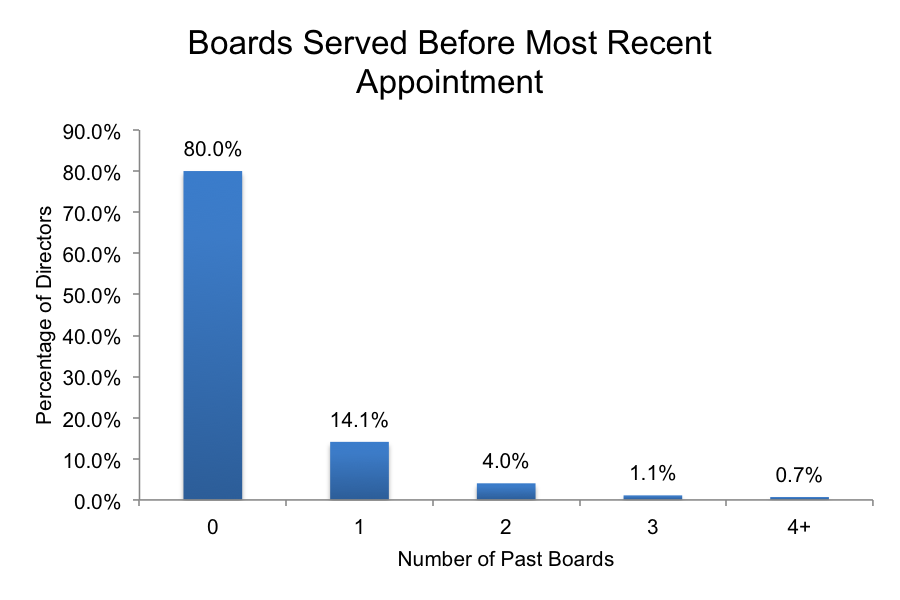 Another look at this data confirmed the ongoing gender disparity in the boardroom, as the overall number of male directors outnumbered female directors five to one. Indeed, according to the most recent Equilar Gender Diversity Index, 16.2% of Russell 3000 boards seats were occupied by women. The percentage of directors who were male sitting on two boards outnumbered females serving on one. In addition, there were 793 men serving on three or more boards, compared to 190 women.
As the chart below indicates, the study found that 25% of women served on more than one board compared to 20.4% of men. This data could be interpreted to support the theory that a pool of the same female board candidates continues to be tapped at the expense of nurturing the pipeline of future female directors.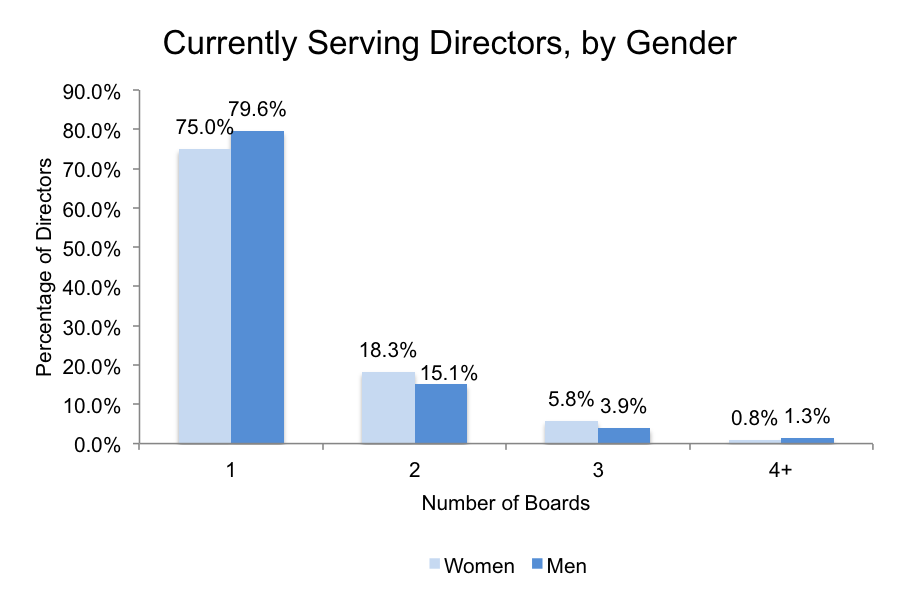 However, when looking at past experience, 81.1% of female directors had no prior board experience before joining their most recent board, compared to 79.8% of male directors. Because women generally have had less prior experience as board members than their male counterparts, this data could support the idea that boards are in fact seeking new candidates that are qualified for boards service as opposed to going back to the same individuals again and again. Indeed, 6.1% of male directors served at least two boards prior to their most recent appointment, compared to 4.4% of women directors.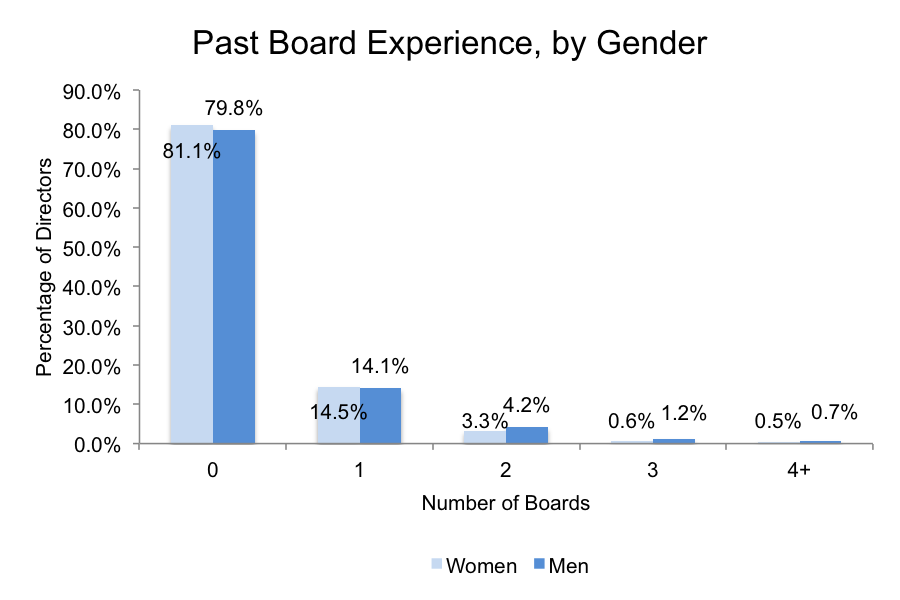 The data itself does not explain how individual boards are conducting board searches, but these findings help put into context the overall pool of director candidates. It appears that boards are open to bringing on new talent in order to address evolving strategy and new risks, which is critical as board composition, evaluation and refreshment continue to be hot-button issues in corporate governance.
---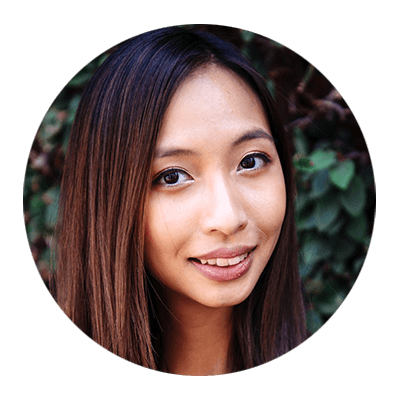 Thao Nguyen, Research Analyst, authored this post. Please contact Dan Marcec, Director of Content & Communications, at dmarcec@equilar.com for more information on Equilar research and data analysis.
---