Equilar Institute
Blog Home
New Study Examines Highest-Paid GCs and Gender Equity in Top Legal Roles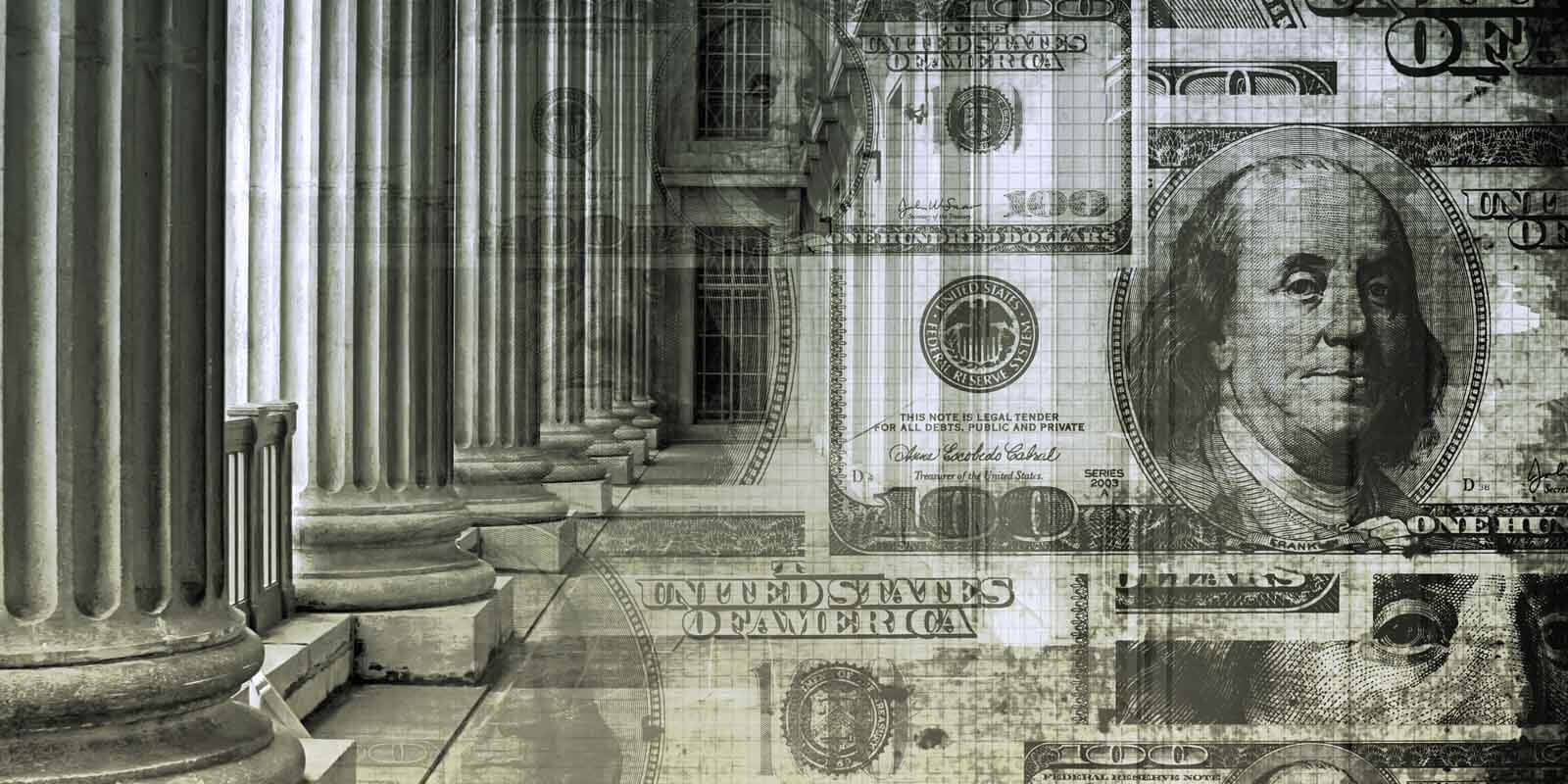 ---
---
October 24, 2017
As the top legal role at public companies continues to see increased responsibility and stature within the C-suite, pay levels have likewise gone up, according to a new report from Equilar, General Counsel Pay Trends, which featured independent commentary from recruiting firm BarkerGilmore.
A related Equilar study conducted in conjunction with the report found that compensation for the top public company GCs outpaced that of many CEOs. In 2016, the median total compensation for chief executive officers was $11.0 million, according to Equilar data, and while most general counsels earn well below this level, the top legal officers at public companies surpassed it.
| | | |
| --- | --- | --- |
| Company Name | Executive | Total Direct Compensation |
| Apple Inc. | D. Bruce Sewell | $22,807,544 |
| Time Warner Inc. | Paul Cappuccio | $16,220,427 |
| Altria Group, Inc. | Denise Keane | $10,839,703 |
| The Walt Disney Company | Alan Braverman | $10,187,508 |
| Twitter, Inc. | Vijaya Gadde | $9,847,500 |
| The Boeing Company | J. Michael Luttig | $8,737,810 |
| Yahoo! Inc. | Ronald Bell | $8,721,048 |
| The Travelers Companies, Inc. | Avrohom Kess | $8,714,904 |
| Microsoft Corporation | Bradford Smith | $8,610,612 |
| CBS Corporation | Lawrence Tu | $8,572,306 |
Bruce Sewell, the SVP and GC of Apple, received stock awards totaling approximately $20 million, in line with all other executives at his company apart from CEO Tim Cook, who received a $377 million stock grant in 2011 when he joined the company, and does not receive additional equity on an annual basis. This pay design has been consistent practice for years at Apple, and Sewell also graced the top of the 2016 Equilar list.
Also a regular on the Equilar list, Paul Cappuccio of Time Warner, Inc. was awarded over $16 million in total compensation in fiscal year 2016, a value of about 70% more than the previous year. As cited in the company's proxy statement:
"On October 24, 2016, each NEO [named executive officer] other than Mr. Bewkes was granted Transaction RSUs with a target value equal to two times the NEO's target annual long-term incentive compensation (for Mr. Ginsberg, the target value for 2017). These NEOs are not expected to be granted equity awards in 2017 or 2018. The Transaction RSUs vest over time, assuming continued employment, with half of each award scheduled to vest in 25% installments on the first four anniversaries of February 15, 2017 and half of each award scheduled to vest in 25% installments on the first four anniversaries of February 15, 2018."
This grant occurred two days after AT&T announced its acquisition plans for Time Warner.
Pay Rises Overall and the Gap Narrows Between Male and Females GCs
As reported in General Counsel Pay Trends, median total compensation for GCs at U.S. public companies was nearly $1.3 million in 2016, up 4.2% from the previous year overall. With the top 10 list far outstripping the field, Equilar also looked at the distribution of pay packages across the study of 1,123 top legal executives. The minimum value was $150,000, while the 90th percentile reached over $3 million.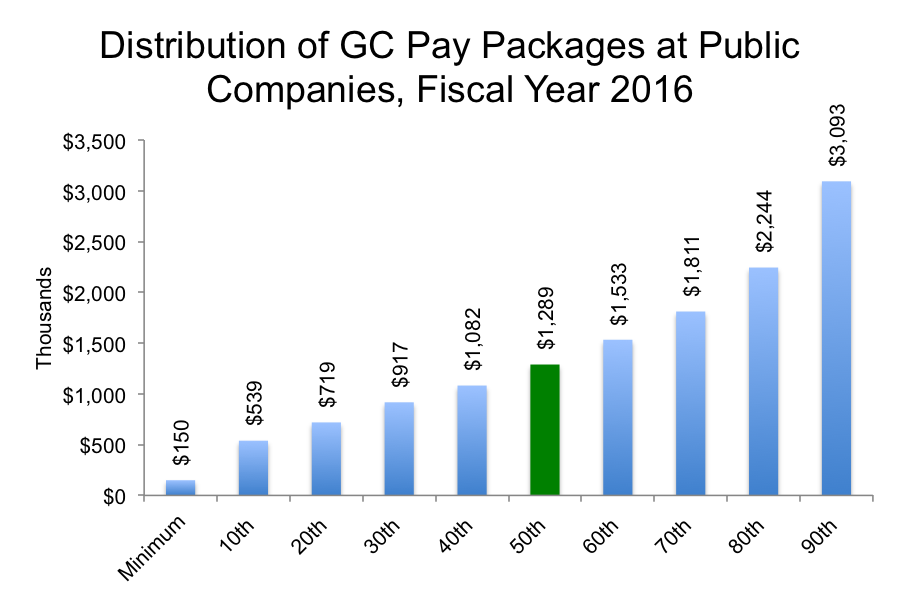 Among the top 10 GCs, two were female—Denise Keane at Altria Group and Vijaya Gadde at Twitter—which was directly in line with overall representation of women in the top GC roles. According to Equilar data, among the 1,123 GCs named as one of the top executive officers in annual proxy statements, 230, or 20.5%, were women. While still a small percentage, that was an increase from fiscal year 2015, when 18.2% of top legal officers were female.
In addition, total compensation for the women included in the 2016 study increased by 6.0%, nearly double the rate of compensation increases for men. Furthermore, the increase in value of compensation packages for women was just over $70,000, compared to about $41,000 for men. Though shrinking, a pay gap persists, with men earning just above the overall median at $1,296,978, while median pay for women was $1,232,731, a 5.2% differential. In 2015, the pay gap was 8.2%.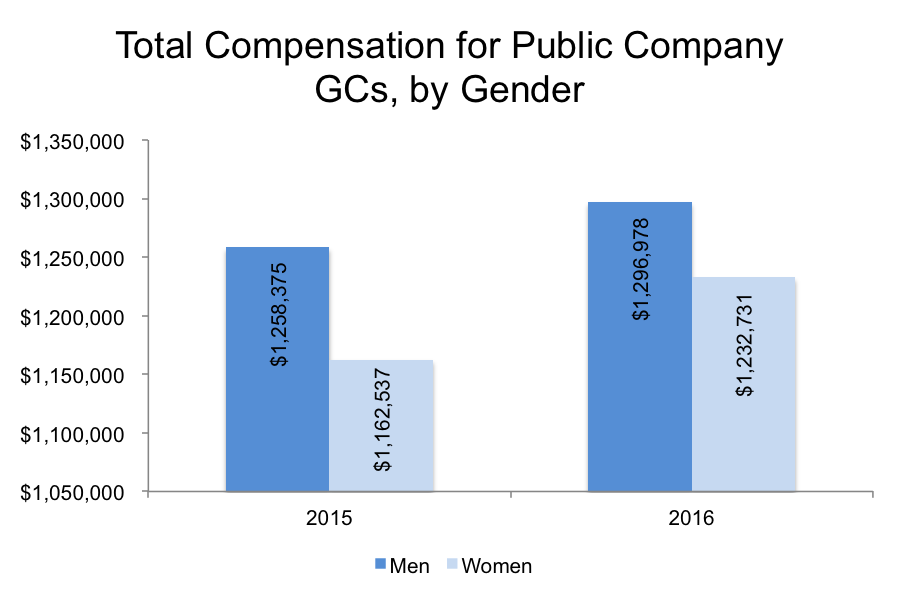 A one-year trend in pay data is far from a sweeping revolution. However, the increase in the number of women is significant, and the growth is likely a sign of increased efforts to recruit and hire more female candidates. According to John Gilmore, a Managing Partner with BarkerGilmore, and Maureen Brundage, former EVP and GC at The Chubb Corporation and a senior advisor with BarkerGilmore, there have been significant efforts to expand the candidate pool to be more inclusive. Organizations such as the Minority Corporate Counsel Association MCCA, the Women's In-House Counsel Leadership Institute, the Association of Corporate Counsel: Women In the House, the National Association of Women Lawyers, and Leadership Council on Legal Diversity are just some of those leading the charge.
Request the replay of a recent Equilar webinar to learn more about these trends in GC recruiting and compensation, or request to download the complete General Counsel Pay Trends report.
---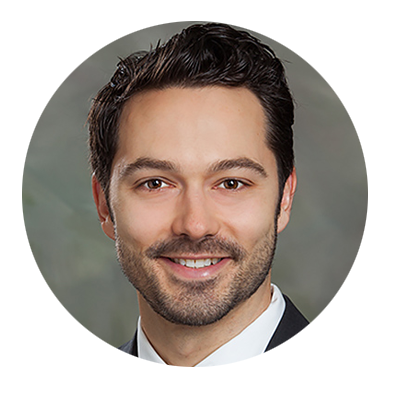 Dan Marcec, Director of Content & Communications, authored this post. Please contact him at dmarcec@equilar.com for more information on Equilar research and data analysis.
---