Equilar Institute
Blog Home
Where Might Tenet Healthcare Look for Its Next CEO?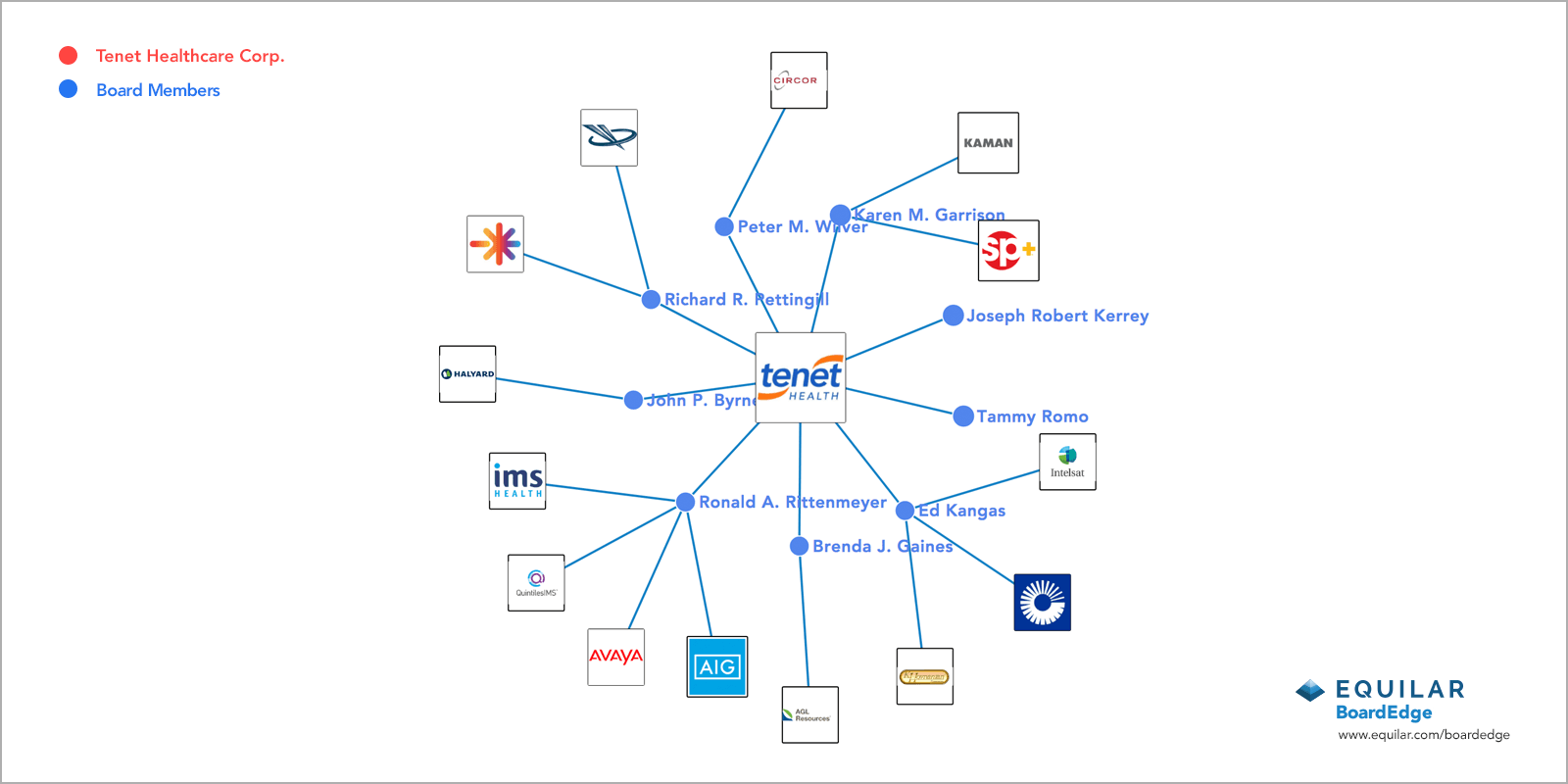 ---
---
October 30, 2017
Tenet Healthcare announced last week in a statement that Trevor Fetter has stepped down as CEO of the company after serving in that role since 2003. Chairman Ronald Rittenmeyer has been appointed Fetter's temporary successor while the company searches for its next CEO.
CNBC first reported in August that Fetter would step down by March 2018 or sooner, and Tenet is looking to refresh the board. The company has also come under scrutiny from its largest investor, Glenview Capital Management, which pulled two of its representatives off the Tenet board, citing "irreconcilable differences" in strategy as its reason.
The question then becomes, who will be the next chief executive at Tenet? As illustrated in the lead image, the Tenet board is connected to various other boards through multiple connection paths. To provide potential insight into where Tenet may be looking to fill its CEO position, Equilar examined the corporate connections Rittenmeyer has made over his career.
Rittenmeyer has established himself as a seasoned executive, serving on multiple boards, including Avaya and Quintiles IMS. Rittenmeyer also has a previous background in the healthcare industry, serving the board of IMS Health, which could come into play if Tenet is seeking a seasoned healthcare executive as its next CEO.
According to Equilar BoardEdge data, Rittenmeyer is connected to 134 board members and executives across 101 unique companies. To further examine data on Rittenmeyer's connections, click the image or button below to view his connections profile.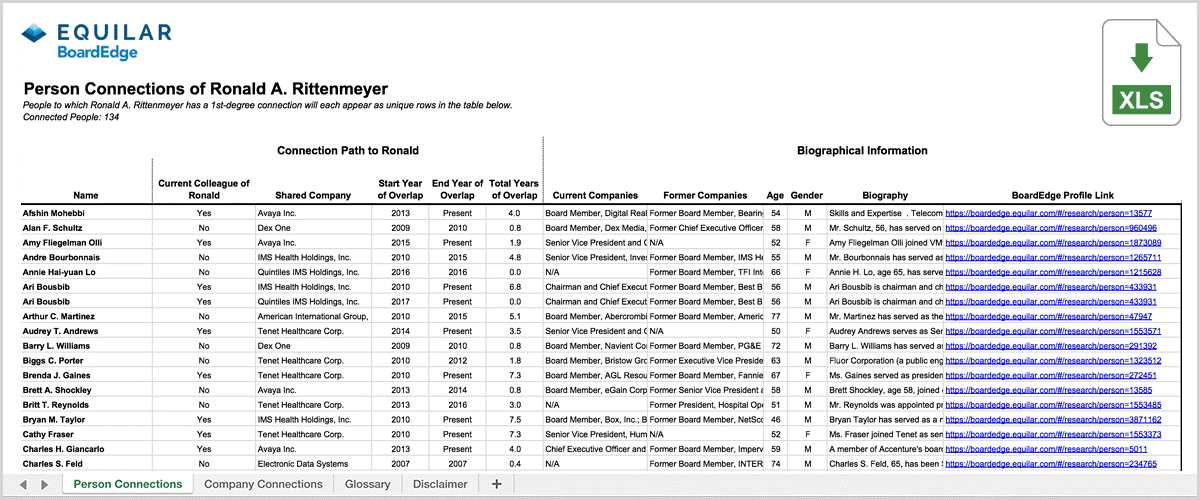 Download Executive and Board Connections
Meanwhile, the future for Fetter remains unclear. However, finding a new venture should pose little trouble if he so desires, since he has accumulated an extensive board background, serving as a chairman of the board and chairman of a nominating and corporate governance committee during his tenure. BoardEdge data indicates Fetter has established 68 first-degree connections to board members and executives spanning 54 unique companies. To further examine data on Fetter's connections, click the image or button below to view his connections profile.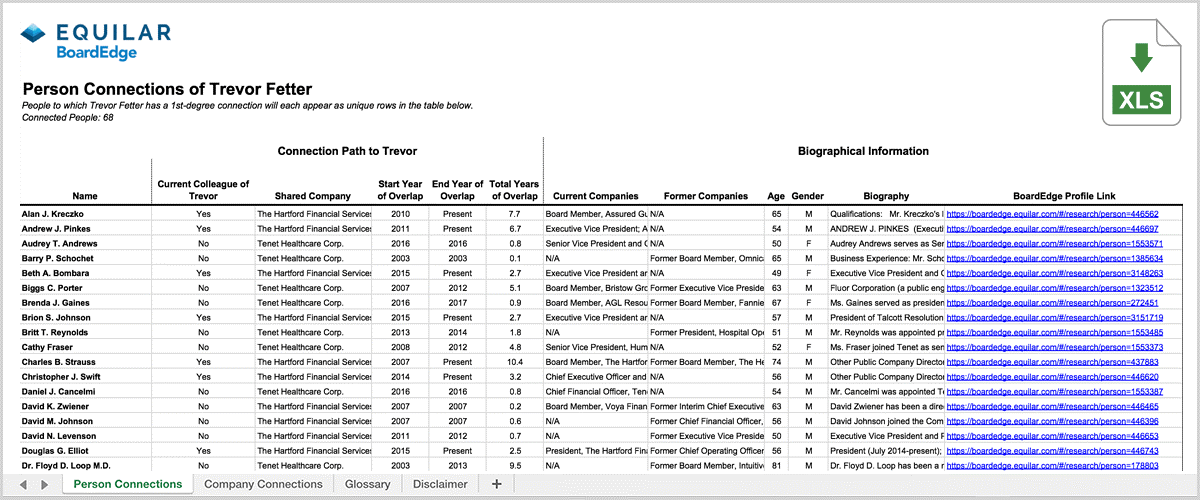 Download Executive and Board Connections
The search for the next Tenet CEO is in full swing, and whether the role will be filled by a connection of the current board is unknown. The coming weeks or months will provide a clearer picture of the future for Tenet and where its next CEO will take the company moving forward.
---
Reach out to Equilar to learn more about BoardEdge connections or request a download of any of the CEOs or board members mentioned in this article, as well as any of the -plus executives and board members in the database. Include specific requests for individual downloads in the comment field.
---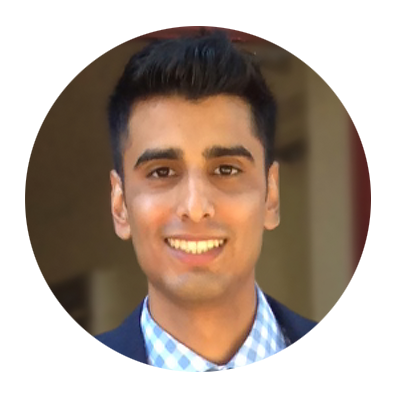 Amit Batish, Content Manager, authored this post. Please contact Dan Marcec, Director of Content & Communications, at dmarcec@equilar.com for more information on Equilar research and data analysis.
---