Media Center
Press Releases
General Counsel Pay Increases 4%, Led by Growth at Smaller Companies
---
REDWOOD CITY, CA (October 4, 2017) — The changing role of top legal officers is leading to increases in compensation, according to a new report from Equilar, General Counsel Pay Trends, featuring commentary from BarkerGilmore. Median total direct compensation (TDC) for GCs at public companies increased 4% year over year, according to the study, which analyzed more than 1,100 public companies that named these executives in annual proxy filings as one of their top-paid employees.
The report broke out companies by revenue range in order to show how different companies of different sizes award compensation. From fiscal years 2015 to 2016, the largest increase in both absolute value (approximately $111,000) and percentage-wise (8.1%) occurred for GCs that served companies between $1 billion and $5 billion in revenue, reaching a median $1.5 million in total compensation.
Meanwhile, GCs at companies with revenues of less than $1 billion experienced a 6.6% increase (or $56,000) in median pay to nearly $918,000 in 2016. GCs at companies reporting revenues between $5 billion and $15 billion saw total compensation rise 3.3% to a median $2.4 million in 2016, an absolute increase of about $75,000. Finally, GCs at companies reporting revenue over $15 billion were the only group in the study to see a pay decrease from 2015 to 2016. However, while pay was down 0.6% from the previous year, the top legal advisors at these companies were awarded by far the largest amount at a median $3.8 million.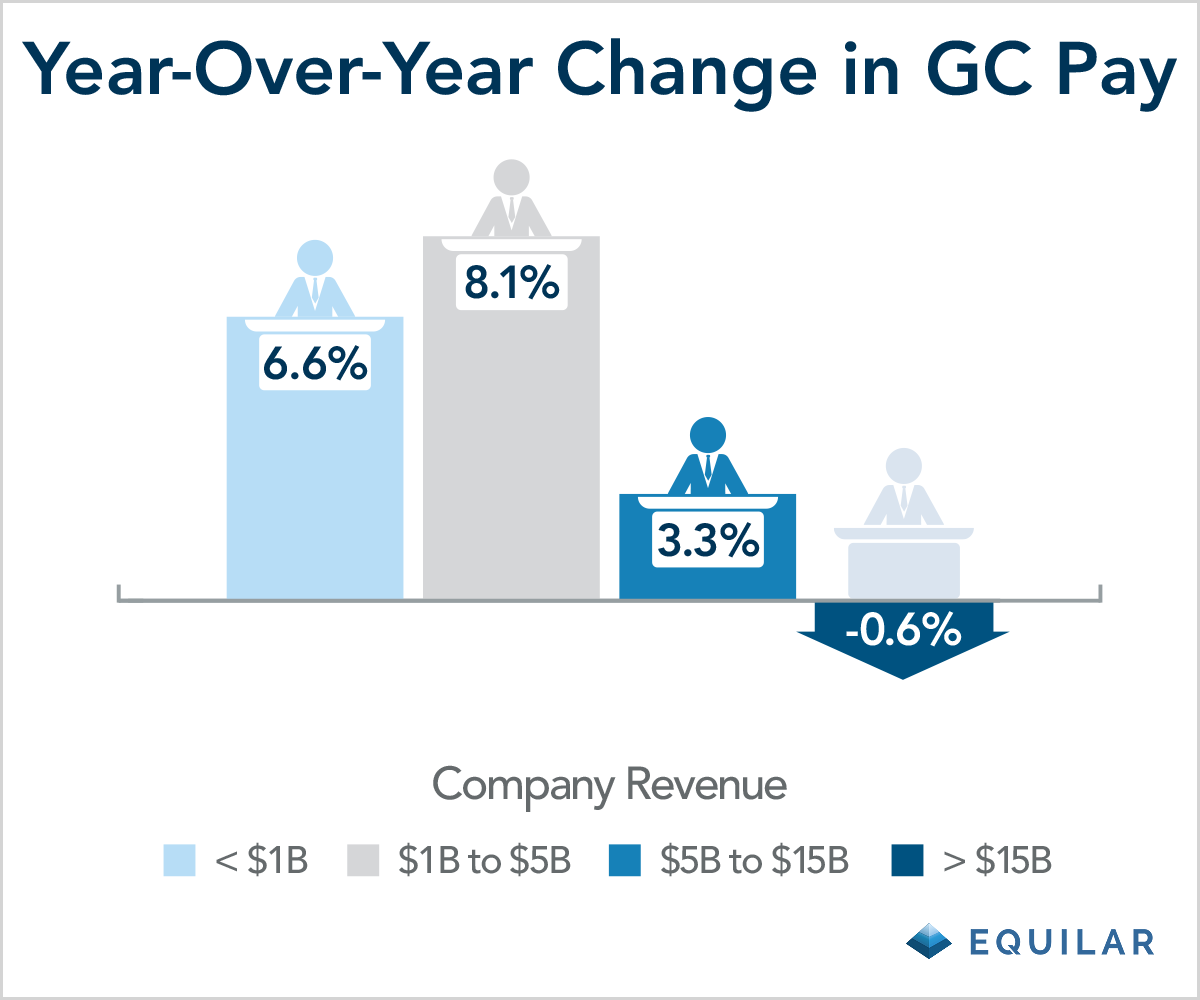 "For most GCs, their role evolves during their tenure to include responsibilities beyond legal and compliance," said Bob Barker, Managing Partner for BarkerGilmore, a boutique executive search firm dedicated to the placement of General Counsel, Chief Compliance Officers and their strategic hires. "For example, a GC's initial role might begin with legal, compliance, and governance, but grow to include other functions including human resources, risk management, government relations, communications, and even business oversight. As responsibilities are added, compensation follows suit."
One of the key contributions to total compensation among GCs in recent years has been the increasing value of stock grants, which is consistent with other roles in the C-suite, particularly at larger companies.
"The GC has become an integral part of the executive team, and many GCs now have the title of Chief Legal Officer (CLO) to reflect their seat at the table," said John Gilmore, also a Managing Partner with BarkerGilmore.
GCs at companies over $15 billion in revenue were awarded more than seven times the amount in stock value compared to companies with revenue less than $1 billion.
That said, equity—that is, non-cash pay—accounted for about half of total compensation at the smallest companies in the study, and nearly two-thirds at the largest, so it remains a critical component of pay regardless of company size.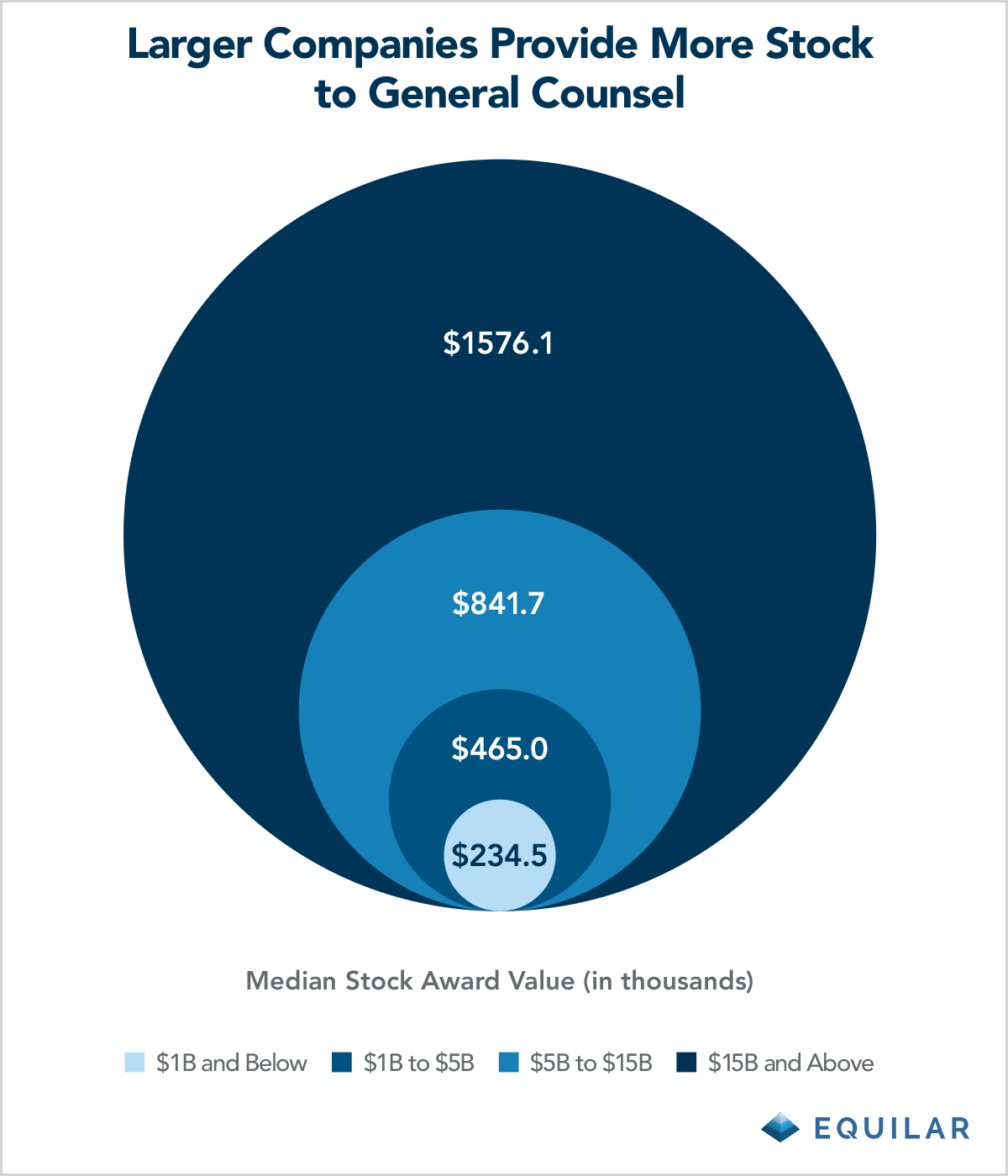 As a larger percentage of compensation for GCs is provided in equity, so too is pay shifting to performance-based awards, meaning that executives only receive stock and options grants if they meet predetermined goals. Similar to pay structures for CEOs and other top executives, relative total shareholder return (TSR) was the top performance metric tied to long-term incentives for GCs at public companies, followed by return metrics and earnings per share. More than half of companies that awarded performance pay relied on TSR, more than double the amount that used any other measurement.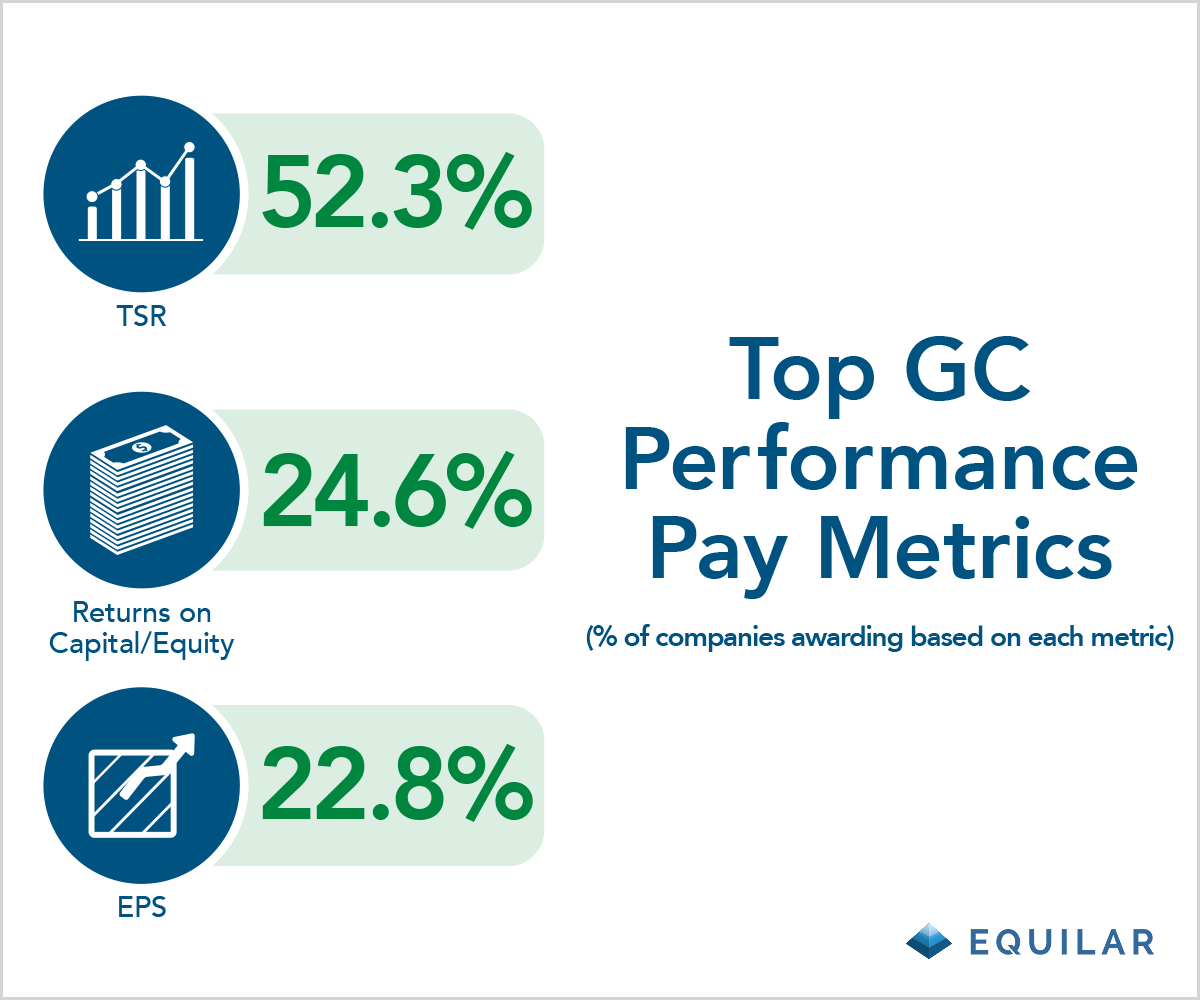 "Streamlining the contract process and winning business, optimizing IP, closing acquisitions, minimizing risk including litigation, regulatory, privacy & security, labor & employment all contribute to shareholder value," said Gilmore.
Click here to request a download of the full report.
---
About the Report
General Counsel Pay Trends, an Equilar publication, examines the compensation of General Counsel (GC) disclosed in SEC filings by public companies for the fiscal years 2016 and 2015. Companies that filed a proxy statement (DEF 14A) or disclosed compensation information in an amended 10-K filing (10-K/A) by May 1, 2017 were included in the fiscal 2016 year—2015 was defined similarly. Analysis of GC compensation is divided by company revenue ranges for the larger sample of all public companies in the Equilar database. BarkerGilmore has offered independent commentary to provide color and context to how companies recruit and compensate their GCs.
About Equilar
Equilar is the leading provider of board intelligence solutions. Its data-driven platforms, BoardEdge and Insight, provide tools for board recruiting, business development, executive compensation and shareholder engagement. Companies of all sizes, including 70% of the Fortune 500 and institutional investors representing over trillion in assets, rely on Equilar for their most important boardroom decisions. Equilar also hosts industry-leading board education symposiums, conducts comprehensive custom research services and publishes award-winning thought leadership. Founded in 2000, Equilar is cited regularly by Associated Press, Bloomberg, CNBC, The New York Times, The Wall Street Journal and other leading media outlets. Visit www.equilar.com to learn more.
About BarkerGilmore
BarkerGilmore is a boutique firm recognized by CEOs, boards, and executives as best in class legal and compliance executive search consultants, GC/CCO advisors and leadership coaches. With a network of advisors and recruiters spanning across the United States, BarkerGilmore's client roster includes leading consumer, energy, financial, healthcare, industrial, and technology companies. For further information visit barkergilmore.com or call 877-571-5047.
For more information, contact:
Amit Batish
Content Manager
Equilar, Inc.
abatish@equilar.com
650-241-6697
Amy Feldman
BarkerGilmore
afeldman@barkergilmore.com
(585) 598-6559