Equilar Institute
Blog Home
Salesforce Diversifies Board, Increases Healthcare Connections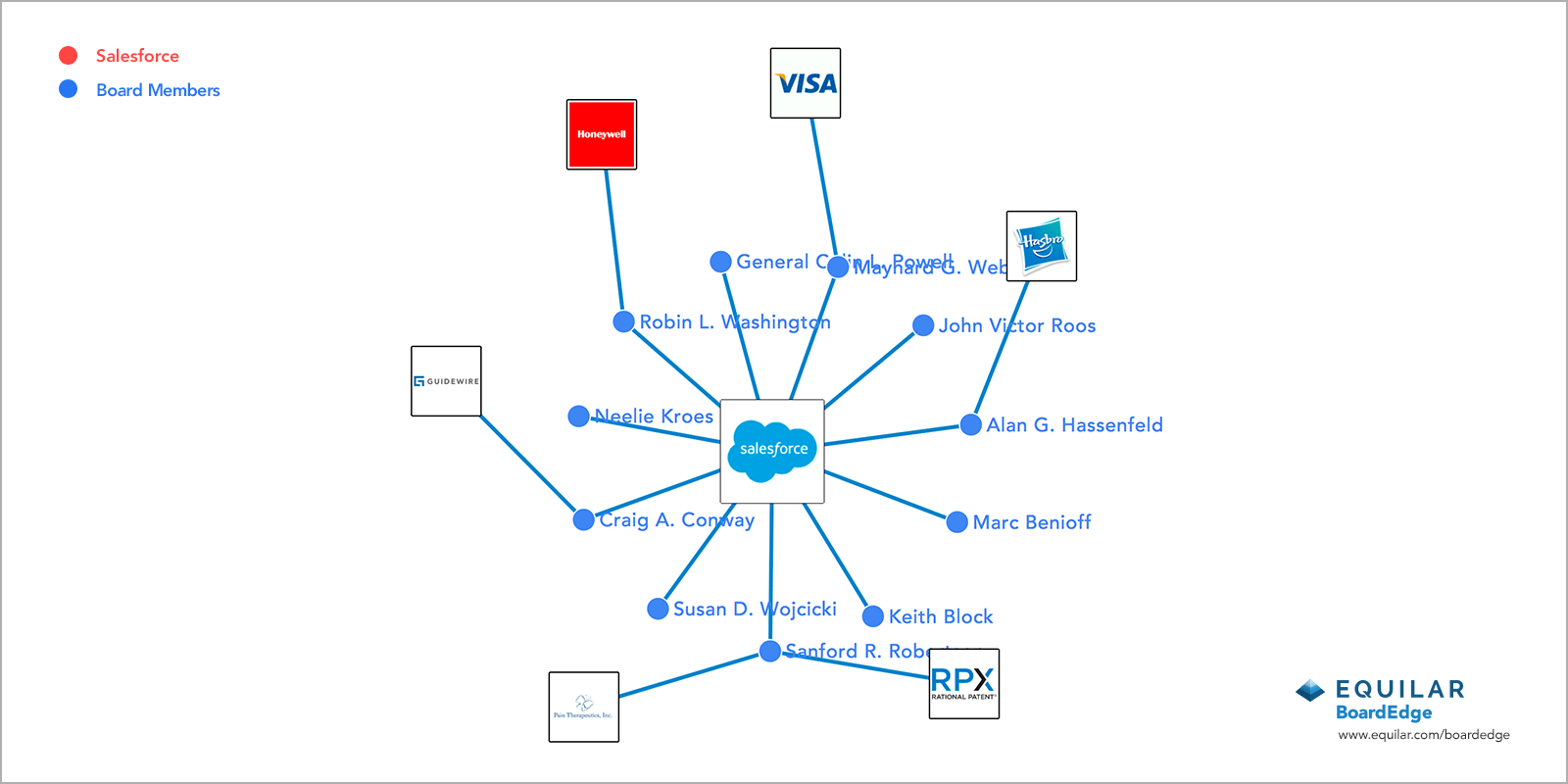 ---
---
September 18, 2017
Salesforce will add Bernard Tyson, the CEO of Kaiser Permanente, to its board of directors. According to the company's press release, Salesforce is not replacing a director, but will add one new seat to bring its board to 12 members.
The addition of Tyson is notable in a number of ways. He is an African-American, adding demographic diversity to Salesforce's board, which also includes two other African-Americans—Robin Washington and Colin Powell. The board also has three women directors, and given Tyson's new seat, women account for 25% of the board. While short of some of the leading companies in board gender diversity, Salesforce outpaces the tech industry at large, according to Equilar data. As of their most recent proxy statements, just 14.3% of board seats in the technology sector at U.S. public companies were occupied by women.
Salesforce CEO Marc Benioff has frequently come out as an advocate for a diverse workforce, and has taken a stand for various issues to support this concept. It's clear that the board of directors at his company is no different. Notably, just weeks before Tyson was added to the board, he was one of now three Salesforce directors highlighted in a recent Harvard Business Review article centered on CEOs that champion diversity (the other, besides Benioff, was Susan Wojcicki, the CEO of Alphabet's YouTube).
In examining the composition of the Salesforce board, Tyson's appointment also adds a skill set and background that now will be represented by several directors—healthcare. Robin Washington, the CFO of Gilead Sciences, and Sanford Robertson who serves on the board of Pain Therapeutics, are both with biopharmaceutical companies. Tyson's decades of service at Kaiser bring a different element of that field and increases Salesforce's connections to this important, expanding market sector.
Overall, Salesforce will be the first outside board Tyson has served, according to Equilar BoardEdge data, and thus his corporate connections are relatively few. He has been with Kaiser for more than 30 years, and has connections to just five other public companies through executive and board service.
By joining Salesforce's board, however, Tyson will have immediate access to six other public companies, including Visa, Honeywell and Hasbro, where his new fellow board members serve. That's not to mention Wojcicki, who does not serve on any other public boards, but is a top executive at Alphabet. In total, the current Salesforce directors have 662 connections collectively, according to BoardEdge data. As an example, Robin Washington serves one other board of directors aside from Salesforce, and has a total of 92 connections to other executives and directors as well as 52 other companies.
Download Washington's board, executive and company connections by clicking the image below, and view her direct relationships to other top leaders at public companies.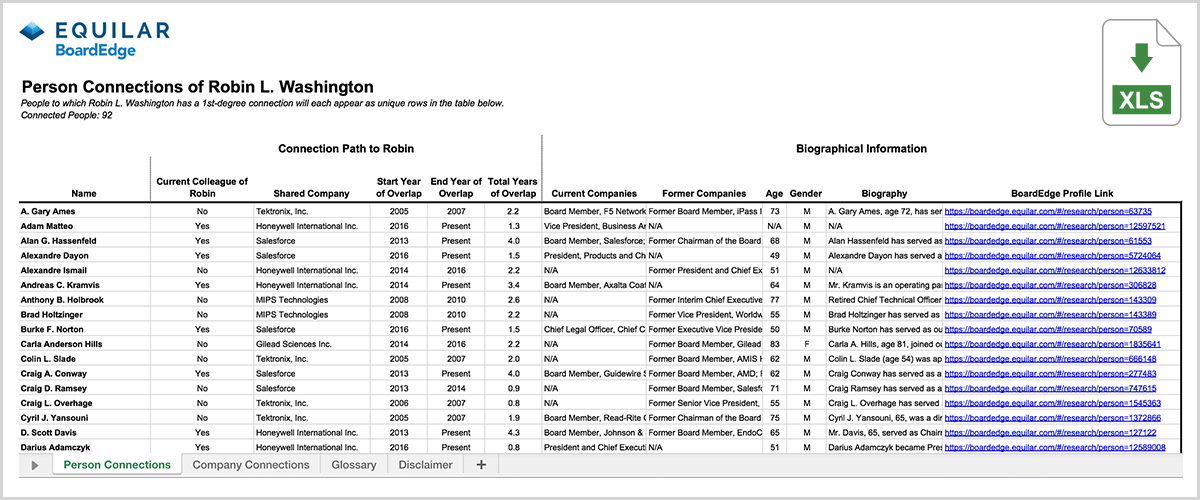 Download Executive and Board Connections
---
Reach out to Equilar to learn more about BoardEdge connections or request a download of any of the -plus executives and board members in the database, and learn how to use this connections data for business development and board recruiting. Include specific requests for individual downloads in the comment field.
---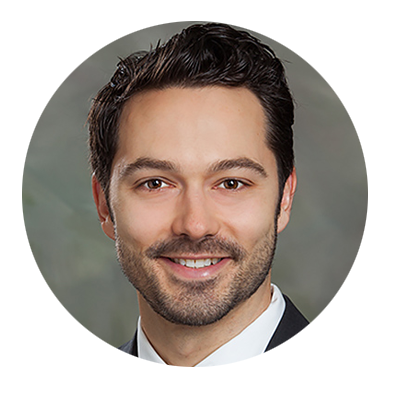 Dan Marcec, Director of Content & Communications at Equilar, authored this post. Contact him at dmarcec@equilar.com for more information on Equilar research and data analysis.
---