Equilar Institute
Blog Home
Trump's Corporate Network Shrinks by 1,800 Executives After CEO Councils Disband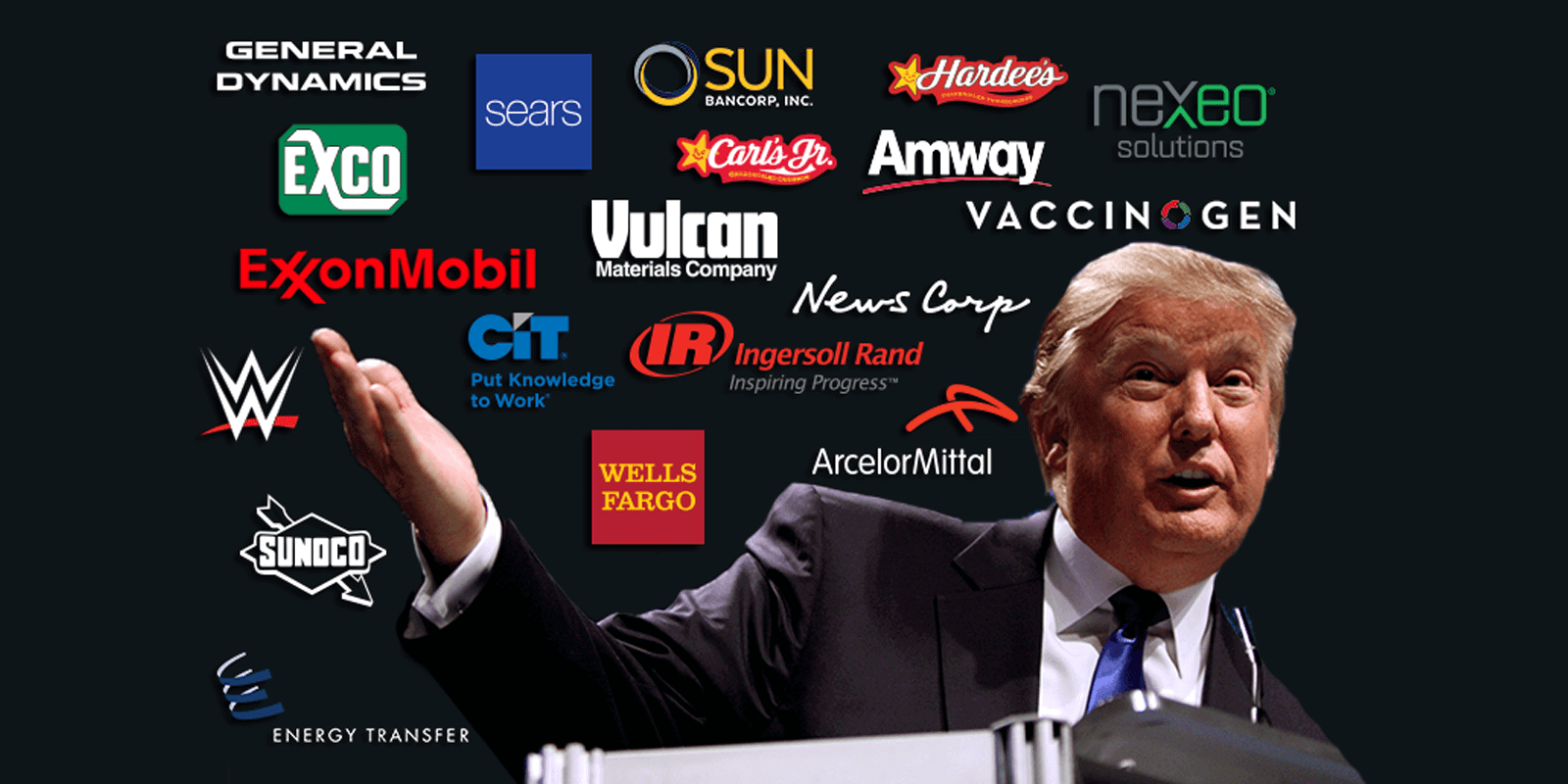 ---
---
August 28, 2017
The news earlier this month that both CEO councils held by President Trump would disband sent shockwaves across the political and corporate landscapes. Though not every CEO had planned to leave these presidential advisory groups, a critical mass of departures led to the President tweeting that they would be discontinued.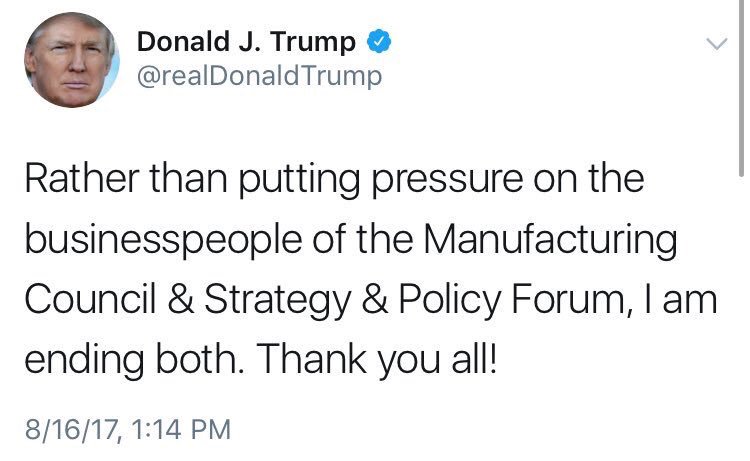 Prior to that announcement, CNN had kept a running list of executives that were stepping away (or had already) based on a variety of factors, most recently Trump's comments following the Charlottesville rally and protests. Reasons for departure also included the announcement earlier this summer that the U.S. would exit the Paris Climate Agreement.
Regardless of what happens behind the scenes from here on out, the end of these councils has not only symbolic importance, but also practical ramifications.
Specifically, Equilar analyzed the corporate connections for the CEOs, former CEOs and board members that were on these councils per the CNN list, and found that they collectively had nearly 1,800 professional connections at over 1,300 public companies, according to Equilar BoardEdge data. Those connections include people they have directly worked with either on a board of directors or as a colleague to one of the top five named executive officers disclosed in proxy statements dating back to 2000.
As an example, James McNerney, a now-former member of the Strategic and Policy Forum, is the most "connected" individual among either group. During his executive and board career, he has had direct working relationships with 134 individuals at 105 companies in the C-suite and boardroom. To examine further what this data represents and those people and companies with whom McNerney is connected—now the chairman of the board at Procter & Gamble—click the image or button below to download his profile.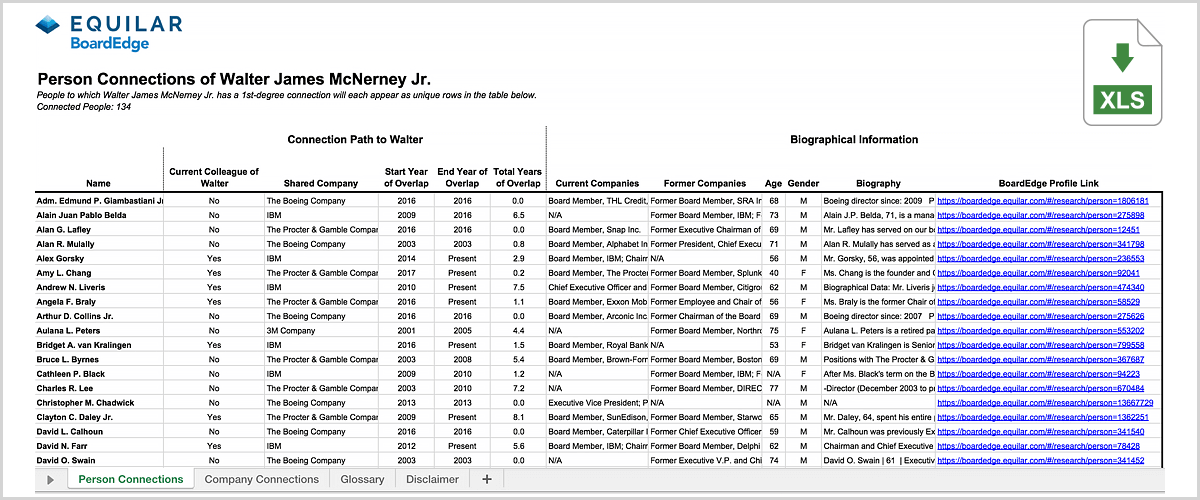 Download Executive and Board Connections
---
In short, the influence of these 31 individuals extends directly by a factor of 60x just based on the connections they have to other public company leaders. The full list of executives with connections data in BoardEdge is at the bottom of this article.
While the President and his Administration will certainly maintain contact with leaders of the largest U.S. corporations, the decline of these councils represents a break with past practice at the White House. Furthermore, as The Wall Street Journal noted in a lengthy front-page feature, Trump has had an uneasy relationship with many prominent CEOs since well before he entered the White House, and without these official links to the top corner offices across the U.S., there may be more incentive for top leaders to speak out against issues with which they disagree.
There are more complicated factors here, of course. For all of the social and political policies that have been opposed by some corporate leaders, many CEOs are supportive of Trump's campaign promises that would see lowered corporate tax rates or relaxed banking regulations. As The New York Times feature linked above notes in detail, executives are on both sides of the coin and they face not only personal but also professional risks when they take a position. Losing the corporate connections via CEO councils may be downplayed in the White House, and indeed it may have little real impact on business as usual in Washington and across corporate America. But the ripple effect that passes through thousands of individuals and companies in these corporate networks based on these events is undeniable.
Trump CEO Council Members: Corporate Connections
MANUFACTURING COUNCIL

NAME

COMPANY

PERSON CONNECTIONS

COMPANY CONNECTIONS

Andrew Liveris
Dow Chemical
105
72
Wendell Weeks
Corning
85
64
Denise Morrison
Campbell Soup
79
72
Marillyn A. Hewson
Lockheed Martin
71
54
Inge Thulin
3M
70
51
Michael Polk
Newell Brands
68
49
Mario Longhi
U.S. Steel (former CEO)
62
40
Mark Fields
Ford (former CEO)
62
45
Michael Dell
Dell
58
53
Kenneth Frazier
Merck
55
45
Dennis Muilenburg
Boeing
53
59
William M. Brown
Harris Corporation
52
54
Jeff Fettig
Whirlpool
50
44
Alex Gorsky
Johnson & Johnson
50
39
Greg Hayes
United Technologies
50
43
Jeff Immelt
GE
46
37
Mark Sutton
International Paper
44
31
Brian Krzanich
Intel
42
41
Rich Kyle
Timken
40
23
Elon Musk
Tesla
35
11
Kevin Plank
Under Armour
32
17
Jim Kamsickas
Dana
16
10

STRATEGIC AND POLICY FORUM

NAME

COMPANY

PERSON CONNECTIONS

COMPANY CONNECTIONS

James McNerney
Boeing (former CEO)
134
105
Indra Nooyi
PepsiCo
85
73
Adebayo Ogunlesi
Global Infrastructure Partners
69
25
Jamie Dimon
JPMorgan Chase
67
47
Virginia Rometty
IBM
56
31
Bob Iger
Disney
52
31
Mary Barra
GM
51
35
Doug McMillon
Wal-Mart
36
32
Stephen Schwarzman
Blackstone
18
18
*This list of executives was generated from a recent CNN article reporting on the CEO councils.
Reach out to Equilar to learn more about BoardEdge connections or request a download of any of the CEOs or board members mentioned in this article, as well as any of the -plus executives and board members in the database. Include specific requests for individual downloads in the comment field.
---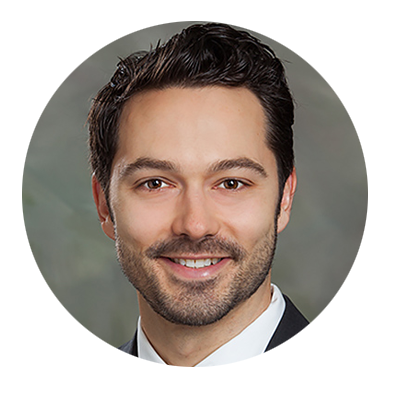 Dan Marcec, Director of Content & Communications at Equilar, authored this post. Please contact him at dmarcec@equilar.com for more information on Equilar content and data analysis. Cydney Myers, associate editor, contributed research to this article.
---