Equilar Institute
Blog Home
Detect Signals to Connect With C-Suite Contacts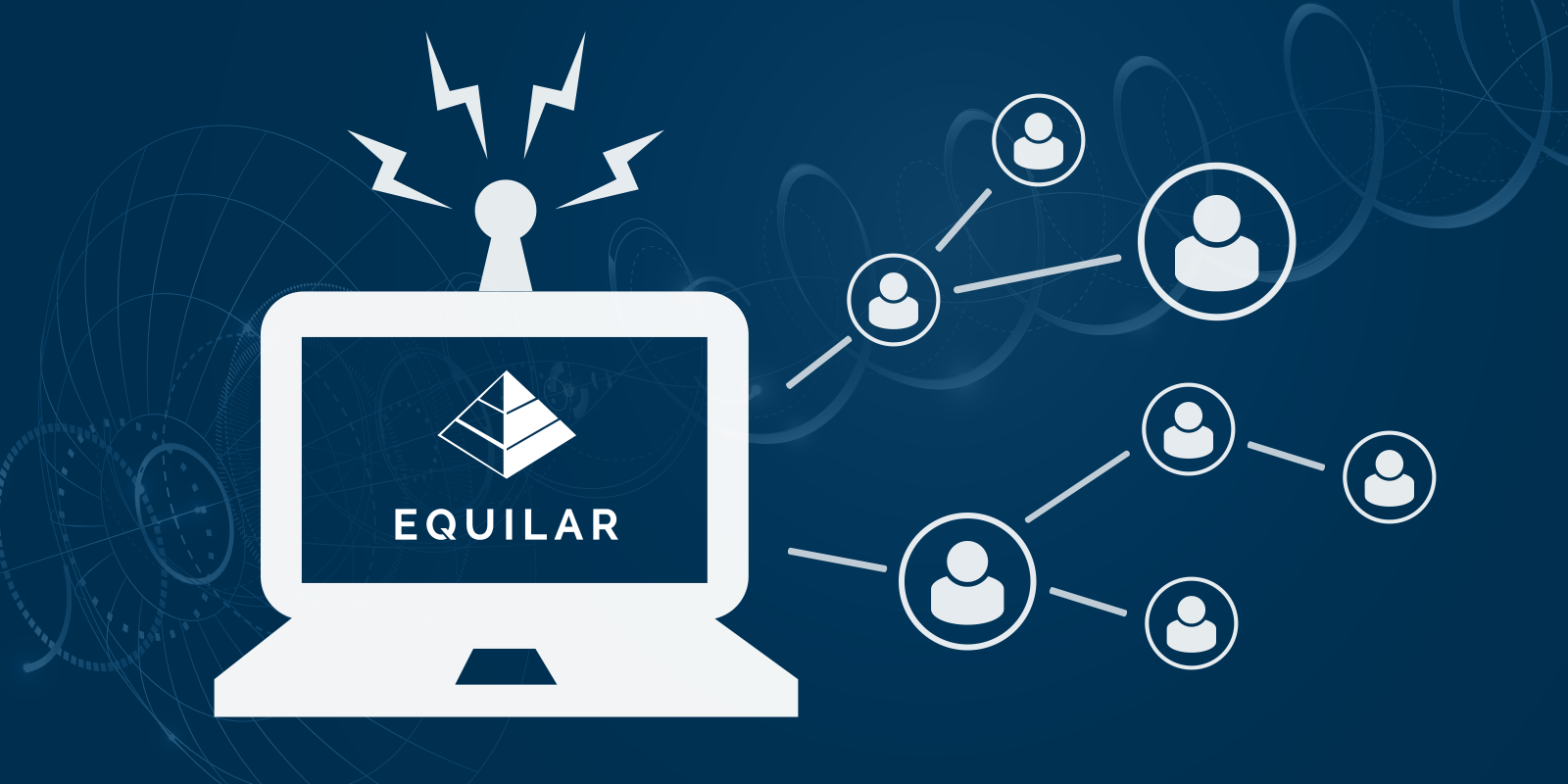 ---
---
March 5, 2018
By leveraging machine learning tools and acting on the signals they provide, extending your network and increasing potential connections to the top leaders in corporate America has never been easier.
The buck stops with the C-suite and the board of directors at every public company, and therefore, gaining knowledge that will help focus efforts to influence leadership at the highest levels is critical. After all, a cold call to a CEO or board member on any matter is likely to be fruitless. Only 1% of cold calls result in meetings as it is, and it stands to reason that the rate would be even lower at the highest levels of an organization.
Recognizing the right time to deploy teams for targeted outreach is one of the most consistent challenges for sales and marketing executives in particular. They are constantly on the lookout for signals that their teams can use to engage leading decision makers in the C-suite and the boardroom.
The good news is that information that can help you connect with C-suite executives and the board of directors is right at your fingertips. When an executive changes positions, or when a director joins a board, companies are required to file with the SEC, and that data goes into the public domain.
For example, in 2017, there were 857 filings submitted to announce transitions, compensation or governance changes for S&P 500 companies alone, according to data collected by Equilar, or an average of about 16 each week*. Every time a top corporate transition occurs, it triggers a signal that may provide an opportunity to reach out to shared connections at those companies and expand your network.
The reality is, however, that there aren't a lot of sales and marketing executives paying attention to SEC filings on a regular basis—or even know what they are or where to find them. On top of that, following these changes in real time is resource-prohibitive.
So what if you were able to receive signals when individuals in your direct network were updated? And what if your teams could use that data immediately for actionable outreach?
Fortunately, the technology and the platform already exists to do this. Using data collected for nearly 200,000 executive and board member profiles—which map more than 1.5 million professional connections—Equilar BoardEdge uses machine learning technology to recognize and react when your contacts make moves or add new connections.
Here's how it works. On February 21, 2018, Nike, Inc. filed an 8-K that announced the addition of Dr. Peter Blair Henry to its board of directors. BoardEdge connections data show that Equilar's Lead Director Peter Browning served with Mackey McDonald on the Wachovia board. Through McDonald, who served with Peter Blair Henry at Kraft Foods, Equilar has a connection to the Nike board and a reason to reach out—even if just to congratulate him on his new position and engage a conversation.
The screenshot below shows Henry's BoardEdge profile and his connections to Equilar based on the information the company has uploaded to the platform through its contacts database.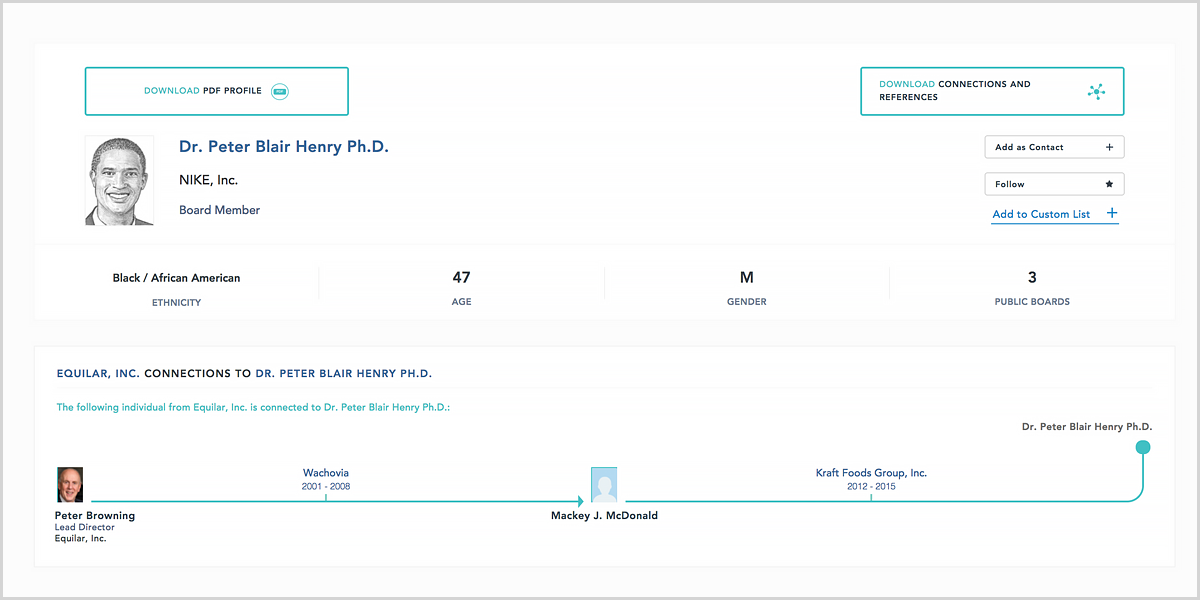 To extend the example, Equilar's connection to Mackey McDonald is not only useful for a potential introduction to Henry and the leadership teams at Nike. An introduction through McDonald may open doors to hundreds of other opportunities to expand executive networks as well. Having served on seven other public company boards (since the development of the Equilar database in 2000), McDonald has 190 connections through direct working relationships with other public company board members and executives in the database. Some of those individuals currently include Warren Buffett, from mutual service on the Kraft Heinz board, and Thomas Pritzker, the executive chairman of the Hyatt board.
Below is a snapshot of McDonald's connections to other companies through his current board seats (which, coincidentally, include McDonald's Corporation).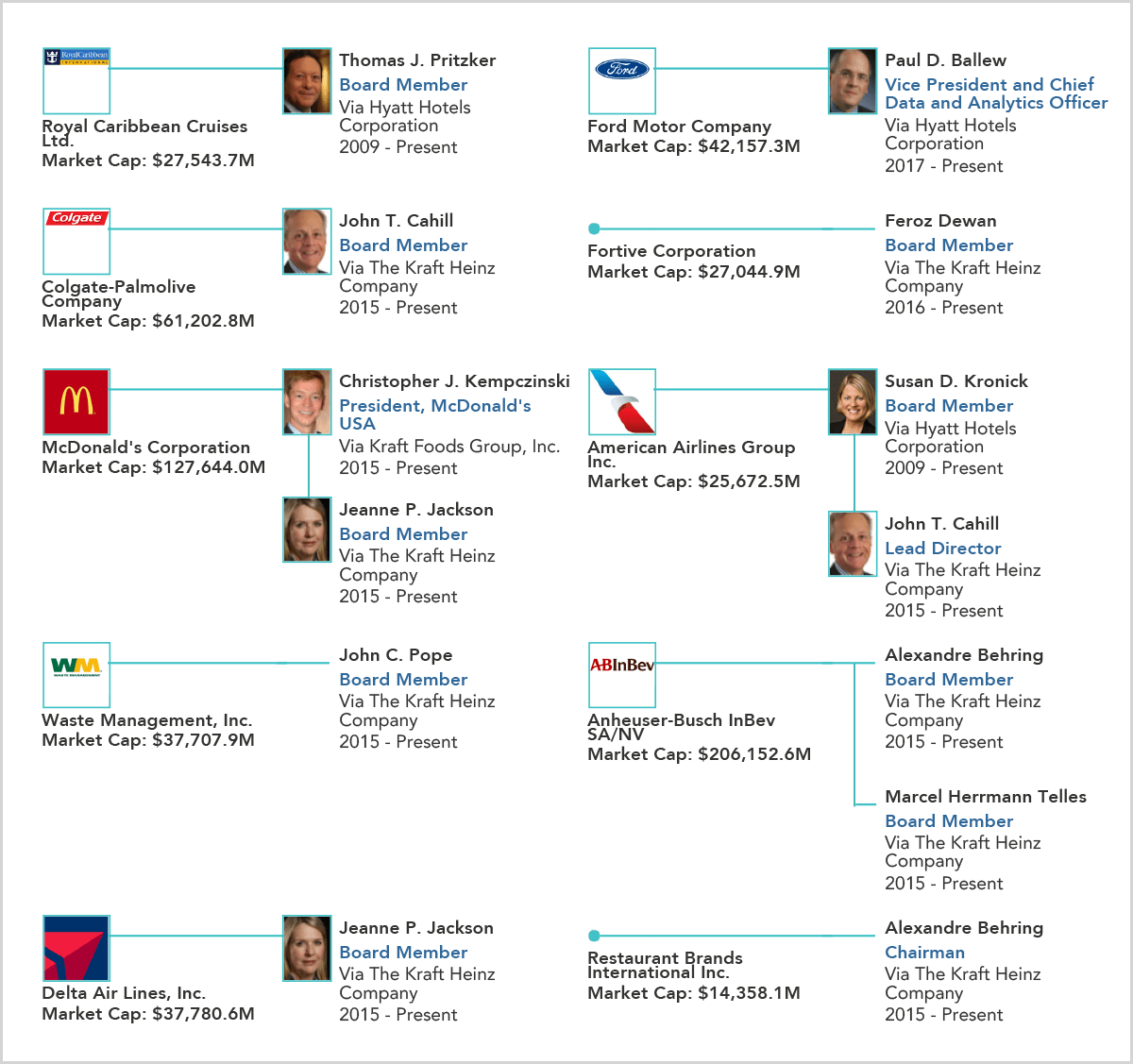 Each and every day, breadcrumbs like these can help your teams build high-level connections to build business relationships and elevate your pitch to the top corporate leaders.
*These figures only apply to Item 5.02 of Form 8-K.
Reach out to Equilar to learn more about BoardEdge connections or request a profile of any of the nearly 200,000 executives and board members in the database. Include specific requests for individual downloads in the comment field.
---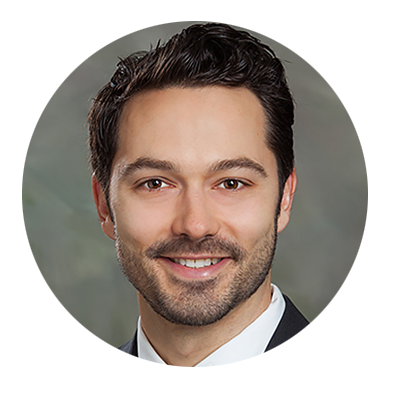 Dan Marcec, Director of Content & Communications at Equilar, authored this article. Please contact him at dmarcec@equilar.com for more information on Equilar research and data analysis.
---