Equilar Institute
Blog Home
How Starboard's Nominees Compare to Newell's Current Board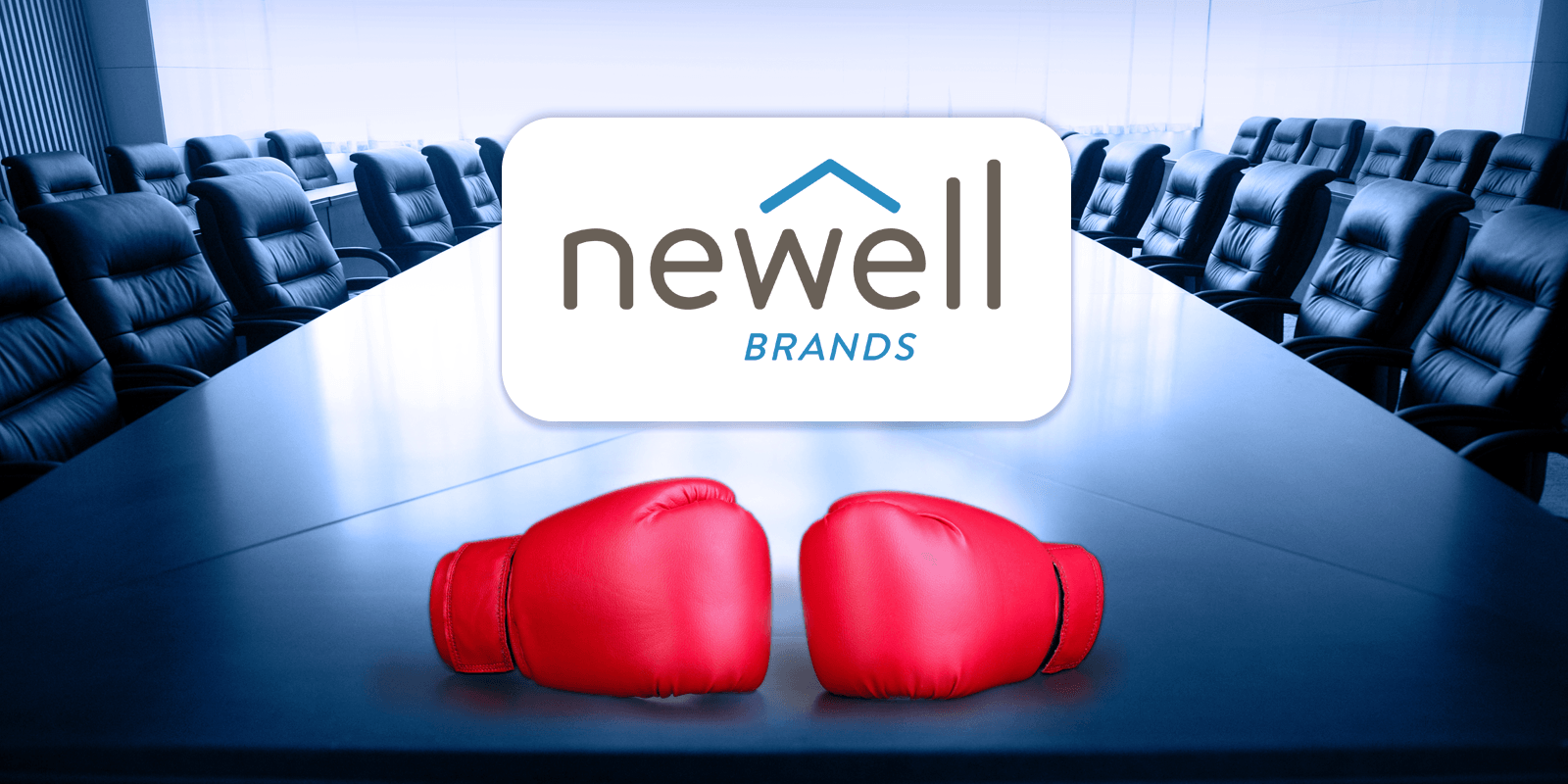 ---
---
February 20, 2018
As part of a recently launched proxy fight, activist investor Starboard Value nominated 10 directors to the Newell Brands board, The Wall Street Journal reported. Starboard, which currently has a 4% stake in Newell, cited lackluster performance from the conglomerate as the reason for initiating the fight.
The Starboard nominees include former Newell directors Ian Ashken and Martin Franklin, as well as Jim Lillie-former CEO of Jarden, which was acquired by Newell in 2016. The Journal reported Starboard is seeking to position Lillie as CEO and Franklin as chairman of the board.
The other nominees include Starboard Chief Executive Jeffrey Smith, Starboard managing member Peter Feld, Bradley Alford, former CEO of Nestlé USA, Pauline Brown, former North America chairman for LVMH Moët Hennessy Louis Vuitton, Gerardo Lopez, former head of Extended Stay America, Charles Sonsteby, former finance chief at Michaels Cos., and Domenico De Sole, former chief executive of Gucci Group NV.
Starboard's grievance with Newell stems from the acquisition of Jarden-for which shares have fallen 42% over the last year-contending that the conglomerate has done a poor job of integrating Jarden into the overall Newell business.
"We firmly believe that the time has come for management and the Board to step aside and allow a team of proven operators and directors to put Newell on a path to significant value creation," Starboard's Smith said in a letter to Newell Chief Executive Michael Polk.
Of course, Newell has a different perspective, claiming that the current nine-person board is seasoned and highly qualified, and has done an exceptional job boosting sales growth and increasing shareholder return. Using BoardEdge data, Equilar examined the current Newell board in comparison to the 10 Starboard nominees with respect to experience, diversity and executive network.
With respect to gender diversity, the current Newell board has one female director-Ros L'Esperance-or 11.1% of the board, below the 25% median of Newell's proxy-disclosed peers. Starboard, on the other hand, has also nominated just one woman to its slate, Pauline Brown.
The median age of the Newell board is 59, which is slightly lower than the median of its peers of 61. The oldest member of the board is Raymond Viault at 72. While this could be a signal to investors that Newell places board refreshment as a top priority, the conglomerate's median tenure of 11.8 years could say otherwise compared to the 6.8 median of its peers. The median age of the Starboard nominees is lower than both the Newell and Newell peer medians at 55.5.
While it is uncertain how well the Starboard candidates would perform, the current board has a 98.6% median approval rating of directors. One thing is for certain, the Starboard slate will bring a wealth of executive connections to the board. For instance, according to BoardEdge, Franklin-who Starboard would like to take over as chairman of the board-has established 110 C-level and board connections spanning across 44 unique companies. To further examine data on Franklin's connections, click the image or button below to view his connections profile.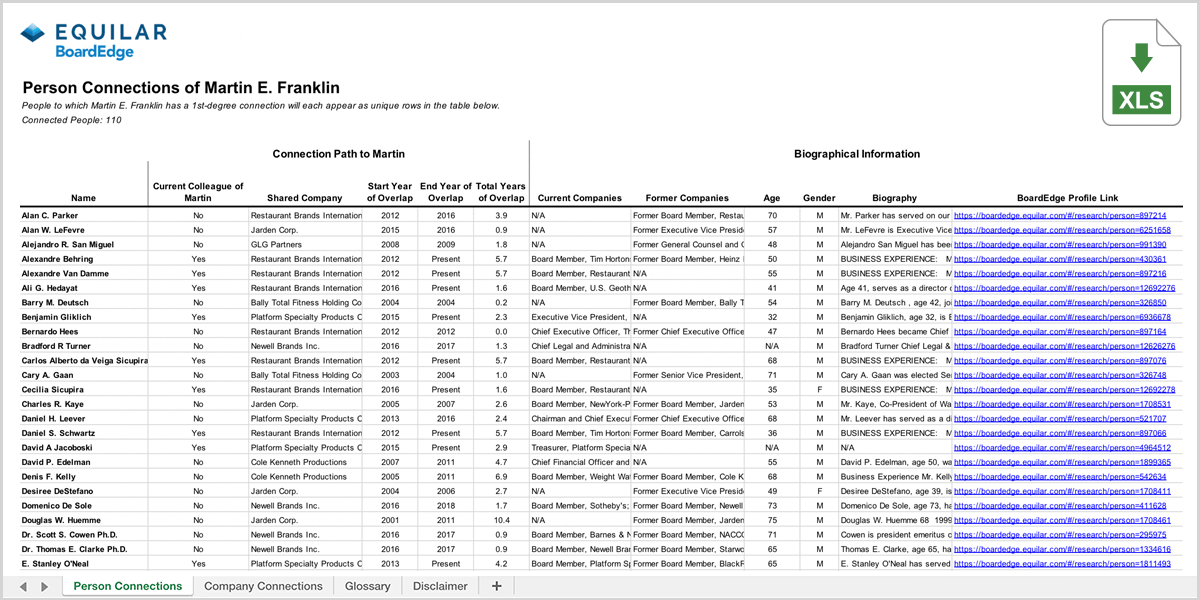 Download Executive and Board Connections
In terms of comparison, current Newell Chairman of the Board Michael Cowhig has established 56 board and executive connections across 26 unique companies. To further examine data on Cowhig's connections, click the image or button below to view his connections profile.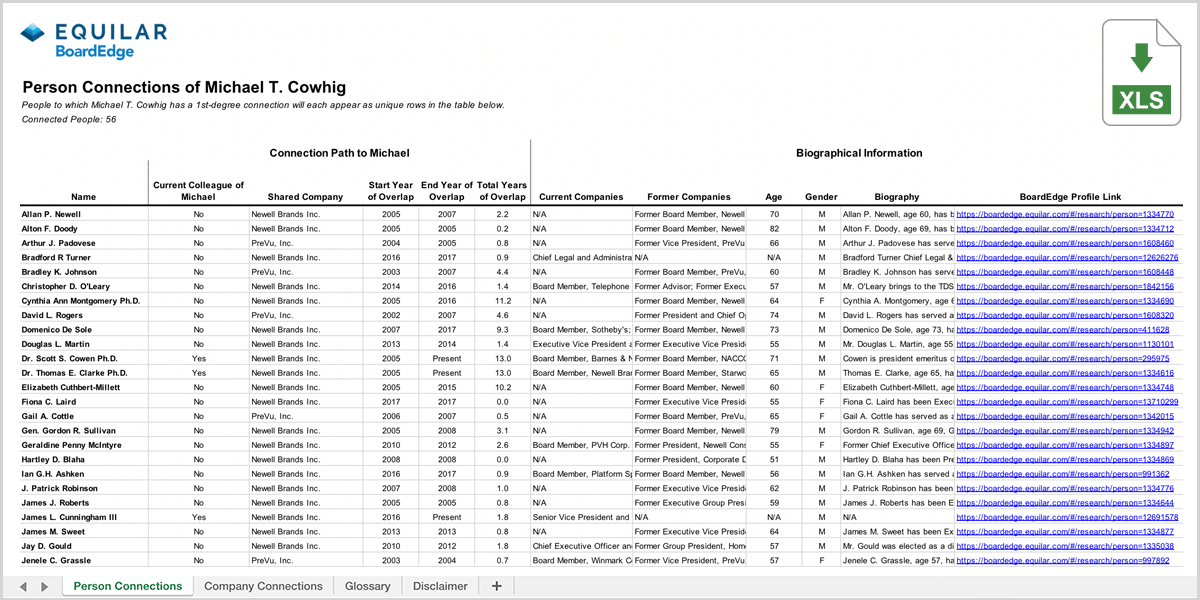 Download Executive and Board Connections
With any hypothetical scenario, it's difficult to tell how the Starboard nominees would fare if they do in fact take over the Newell board. There is no doubt, however, that the slate of nominees brings a wealth of experience that could resurge Newell Brands if Starboard does indeed win the proxy fight.
Reach out to Equilar to learn more about BoardEdge connections or request a download of any of the nearly 200,000 executives and board members in the database. Include specific requests for individual downloads in the comment field.
---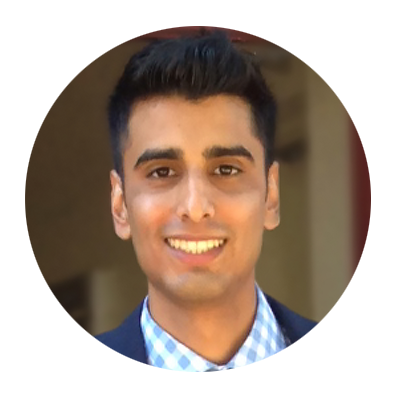 Amit Batish, Lead Copywriter, authored this post. Please contact Dan Marcec, Director of Content & Communications, at dmarcec@equilar.com for more information on Equilar research and data analysis.
---