Equilar Institute
Blog Home
Executive Chair-Led Boards Underperform on TSR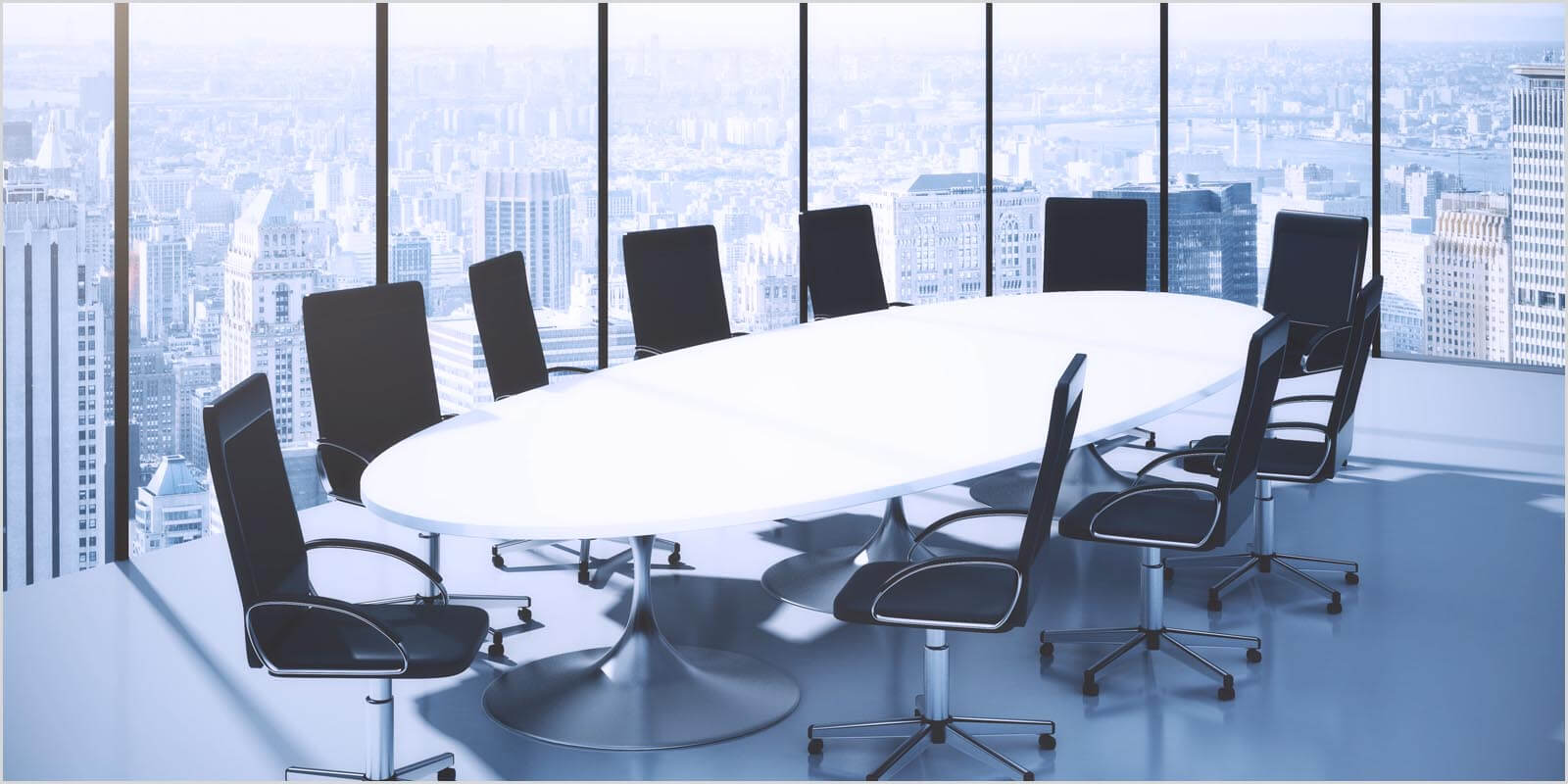 ---
---
December 11, 2017
Board leadership structure—such as a combined CEO-Chairman of the Board (CEO-chair) or a separate CEO and an independent, non-executive chairman—has been a recent topic of interest for shareholders. Supporters of a CEO-chair position suggest that it is beneficial to have a dual role in order to better utilize the CEO's insider perspective of a company's goals and ability to provide consistent leadership. Similarly, an executive chairman, a position employed by about 9% of companies in the Russell 3000, also has insider's perspective as an employee of the company, but a unique perspective from the CEO.
Many shareholders argue that there needs to be a separation of power in the form of an independent chairman of the board to account for checks and balances. For example, Equifax decided to appoint an independent chair rather than continue with a CEO-chair after its high-profile security breach. One line of thinking suggests that an independent non-executive chairman may be more likely to have shareholders' long-term interests in mind.
In light of these discussions, the mix remains fairly equal for employee vs. independent chair positions. The percentage of Russell 3000 companies with a non-executive chairman increased in each of the past three years, reaching 52.3% in 2017. Meanwhile, the percentage of boards with combined CEO-chair roles decreased in that time frame to 38.6%, and the prevalence of an executive chairman was near 9% in each year.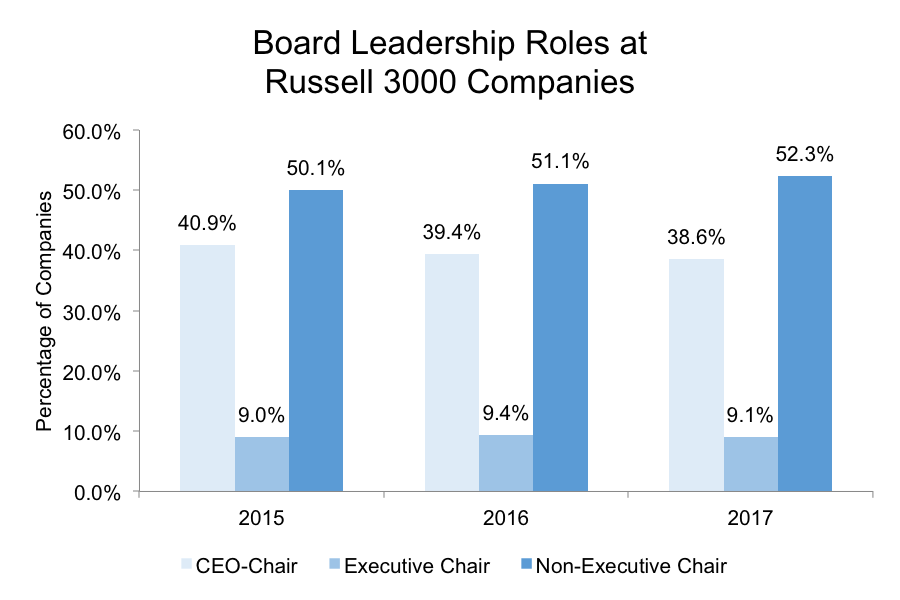 In order to examine potential correlations of board leadership structure to company performance, Equilar also analyzed average total shareholder return (TSR) over the past three years at these companies. Across all Russell 3000 companies, the three-year average annual TSR for companies with a CEO-chair was 12.3%, whereas companies with a non-executive chair or executive chair had a three-year average annual TSR of 11.6% and 10.0%, respectively.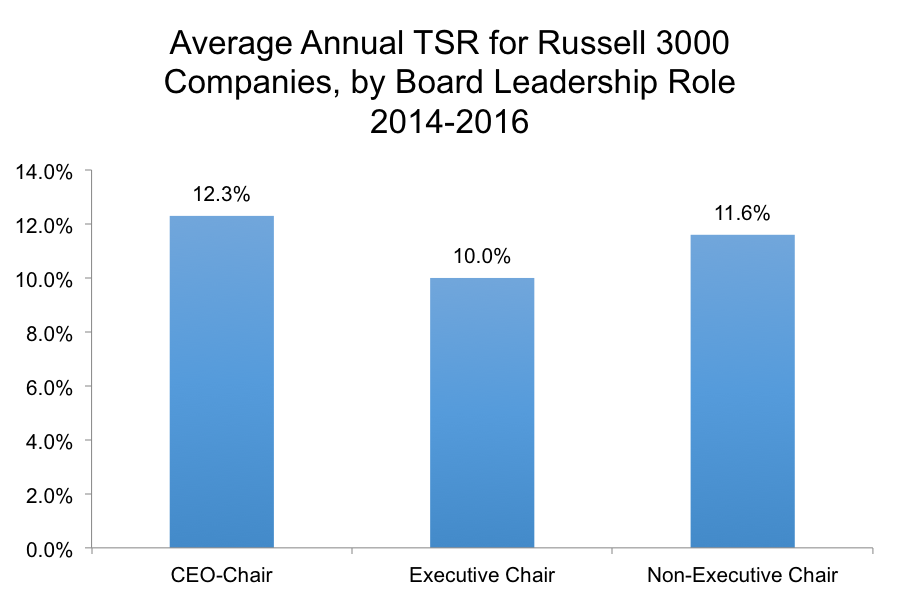 The Equilar study also broke down annual TSR averaged over three years by revenue range, finding that performance was generally lower as revenue increased. Notably, TSR was positive for all revenue ranges, reflecting a healthy stock market in that time frame. One anomaly, however, was in the $5 billion to $10 billion range, the only range in which companies with all three types of leadership structures saw higher annual TSR over three years on average than the range immediately below it.
When looking at the smallest revenue range (less than $100 million in revenue), companies with executive chairs outperformed all other companies, and they had slightly higher TSR than non-executive chair companies in the $100 million to $500 million range. However, they had the lowest average TSR in all other ranges, contributing to their overall low for the study.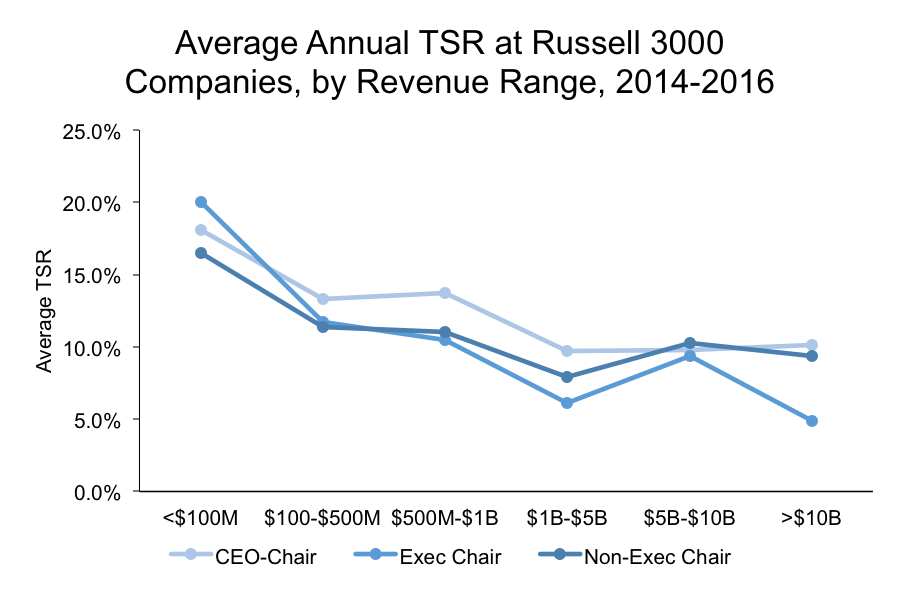 The past three years indicate that Russell 3000 companies are opting for a non-executive chairman for board leadership, rather than someone employed by the company. Though this trend may be taking hold, data suggests that companies with a non-executive chair are not necessarily outperforming those boards with insider leaders. And in fact, companies with a CEO-chair have had the best returns.
When evaluating a company's board, some investors and observers see the board's degree of independence as an indication of effectiveness and quality of management. A board's role is to protect the company's shareholder interests and govern accordingly. In order to strengthen oversight and build trust among shareholders, a board must strive for a leadership that is both impartial and objective, while also having a comprehensive knowledge of the organization's key networks. While no single leadership structure is right for every company, a topic of heated debate is whether combining the role of CEO and Chairman of the Board reduces the effectiveness and integrity of the company.
Despite the positive correlations shown in this study with a CEO-chair combination, many shareholders and advisors still remain skeptical of a combined leadership position. Oftentimes, in response, companies have opted to include a lead director as a way to balance out the power structure, a trend that is increasing in prevalence. Indeed, 81.7% of all companies with CEO-chairs in 2017 operated with an additional lead independent director, up from 77.7% in 2015.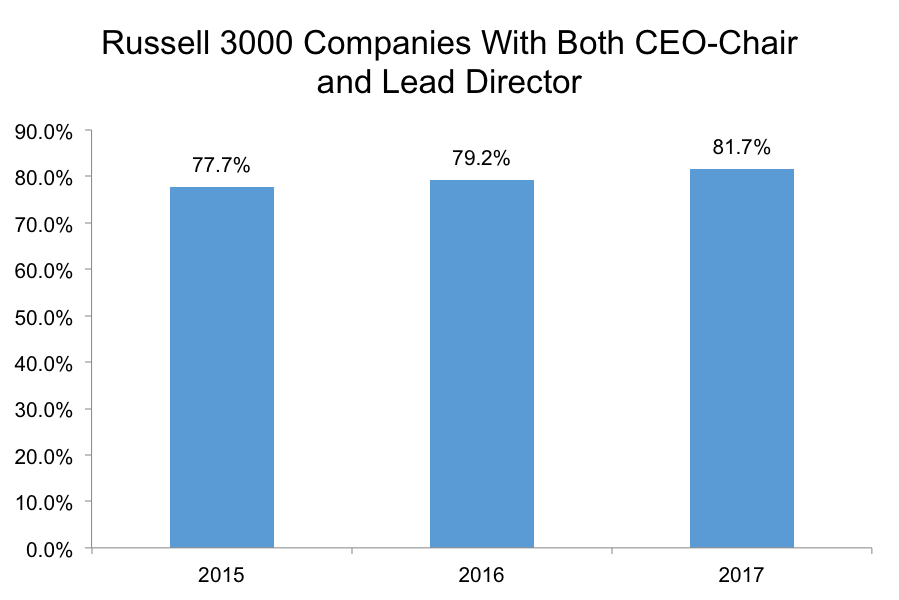 A lead director acts as the liaison between the outside directors and management, playing an important role as the representative of the independent directors of the board. Having gained widespread prevalence in the wake of the passing of the Sarbanes-Oxley Act in 2002, the lead director role is a fluid position with constantly changing roles and responsibilities aimed at protecting investor's interests. Although conflicts can still arise when company's boards are led by their CEO, the implementation of a lead director marks an integral part of good corporate governance and helps to strengthen the overall integrity of the company.
Despite creating an independent leadership structure when combined with a CEO-chair, Equilar data shows that the lead directorship role does not appear to have a meaningful influence on shareholder return. Results have shown a minimal deviation when comparing annual TSR of companies operating under CEO chairman leadership with and without a lead director. In fact, the return seems to be predominantly influenced by cyclical and systemic market factors rather than a change in corporate governance.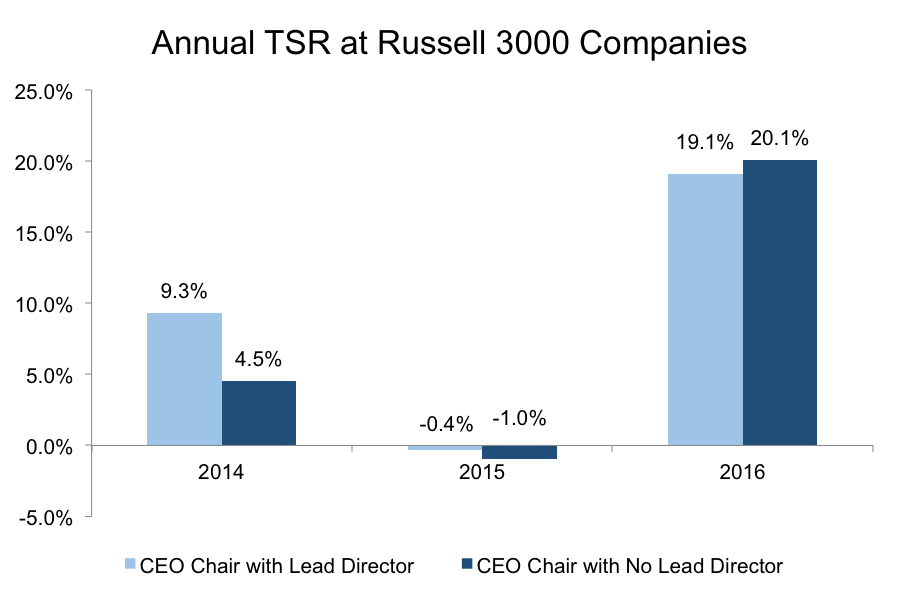 Among companies in the Russell 3000 that operate with a CEO-chair, the presence of a lead director had a noticeable 4.8 percentage point difference. However, that difference in TSR disappeared in 2015 and 2016, and in fact reversed by 2016 when TSR was higher among CEO-chair companies with no lead director. This supports an argument that prevailing economic factors appear to affect TSR to a greater extent rather than the addition of a lead director.
A single template for corporate governance cannot be applied to all companies, and these studies indicate that results can vary greatly from year to year and from company to company. Each company operates in a different industry and marketplace, and as such, its corporate governance must change to reflect those needs. Though data suggests that the presence of a lead director does not correlate positive or negative results to TSR, the shift to more independent leadership, including non-executive chairs and lead directors continues to become more prevalent and represents an agreement between shareholders and the management as to the best way to govern a company. As this trend continues, it will be interesting to look back and view results to see if this correlates over a longer term.
---
For information regarding the studies referenced in this post and to purchase the underlying datasets, or to learn more about Equilar's Research Services, please contact the Equilar research team at researchservices@equilar.com.
---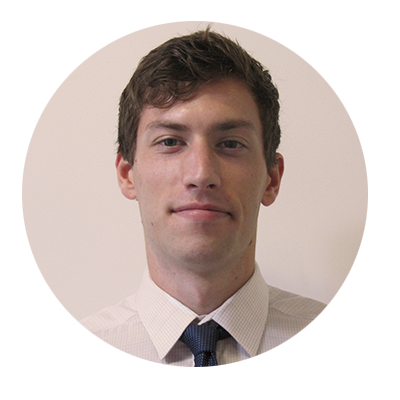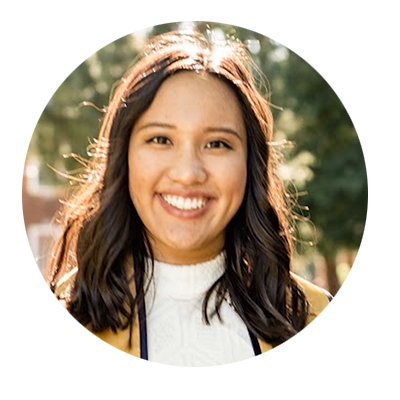 Sean Barry, research analysts, co-authored this post. Please contact dmarcec@equilar.com for more information on Equilar research and data analysis.
Jessica Phan, research analysts, co-authored this post. Please contact dmarcec@equilar.com for more information on Equilar research and data analysis.
---