Equilar Institute
Blog Home
What's Next for Marissa Mayer? A Look at Her Boardroom Connections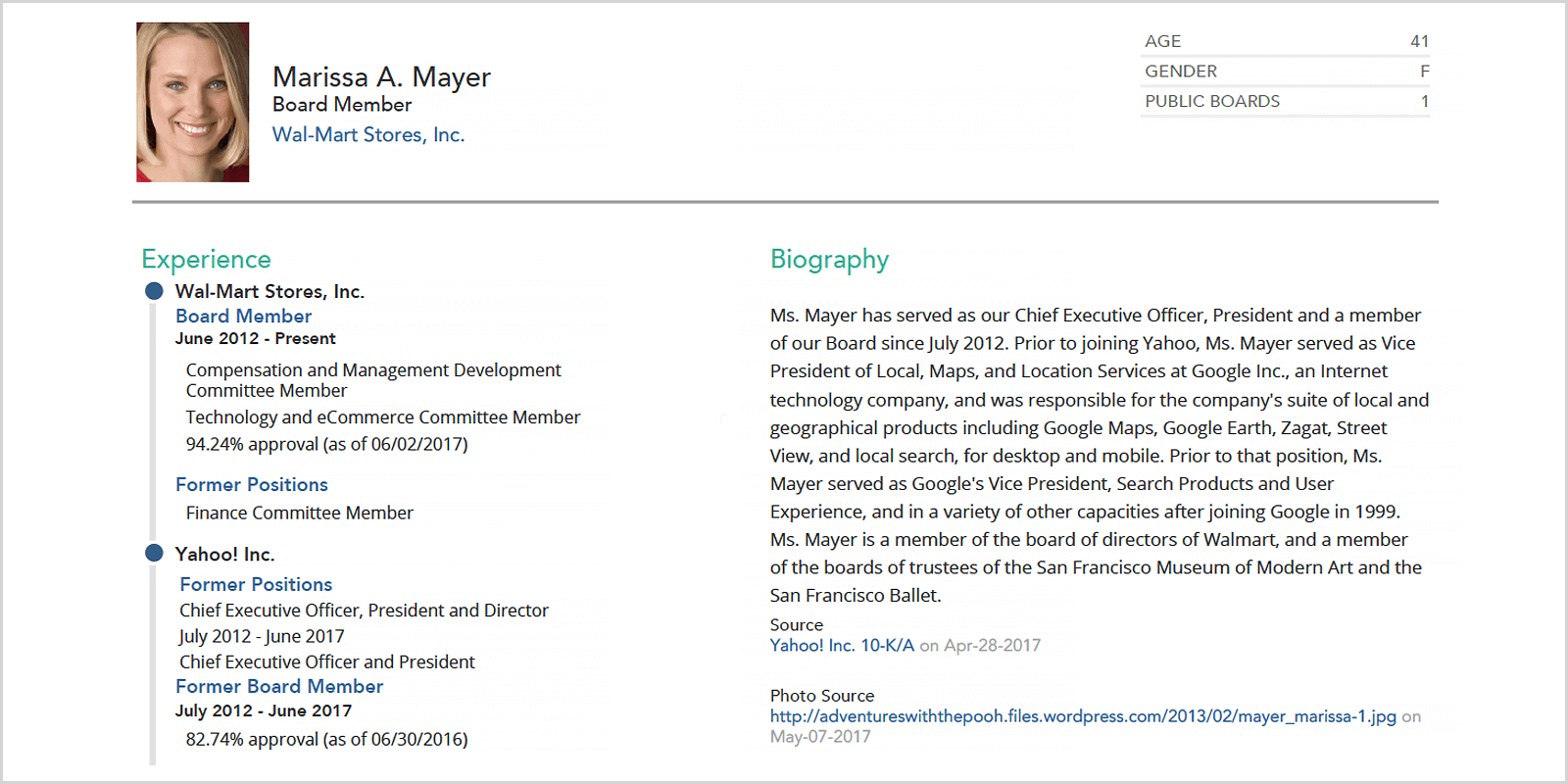 ---
---
June 19, 2017
Following the successful acquisition by Verizon, the Marissa Mayer era has ended at Yahoo. Throughout her five-year tenure, Mayer received plenty of ink in the media, as her compensation package often drew attention, and her legacy will likely be debated for years to come.
The question is—walking away from Yahoo having earned nearly one-quarter of a billion dollars—what's next?
It would be easy for any observer to say "early retirement." And as they have throughout her tenure at Yahoo, pundits will certainly waste no time speculating on what she should or shouldn't do.
The fact remains that Mayer is young, ambitious and has spent more than five years trying to turn around a company as a first-time CEO. While the company was hard-pressed to catch Google and Facebook in digital advertising dollars—it's getting clearer and clearer that it's going to be difficult for anyone to do that—Yahoo put in the necessary work to compete with other rising tech companies. And its network of media platforms boasting more than half a billion users was good for Verizon to pay $4.5 billion for the acquisition.
Another key factor contributing to what she may do now is linked to the simple matter that as CEO of a major U.S. company, Mayer built dozens of connections with other top professionals, which may lead her to future opportunities in the C-suite and the boardroom if she so chooses. By serving with dozens of board members at Yahoo—including undertaking an activist battle with Starboard Value—and through her board service at Wal-Mart Stores, her strategic, governance, risk oversight and fiduciary experience has expanded significantly beyond the skills she developed in her role as a product VP at Google.
Specifically, Equilar BoardEdge data shows that Mayer has 59 first-degree connections to other public company board members and executives. Those individuals currently serve at 62 different companies as either executives or board members. If extrapolated to second- and third-degree connections, her extended network becomes hundreds of companies.
Download Mayer's board and executive connections by clicking the image below, and see her direct relationships to other top leaders at public companies.
Download Executive Connections
Reach out to Equilar to learn more about BoardEdge connections or to request a download of any of the -plus executives and board members in the database. Include specific requests for individual downloads in the comment field.
---
Please contact Dan Marcec, Director of Content and Communications—who also authored this post—at dmarcec@equilar.com for more information on Equilar research and data analysis.
---