Equilar Institute
Blog Home
Identify the Path to New Corporate Connections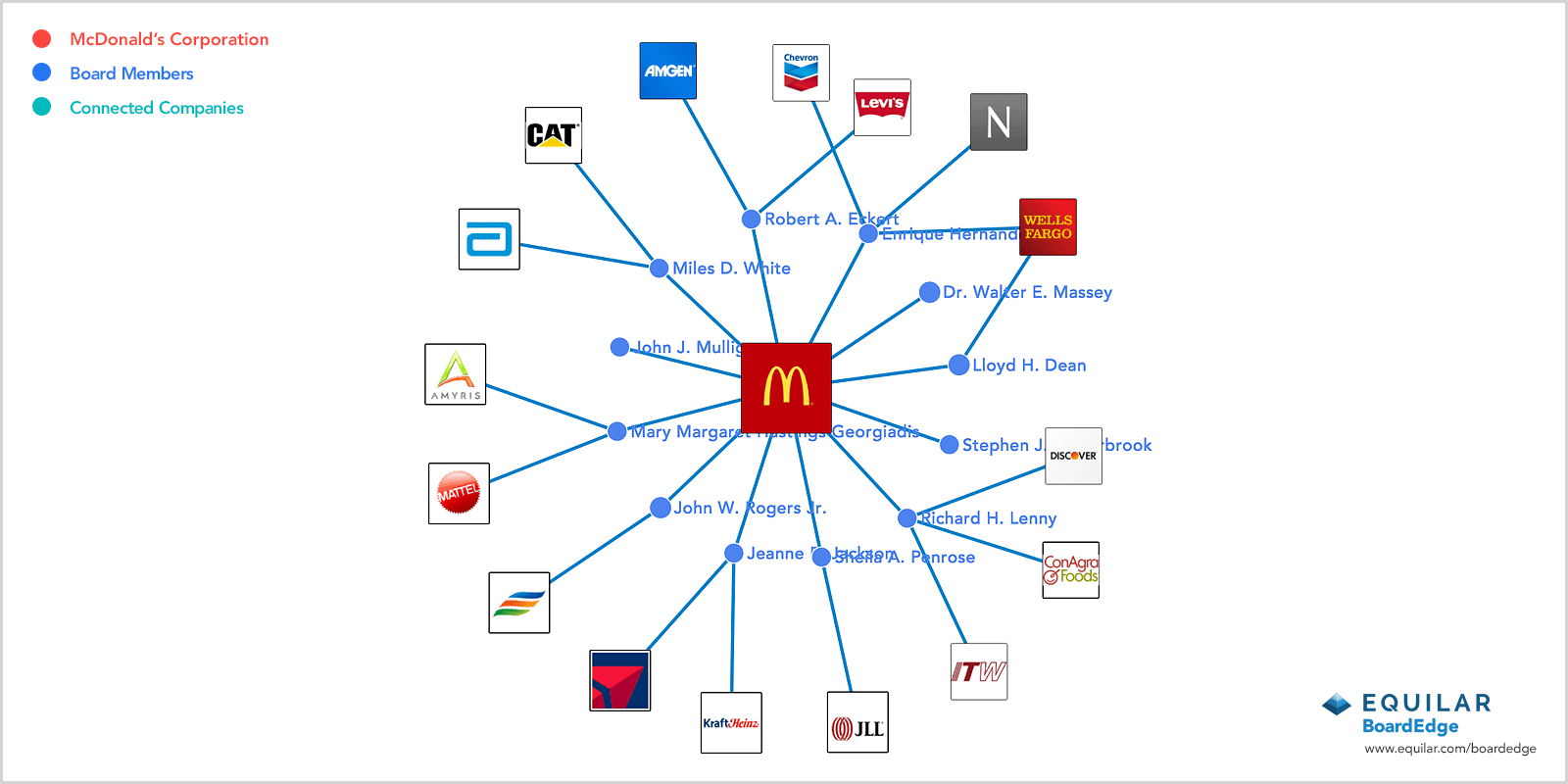 ---
---
May 09, 2017
Access to reliable, accurate data that explains how executives and board members are connected to one another and to other companies is critical to doing business. Whether aiming to land a new sponsorship, expand to new markets for a product or find a new board member, professionals at public companies and private firms are constantly searching for ways to establish connections with board members and executives outside of their network and leverage those relationships to grow their businesses. Board members and executives may be connected to hundreds of other public companies in various ways, but finding those connections, and the path to those connections, proves to be a challenge at times.
A recent study using Equilar BoardEdge data found that the average S&P 500 board member has 94 connections to individuals who have overlapped with them as board members or executives at other companies. That means the average 10-person board could reach up to 1,000 other executives and directors just based on their personal connections, which could easily translate to another 10,000 connections through second-degree contacts in their personal networks. Having this information in hand during business meetings may lend a competitive advantage in maximizing business development, as it helps identify credible references for more meaningful conversations when targeting new assignments.
With a new enhancement to the connections feature within BoardEdge, Equilar is easing the process of quickly identifying trusted referral sources in an individual's networks to establish instant credibility with prospects to win new business or support outreach for recruiting.
The feature allows users to download a list of companies with which any individual director is currently connected professionally—along with information pertaining to the connection, such as name, title and duration of tenure—in an easy-to-read PDF format. Users may also choose to include connections based on past work relationships. These enhancements allow individuals to better visualize the path to a specific connection and plan their next appropriate outreach in relation to their business ventures.
Take for instance the scenario below. If an individual connected to Katherine is seeking to do business with a board member at Oracle, then that individual could reach out to Katherine and request a warm introduction to Ray, who has worked with Katherine at TriNet Group, Inc. and sits on the board at Oracle. Establishing connections in this manner may allow for immediate credibility without having to gradually build a relationship with someone who has zero ties to an individual—a crucial element in supporting time-sensitive business opportunities.
---
With Equilar BoardEdge, use the latest data to benchmark the composition of your board against your peers, discover the right candidates for your succession planning needs, and connect with individuals using your executive and board network.
For more information on Equilar research and data analysis, please contact Dan Marcec, Director of Content & Communications at dmarcec@equilar.com. Amit Batish authored this post.
---