Knowledge Center
Blog Home
Equilar Gender Diversity Index (GDI): About 25% of New Board Members Were Female in Q1 2017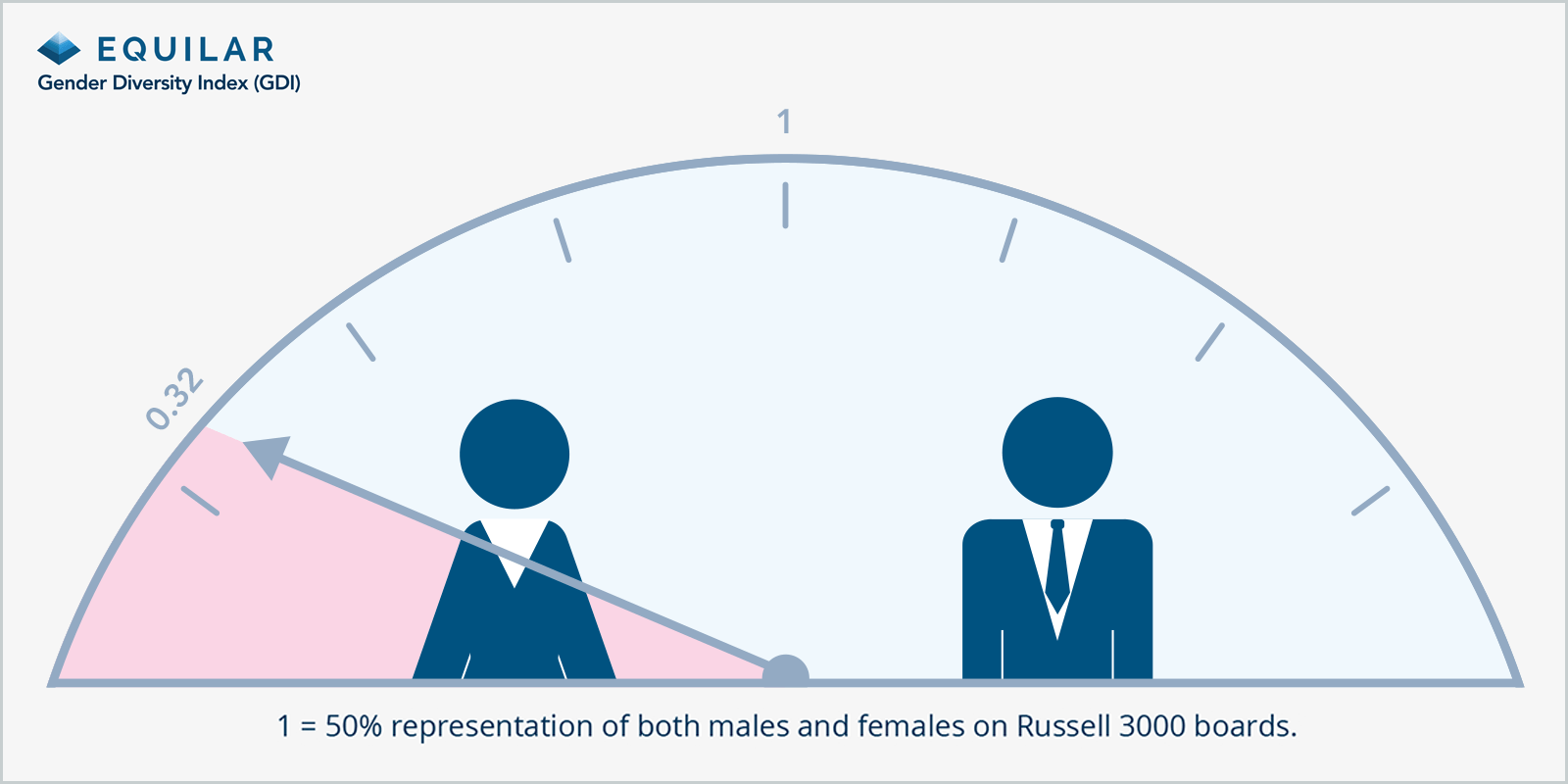 ---
---
May 05, 2017
As shareholder engagement continues to increase in prevalence each year, there has been a growing concern regarding diversity on boards. In particular, gender diversity on public company boards has caught the interest of investors and governance advisors, who have shed light on the low representation of women in boardrooms.
However, signs of progress are being shown. According to the recent Equilar Gender Diversity Index (GDI) – a quarterly update of female directors in the Russell 3000 – approximately 24.3% of new directors in Q1 2017 were women. This is a definite indication that companies are making an effort to promote a diverse culture in their boardrooms.
View or download key highlights from the latest Equilar GDI report by clicking the image below.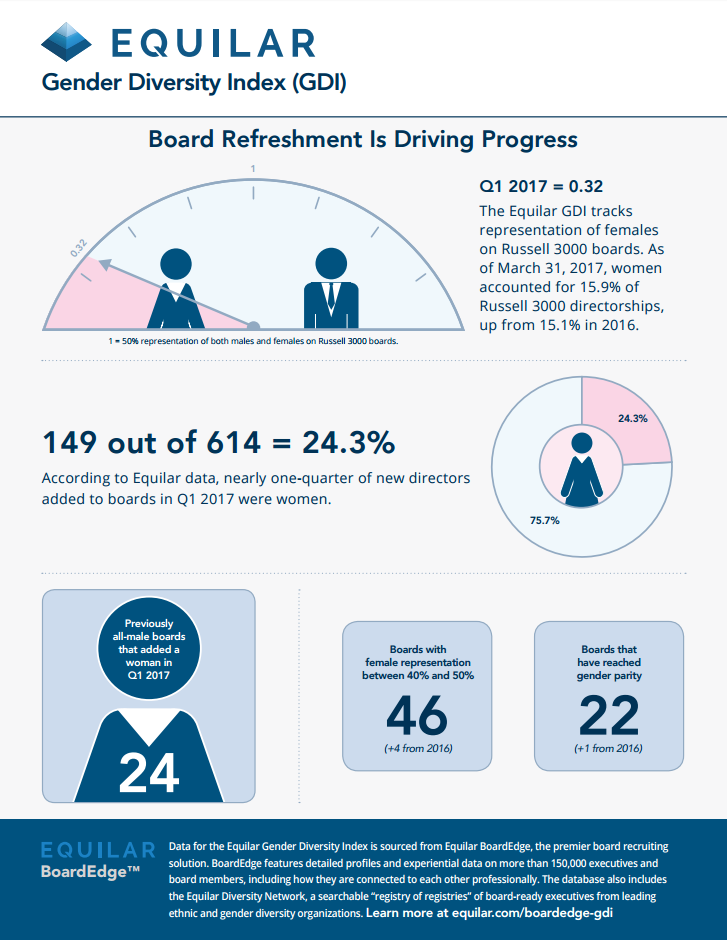 ---
"Institutional investors have long recognized that a diverse board is strongly linked to long term value," said Susan Angele, Senior Advisor at the KPMG Board Leadership Center and a member of the Equilar Diversity Network (EDN) Advisory Council. "They are beginning to push harder on boards that in their view have not taken sufficient steps to seek out and recruit qualified female board members."
While the percentage of new women directors is a step in the direction investors are pushing towards, women still only account for a fraction of the total board seats available. In fact, for Q1 2017, the Equilar GDI is at 0.32, with 1.0 being equal representation of both male and female directors on public company boards. As of March 31, 2017, just 15.9% of board seats belonged to women, up slightly from 15.1% for the full year 2016. At the annual growth rate at approximately 3%, gender parity will not be reached for more than 40 years.
There is no doubt that investors will continue to advocate for diversity on boards throughout 2017 and beyond, and it does appear boards are becoming more aware of this issue.
"There still is a long way to go, but there is no question that the need for gender diversity has captured boards' attention," said Blair Jones, Managing Partner at Semler Brossy Consulting Group and a member of the Equilar Diversity Network Advisory Council. "The trajectory in the Equilar report is encouraging and should influence other companies to follow suit, continuing to increase the percent of women represented on their boards."
Nonetheless, the first quarter does show indications that the pace of new female directorships has accelerated. Stay tuned for the next Equilar GDI in August 2017, following the completion of annual meeting season.
---
About the Equilar GDI
The Equilar Gender Diversity Index (GDI) was initiated in 2017 and provides quarterly updates on the prevalence of females on Russell 3000 company boards of directors. The Equilar GDI reflects changes that happen on an ongoing basis. Most indices that track information about board diversity do so annually or even less frequently, and typically with a smaller sample size, sometimes looking back more than a full year by the time the information is published. While this data is reliable and accurate, given the pace of change in corporate boardrooms, the Equilar GDI aims to capture the influence of the increasing calls for diversity from investors and other stakeholders that is influencing a rapid rate of change.
The Equilar GDI is powered by Equilar BoardEdge, the largest database of board members and director candidates. BoardEdge includes exclusive features such as the connections map, which shows how board members and companies are connected to each other, as well as the Equilar Diversity Network (EDN), a "registry of registries" of board-ready executives from leading ethnic and gender diversity partnerships, organizations, and publications.
For more information on Equilar's research and data analysis, please contact Dan Marcec, Director of Content & Communications at dmarcec@equilar.com. Amit Batish, Matthew Goforth, Belen Gomez and Greg Leyrer contributed to this post.
---