Knowledge Center
Blog Home
Despite Security Breaches, Information Officer Pay Dips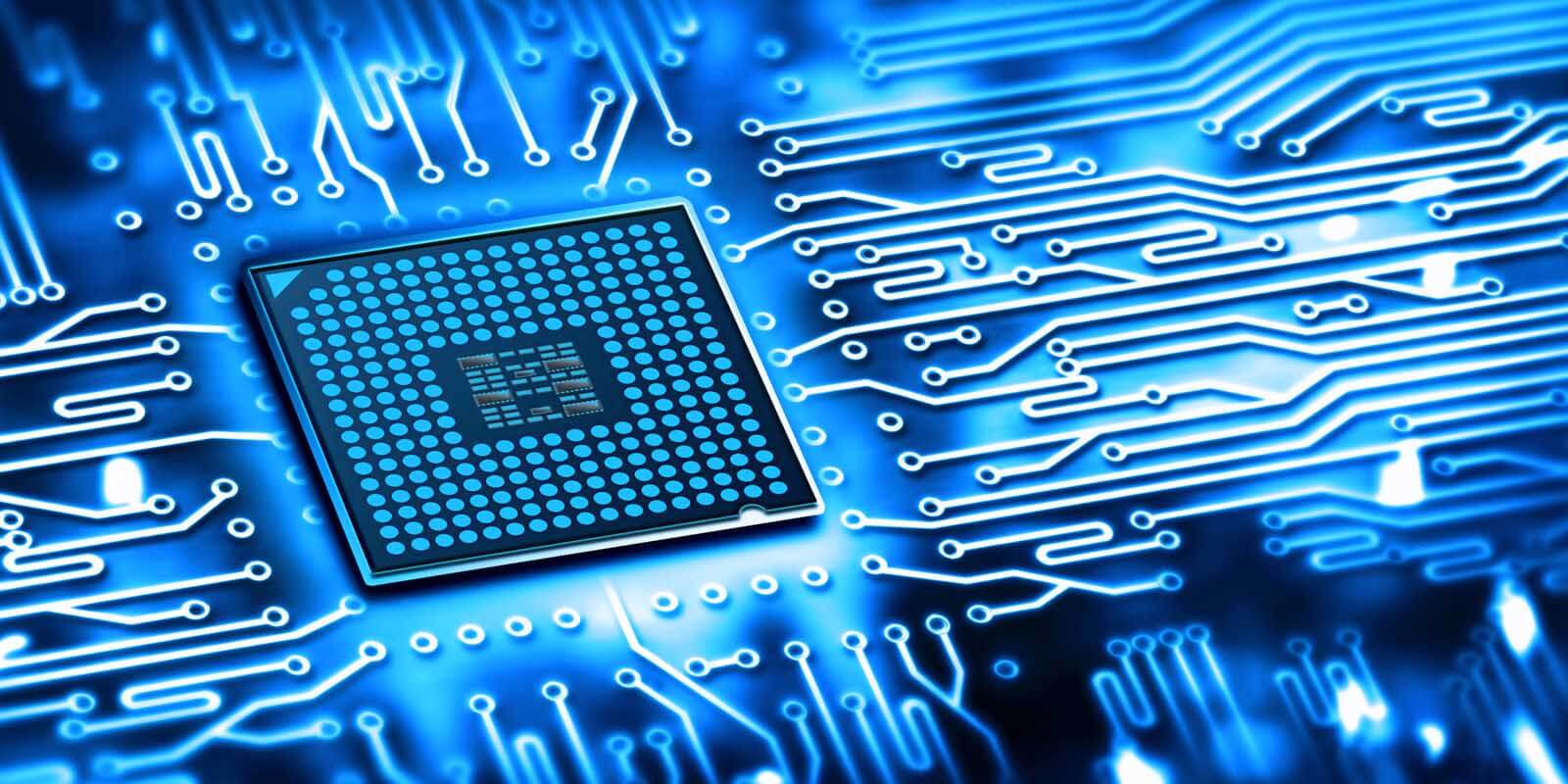 ---
April 17, 2017
Especially in recent years, securing a company's critical information has become integral to company operations, and as data breaches at Yahoo, Uber and Anthem have shown—along with a handful of other well-known companies in the past year alone—the effects of these cyber crimes are widely felt. Chief Information Officers (CIOs) and other top executives responsible for protecting corporate information are tasked with the burdensome job of securing their firm's most sensitive data. Without the proper safeguards in place, there is a potential for significant financial ramifications in addition to damage to client and shareholder relationships.
Although CIOs are essential in today's corporate landscape, officers that perform the top role within this function are rarely considered one of the top-paid executives as reported in proxy statements. Indeed in 2015, just 0.8% of Russell 3000 named executive officers (NEOs) held an Information Officer title in fiscal year 2015, though the number did increase from 110 to 120 from 2013.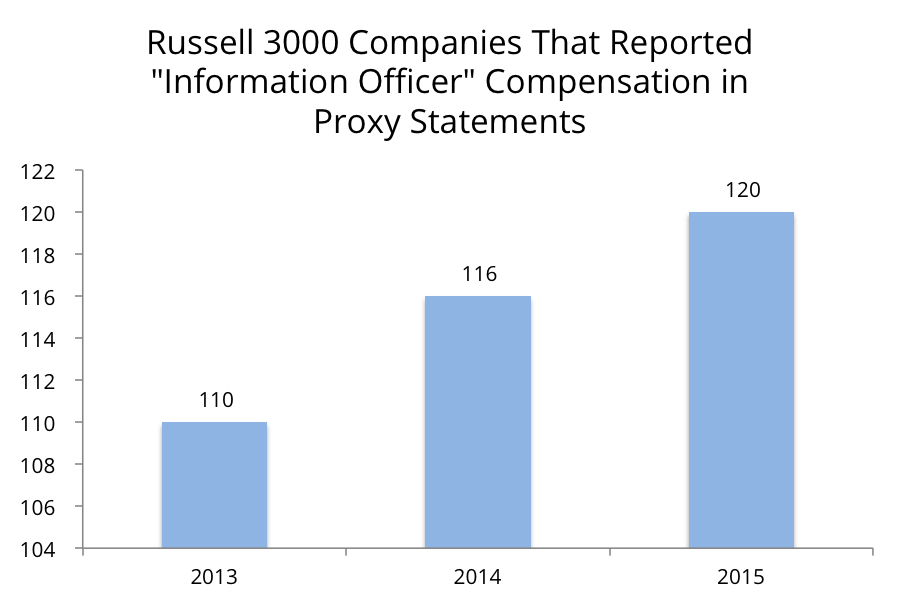 Despite increased importance of this role, and a higher prevalence of information officers listed in proxy statements, an Equilar examination of total compensation for information executives that held an NEO position in the Russell 3000 found that median total compensation was $1,053,411 in 2015, which was 1.4% lower than $1,068,784 in 2014.
Although the officers examined in this study are considered as one of the top five highest-paid executives at their corporations, CEOs at the same companies that reported an Information Officer as an NEO took home a median total compensation that was 307% higher in the most recent fiscal year. Interestingly, the gap widened considerably these companies year over year. In 2014, CEOs who also had an information officer as a fellow NEO were awarded a median compensation of $2.5 million. Meanwhile, the next year, CEOs at companies with information officer in their top five highest-paid employees earned $3.2 million, while, as noted above, pay for these information executives remained mostly the same.
Even though these differences do not necessarily include the same group of companies, and therefore is not a fully direct comparison, these stark differences demonstrate a divide on the importance that each role projects.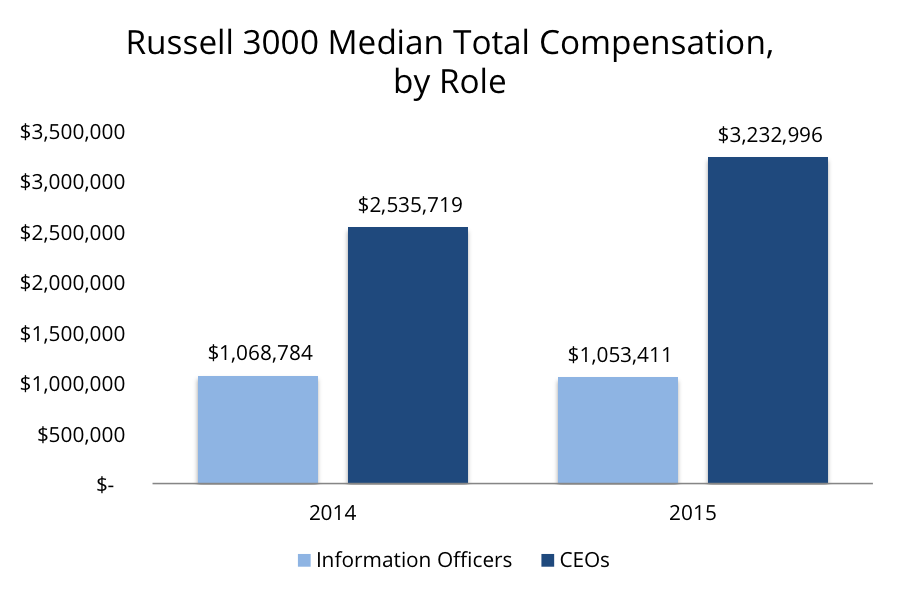 There is always more than meets the eye when considering median statistics and what they entail. Because these officers perform a function that is critical to the company's success, a compensation committee may decide to grant a special retention or recognition award to this individual. For example, in a 2014 proxy filed by Sonic Corp. (SONC), the company disclosed that it awarded its Information Officer a "one-time grant intended to provide a strong incentive for Mr. Miller to remain with the Company and complete the implementation of key technology initiatives." It's not unusual for roles like this to fluctuate in and out as one of the highest-paid NEOs, and as a result, individual scenarios and custom benchmarking provides deeper insight for roles beyond the CEO and CFO.
---
For information regarding the studies referenced in this post and to purchase the underlying datasets, or to learn more about Equilar Research Services, please contact the Equilar research team at researchservices@equilar.com.
For more information on Equilar research and data analysis, please contact Dan Marcec, Director of Content & Communications at dmarcec@equilar.com. Jen Estomba, Project Manager, authored this post.