Media Center
Press Releases
HR Executives in Healthcare, Technology Are Highest Earners, According to New Study
---
REDWOOD CITY, CA (November 8, 2017) — The top human resources roles have been rising in stature at public companies, and as a result, compensation is increasing in kind, according to a new report from Equilar, HR Executive Pay Trends, which featured independent commentary from Allegis Partners.
Among the Equilar 500, a sample of the largest U.S.-listed companies by revenue, total compensation reported for top HR executives increased from $1.6 million to $1.7 million from 2015 to 2016, according to the report.
Chief Human Resources Officers in healthcare and technology were the largest beneficiaries of this, outpacing the median for the larger group. Healthcare executives saw about a 16% increase in pay at the median, reaching $2.2 million in fiscal year 2016, the most recent year for which complete pay data is available. While seeing a much smaller increase—growing about 4% to $1.9 million—tech executives followed healthcare as the next highest-paid HR leaders.
"We are seeing a progressive and positive trend toward companies viewing the HR function far more strategically, especially in the healthcare and consumer sectors where talent acquisition has always been competitive," said Michael Bergen, Managing Partner of Allegis Partners U.S. and Global Practice Leader, Human Resources. "The healthcare sector is the most complex and has raised the bar on every executive role due to rapid changes and external disruption impacting their business models, particularly pertaining to technology and legislation. A CHRO can add the most value at an organization experiencing internal disruption, indicating why they may be so highly valued at healthcare and technology companies."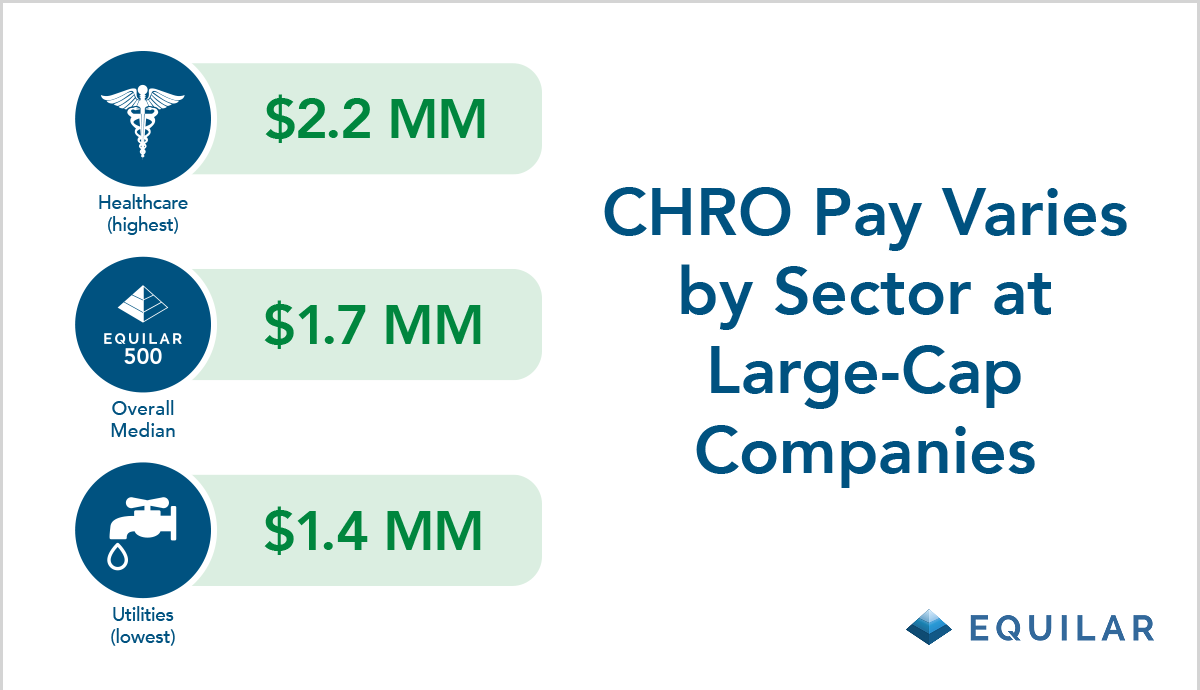 Pay for Performance Becomes More Popular
Aligning compensation to specific performance incentives has become more popular across the C-suite, and this trend is reflected in HR executives' compensation as well. Among Equilar 500 companies included in the study, nearly 30% of pay on average was awarded in stock grants that will pay out only if performance goals are achieved. At utilities companies, for example, performance incentives accounted for more than 40% of total pay on average—the largest prevalence of such awards in the study. Healthcare and technology companies, which offered the highest pay packages to their HR executives, had the second- and third-highest prevalence of performance awards as a part of total pay at 33.9% and 33.1%, respectively.
Across the study, total shareholder return (TSR) was the most common performance metric tied to long-term stock awards, followed by earnings per share (EPS) and return on capital.
"The biggest driver of TSR, EPS and return on capital is the effectiveness and efficiency of an organization's human capital," said Mike Bergen. "As talent management consultants, our job is to challenge the traditional roles and assumptions and ask the CEO: How have you measured the performance of HR and how will you going forward?"
Please click here to request a full copy of the report, or reach out directly for access.
---
About the Report
The data referenced in this release is a sample of compensation data available for top HR executives at Equilar 500 companies, an index comprising the 500 largest U.S.-based or listed public companies. Of those companies, 214 reported compensation data for HR leaders either in publicly disclosed SEC filings or the annual Equilar Top 25 Survey for fiscal year 2016.
HR Executive Pay Trends, an Equilar publication, is a broader study that analyzes compensation data for the top-paid Human Resources (HR) executives at their respective companies who served the entire fiscal year, including 843 total individuals for fiscal year 2015 and 869 individuals for 2016. The report includes breakdowns of HR executives in separate revenue ranges as well.
About Equilar
Equilar is the leading provider of board intelligence solutions. Its data-driven platforms, BoardEdge and Insight, provide tools for board recruiting, business development, executive compensation and shareholder engagement. Companies of all sizes, including 70% of the Fortune 500 and institutional investors representing over trillion in assets, rely on Equilar for their most important boardroom decisions. Equilar also hosts industry-leading board education symposiums, conducts comprehensive custom research services and publishes award-winning thought leadership. Founded in 2000, Equilar is cited regularly by Associated Press, Bloomberg, CNBC, The New York Times, The Wall Street Journal and other leading media outlets. Visit www.equilar.com to learn more.
About Allegis Partners
Allegis Partners is the global executive search firm that delivers a boutique, high-touch approach to talent management. Focused on identifying diverse, top talent for human resources, board, CEO and other executive and senior management roles across industries, Allegis Partners brings deep expertise and insight into each relationship. Each search is customized within the global market to pair candidates with deep skills and knowledge to the unique needs of clients. The firm is backed by the extensive resources of the Allegis Group, the global leader in talent solutions. To learn more about Allegis Partners, visit www.allegis-partners.com.
---
For more information, contact:
Amit Batish
Content Manager
Equilar, Inc.
abatish@equilar.com
650-241-6697
Lana Gersten
Media Contact
Allegis Partners
lgersten@groupgordon.com
312-846-1655