Media Center
Press Releases
Over 92% of Companies Disclose Compensation Peer Groups, Favoring Industry Comparisons
---
REDWOOD CITY, CA (July 19, 2017) —A majority of companies employ the use of external peer groups as a point of reference for making executive pay decisions. According to a new report from Equilar, Peer Group Composition and Benchmarking, featuring commentary from Compensation Advisory Partners (CAP), over 92% of Equilar 500 companies disclosed a peer group for the purposes of benchmarking compensation in their most recent proxy statements.
The report found that approximately two-thirds of Equilar 500 companies had peer groups that consisted of 11 to 20 companies. The study also found that 95% of the companies disclosed at least one peer group, while 4.3% had two and less than 1% listed three peer groups in their most recent proxy statements.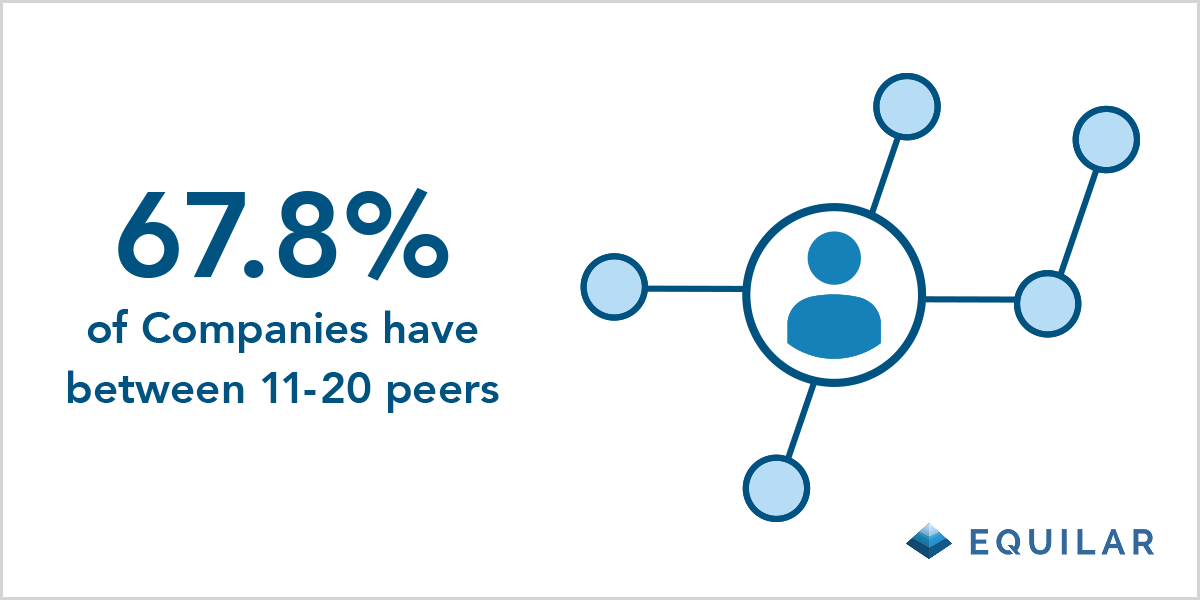 "We find that a group of 15 to 20 hits the sweet spot for peer group size," said Margaret Engel, Partner, and Matt Vnuk, Principal at CAP, who provided independent commentary for the Equilar report. "A peer group of this size contains enough companies to provide reliable data, without being so large as to make data gathering cumbersome. When a small peer group is used (e.g., 10 or less companies) year-over-year changes in market data are more likely to be volatile than with a more robust data set."
In addition, the report found that boards most commonly favored industry as criteria for identifying peer companies. The study reported that 442 companies in the Equilar 500 named similarities in industries as a deciding factor in peer assessment. In addition to industry, boards also commonly looked to financial metrics such as revenue and market cap as well as executive talent as criteria for assessing peers.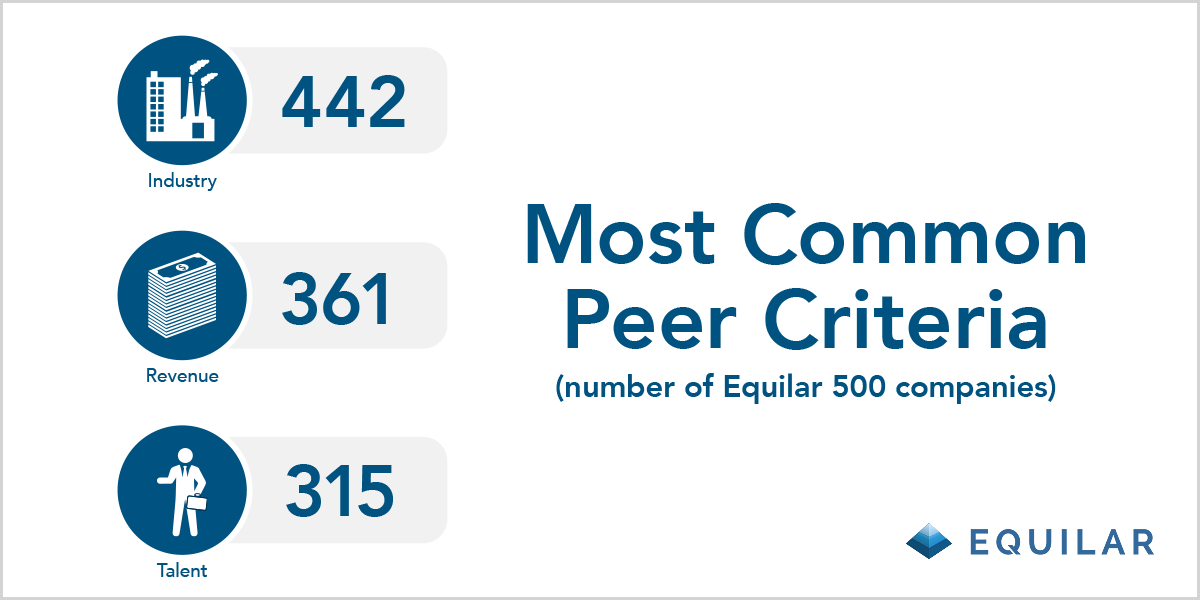 Other key findings from the report include:
Slightly more than 50% of the Equilar 500 disclosed at least one peer company headquartered outside the U.S., but only 0.6% disclosed a peer group composed of at least 50% non-U.S. peers
About half of the Equilar 500 reported CEO total direct compensation above their peers' median, while over 60% reported revenues above their peers' median
Request a copy of the full report here or by contacting Equilar directly.
For more details on this report, please join Equilar and Compensation Advisory Partners for a webinar on August 3. Visit www.equilar.com/webinars to register and learn more about this and other events.
About the Report
Peer Group Composition and Benchmarking, an Equilar publication, examines proxy-disclosed compensation peer groups at Equilar 500 companies, and tracks this data for those companies over the last five fiscal years. The Equilar 500 tracks the 500 largest, by reported revenue, U.S.-headquartered companies trading on one of the major U.S. stock exchanges (NYSE, Nasdaq or NYSE MKT), adjusted to approximate the industry sector mix of similar large-cap indices. Companies that filed a proxy statement (DEF 14A) by May 1, 2017 were included in the fiscal 2016 year. Previous years were defined similarly.
About Equilar
Equilar is the leading provider of board intelligence solutions. Its data-driven platforms, BoardEdge and Insight, provide tools for board recruiting, business development, executive compensation and shareholder engagement. Companies of all sizes, including 70% of the Fortune 500 and institutional investors representing over trillion in assets, rely on Equilar for their most important boardroom decisions. Equilar also hosts industry-leading board education symposiums, conducts comprehensive custom research services and publishes award-winning thought leadership. Founded in 2000, Equilar is cited regularly by Associated Press, Bloomberg, CNBC, The New York Times, The Wall Street Journal and other leading media outlets. Visit www.equilar.com to learn more.
About Compensation Advisory Partners
Compensation Advisory Partners, LLC, an independent executive compensation consulting firm, provides a full range of assistance with all executive compensation needs. We work with boards of directors and management teams to develop effective compensation programs, aligned with strong corporate governance standards. The firm's seven partners combined have extensive experience consulting to boards of directors and management on the full range of executive compensation issues. The firm's client experience ranges from some of the largest Fortune 100 multi-nationals to smaller start-ups. www.capartners.com
For more information, contact:
Dan Marcec
Director, Content & Communications
Equilar, Inc.
dmarcec@equilar.com
706-461-8333