Media Center
Press Releases
Director Pay Increased 17% Since 2011
---
REDWOOD CITY, CA (October 5, 2016) — Over the past five years, the median annual retainer for directors on S&P 500 boards has increased 17.1% from $205,000 to $240,000, according to a new report from Equilar, Director Pay Trends 2016.
"New corporate governance guidelines and increased shareholder engagement have added responsibilities for boards of directors," said Matthew Goforth, research and content specialist at Equilar. "While pay growth has been incremental and relatively modest on a year-to-year basis, the design of director compensation programs has shifted and increased to reflect these fiduciary duties."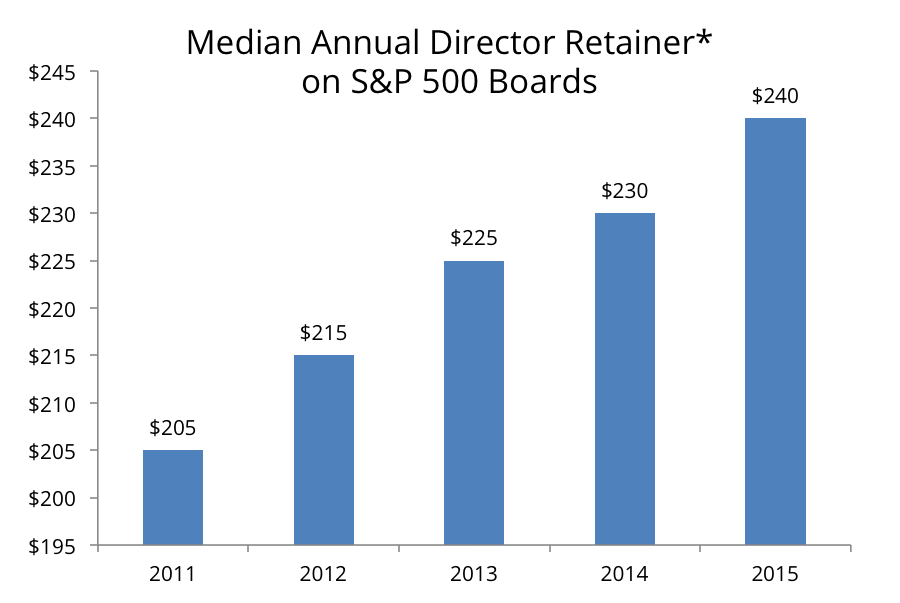 *Director retainers in this study accounted for base cash and equity pay and exclude additional compensation such as retainers for leadership positions, committee memberships, meeting fees or special awards.
A majority of director retainers are paid in equity, usually in the form of restricted stock units (RSUs) or restricted stock. Among S&P 500 companies, 98.2% offered some amount of director pay in cash. The median amount of cash awarded to directors at those companies was $90,000, which increased from $70,000 just five years ago.
Recent lawsuits at companies such as Citrix and Facebook have thrust director pay into the spotlight, even though dollar values are far below those in executive compensation awards. These lawsuits contended that because there were no established limits on director pay, the amount boards could award themselves presented a conflict of interest.
"As a result of this litigation, many companies are now including a director-specific limitation in their shareholder approved stock plans that puts a 'cap' on annual equity awards to directors," said Tom Ramagnano, a partner at Meridian Compensation Partners, who provided independent commentary for the Equilar report. "Although we estimate that only about one-third of companies have amended their stock plans to date, we expect that this number will increase dramatically once all companies have resubmitted their plans to shareholders for approval."
"When limitations are established, they are typically set at a level that is two to three times the total value of current equity awards," Ramagnano added.
Director Pay Trends 2016, an Equilar publication, examines total compensation, pay components, equity and incentive plan information, retainers for leadership roles and committee memberships, and the prevalence of individual meeting fees for boards of directors at S&P 500 companies. Meridian Compensation Partners has offered independent commentary to provide color and context to how companies structure board of director compensation.
---
Equilar is the leading provider of board intelligence solutions. Companies of all sizes rely on Equilar for their most important boardroom decisions, including 70% of the Fortune 500 and institutional investors representing over trillion in assets. Equilar offers data-driven solutions for board recruiting, executive compensation and shareholder engagement that bring together business leaders, institutional investors and advisors to drive exceptional results while ensuring sound corporate governance. The Equilar suite of solutions includes industry-leading board education symposiums, comprehensive custom research services and award-winning thought leadership. Founded in 2000, Equilar is cited regularly by Associated Press, Bloomberg, CNBC, The New York Times, The Wall Street Journal and other leading media outlets. Learn more at www.equilar.com
For more information, contact:
Amit Batish
Director of Content & Marketing Communications
press@equilar.com
650-241-6697