Media Center
Press Releases
Stock Grants Decrease at S&P 500 Companies
---
REDWOOD CITY, CA (September 23, 2016) — While more S&P 500 companies are using stock as an equity vehicle, the number of shares granted has declined in recent years as stock prices rise and fewer shares are needed to deliver intended pay levels, according to a new Equilar report, featuring commentary from E*TRADE Financial Corporate Services, Inc.
Among S&P 500 companies, the average number of restricted stock or restricted stock units granted to employees was 3.2 million in 2015. While that amount rose from 4.1 million shares in 2011 to more than 4.6 million in 2012, it has since decreased.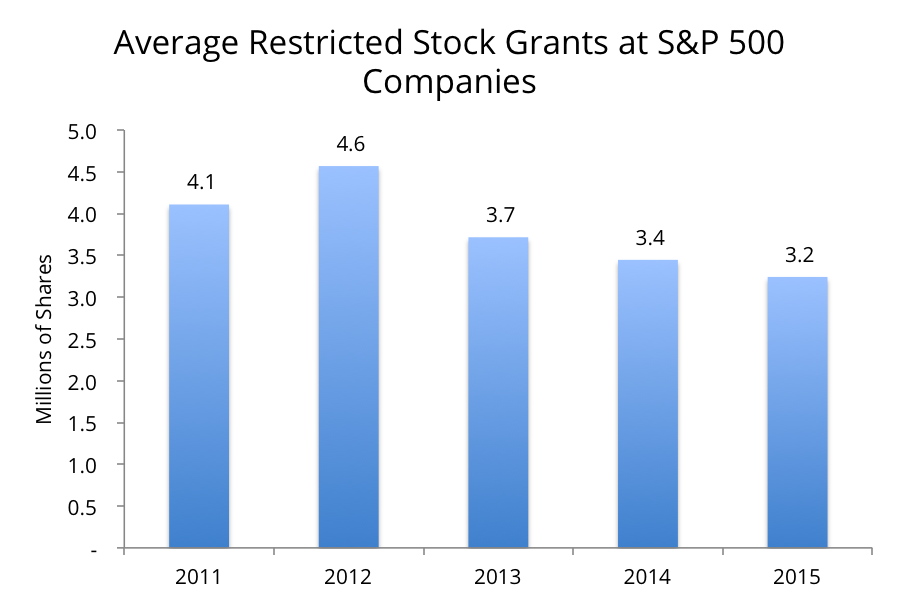 Consider that the S&P 500 has grown from about 1,220 in September of 2011 to over 2,170 as of September 2016. Given this growth, when you do the math, companies are granting more overall value despite any decline in the number of shares granted.
"Human resources and employees are viewing equity compensation as an integral part of overall compensation, and are therefore assessing equity grants for their overall value," said Carrie Kovac, Senior Vice President of Relationship Management for E*TRADE Financial Corporate Services.
In the past few years, a shift in pay design at the executive level has also contributed to this trend. For example, more than 80% of the S&P 500 now use performance equity awards for their top officers, compared to about 65% just five years ago, the report found. As a result, executive pay is now often tied to reaching specific performance goals in order to earn those shares.
"To some degree, companies have curtailed certain larger grants to their top executives in light of shareholder scrutiny and Say on Pay votes, and instead afford management an upside by tying company performance to equity pay," said Matthew Goforth, research and content specialist at Equilar. "By doing so, executives may earn more shares than were targeted, but only if they deliver superior performance."
By far, S&P 500 companies in the technology sector granted the most stock in 2015, awarding a median amount of approximately 2.8 million shares. This figure is almost three times as large as the next highest sector, utilities. The tendency of technology companies to grant share-based compensation deeper within the organization is likely one cause of the tech sector's lead.
The financial sector granted the least amount of stock, awarding a median 578,703 shares in 2015. Beyond top executives, companies in the financial sector tend to favor cash based incentive compensation for employees, though often linked to a required deferment period.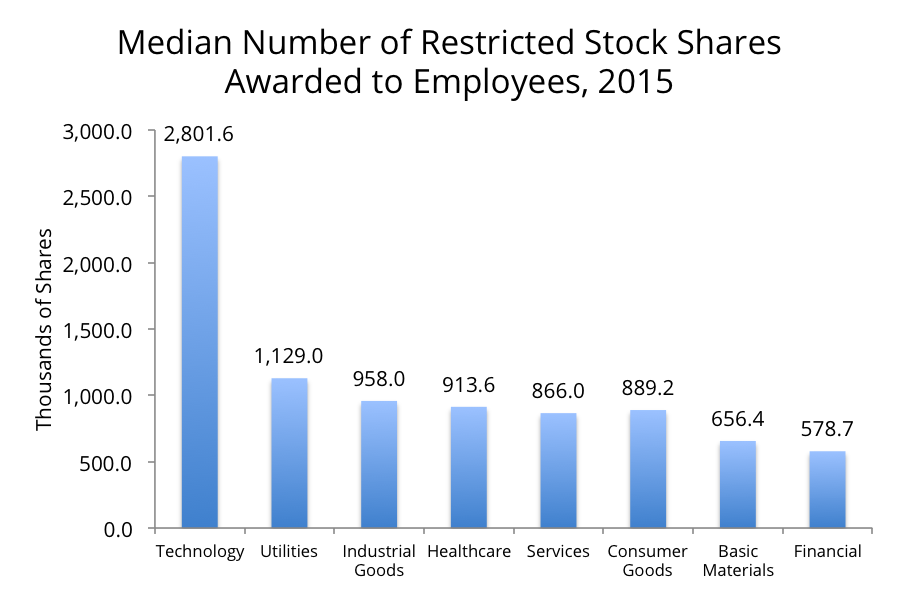 In general, equity compensation is meant to align employees' financial future with that of the company. The competitive talent market has led some companies to become more creative, particularly in the tech sector.
"Some companies are taking the road less travelled, offering an a la carte or elected plan, which allows employees to self-select and weigh their cash rewards against different levels of equity," said Kovac. "However, in our experience, adoption of this type of equity plan is rare outside of the tech and startup world. A la carte equity plans like this require robust education and training by the company to help ensure employees make informed decisions. Typically those who understand its value will self-select into equity, while those who don't will lean towards cash."
Equity Compensation Trends 2016, an Equilar publication, examines equity design and granting practices at S&P 500 companies over the last five fiscal years. While the broader view shows steady, even growth in overall pay levels, closer inspection reveals more dynamic changes in executive equity compensation over the last 10 years. Data in the report includes equity grant practices and dilution trends across the S&P 500 organizations as a whole, and a more granular look at performance and time-based equity awards to named executive officers (NEOs) at these companies.
E*TRADE Corporate Services has offered independent commentary to provide color and context based on their experience to how companies structure equity pay and meet standards set by their shareholders.
---
Equilar is the leading provider of board intelligence solutions. Companies of all sizes rely on Equilar for their most important boardroom decisions, including 70% of the Fortune 500 and institutional investors representing over $13 trillion in assets. Equilar offers data-driven solutions for board recruiting, executive compensation and shareholder engagement that bring together business leaders, institutional investors and advisors to drive exceptional results while ensuring sound corporate governance. The Equilar suite of solutions includes industry-leading board education symposiums, comprehensive custom research services and award-winning thought leadership. Founded in 2000, Equilar is cited regularly by Associated Press, Bloomberg, CNBC, The New York Times, The Wall Street Journal and other leading media outlets. Learn more at www.equilar.com
For more information, contact:
Dan Marcec
Director of Content & Marketing Communications
press@equilar.com
706-461-8333