Media Center
Press Releases
CEO Incentives Depend More on Shareholder Return
---
REDWOOD CITY, CA (April 13, 2016) — More and more companies are paying CEOs based on company performance, and they are increasingly doing so by measuring "performance" as total shareholder return, a a new Equilar report has found.
The percentage of S&P 500 companies that use performance awards as part of CEO pay packages has increased from 63% to 83% in the past four years, according Equilar data. In that time frame, the percentage of awards that were paid out based on relative total shareholder return (TSR)—an increase in company stock price and dividends to shareholders in relation to competitors—nearly doubled from 12.3% to 25.2%.
"Since 2011, when the SEC ruled that shareholders would conduct a mandatory vote on executive compensation—better known as Say on Pay—the pressure to show how pay and performance are related has intensified," said Matthew Goforth, research and content specialist at Equilar and lead analyst for the report. "The mass movement toward the use of TSR reflects the effort to link executive pay with shareholder returns and gain investor approval of compensation packages."
"Performance-based equity provides compensation value with a close correlation to company performance, without having to rely on stock options," added Carrie Kovac, Senior Vice President of Relationship Management at E*TRADE Corporate Services, which contributed independent commentary for Equilar's report. "Performance-based equity is very much still in its relative infancy, however. Today there is no silver bullet in rolling these plans out, and each company should take a hard look at their culture and business goals to understand what will work best for them."
Interestingly, relative TSR is the only one of the five most popular performance measurements for CEO long-term incentive plans to increase in the last four years, according to the report. Earnings per share (EPS), revenue and operating income/margin in particular have dropped off significantly. For example, 18.1% of CEO performance awards utilized EPS in 2012, and that figure dipped to 11.1% in 2015.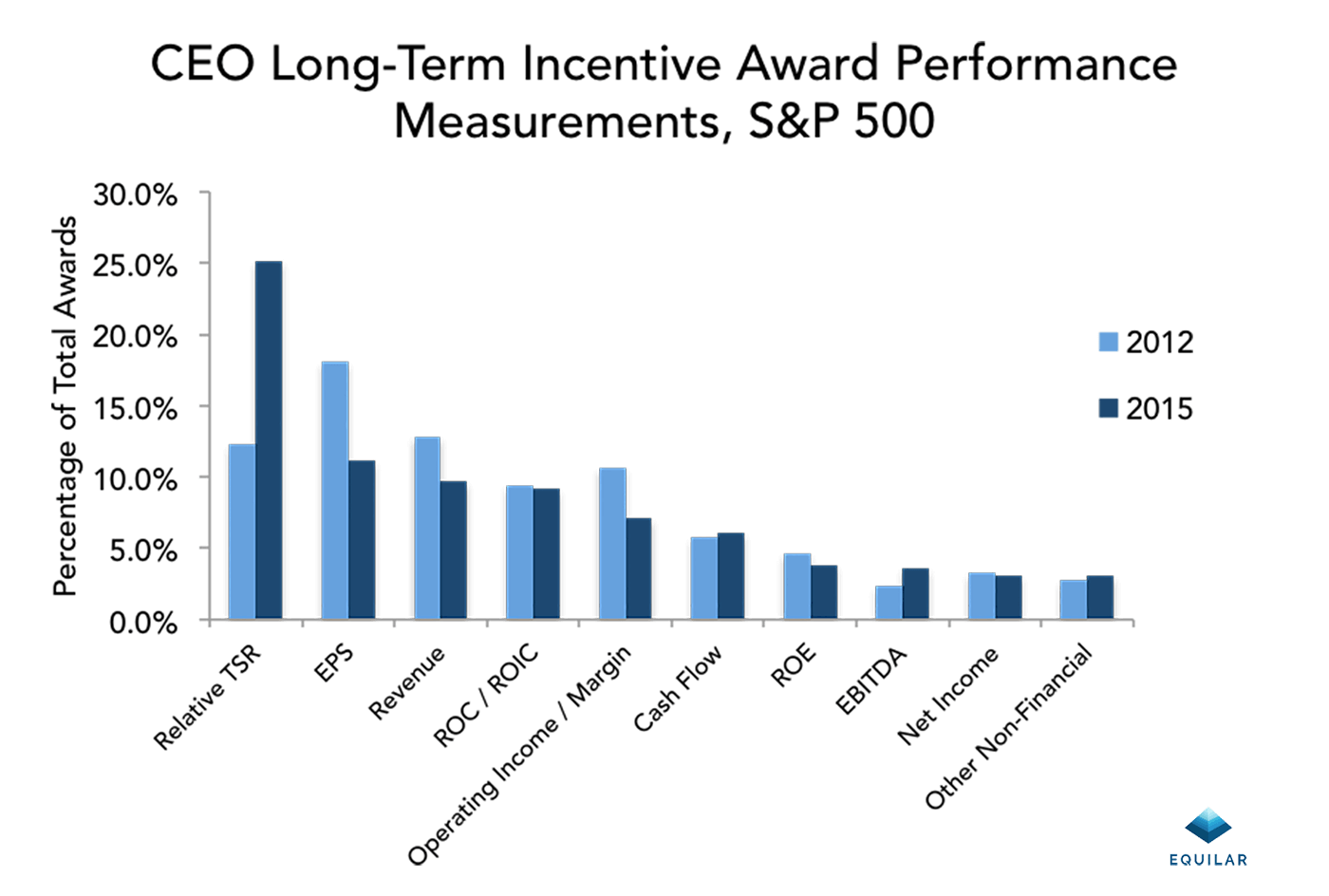 Meanwhile, though included as a performance measurement for a much smaller number of awards, cash flow, EBITDA (earnings before interest, taxes, depreciation and amortization) and "other non-financial" metrics have seen growth over the past four years.
A deep dive into specific plans of the S&P 100 showed a similar trend as the broader index—TSR is by far the most popular metric. For the companies studied, TSR was nearly twice as common as any other measurement attached to CEO performance awards. Furthermore, in nearly one-third of the awards that included TSR as a performance measurement, the payout was 100% tied to TSR growth.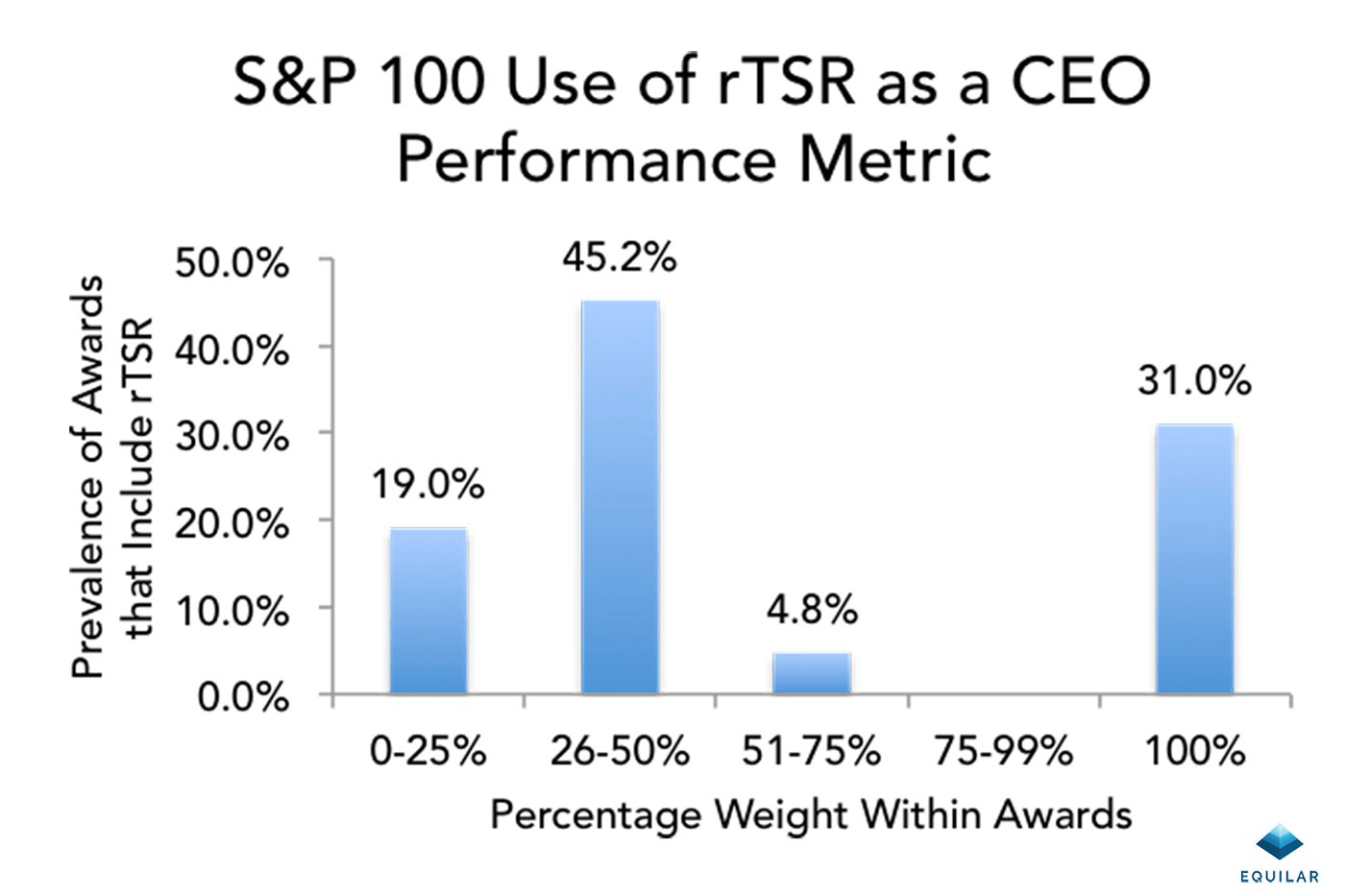 There has been growing controversy around the use of total shareholder return when it comes to executive pay. For example, one study from compensation consultant Pearl Meyer and Cornell University found that there was no evidence that use of TSR as an incentive metric improves company performance.
Over a 10-year period, TSR shows how companies are creating value for their shareholders, but over three years—by far the most common length of a CEO long-term incentive plan, according to Equilar's report—it is an outcome metric, not a leading metric. In other words, critics note that CEOs can influence TSR, but can't control it in the same way the can directly reduce costs or increase cash flow, and therefore it's not an appropriate "performance" indicator.
The rise of TSR has occurred in part due to the rise in shareholder activism and a focus from many stakeholders on short-term market returns. Proxy advisors like ISS have pushed for companies to benchmark their pay to TSR, and the SEC itself is close to passing a requirement that companies disclose pay as it relates to performance defined as total shareholder return. As these stakeholders push for some companies to focus more heavily on performance goals that increase shareholder value, others may be following suit in response to their peers' reactions.
---
Executive Incentive Plans: How Leading Companies Pay for Performance, featuring commentary from E*TRADE Corporate Services examined the prevalence of performance metrics and performance periods for annual cash incentives and long-term incentives of CEOs, CFOs and other NEOs at S&P 500 companies over the last four fiscal years. The data collected for this detailed study includes performance metrics and their weightings, performance ranges as a percentage of target performance, and payout ranges as a percentage of target payout. Analysis for both the S&P 500 and S&P 100 study was conducted on a "by award" basis, and data reflects the percentage or number of awards befitting the category.
Read or download the full report here.
For more information and further discussion of this topic, please join our webinar on April 14, 2016.
Equilar is the #1 provider of executive data, collecting information on more than 150,000 executives and board members from thousands of public companies. Our cloud-based platforms organize executive data into easily digestible formats, delivering compensation benchmarking, corporate governance and shareholder engagement tools with accuracy and integrity. These platforms bring together companies, shareholders and advisors to inform better business decisions and drive exceptional results. Founded in 2000, Equilar is the trusted data provider for 70% of the Fortune 500, and is cited regularly by The New York Times, Bloomberg, Forbes, Associated Press, CNN Money, CNBC, The Wall Street Journal and other leading media outlets.
Dan Marcec
Director of Content & Marketing Communications
dmarcec@equilar.com
706-461-8333