Shareholder engagement is at an all-time high and expected to increase further as issuers seek to optimize their corporate governance practices. Proxy voting teams have been inundated with meeting requests and are investing significant time and resources to learn more about executive compensation, board composition and succession planning. In order to keep pace, investors rely on the industry leading solutions and independent research that Equilar produces to gain deeper insights in these critical areas to ensure a more meaningful discussion with their portfolio companies.
---
BoardEdge and the Equilar Board Brief
Assess Board Performance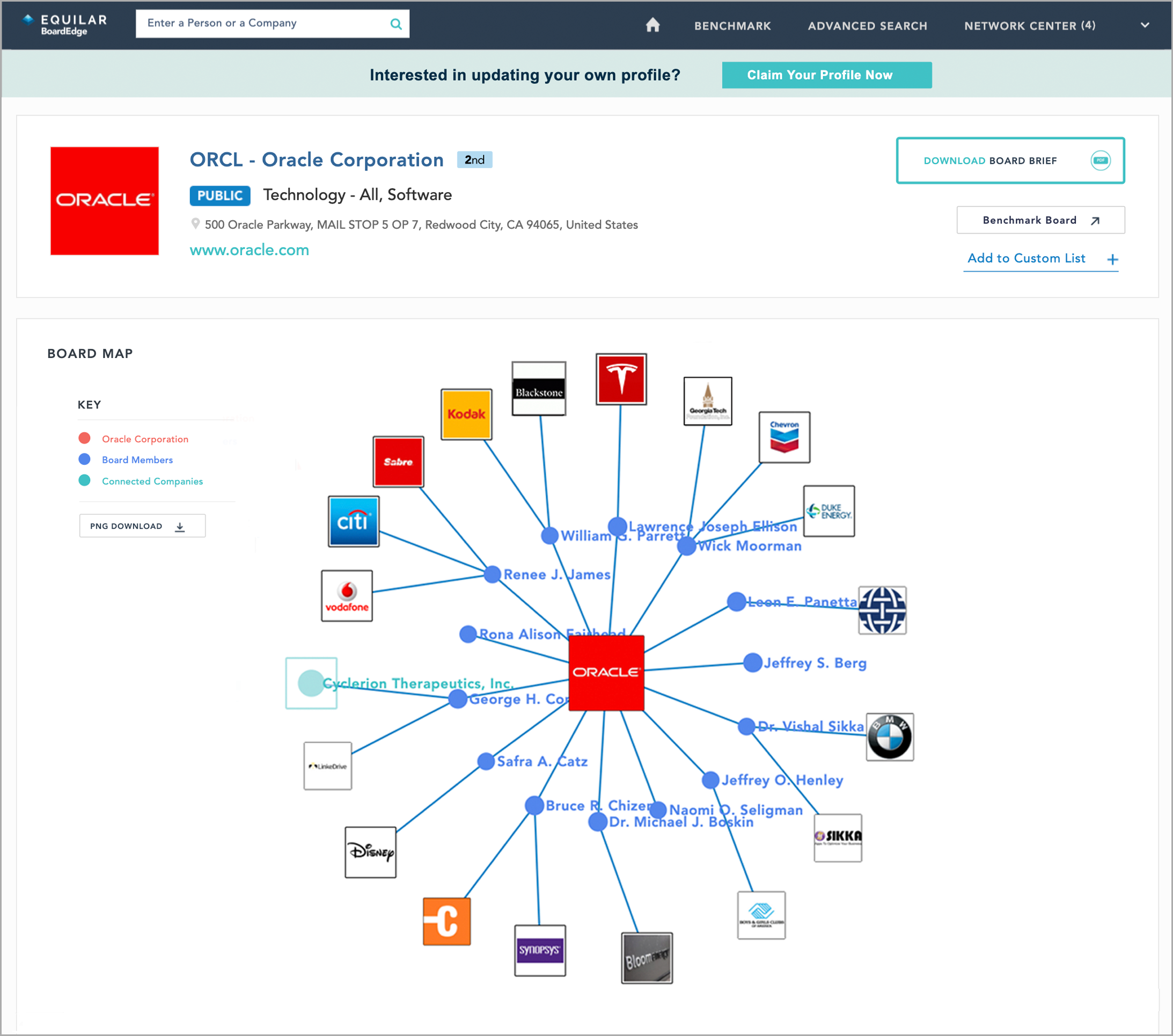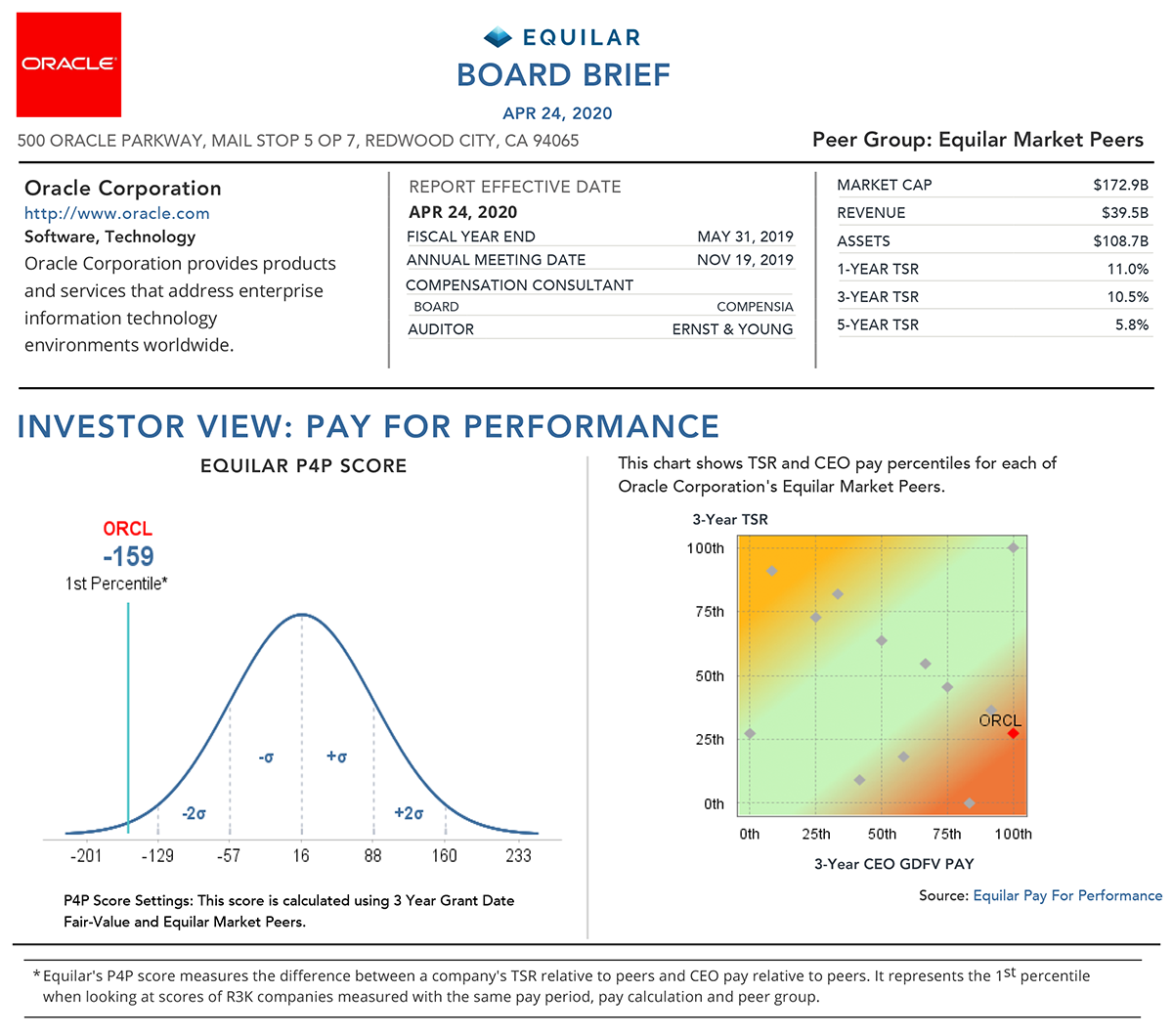 As the premier board assessment solution, BoardEdge collects, organizes, and constantly updates data on public company board members and executives. In addition, state-of-the-art relationship algorithms highlight board connections and patterns across an entire portfolio with a click of the mouse. The assessment tool in BoardEdge classifies and highlights data points for evaluating board composition including age, tenure, gender, share ownership and industry experience. The Shareholder Engagement Report provides information on changes since the last annual meeting, in addition to approximately 12 pages of up-to-date governance data on everything from board policies to Say on Pay results.
Learn More
---
Equilar Insight - P4PTM
Create Your Own Custom Analysis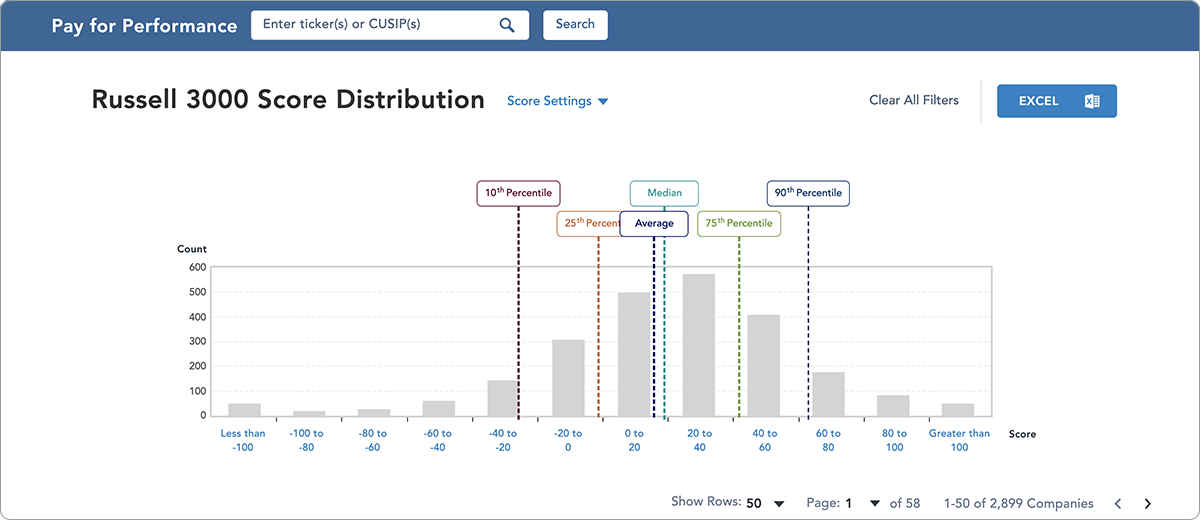 The Equilar pay for performance tools ensure investors get the most out of engagement meetings through better preparation. The Equilar P4PTM Score provides an accessible approach to quickly analyze pay for performance across companies. The Equilar P4PTM Profile provides an in-depth look at seven different pay definitions, including an SEC Pay Calculation based on the ruling requiring issuers to include information showing the relationship between executive compensation actually paid and company financial performance.
The Equilar R3K Score Distribution histogram is widely used by investors to identify outliers in their Say on Pay voting process. The dashboard contains realizable pay figures for the full Russell 3000 and can be easily adjusted to reflect other peer groups and pay definitions.
---
Equilar Insight - P4PTM Score
Assess Pay for Performance Alignment for Executives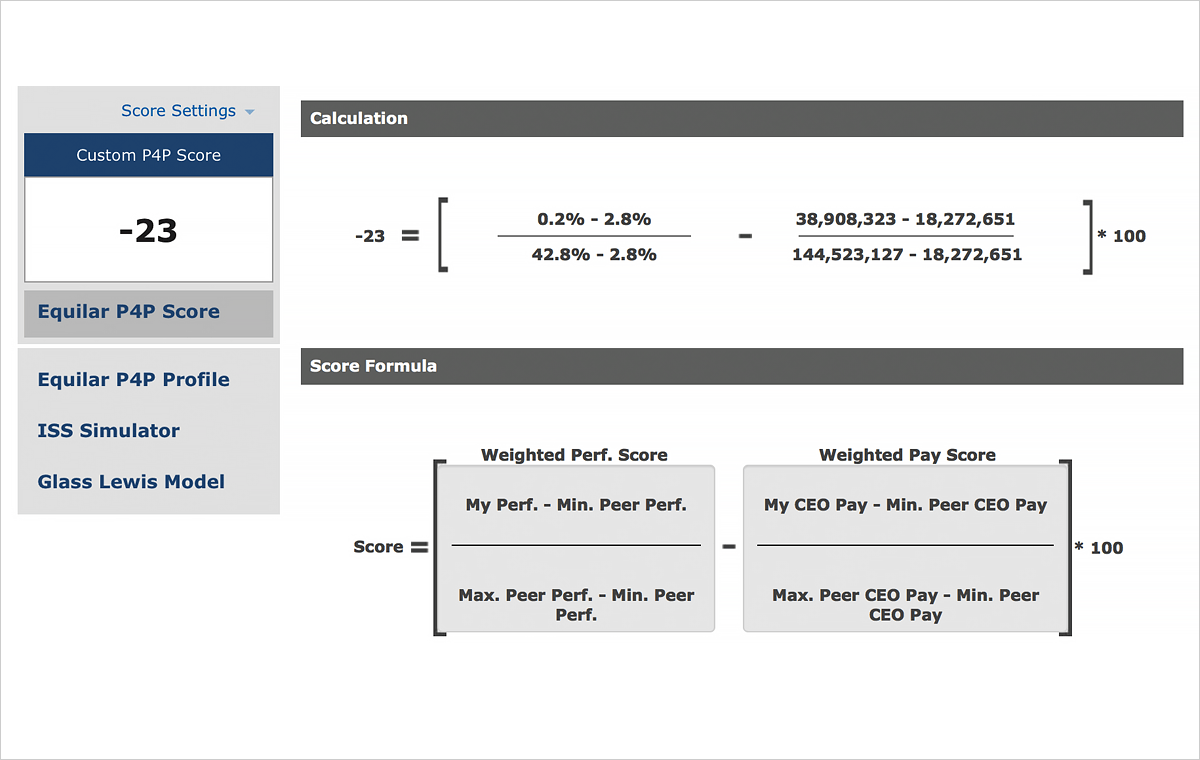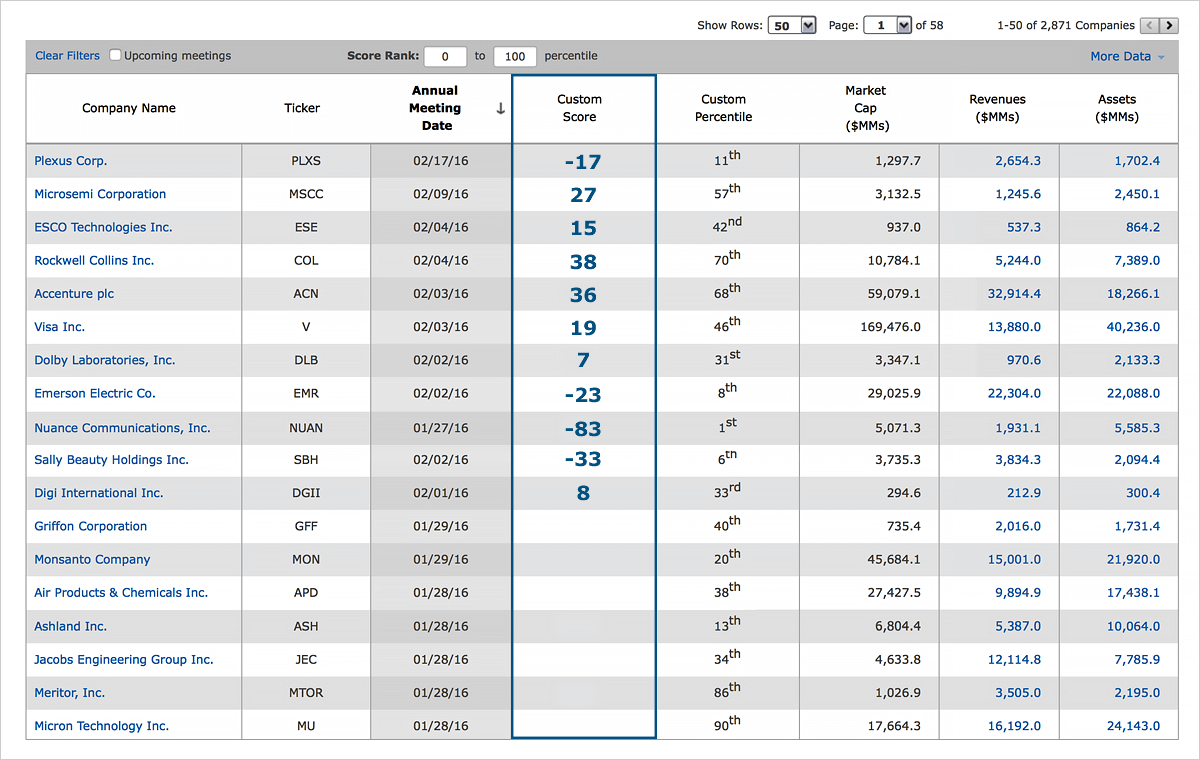 Equilar P4PTM Score is a patented calculation that quickly highlights pay for performance misalignments across an independent peer group of companies. Utilizing the vast Equilar database of compensation and company performance metrics, a P4PTM Score is established for executives at a target company to compare with other individuals at peer companies. The Equilar P4PTM Score provides an accessible approach to quickly analyze pay for performance across companies.
---
Equilar Insight - Market Peers
Identify Aspirational Peers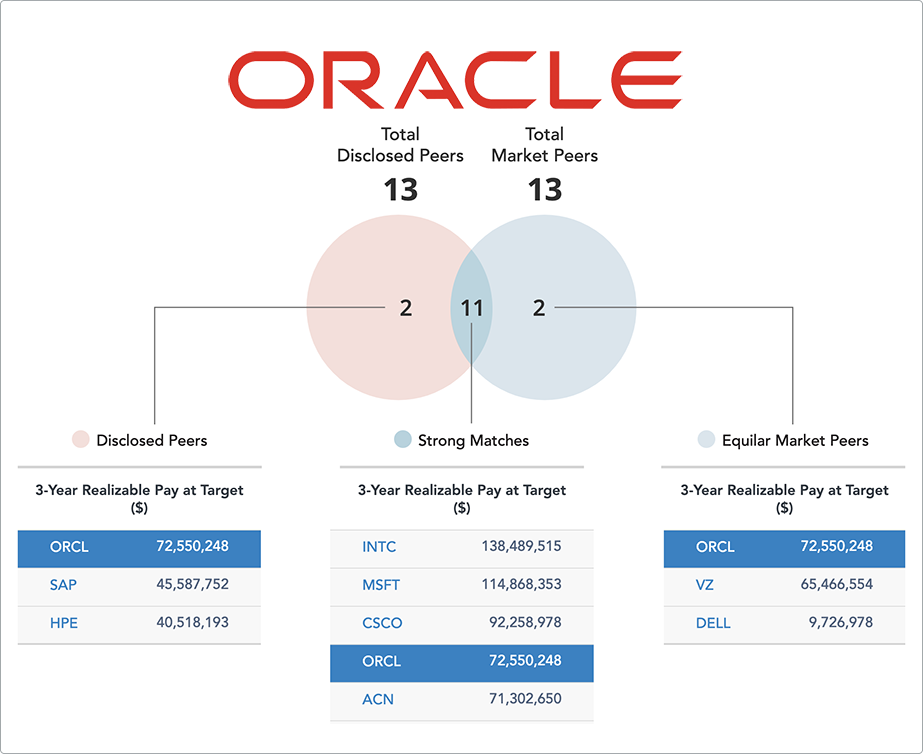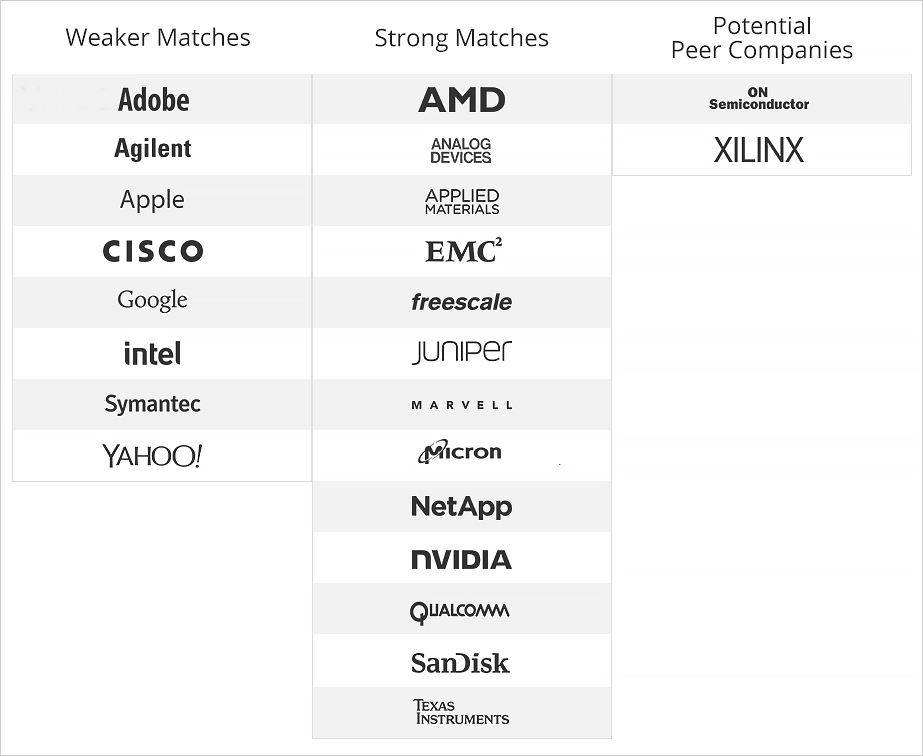 Equilar Market Peers is the definitive solution for reviewing peer group selection and assessing the potential impact a company's peer selection may have on pay decisions. Using the Equilar exclusive algorithms coupled with a company's own proxy peer disclosures within the Russell 3000 and S&P/TSX Composite Indices, Equilar generates an interconnected network of peer companies consisting of "who you know" and "who knows you."