Equilar Institute
Blog Home
Equilar Helps GSUSA Build the Pipeline of Future Female Business Leaders
---
---
July 27, 2017
Equilar embarked on a donation campaign to Girl Scouts of the USA in 2017 to help support and enable the leadership organization to continue providing impactful, transformative, girl-led programming that combines STEM, the outdoors, life skills, entrepreneurship and civic engagement.
As the leading provider of data-driven solutions for board recruiting, business development, executive compensation and shareholder engagement, Equilar used its trusted reputation to encourage its members to support a worthy cause by submitting to the annual Top 25 Survey—a comprehensive executive compensation survey. For each early submission Equilar received, it donated $25 to GSUSA, contributing a total of $11,175.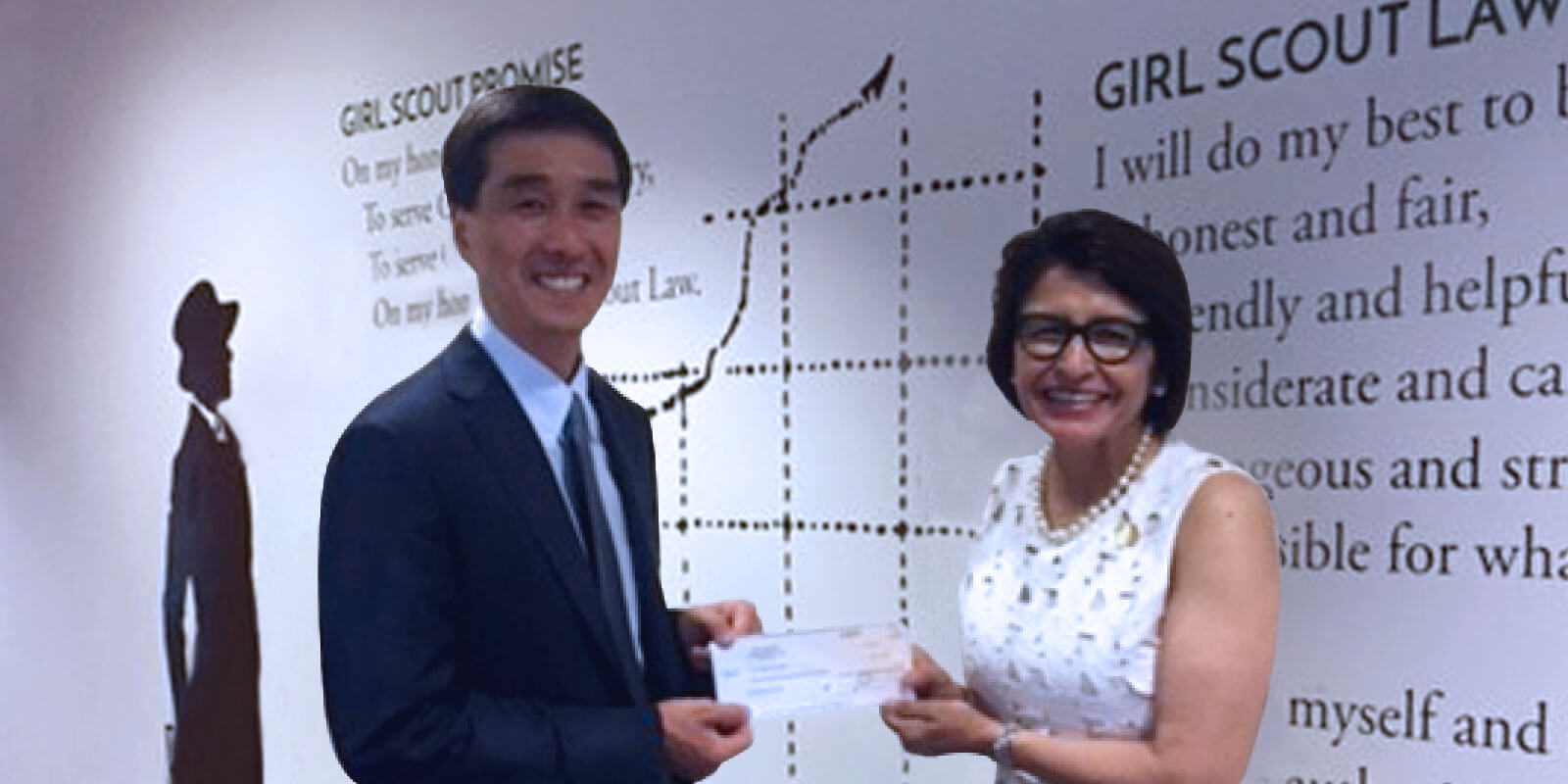 Equilar Founder and CEO David Chun delivers the donation check to GSUSA CEO Sylvia Acevedo
"It's never too early to start building the pipeline of future female business leaders, and partnering with GSUSA aligns with our commitment to raising awareness on diversity in the workplace," said David Chun, founder and CEO of Equilar. "Giving back to unify our communities is a core value at Equilar, and we'd like to thank our survey participants for joining us in supporting this great cause."
"Girl Scouts is truly honored to have been selected by Equilar as the recipient of this generous donation," said Sylvia Acevedo, CEO of GSUSA. "At Girl Scouts, we believe in the power of every G.I.R.L. to change the world. This contribution will go toward our continuing efforts to create and support vital leadership programs that allow girls to develop to their full potential."
Equilar has prioritized giving back to communities nationwide, and organizations like GSUSA are prime examples of how to invest in today's youth so they can become the future leaders of the United States.
Visit www.girlscouts.org to learn how Girl Scouts transforms every G.I.R.L. (Go-getter, Innovator, Risk-taker, Leader)™ of today into a leader for tomorrow, and help further that work by making a donation.
---
Please contact Dan Marcec, Director of Content & Communications at dmarcec@equilar.com for more information on Equilar research and data analysis. Amit Batish authored this post.
---