Knowledge center
Blog Home
Equilar Blog
---
Narrowing the Gap Between Investors and Boards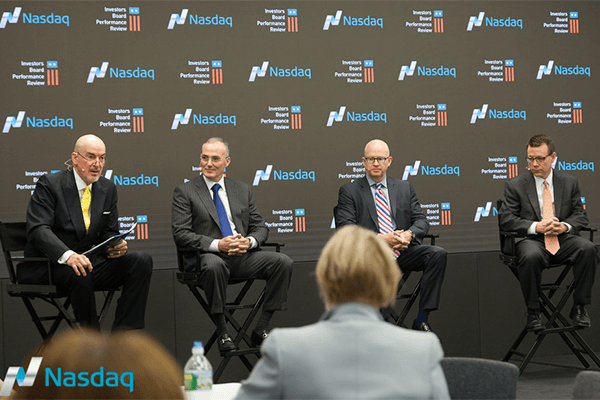 ---
July 15, 2016
According to TK Kerstetter, host of the Review as well as its sister program Inside America's Boardrooms, this new platform gives large investors and proxy advisors the opportunity to provide open feedback to boards on what they're doing well, what they need to improve on and how they should move forward.
The discussion ranged various topics focused on the panelists' roles as investors and advisors. Below are key takeaways, and the entire episode is available to view here.
What boards are doing right
The things that boards have always been good at, they've refined and are doing better than ever—such as engagement, disclosure and working with management.

This is partially because they're working harder than ever, and also partially because they know the stakes are higher with their shareholders.
Where boards need to improve
Boards must have a better purview into operations and strategy. While the focus on compliance and risk is absolutely necessary, they need other members who have experience in the former.

Ultimately, this plays into the board refreshment, diversity and skills conversation. There will be a rising need for people with operational oversight—and a need to identify and vet those candidates.
The state of engagement
While disclosures are becoming more robust and detailed, they're just the starting point. Proxy statements are well-crafted and "lawyered up," and they don't tell the story you will get by engaging. A 200-word director bio in the proxy statement doesn't communicate how the board works together.

While in-person engagement is important and sometimes necessary, it can be over the phone.

The best engagements are with a couple of executives or board members, and they come in with a few slides for an overview, not a 60- or 70-slide investor relations deck.
The future boardroom landscape
Boards are evolving to take more of an ownership mentality and will become more of a public/private equity hybrid in the future, Garden said. There has been a transfer of wealth from public shareholders to private equity, and public share owners are asking themselves why private companies are doing better.

The panelists brought up the common example of Dell, which went private so that they could have "the freedom to take a long-term view," a sentiment working under the assumption that the current public markets are over-reliant on short-term gains.

This sentiment affects investments of long-term shareholders, who are willing to hold onto stocks while a company reinvests—assuming that long-term strategy is clearly communicated—rather than having to pay a huge premium if it goes private and then comes back into the public markets later on.
View this entire episode of the Investor Board Performance Review by visiting www.boardroomresources.com.
---
Keep an eye out for more on this in the next issue of C-Suite magazine, an Equilar publication.
For more information on Equilar's research and data analysis, please contact Dan Marcec, Director of Content & Marketing Communications at dmarcec@equilar.com.