Knowledge center
Blog Home
Equilar Blog
---
Top Tech CEOs Out-Earned Other Industries in 2015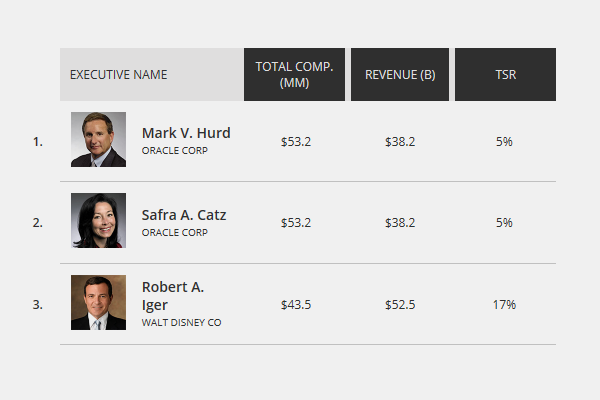 ---
May 25, 2016
Technology CEOs earned more as a group than any other business sector in 2015, according to an analysis of the Equilar 100, a study of the 100 largest companies by revenue to file before April 1. Median pay for the 12 technology CEOs on the Equilar 100 list totaled $18.3 million, more than $1 million higher than the industry with the next highest median pay—the basic materials sector, which includes oil, gas and energy companies.
Companies with a fiscal year end of December 31, 2015, had a deadline to file their annual proxy statements by April 30, marking the completion of "proxy season." Based on information filed as of that date, next week Equilar will release its annual study with the New York Times on the 200 highest-paid CEOs in 2015, as well as our report with Associated Press on S&P 500 CEOs.
It may come as little surprise that technology led this list of CEOs, given that the two highest-paid executives in the study were Oracle's co-chiefs, Mark Hurd and Safra Catz. However, seven of the other 10 technology executives earned well above the Equilar 100 median of $14.5 million.
As noted, the basic materials sector had the second-highest median pay on the Equilar 100 list, which may come as somewhat of a surprise given the volatility in the energy sector in 2015. Of the 10 CEOs in this industry classification, five of them made between $17.0 and $17.4 million. Those companies were all in the oil and gas business—ConocoPhilips, Marathon Petrolum, Philips 66, Schlumberger and Tesoro.
At the low end of the spectrum, CEOs in the services sector saw median pay of $10.0 million. Including the largest number of CEOs, this sector also includes an eclectic range of businesses such as major retailers, transportation and media companies. While some of the highest-paid executives were in this group—Walt Disney, Twenty-First Century Fox, Starbucks—so were some of the lowest, such as Penske, CostCo and Sears Holdings.
To view the entire list of Equilar 100 CEOs, please click here.
---
For more information on Equilar's research and data analysis, please contact Dan Marcec, Director of Content & Marketing Communications at dmarcec@equilar.com.