Media Center
Press Releases
Equilar: Women on Boards Increased by Just 0.3% in Q2 2017
---
REDWOOD CITY, CA (August 2, 2017) —The latest edition of the Equilar Gender Diversity Index (GDI)—a quarterly update tracking the prevalence of women on public company boards of directors—shows a continued slow, steady increase of movement. As of June 30, 2017, the percentage of women on Russell 3000 boards increased slightly to 16.2%, up from 15.9% at the end of Q1 2017.
However, because the GDI measures gender parity—or 50% representation of both men and women— at 1, the small increase in female representation was not enough to move the index needle, which remained at 0.32 from the previous quarter.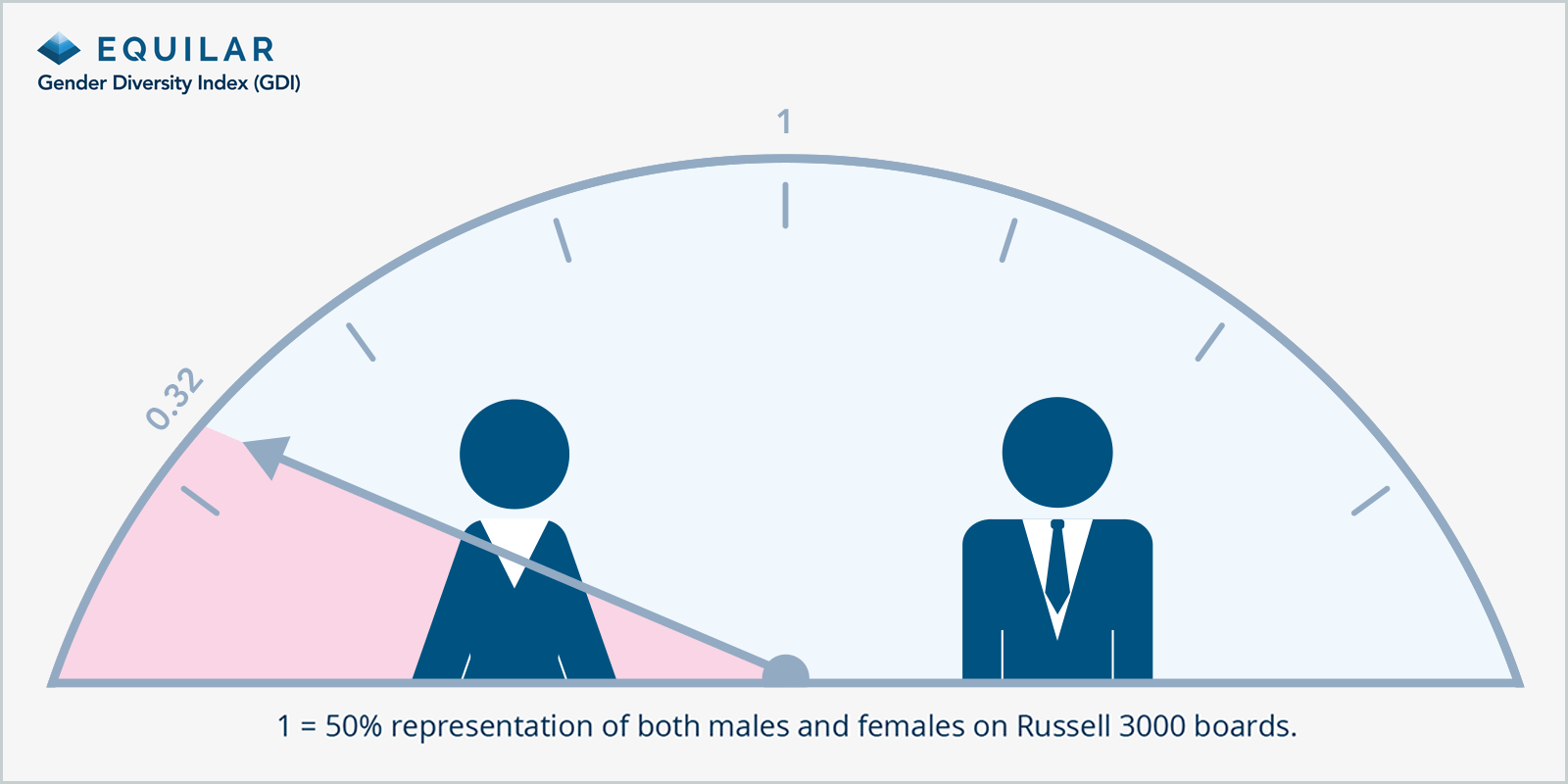 Progress in Process
As the overall number of women on boards ticks up slightly from quarter to quarter, signs of growth are there, but there has not been meaningful acceleration over the past year. However, the number and share of new board seats being filled by women continues to climb. A total of 152 female directors took board seats at Russell 3000 companies in Q2, or 24.9% of director positions filled during the quarter. That figure increased from 149 and 24.3% in Q1 2017, respectively.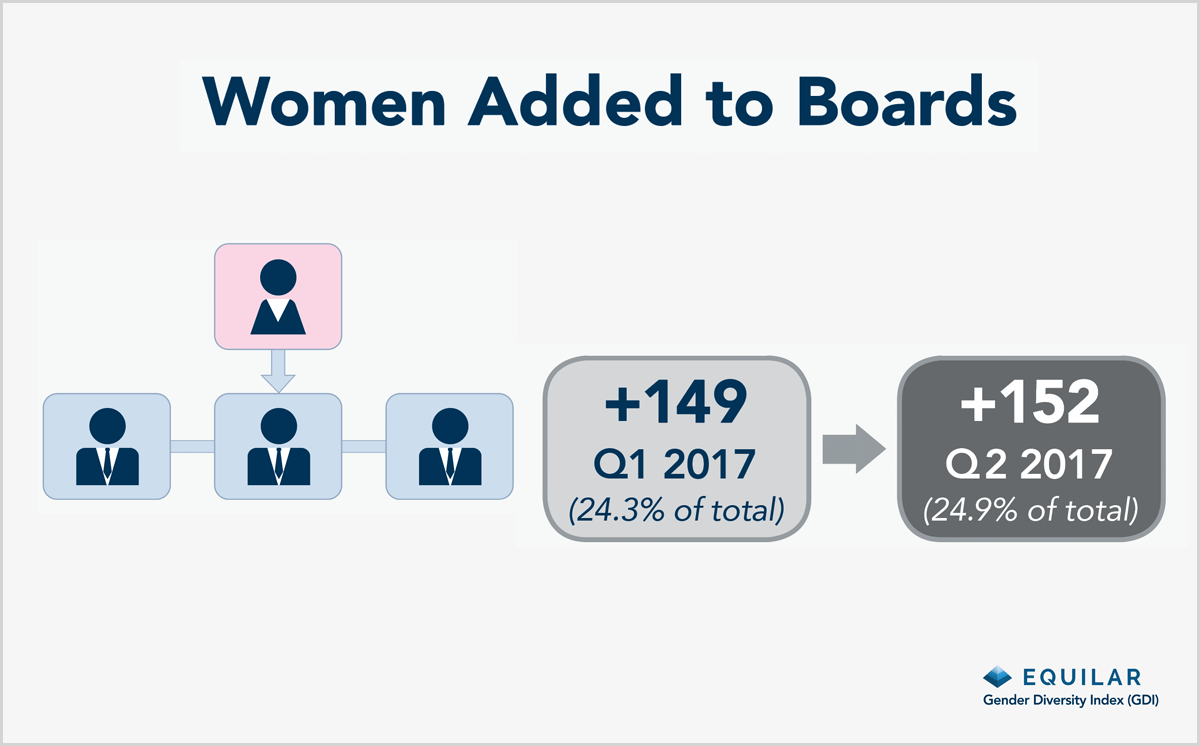 Furthermore, the number of boards with at least one woman continues to increase quickly. At the end of Q2 2017, there were still 610 Russell 3000 boards without any females, a net decrease of 32 boards in just three months time. In 2016 proxy statements, 738 companies reported zero women on their boards.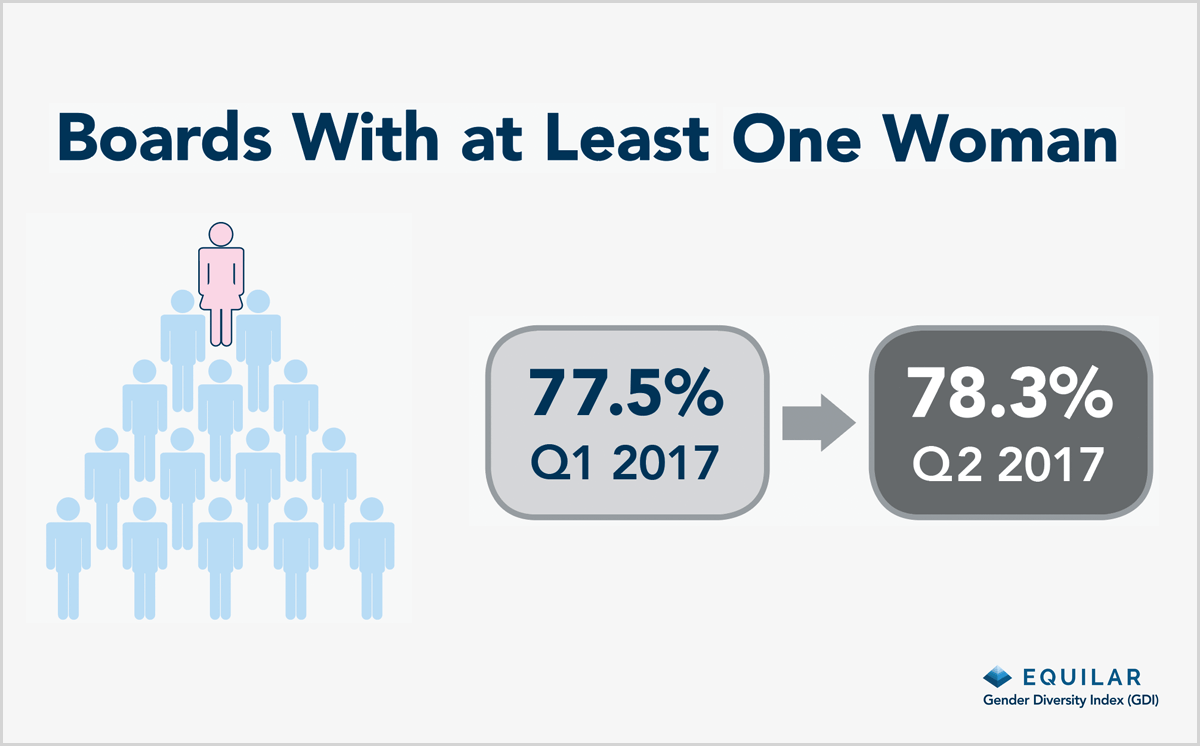 The Same Familiar Faces?
One figure to watch in future reports will be the number of boards each director serves. While the overall numbers of women in director seats may increase, actual diversity will not be achieved if the same directors are being added over and over to multiple boards. While this improves optics, it does not bring more qualified candidates into the fold.
"Diversity is not a numbers game, and it's about recognizing the value of new perspectives and unique experiences," said Belen Gomez, Senior Director of Research and Board Services at Equilar. "The point of board refreshment is not just to increase the percentage of women or other diverse directors by adding more people from the same network, it's to expand a board's range by bringing in experienced leaders with fresh and innovative ideas."
Indeed, the GDI found in Q2 2017 that 24.8% of all female directors served on more than one board as of June 30, vs. 18.0% of male directors. This was down slightly from the previous quarter—when an even 25% of individual women directors served on more than one board—while the proportion for multi-boarded males remained flat. This indicates that a slightly higher number of the women elected to boards in Q2 had joined a public board for the first time vs. those who had previously served as a director.
About Equilar Gender Diversity Index
The Equilar GDI reflects changes on Russell 3000 boards on a quarterly basis as cited in 8-K filings to the SEC. Most indices that track information about board diversity do so annually or even less frequently, and typically with a smaller sample size, sometimes looking back more than a full year by the time the information is published. While this data is reliable and accurate, the Equilar GDI aims to capture the influence of the increasing calls for diversity from investors and other stakeholders in real time.
The Equilar GDI is powered by Equilar BoardEdge, a database of more than public company board members and executives. BoardEdge includes exclusive features that show how board members and companies are connected to each other, as well as the Equilar Diversity Network (EDN), a "registry of registries" of board-ready executives from leading ethnic and gender diversity partnerships, organizations, and publications.
Visit www.equilar.com/diversity to learn more.
About Equilar
Equilar is the leading provider of board intelligence solutions. Its data-driven platforms, BoardEdge and Insight, provide tools for board recruiting, business development, executive compensation and shareholder engagement. Companies of all sizes, including 70% of the Fortune 500 and institutional investors representing over $15 trillion in assets, rely on Equilar for their most important boardroom decisions. Equilar also hosts industry-leading board education symposiums, conducts comprehensive custom research services and publishes award-winning thought leadership. Founded in 2000, Equilar is cited regularly by Associated Press, Bloomberg, CNBC, The New York Times, The Wall Street Journal and other leading media outlets. Visit www.equilar.com to learn more.
For more information, contact:
Dan Marcec
Director, Content & Communications
Equilar, Inc.
dmarcec@equilar.com
706-461-8333