Media Center
Press Releases
SEC Regulations and Shareholder Scrutiny Lead to Longer Pay Disclosures
---
REDWOOD CITY, CA (February 26, 2016) — As SEC regulations around executive pay continue to pile up—from the recently passed CEO to median employee pay ratio to the proposed Pay Versus Performance rule—the Compensation Discussion and Analysis (CD&A) portion of companies' annual proxy statements are increasing in length, according to a new Equilar report. Among S&P 100 companies, the number of words in this section of the annual filing has increased 8.4% in in the past five years, up from 8,416 in 2011 to 9,121 in 2015 proxies. Indeed, three of the four longest CD&As in the entire study were filed in 2015, including the longest at 19,288 words (Pfizer Inc., filed 3/12/15).
"If the old way of hiding information or making it less prominent was to put it in the footnotes, the new way is to leave it in the text," said Ron Schneider, Director of Corporate Governance Services for RR Donnelley, who also provided independent commentary for Equilar's report. "This does not mean that all text will be ignored, but devices like graphs, tables, checklists, timelines, shading and call-out boxes draw the eye and increase the likelihood that key information is located and read."
Lengthy filings can be a challenge for companies, as large institutional investors and proxy advisory firms comb through thousands of statements each year to make informed decisions about Say on Pay voting and director elections. The ability for companies to communicate information that concerns shareholders clearly can become obscured within the ever-lengthening text of the proxy statement.
"We anticipate that the length of CD&As will grow dramatically in 2017 and 2018—perhaps by 20 percent or more in terms of word count—as the new SEC disclosure requirements become mandatory," said John Ellerman, a Partner at Pay Governance, who contributed independent commentary for Equilar's report.
Checklists are among the many ways that companies choose to consolidate their expanding executive pay disclosures. In 2011, the first year of Say on Pay, just one S&P 100 company included a list "dos" or "don'ts" with respect to executive pay design. Last year, 45% of the S&P 100 included these lists. For example, in its most recent proxy statement, Wal-Mart Stores (p.47, filed 4/22/15) included a checklist with "dos" for pay and performance alignment, stock ownership requirements and thorough compensation benchmarking and "don'ts" for employment contracts, hedging policies and change-in-control provisions.
The number of items on the checklists varies among the S&P 100 companies, with the longest checklist among these companies provided by Lockheed Martin (23 items) and the shortest from Priceline.com (eight items). The most common number of items in a compensation program checklist was 14.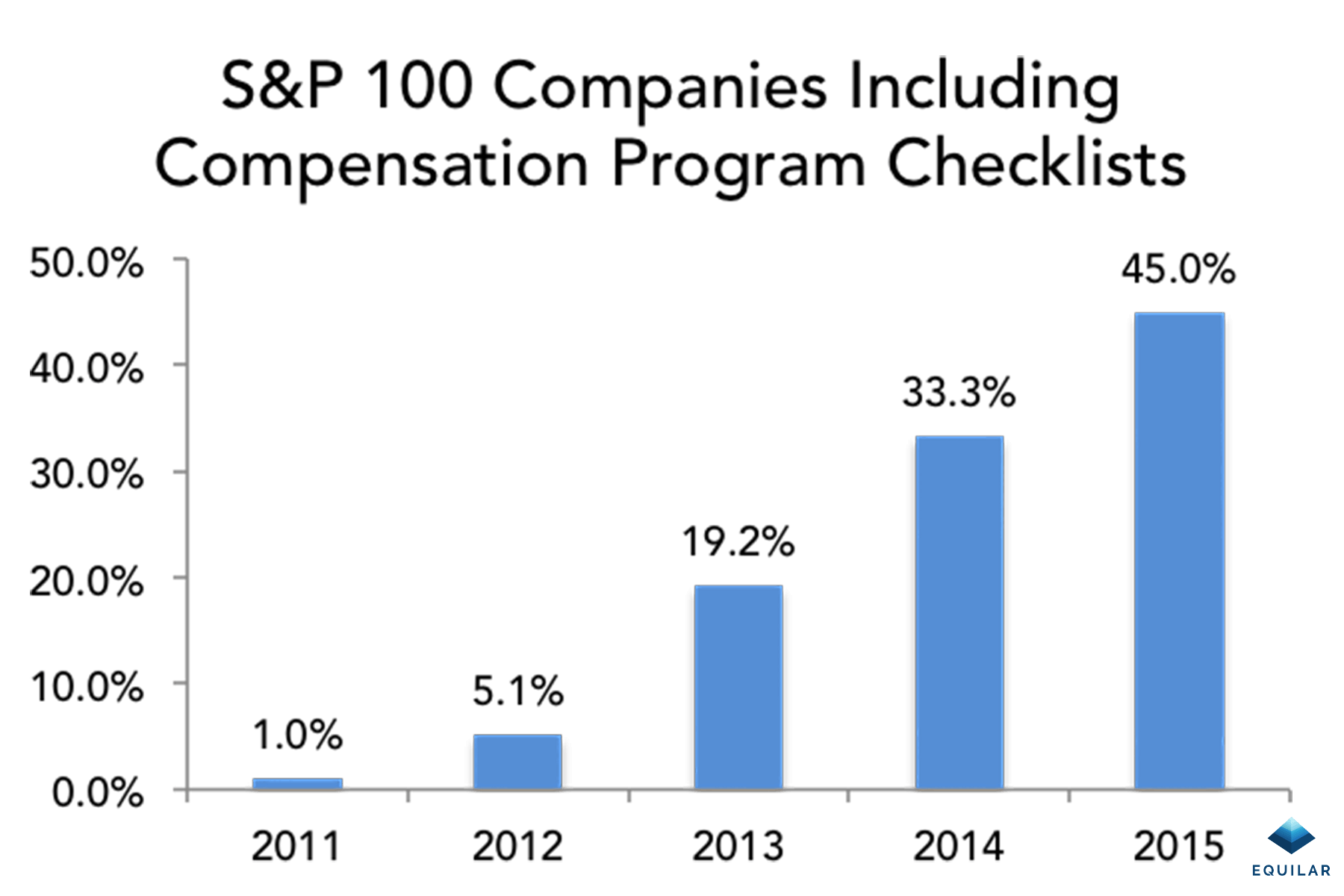 Equilar's new report, Innovations in Proxy Design: An Analysis of Executive Pay Disclosures individually scoured S&P 100 proxy statements over the past five years to identify how these companies communicate issues such as pay for performance, alternative pay calculations, shareholder engagement, responses to Say on Pay and peer group design. As executives and boards engage more directly with shareholders—indeed 55% of S&P 100 companies explicitly disclosed such engagement in their most recent proxy statements, up from 2% in 2011—the way that they present hot-button issues around executive pay will continue to be scrutinized ahead of shareholder meetings where these crucial votes occur each year.
Join us for a webinar discussing this topic in further detail on March 10, 2016 at 1pm ET.
---
Founded in 2000, Equilar is the #1 executive data provider, compiling compensation and professional information on more than 140,000 executives and board members from 5,000 public companies. Our cloud-based platforms bring this executive data together into easily digestible formats. Equilar is the trusted data provider for 70% of the Fortune 500, and is cited regularly by The New York Times, Bloomberg, Forbes, Associated Press, CNN Money, CNBC, The Wall Street Journal and other leading media outlets.
Contact:
Dan Marcec
Director of Content & Marketing Communications
press@equilar.com
706-461-8333